The Business Blocks – Low-Code Software Ecosystem
Choosing a software platform is no easy task but we have sifted and sorted through the web to give you our best list of low code software platforms. We define a low code software platform not just whether you can create a whole app experience on top of it but whether you can integrate and get the platform to talk to others.
Here at the Business Blocks we strive on helping you find the best software platforms out there to help you automate you business. We have carefully curated and reviewed each platform below to help you learn about low code software and help you make the best decision when implementing the right solution.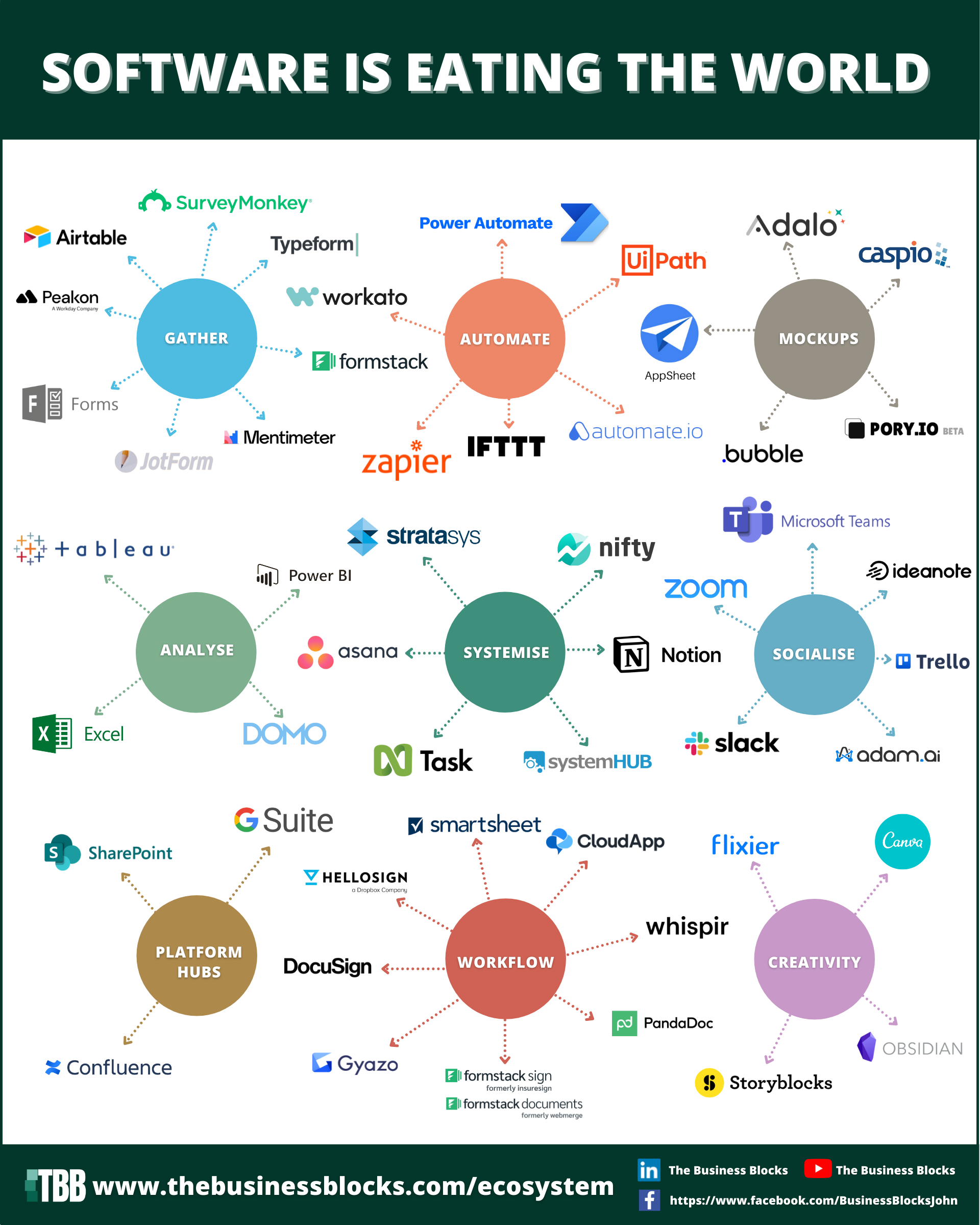 ---
1. PLATFORM HUBS
Your business running without you is critical to success but how can you set up the systems and processes to run the business without somewhere to store that knowledge. The platform hub is like the backbone to the whole business operations.
They encompass the nervous system and veins to flow all of the data and workflows to the right areas. They also can house the information and processes and your workers can manage their own time effectively on the same platform. There are many great platforms out there now to help you automate your business flows and keep your employees in check and up to date with what they need to do in their role.
Apart from the Low-Code Ecosystem, you can also check out our top tips for running a successful business – Here.
---
1.1 – Knowledge Management Platforms:
---
---
---
---
1.2 – Business Automation Platforms:
1.2.1 – Thryv
1.2.2 – Zoho
---
2. GATHER
Gathering digital information has never been easier and you can use the following platforms to manage and feed that information into the other platforms. When we talk about the term "Gather" we are basically encompassing all the software platforms that help businesses and users collect information like a digital form or a survey platform.
2.1 – Digital Form Software:
The internet and digital forms go hand in hand. Forms are the basis for inputting any data into a web page or software platform, and these companies who develop these packages have been around since the 1990's when the net was nascent.
The main elements that have changed have been how end users are interacting and creating these platforms now, with no code a first time user can drag and drop together their own form and integrate this into another platform such as a CRM or database.
---
---
---
---
---
2.2 – Surveys and Feedback:
---
AUTOMATE
Linking software platforms together through API's is a very special position to be in under the Automate function. All platforms now should allow the use of their API to help grow the low-code ecosystem.
Dedicated API Platforms:
Integrated Platform as a Service:
---
Best Low Code Software Platforms
Mockups or App Builder software are low code platforms that enable users who have minimal coding experience to graphically create an app or website with the use of drag and drop features. We would consider the below apps the best low code software platforms in the market right now.
Low Code App Building Software:
---
ANALYZE
Powerful data analysis platforms are now available for you to link your low code platforms into. These platforms create a visual representation of your data with options for interaction.
Data Analytics Platforms:
---
SYSTEMIZE
Checklists, SOPs, and systems in place? You can learn to systemize your business from the following link here and if you are ready to start just add the below apps to start your automation and notifications and workflows to suit your style of work.
Project Management and Systemizations Software:
---
WORKFLOW
Manual systems got you down? Do you find it hard to capture processes and then share them with your team? We've got you covered with this list of workflow and capture products. We would consider the below workflow apps the best low code software platforms in the market right now for automating your document workflows.
Creative Workflow Apps:
E-Signature Platforms:
---
SOCIALIZE
Communications platforms have become ubiquitous within the work environment. Your digital platform should allow your team to chat and share content with ease and minimal interruption.
Video Calls and Virtual Meetings:
Team Collaboration and Inspiration:
---
CREATIVITY
The Creative category is for platforms offering rich content requirements and workflow opportunities for teams who create. Whether it be video, blog, or audio content, we've got you covered.
Creative Platforms:
Notetaking Software and Productivity Apps:
---
WORDPRESS PLUGINS
Maximize what you can do with WordPress through plugins. WordPress plugins allow you to add new features and extend the functionality of your site.
---
BROWSER LITE APPS
To have a better experience when using your browser, there are tons of lightweight apps you can utilize that can add cool features to your browser, helping you to have a more efficient and productive workflow.