Wanna know what a custom web app can enable you to do? Read more to learn about Pory.io.
The everyday struggles of workers in jobs that involve technological aspects are undeniable, especially if you are just a freshman and cannot fully grasp the whole environment since you are still adjusting yourself.
If it took you too long to adapt, you are sure to experience the consequences such as getting your tasks piled up and mostly having to work late just so you could finish it all.  
On the other hand, even if you get accustomed to it quickly, there is no saying how demand would turn out to be.
There are some days when the duties you need to fulfill are much greater than how it usually was, and as long as your line of job is requested, more and more people will come to you for help, which will then result in a lot more additional task. If you can no longer cope with it all, what can you do? 
Fortunately, automating processes has existed for over a decade now, which can help you accelerate your workflow and have more time for other tasks.
The Business Blocks can help you with that by introducing various mockup platforms made to provide convenient assistance such as Pory. 
What is Pory? 
Pory.io is founded by Sam and Luannie from Melbourne, Australia in 2017. They both worked as corporate consultants who discovered that they make a great match in developing various things.
Sam devises the product's appearance by utilizing her creativity while Luannie focuses on its mechanism since she is adept in problem analysis and electronics.
As time passed by, Sam became interested in coding and she encouraged herself to learn it as part of being a wantrepreneur, to which Udemy helped her.  
After meeting diverse founders who spend so much in building custom web apps, the two of them used that as an opportunity amidst the pandemic to help workers in speeding up their tasks by providing them with a no-code platform – the birth of Pory.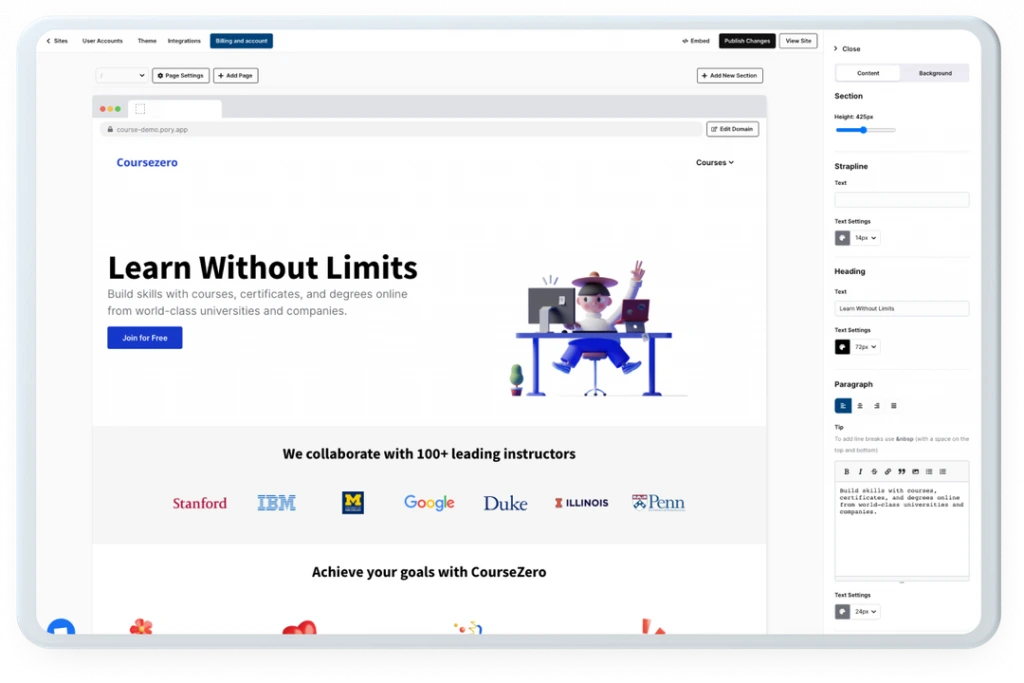 Pory is beneficial for people who do not have a piece of specialized knowledge when it comes to coding. Minimal is enough. It also utilizes Airtable, a database-like spreadsheet, as a Content Management System (CMS) to develop, supervise, and revise a website's content following the worker's preference. With this, you get to experience making an application or website and custom web apps in a much easier way, especially since Pory offers a drag-and-drop feature in its interface, further assisting and accelerating your work. 
Advantages of Using Pory 
Since automating processes has already existed long ago, it continuously evolves as time goes by. Still, Pory is one of the best ones you could use, and here are some of the reasons why: 
The fast-paced growth of technology paved the way for low-code or even no-code software systems and Application Programming Interfaces (APIs) to be in the spotlight of businesses. APIs permit applications to conveniently run while stably interchanging data with business associates, developers, and domestic divisions inside their company. Therefore, using Pory could boost your performance when presenting your products, applications, or websites filled with imperative information.  
It also has a very user-friendly interface. The custom web apps can be made without much hassle and the no coding feature supports that claim. Furthermore, by using Airtable, you can add and modify the elements on the main page.  
It is ideal for electronic commerce businesses since it provides potential customers with a vast amount of knowledge regarding a certain product that caught their interest. Pory's websites are all data-driven and once the shoppers carefully considered the standards they want, and find what they have been looking for, they will automatically proceed to the purchasing stage. If the product or the service is proven to be efficient, it could lead them to be a loyal customer who has a greater chance of coming back again to buy another one, and the cycle will probably go on. 
It enhances association with other applications so that the worker would not suffer from informational deficiency, further improving one's workflow and workplace. 
It offers a handy versatility by authorizing the companies to create interactions with new and old markets and services, and by meeting new probable business partners, which is similar to Software as a Service (SaaS) applications. 
It can be used to create diverse internal tools so that your Development and Analytics Team would not get stuffed with overwhelming tasks to monitor and control each department's operation. Some examples of internal tools are Demos and Sales Support Tools, Asset Tracking Tools, Enterprise Systems Integration Tools, Installation and Commissioning Tools, Health Monitoring and Performance Tools, and Business Intelligence Tools. 
You can rest assured that the tasks that took so much of your time before, which sometimes prevent you from doing what you need to do, can now be done in a much faster and more convenient way since Pory is an automated process, therefore allowing you to have more time as regards other chores stuck in your list. 
The immeasurable time and effort allotted in the preparation of the solution to assist the workflows which are not supported by Information Technology will no longer take too long, even if you do not possess an expert's proficiency. 
Even low-code experts can showcase their mastery in automating and solving everyday business workflow problems, further enhancing productivity and efficiency. 
Pory's Target Market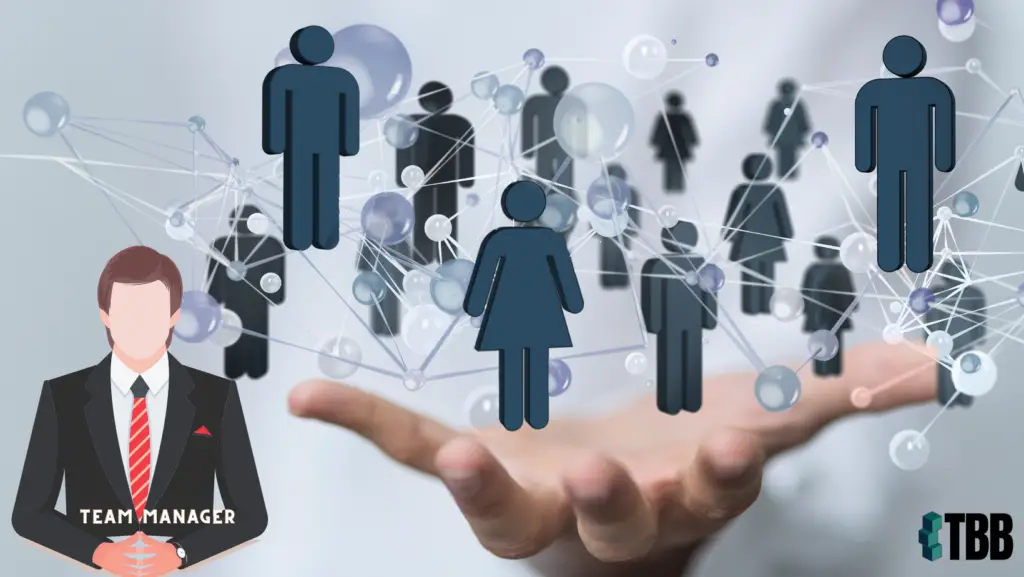 The information presented above proves how Pory is unmistakably advantageous and worthwhile in its basic essence. It is especially necessary for potential customers such as team managers. The current team managers in some companies are already worn out by the tasks they manually need to do and finish. It takes most of their time when they could have probably done some other tasks other than that.
The manual processes certainly take much longer than the automated ones, plus the fact that the current software systems they use are not always up-to-date. Thus, there is a chance for its performance to be more sluggish than how it should be. 
Moreover, the workers can also be a target market for this product since most of them use applications such as Microsoft 365, G Suite, Libre Office 6, WPS Office, Zoho Office, SoftMaker Office, and Corel WordPerfect. Pory's automation process can help them both in accelerating their respective tasks, so it is no wonder why they are the top target markets. 
Pory's Integration with Other Existing Platforms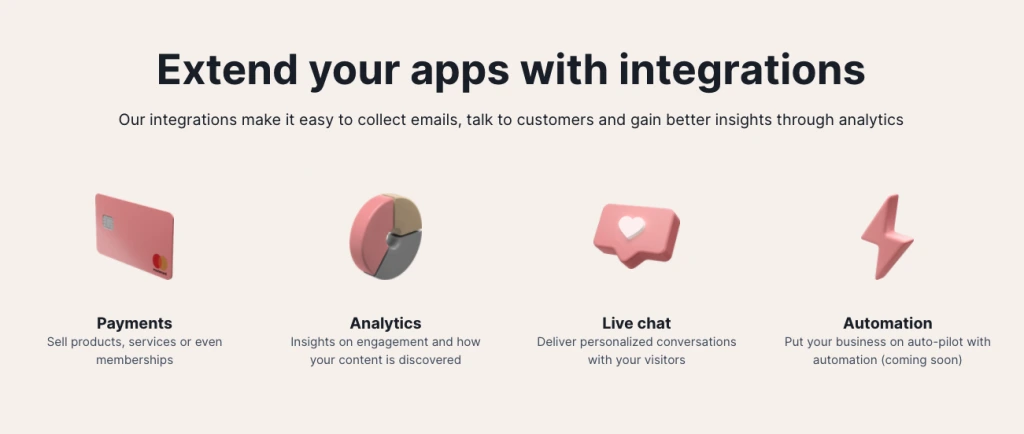 The Business Blocks Software has its environment with the different hubs working together. The Gathering Platform has Microsoft, Jotform, Airtable, and Formstack in its Forms while having Survey Monkey, Peakon, Typeform, and Mentimeter in its Surveys and Feedback. On the other hand, the Automating Platform has Zapier and If This Then That as its Dedicated APIs, while having Microsoft Power Automate, Workato, UiPath, Retool, and SmartSheet as its Integrated Platform Services.  
Moreover, the Mockups Platform has AppSheet, Caspio, Adalo, Bubble.io, and Pory.io, while the Analysis Platforms include Tableau, DOMO, Power BI, AirTable, and Excel. Additionally, the Systemising Platforms have Asana, Nifty, Stratsys, Otter, NTask, and Notion. so, and SystemHUB, while the Communication Platforms have Tandem. chat, Zoom, Adam.ai, Slack, Trello, SocialQ+, IdeaNote, and Microsoft Teams.  
Furthermore, the Workflow Platforms have CloudApp, Smartsheet, Gyazo, and Whispir, while having PandaDoc, DocuSign, Formstack Sign, and HelloSign as the E-Signature Platforms. Lastly, the Creativity Platform has Canva, Obsidian, Flixier, XSplit, Storyblocks, and Designify, while having WP Courseware as its WP Courseware, and Chrome extensions as its Browser Lite Apps. The integration of all these platforms makes it more accessible and efficient to a wide range of customers. 
You can check out other task management applications like Obsidian. md and Trello.