In search of an automation tool for your business? UiPath provides an open platform for automation. Continue reading to learn more about it.
The first machine ever created was the wheel, a tool that replaced the intensive physical labor required of the people of Mesopotamia, and consequently changed the world as we know it. Today, we have machines that will not only take you halfway around the world in an instant but will also perform the most complex operational tasks previously done only by humans.  
UiPath is a company that creates such machines, or robots, that now allows you to save more time than ever. It's used by over 750,000 users and is ranked 3rd on Forbes Cloud 100, which makes it one of the world's top platforms for task automation in robotic workflow software.   
Are you looking for a low-code platform that can help automate your business processes?
UiPath is the perfect fit! Our automation platform makes it quick and efficient to implement automated solutions, with no coding required. With UiPath, you can create easy-to-use robots in next to no time which will make your daily tasks easier and more efficient. Plus, its intelligent technology helps streamline complex manual processes so they run even faster.
Imagine the possibilities of what you could do now with a lightweight yet powerful automation platform like UiPath! Automate mundane tasks and empower employees to focus on higher-value work rather than wasting their energy on tedious day-to-day jobs. Stop spending hours upon end manually doing activities that are better suited for machines – with UiPath these time-consuming activities become fast routine procedures instead.
What is UiPath?  
To understand what UiPath is, it's first important to understand RPA or Robotic Process Automation. RPA is the technology that allows anyone to configure computer software, or a robot, to perform the actions of a human interacting within digital frameworks to execute workflow operations. These are actions like responding to queries, maintaining large amounts of records, making complex calculations, or processing large volumes of transactions.  
https://www.youtube.com/watch?v=j3bG0I_zIvk
Since RPA is a technology, it requires a medium to execute its objectives. UiPath creates robots that become the medium through which RPA functions. UiPath enables you to design automation processes through visual aids and diagrams. 
How UiPath Works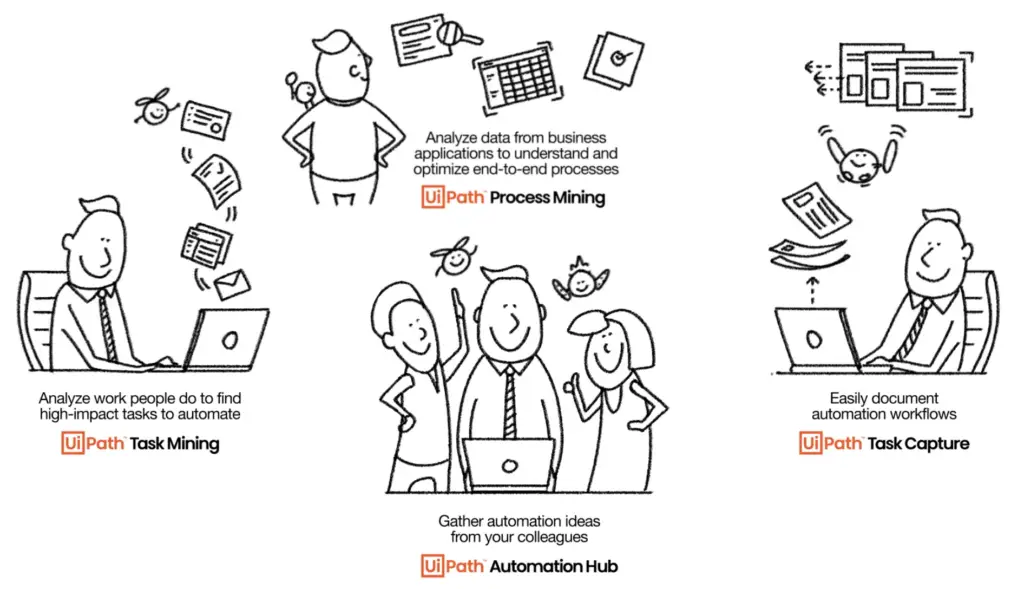 Uipath provides an open platform for automation. It works through a mechanism that first enables you to discover what your desired functionality is. How does UiPath do this? Through things such as process mining, task capturing, managing your automation pipeline, and task mining. This allows you to streamline your tasks and organize your way toward building your Automator.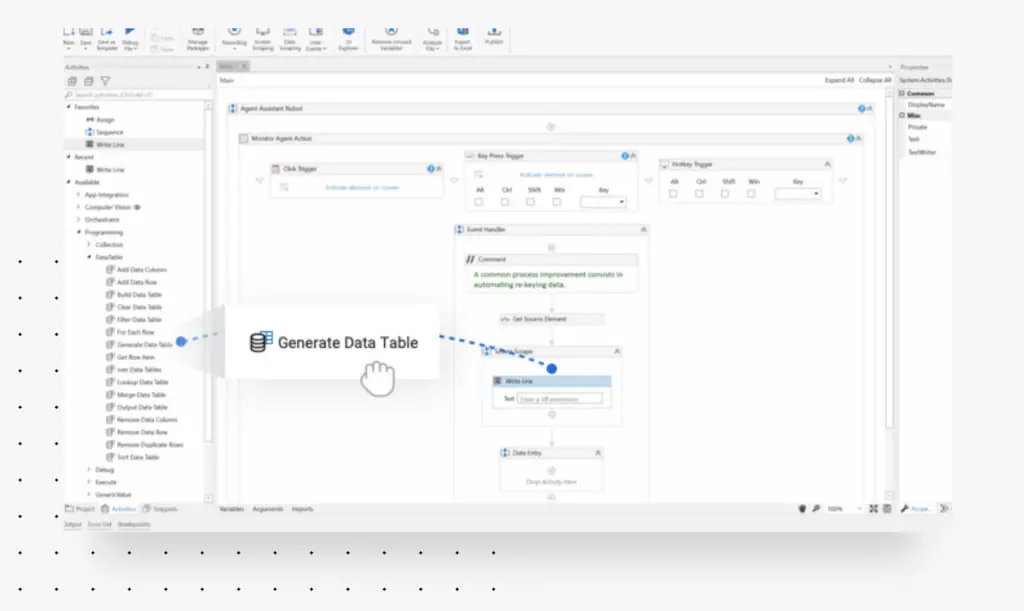 Next, you will use all the organized data to build in your studio. This studio uses a drag-and-drop function to allow you to easily access files, images, and other aids that will assist in automation processing.  
Then, you will start managing the product you've designed through the orchestrator, automation cloud, and test suite. These functions will allow you to optimize your digital workforce, improve machine learning models, and test your robots and applications.  
Finally, you will be able to run your robots and interact with them. You will also oversee the robots that are attended to, unattended, or in a hybrid state.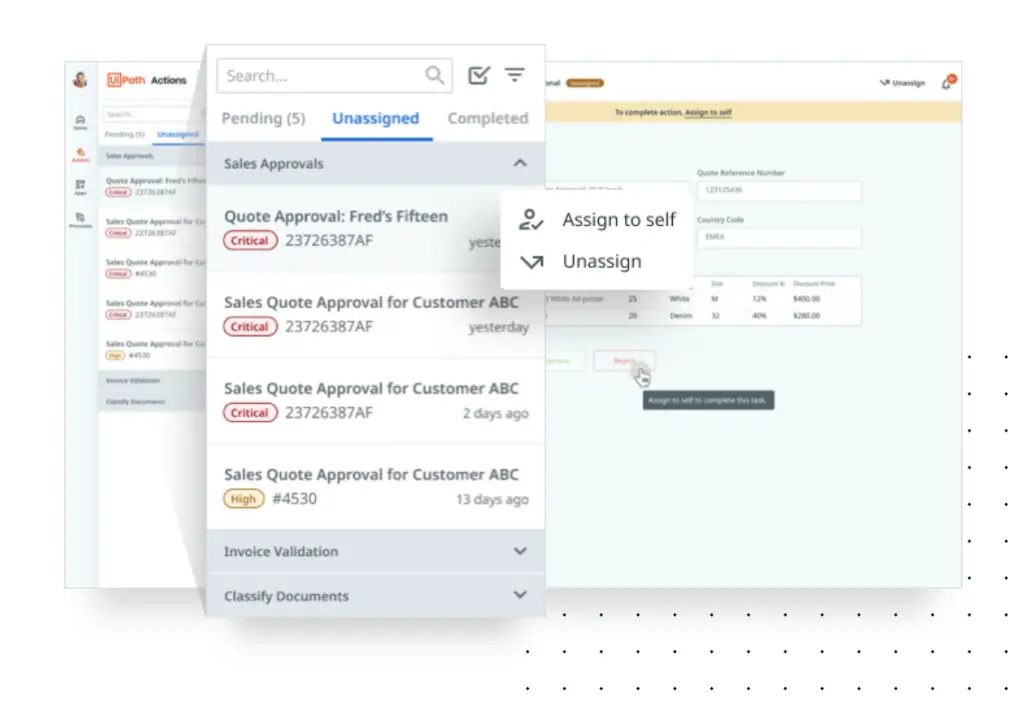 The most exciting feature of UiPath is that it allows you to actively engage with your robots once they start functioning. These robots can check in with you for directions and are even able to converse with you through the dedicated chat box. You can then measure the analytics of their automation performance, which will enable you to quantitatively study every last detail about the processing performed by the robot.     
Now that you know how UiPath works, you may be wondering how to start using UiPath, don't worry. We've got you covered below!  
– Choosing an edition 
UiPath has a guided mechanism to make automation possible and it offers four different editions to choose from: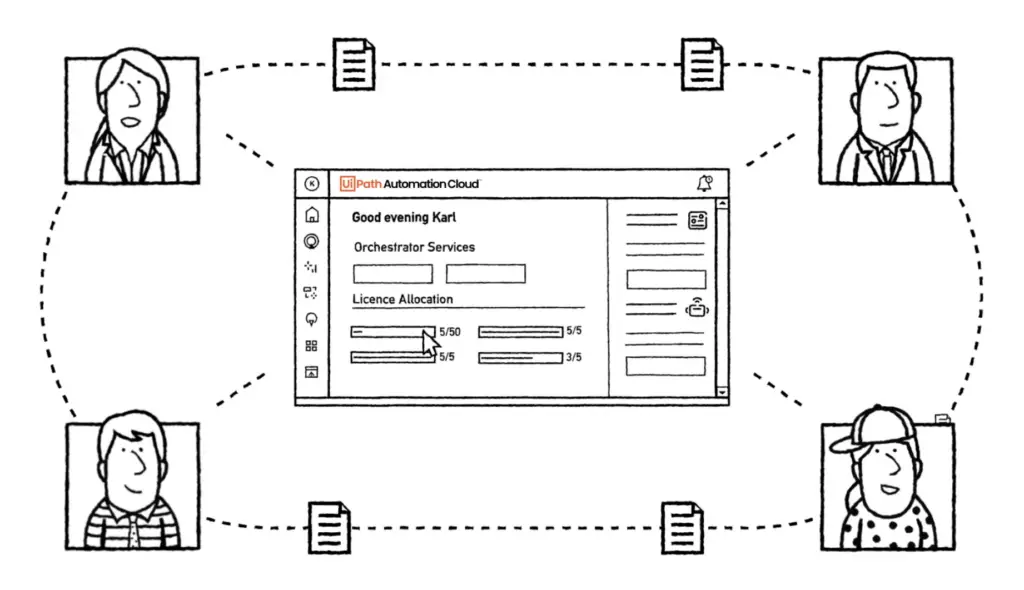 UiPath Community Cloud 
This is a specific edition that is mostly used by small teams or individuals who want to practice automating tasks. It is free and has 1 orchestrator license, 2 studio licenses, and 2 studio licenses. This version also has 2 attended robots and 1 unattended robot. Its activation is entirely online.  
UiPath Studio  
This version is for individuals who want to use UiPath on an enterprise level. It boasts a 60-day trial period and is equipped with 1 license for both studio and studios and an attended robot. This version works online and offline.  
Enterprise Cloud  
This is a cloud-based version of the platform that consists of the studio, robots, and orchestrators. This version, like the previous one, has a 60-day trial period but also hosts 1 license for the orchestrator and 2 licenses for the studio and studio each. This version can support unlimited robots, depending on the appropriate license acquisition, and has centralized enterprise user management.   
Enterprise Server 
This is an on-premise version of the entire enterprise automation platform consisting of the studio, robots, and orchestrator. This version is also on a 60-day trial period but comes with a whopping 10 licenses for studio and studio features, and an additional 10 attended and 10 unattended robots. The Enterprise Server has an unlimited capacity to hold additional robots. It also can scale with your enterprise infrastructure and can be activated online and offline.   
– Installation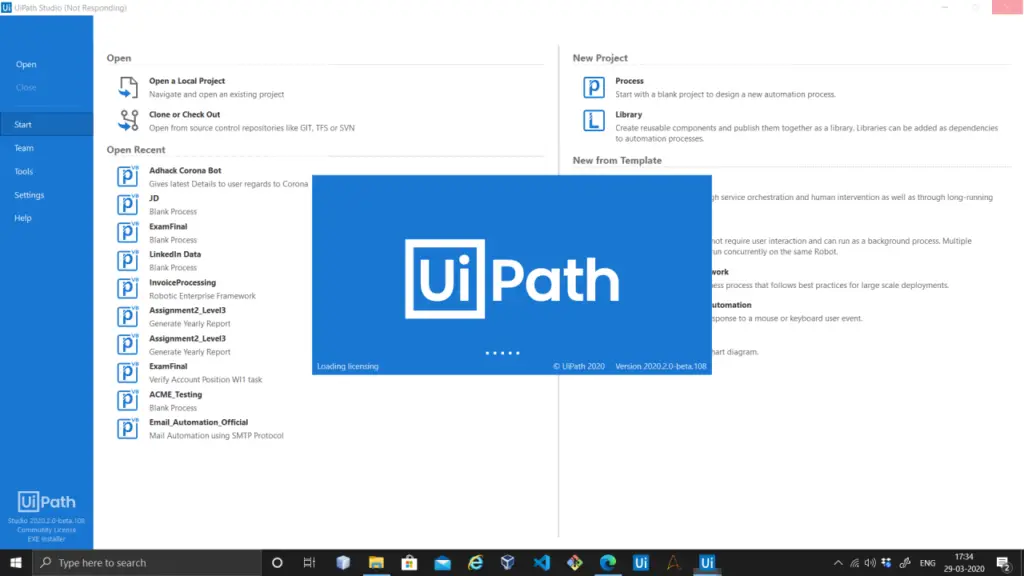 Once you have made your decision on what edition to install, you can go ahead and click on the "start-trial" link to install that edition. Once you have installed the application, you're ready to start using it. You will be able to perform all the functions mentioned above and will be easily directed towards making your robot that takes care of the tasks you don't want to do.  
Pros 
UiPath RPA has a very easy and user-friendly interface that can easily be understood and handled by new users. 
It provides extensive tutorials and guides for consumers which makes it a lot easier to understand its processes and integration with your current software. 
By using the artificial intelligence of UiPath RPA, the efficiency of different processes at work increases significantly as compared to tasks that had to be done manually in the past. 
It has numerous built-in and customizable integrations. 
UiPath has an extensive activity library with pre-built drag-and-drop actions. 
UiPath offers high-level security since you can store and encrypt the credentials on a centralized server. 
The company has recorders for desktop apps and emulators for quick creation of automation. 
It has excellent third-party integration so you can plug in various technologies from IBM Watson & Google. 
UiPath offers intuitive and flexible debugging options. 
Cons 
UiPath may have some bugs in its software in the initial stages but will improve itself through regular updating.  
UiPath does not offer a mobile application, which may be a hindrance for those looking for more mobility. 
Its compatibility with third-party integrations may not be that strong. 
Business Benefits of Using UiPath
Here are the following benefits of using UiPath for businesses:
Reduced Cost: Automation reduces the need for human labor and thereby cuts down on costs.
Increased Efficiency: UiPath automates repetitive, tedious tasks and increases operational efficiency by freeing resources to focus on more important tasks.
Improved Accuracy: By eliminating the risk of human error, UiPath helps ensure that your processes are accurate and completed correctly.
Faster Execution: Automation speeds up process execution time by quickly completing tasks compared to manual efforts.
Increased Productivity: By eliminating mundane tasks, UiPath allows employees to focus on more productive activities, which increases productivity.
Streamlined Processes: UiPath helps streamline processes by automating them and ensuring they are completed on time without any errors or delays.
Frequently Asked Questions About UiPath: Your Low-Code Yet Highly-Efficient Automation Platform
Q: How software robots and Pega robotics are different from UiPath?
A: Software robots and Pega robotics perform tasks that have been pre-programmed. At the same time, UiPath is a flexible automation platform that allows you to create customized
Q: Does the native integration of UiPath support international languages?
A: Yes. UiPath supports international languages and provides native integration with a variety of applications.
Q: What is the best way to get started with UiPath?
A: The best way to get started with UiPath is by downloading the trial version, which has all frequently Asked Questions About UiPath: Your Low-Code Yet Highly-Efficient Automation Platform.
Q: What is the process definition file when using UiPath?
A: The process definition file is an XML-based format that contains instructions for the robot on how to perform tasks.
Q: How to build automation?
A: UiPath provides an intuitive yet powerful, automation builder that allows users to quickly and easily create automated workflows.
Final Thoughts  
The UiPath community cloud edition is completely free to install and use without a trial period, which makes it such a convenient platform for beginners to work through. The UiPath Studio, Enterprise Cloud, and Enterprise Server each have a 60-day trial period, which is free. This trial period is long enough to help you make your decision on whether or not you will want to pay for the software.  
UiPath provides an open platform for automation. It is an incredible tool that allows you to automate various tasks, however simple or complex. It also saves you a lot of time, allowing you to focus on other things. So, go ahead and install your preferred edition!  
Among the many people who have used UiPath, most had remarked that this platform gave them exponential returns on their investments. This platform is not only brilliant for individuals engaged in repetitive tasks but also for companies who wish to ease their employees from daily monotonous tasks. Because UiPath is one of the world's leading RPA tools, it is worth your time!       
References 
https://www.trustradius.com/products/uipath-enterprise-rpa-platform/reviews?qs=pros-and-cons
https://www.quora.com/How-do-tools-like-BluePrism-and-UIPath-work
https://www.uipath.com/developers/video-tutorials/introduction-to-uipath
https://www.uipath.com/developers/video-tutorials/introduction-to-uipath#:~:text=UiPath%20Studio%20%2D%20an%20advanced%20tool,a%20visual%20manner%2C%20through%20diagrams.&text=UiPath%20Orchestrator%20%2D%20a%20web%20application,available%20through%20centralized%20work%20queues.