Choosing the right e-signature platform is vitally important for how you perform contract and document workflow tasks. From sending out sales contracts to ensuring brand consistency in your agreements, the best e-signature or digital signature platforms can help you meet your goals.
In this guide, I ranked and reviewed the four best e-signature platforms, along with some of my extra top 5 choices, so that you can pick the best one for you.
There are many competing products out there now but which is the best E Signature software platform?
When choosing the right software for e-signatures firstly you can consider what are digital signatures, are they legal in your country, and what makes a contract legally binding? This coupled with price, functionality, features, api connections, platform support, ease of use, template design, and more.
We'll also compare:
The best e-signature platforms for small businesses.
The best priced options.
The ones with the best features.
The best platforms for pay-as-you-go capabilities.
The best platforms for enterprise.
The Best platforms for developers.
Let's get started.
What is the Best E-Signature Software Platform?
Electronic signatures or e-signatures can be an excellent way to conduct business electronically. Below we have reviewed and compiled what we believe is the most thorough digital signature solution comparison and we have the best e signature software platform included.
E-signature platforms provide the same functionality as original signed documents, without the accompanying time and expense, and offer a number of advantages.

TBB
But what is the main advantage to digital e-signature platforms?
The main advantage to a digital signature is the speed and efficiency it provides. Electronic signatures provide a way for both parties to easily transmit signatures electronically.
A digital signature allows both parties to quickly send an agreement back and forth and then execute it upon signing. This saves a lot of time on both sides.
Recently, more and more e-signature platforms have been available on the internet. In this review, we will be focusing on 4 e-Signature platforms that we think are the best.
General Information
Formstack Sign is a platform created to send and collect eSignatures. Its no-code features make the process of turning contracts into signed deals simple and doable by anyone in the team.
Formerly InsureSign, Formstack Sign provides you a fast and easy way to digitally sign important documents while ensuring privacy and security. It is an accessible electronic signature tool and can be used on laptops, tablets, and mobile phones. It even allows you to sign via text message.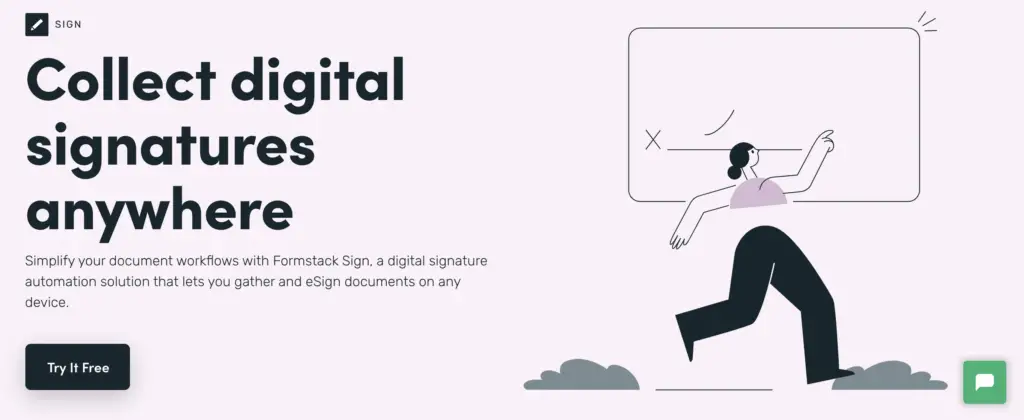 With its no-code features, Formstack makes collecting eSignatures so simple and doable by anyone in the team. It makes the process of turning contracts into signed deals as easy as connecting the dots!
It's also accessible through multiple devices such as laptops, tablets and mobile phones.
Pricing
Free trial for 14 days
Paid plans start at $16 per user per month billed annually
Key Features
Formstack Sign offers features that make document signing fun and hassle free. It lets you:
Customize templates
Drag-and-drop signatures
Auto-remind
Work with multiple participants
Convert files
Reuse forms
Signer redirection and referral
User Experience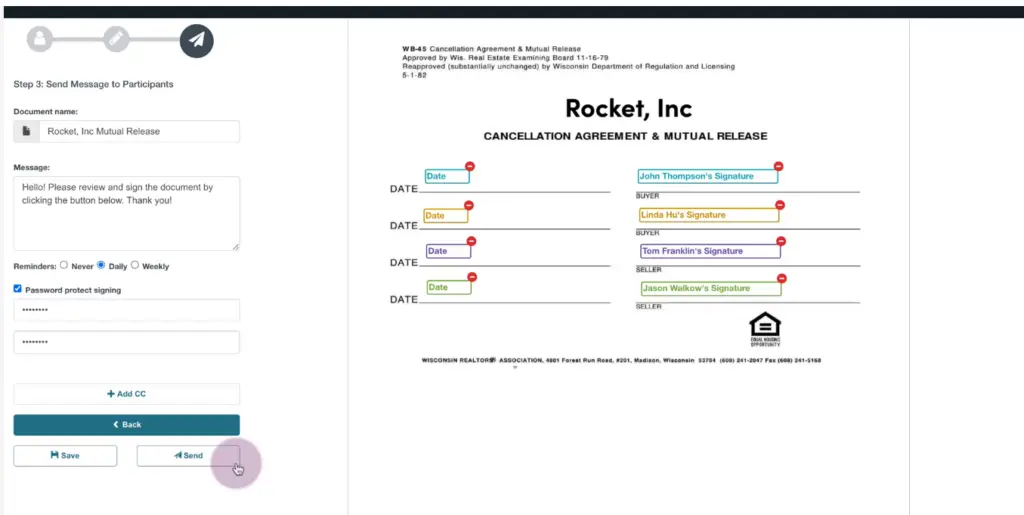 What I Like/Dislike About Formstack Sign
The idea of convenience is a powerful motivator for the adoption of electronic signatures. More and more organizations adopting wireless signatures as the wave of the future, with smartphones and tablets incorporating them into their operating system.
Integrations are what Formstack Sign does best.
It gives users the convenience without compromising security. If you are looking for another great option for eSignatures, Formstack Sign will surely not disappoint!
Formstack Sign's edge compared to other platforms
HIPAA Compliant eSignatures
Drag-and-drop feature that makes signing easy and quick
Full audit available after a document has been signed
Multiple documents can be attached at once
Secured documents with TLS end-to-end encryption
Con/s
No mobile-oriented solution
Needs more integrations (currently has 100+integrations)

DocuSign is a cloud-based electronic signature solution that helps with sending and signing documents electronically. It makes the business agreement process easy and accessible through your devices such as laptops and mobile phone.
Click here to view our full DocuSign review.
DocuSign's edge compared to other best e-signature platforms
Has a very huge customer base with over 500K customers and hundreds of millions of signers
Has a very secure authentication feature requiring signers' proof of identity
350+ integrations and APIs
Documents from major cloud storage services are easily retrievable
Con/s
Storage for documents expires quickly
Pricing
Has a free version that allows you to sign as many documents as you want
Has three kinds of plan options ranging from $10 to $40 per month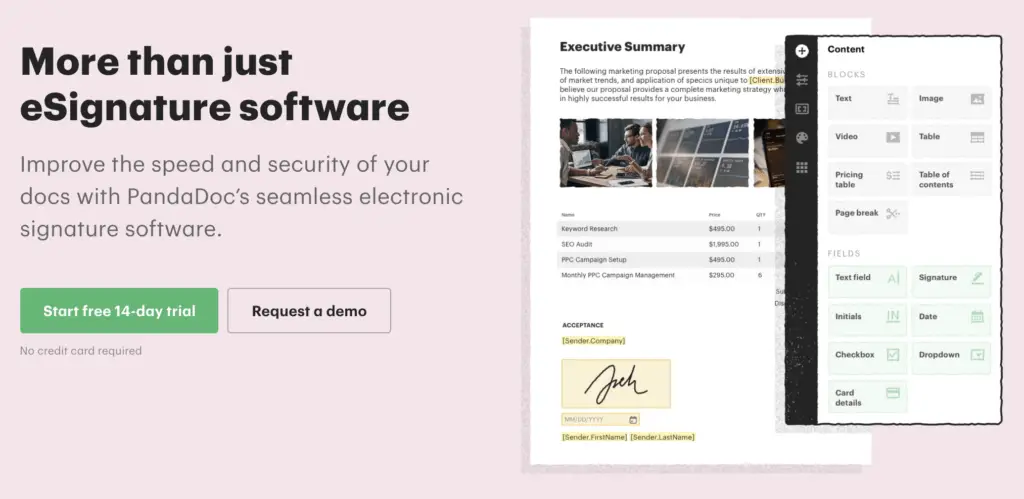 PandaDoc lets you create contracts using different available templates, send them to your clients, negotiate, add eSignature, and store transactional documents all in one location.
It is a one-stop shop for all your business document-related problems, helping you with quotes, proposals, contracts and more.
Click here to view our full PandaDoc review.
PandaDoc's edge compared to other platforms
Has over 400 ready-to-use templates
Customization capabilities
Flexible usability from beginners to experts
Fantastic integration capabilities with its ability to originate sales docs directly from CRM records and have that 'event' time-stamp into the contact record is also remarkable. 
Con/s
Doesn't allow multiple users to edit the same document at once
Pricing
Has a 14-day free trial version
Has three plan options starting $19 per user per month.

HelloSign is yet another eSignature tool to help you with your business documents but it is not best E-Signature software platform.
It makes it easy for you to electronically request and add legally binding signatures. It's intuitive web interface helps you complete paperwork quickly and safely.
Click here to view our full HelloSign review.
HelloSign's edge compared to other platforms
Reusable templates
Bulk sending
Unlimited Signature requests
Allows adding of branding materials such as logo and company name,
Has a Google application that makes onboarding teams possible.
Con/s
Only has black as signature color option.
Needs more payment options
Pricing
Has a free version but allows up to 3 documents to be signed
Has three paid plans starting at $15 per month
Bonus Platform: Jotform Sign – Best for Automation
Jotform Sign is a versatile tool that provides many automation features such as approval flows, allowing you to add signers to your documents and get notified when a change is made. Keep all your documents securely in your preferred cloud storage provider with their integrations.
Jotform Sign's edge compared to other best e-signature platforms
Has a free starter plan that lets you create up to 10 signed documents
Send access codes to collaborators and invite them to work on the same document.
Lets you track signer data with their Inbox tool
Your data is protected with a 256-bit SSL connection, CCPA, and GDPR compliance.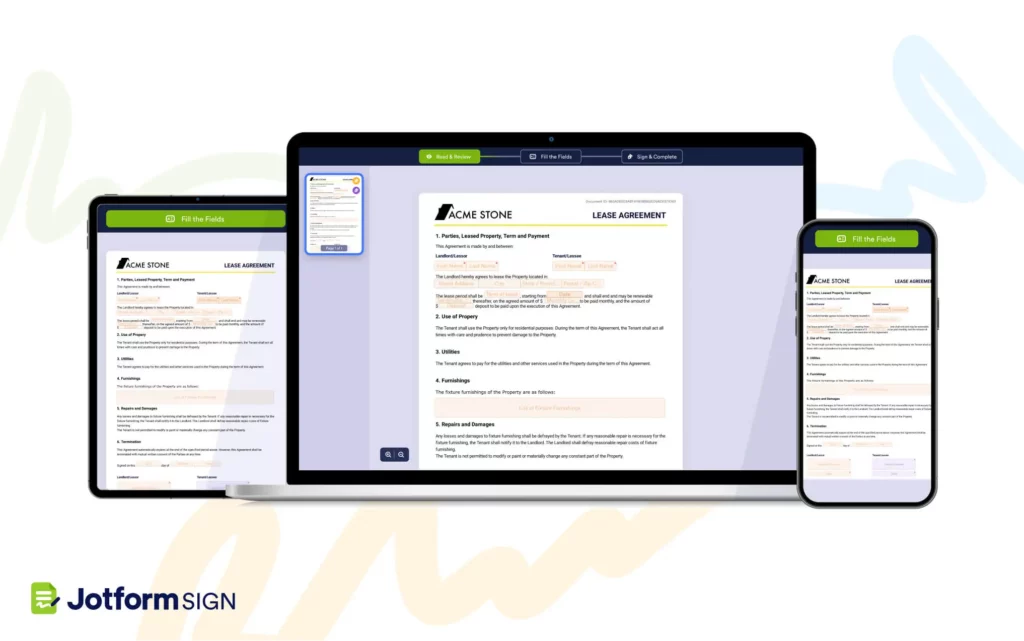 Con/s
Need to upgrade your plan to increase your limits
Pricing
Has a free plan that allows up to 10 signed documents
Has three paid plans that start from $34 per month
Has an enterprise plan that comes with much more features. Contact sales for pricing info
You can check more out about the new Jotform Sign in the link above.
PDFSimpli – Best for Individuals
PDFSimpli is a great eSignature tool that allows you to create forms and contracts using templates or upload your premade documents that need a signature.
It can also convert PDFs into several file formats or convert Word, Excel, PowerPoint, TIFF, PNG, or JPG files into PDFs. Any supported file type can be signed.
PDFSimpli's edge compared to other platforms
Access to hundreds of forms and templates
Free online editor and signature features
Requires no technical knowledge to use
The app allows you to sign PDFs remotely online
Can convert multiple file types, compress files, and add watermarks
Con/s
You can only download a text version of the document for free
Pricing 
14-day trial for $1.95 for unlimited access
$40.00 a month for a subscription
---
The TBB digital signature solution comparison: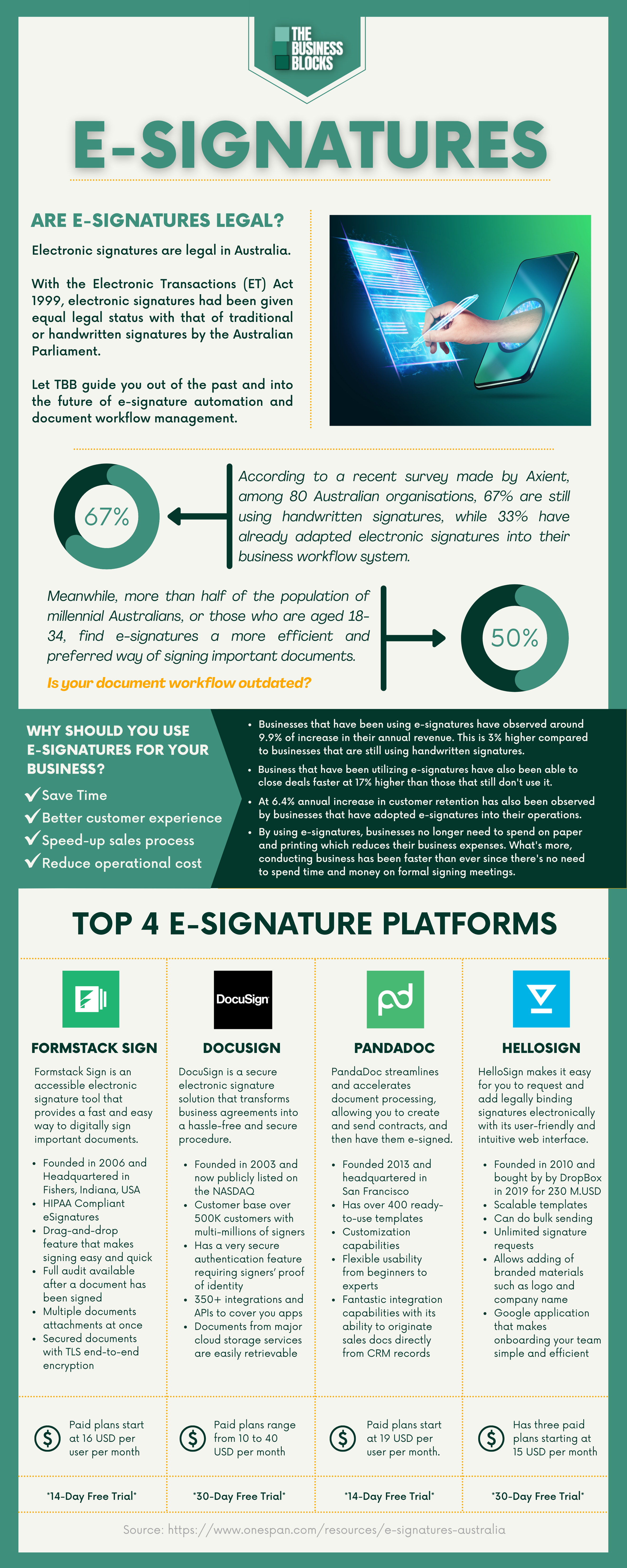 References
https://shanebarker.com/blog/docusign-alternatives/
https://www.formstack.com/products/sign