Looking for a platform where you can do collaborative work management? Read more to learn about Confluence by Atlassian.
What is Confluence? Your Collaboration Tool.
Confluence is a product developed by Atlassian. It is the same company behind other software like Jira Software, Jira Align, Trello, and BitBucket.
It is a collaboration tool designed for sharing, storing, and working on different things. It empowers you to create project plans, write meeting notes, submit project requirements at the same time as other members of your team for better collaborative work management.
You also get to edit and everyone can view those changes at once.
An Atlassian product that will change the way your team collaborates!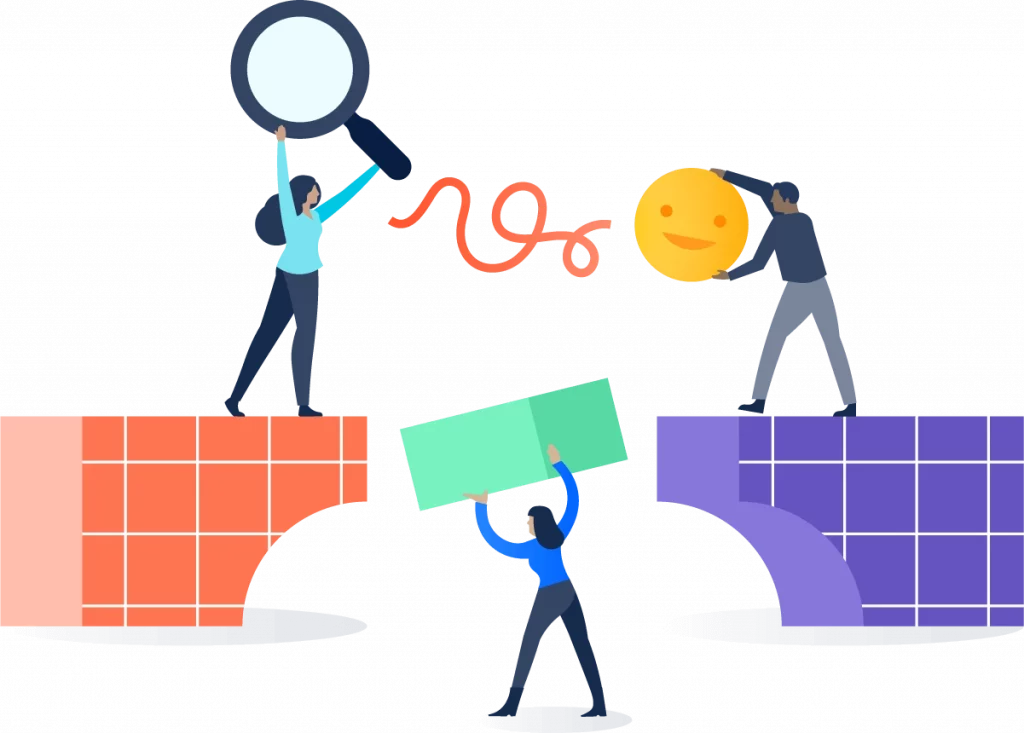 Are you tired of the tons of work piling up here and there that you do not know where to start? Are you feeling hopeless if you can complete your projects right on time?
The truth is, getting things done takes a lot of work. You need to deal with documents, spreadsheets, presentations, and more from all over the place. Information is spread out everywhere. What makes it even more challenging is the fact that people from your team, who are working on different projects, are scattered in different parts of the world.
You need to get everything organized. Put all information in one place, so that when any of your team members need a piece of certain information, they know how and where to find it.
How do you gather all the information in one place? How do you organize all of your team's projects and tasks? How do you get everyone to coexist in a common space?
How do you effectively get things to the finish line?
In Confluence, you can brainstorm ideas, create strategies, make plans as a team, designate tasks, and bring in all the relevant information.
How can it help you?
There are many ways Confluence can help solve your concerns and problems in your business.
1. In the past, when your team members submit project proposals or any other requirements, you would need to check them one by one and write your comments. When you're done, you send it back to them for revision.
With Confluence's accelerated feedback loop, you can write inline comments on the attached files and pages. Your team members can view your comments in real-time and can act on them in no time.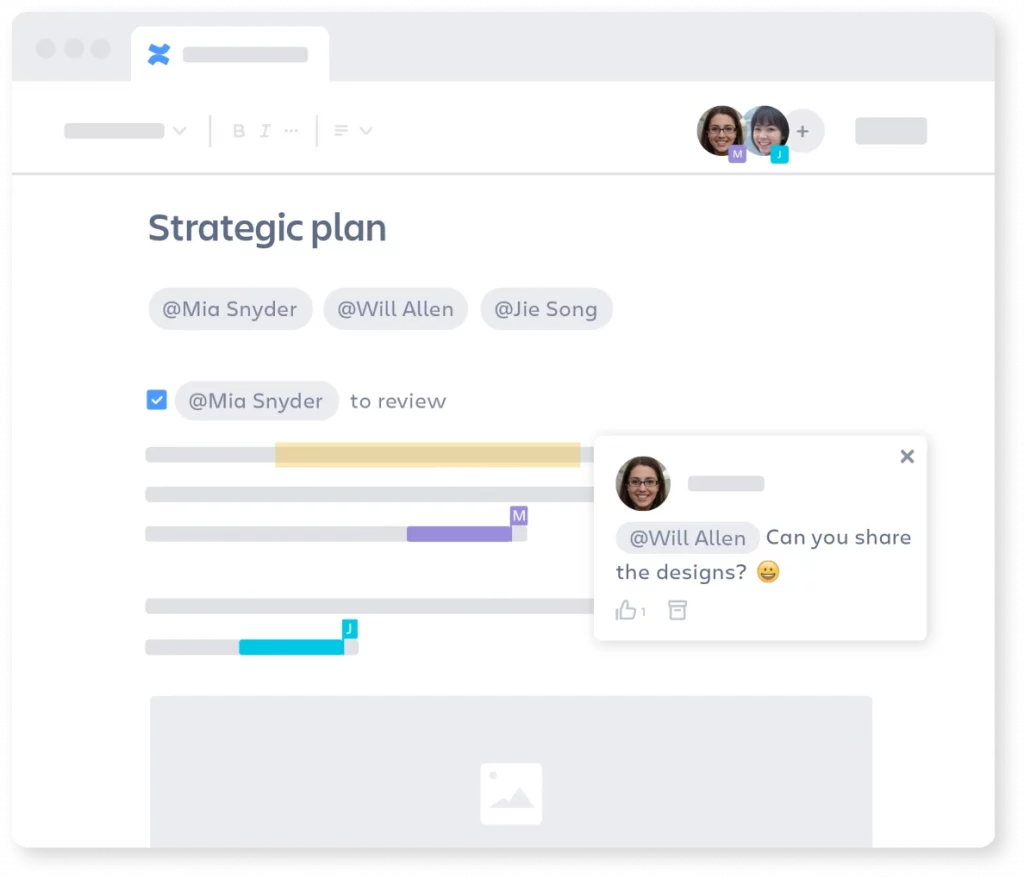 2. Documentation plays a vital role in every business operation and compliance. It fosters confidence within your company, among prospective investors, and your clients. Sometimes, doing this task can take a lot of time and effort. It steals your precious time away from what is more important – your business.
Confluence makes documentation more straightforward and efficient with its Templates. These templates include ready-made solutions for your day-to-day documentation.
3. Are you or your team always on the go? Are you in separate locations? With the rise of the virtual model of working, more and more companies have people working from different places. Collaboration may be a challenge compared to face-to-face meetings where you can voice out your opinion, ideas, and suggestions in person.
But with Confluence's collaborative work management features, you can collaborate from anywhere using any device. You can sync the tool with your Android or iOs device. From there, you can monitor your team's activities, provide feedback, and remain in sync between desktop, laptop, and mobile.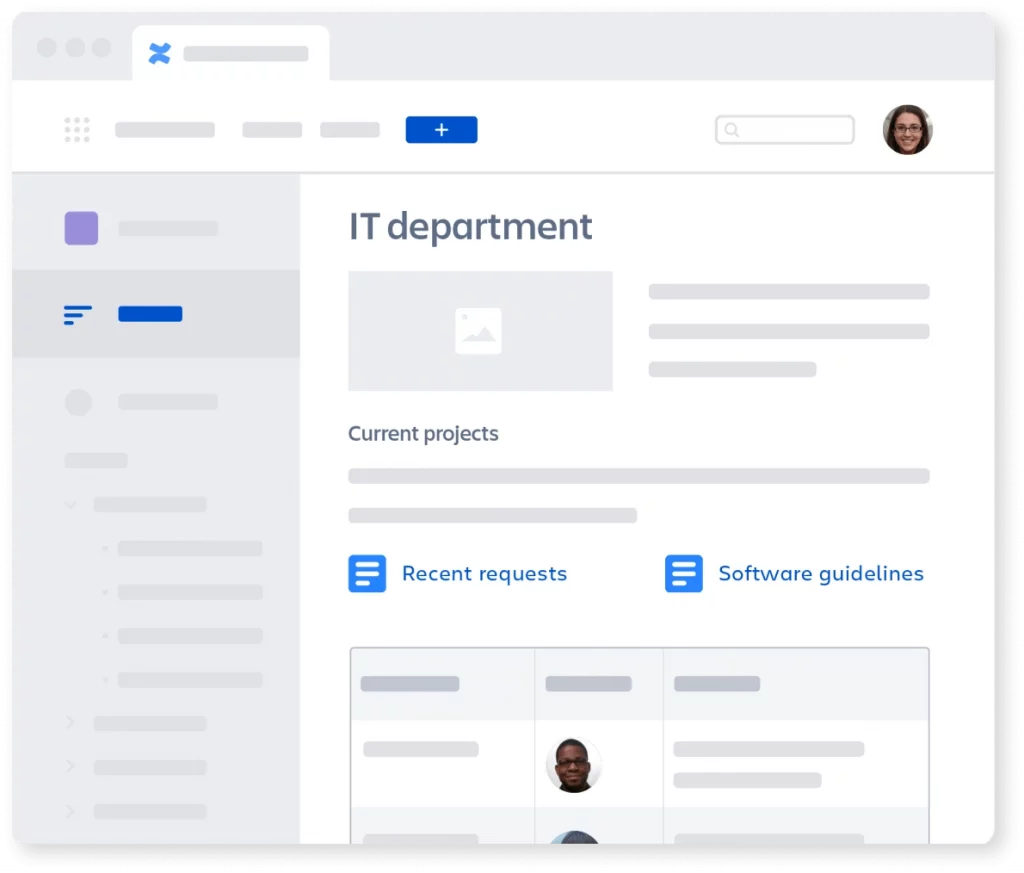 4. Is your company comprised of different departments? Do you have different tasks per team? Chances are, you could be dumped with various files from different departments if you do not organize them efficiently. How will you find the information you need when you need them if all the files are jampacked in one huge place?
Confluence, albeit putting all your information in one place, provides a way for you to have separate workspaces for each department. This would enable you to have organized data and a smooth workflow.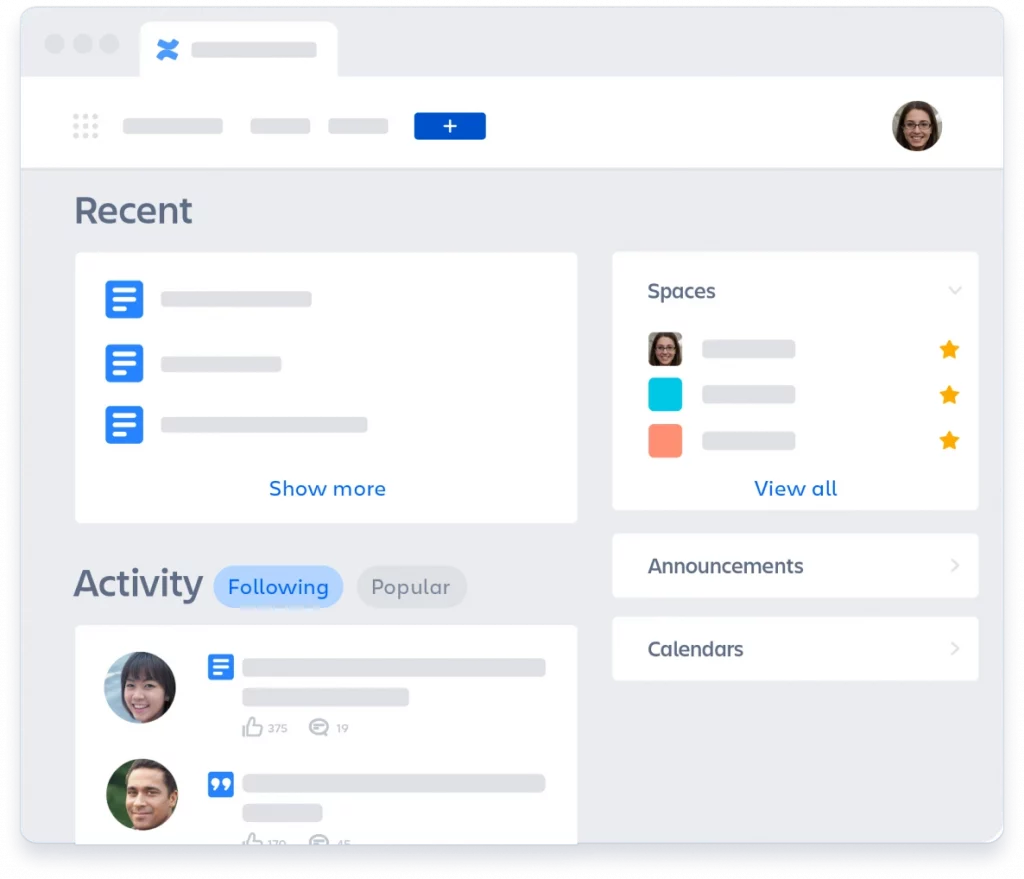 5. Have you ever experienced creating a project where you modified it many times, only to realize later on that the previous versions were better? Did you know that Confluence has a feature called page and file versioning?
This is the problem solved by Confluence's ability to save several versions of a project. Every time you make changes on the project or submission, Confluence creates a version that you can easily come back to when you need it.
6. There are times when the company needs to address everyone in it. It may be an announcement or news that needs to be shared across the company.
This tool offers a common venue to share this announcement where everyone can read it and participate actively in a discussion.
7. Have you ever wondered, what if your workspace is already full of documentations, can you find the one that you need right away?
There is a couple of ways to find what you are searching for in Confluence and they are all explained in the quick search tips section. To help you get things done fast, it features a search panel on the workspace itself.
Who uses Confluence?
1. Companies
Over 2100 companies are now reaping the benefits of this collaborative work management tool. Small companies who are still starting up can take advantage of this tool so they can focus more on growing their business. Even prominent names and companies use Confluence. That only shows their credibility and authority when it comes to GTD or getting things done.
Some of the popular names that trust Confluence are the following:
Launch Darkly
Stack
Accenture
2. Developers
When it comes to anything computer and internet-related, whose words are most reliable and authentic? Of course, that would be the words of those who use and study it the most – the developers.
Confluence has about 14,000 developers on StackShare to back them up. These developers all stated that they use Confluence at work and typically their teams will already use the Jira platform which is the #1 software development tool used by agile teams.
Does Confluence come with Jira?
A lot of users always ask, does Confluence come with Jira? Confluence is standalone product in the Atlassian product line just like the Jira platform. Both of the products have separate costs with Jira coming under the "Plan, Track and Support" product line and Confluence comes under the "Collaborate" product line.
Each of these products has a per user monthly and annual fee which ranges from Free to $14 USD per user for Jira and Free up to $10 USD per user (monthly) for Confluence. It is important to understand that both products have different applications and use cases and Atlassian offers flexible plans that allow your team to scale up and down as you require.
Can Confluence be integrated with other apps like Trello?
There are hundreds of integrations and extensions with 3rd party apps that are compatible with Confluence. You can get a hold of them through the Atlassian marketplace. Some of them can be integrated through a plugin.
To enable your team to move projects more quickly and divert helpdesk tickets, you can integrate your Confluence tool with Jira Service Desk and Jira Software. Apart from that, it can also support several types of files that you are working on. One example is the Google Drive files.
Finding the right app for your team
To find the perfect app or integration for your team:
Open Confluence Cloud and tap Apps to open the menu
Tap Find new apps to go to the Atlassian Marketplace (if you already have at least one app installed, you'll have to tap Manage apps to open the app administration page first)
From there, you'll be able to search the Marketplace without leaving Confluence. Only site administrators can install, enable, and remove apps.
A few of our favorites are listed below, but don't fret, the Marketplace has more apps available than you could imagine. All of these apps and integrations are specifically built to supercharge your productivity.
Gliffy Diagrams
Numbered Headings
Tempo Timesheets
Scroll PDF Exporter
Scroll Word Exporter
Zephyr Scale
ScriptRunner
Easy Agile User Story Maps
Big Picture Project Management
Draw.io
Automation for Jira
LaTex Math
Markdown Macro
Refined Toolkit
Questions for Confluence
Table Enhancer
Google Drive and Docs for Confluence
Content Formatting Macros
PlantUML Diagrams
Table Enhancer for Confluence
Tables provide a great way of explaining you data to end users.
Is there a better way to enhance the tables in Confluence such as row numbers, initial sorting and showing a total line?
Check out this video which gives a short introduction to our app Table Enhancer for Confluence providing you with this functionality.
Currently, the following enhancements are available:
Row numbers: Add consecutive row numbers as first cells to every row. Row numbers are either calculated before, after or independent from initial sorting.

Initial sorting: Choose the column index and the sort order after which the table should be sorted initially.

Total line: Add a total line to your table which sums up all summable columns of your table.

Freeze rows and columns: Choose the number of rows and columns which should be fixed at the top and left of the table while scrolling.
Check it out and good luck!
Conclusion: Should you pay for Confluence?
Indeed, there are many things you can do with Confluence. It addresses several problems that you and your team usually encounter at work. You can also explore a plethora of features, add-ons, and integration to make your experience more efficient and worthwhile.
No matter how many tasks get assigned to it the members, no matter how many documentations are saved and shared, no matter how many people are in your team, and no matter what location they may be in, Confluence has made it possible for you to start a project and carry it through the finish line.
While getting things done takes a lot of work, it only needs one effective collaboration and organization tool to help you reach the finish line successfully. At the end of the day, as they say, "Collaboration divides the task and multiplies the success."
Frequently Asked Questions:
1. What is Confluence used for?
Confluence is an online corporate wiki from Australian company Atlassian. It offers a team workspace that enables knowledge sharing and team collaboration. Its dynamic pages feature provides a project team with the tools to capture, document, create and collaborate on ideas, tasks and projects.
2. What is Confluence vs JIRA?
Confluence is a tool for collaboration and project documentation. JIRA, on the other hand, is used fundamentally for project management, task tracking and bugs and issue tracking. These tools can be used and implemented separately or can be used together in a software ecosystem.
3. Why Confluence is used in JIRA?
Integrating Confluence with JIRA allows project team members to harness Confluence's capacity to organize all of the content, data and files that are essential to the team and for the project, thus getting rid of the need for file folders and shared directories.
4. Is Confluence the same as SharePoint?
While SharePoint can be used mainly to store and archive files, Confluence's main purpose is a knowledge management platform.
5. Is Confluence easy to learn?
Usage of Confluence does not necessitate training or certification and proffers an easy learning curve. It is very useful for content management and has capabilities such as search function, JIRA integration, page and file versioning and has templates that project team members can use. The interface is user-friendly and there is a number of resources offering tutorials and training materials on how to use the platform.
Confluence is an essential tool for agile teams and for agile software development model. By offering a team workspace where all project-related data can be documented, it makes it easy for any team member to locate and peruse project and requirements information.
7. Can you use Confluence without JIRA?
Using JIRA and Confluence independent of each other is possible and each tool is beneficial on its own. Nevertheless, integrating the two offers a streamlined project management and documentation system that can help a project team in becoming more efficient and organized.
8. Is Confluence a project management tool?
Confluence can be used as a project management tool as it is a platform that allows organizing, collating and documenting of all pertinent and essential data for a project such as project charter, schedule, budget, scope, milestones, among others.