Thinking out of the box is one thing, but the ability to express the idea is another thing.
With the rapidly evolving needs and preferences, we must aim to do things the way they were never done before. Don't get it wrong. We are not deviating from standards here but continuously innovating how we project ideas.
When you have an idea, the easiest way to do it is to write it down. But what if you can have a preview of these ideas at the speed of light?
Fortunately, the tools to make this a reality are not far from our grasp. They are already being used globally, from the largest company to the lone businessman. Let's bask on some of the finest platforms that boost your creativity.
Creativity Platforms and Why You Need It
However creativity is defined as making your static idea into a dynamic reality. You can achieve this through creative platforms that offer abundant content elements.
The software also centralizes your collaboration in one workspace. It lets you and your team interact with a project in real-time. Your workflow speeds up, and your team gets more engaged.
Great examples of creative platforms are Canva, Flixier, Storyblocks, Obsidian, XSplit, and Designify. Before we go through each of these applications, let's deeply appreciate their benefits.
Perks of Using Creativity Platforms
The platforms we use for creativity are not just to illustrate your ideas. Listed below are some of the advantages of using them.
1. It encourages creativity
The most obvious reason we tap these platforms is their ability to make your ideas tangible. Creative platforms open doors for fresher ideas, encouraging your team to seek improvements proactively.
2. It speeds up the design creation
Most creative platforms already have a gigantic library of ready-made templates and elements. All you need to do is choose the template that best matches your idea and do some tweaking to make it personalized.
Yes, Google gives you many options, but many of them have royalties, so you need to subscribe to the owner's website. If your business primarily uses images, videos, and live streaming, it's a wise choice to subscribe to premium plans for faster design creation.
3. It stimulates interaction
After making a design, you present it for comments and feedback. Let's face it; sometimes, people don't attend to matters immediately. For creative platforms, however, you eliminate downtime by involving your team members immediately after creation.
In one drawing board that everyone can see, you can collate the feedback to revise the design if needed.
4. It is accessible anywhere
Most platforms are web-based so you can access them online or on your phone. Log in using your credentials to access your subscribed designs and do your thing!
Being away from your office work desk should not mean that work should also stop. You can continue your job through creative platforms and maintain productivity at home or on a business trip.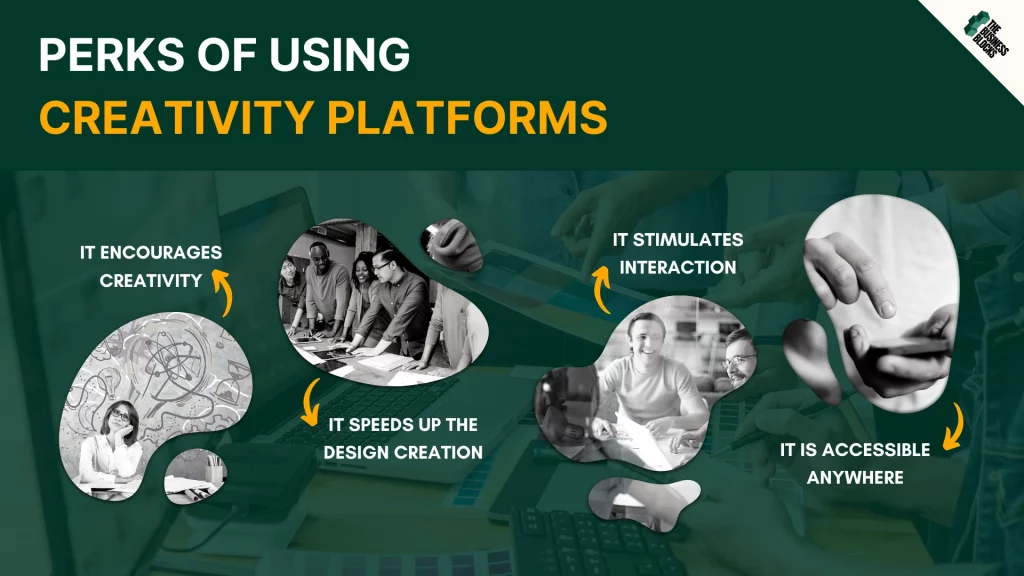 Zooming In at the Best Creative Platforms
Canva
Do you want to make brilliant visual designs using your fingertips in the blink of an eye? It's possible with Canva. Yes, this web-based creative platform revolutionizes how you make visual presentations by making things simple.
With over 50,000 ready-to-use templates, pick or search for any design you want for social media, presentations, infographics, posters, resumes, newsletters, logos, etc. Choose any template, modify it according to your needs, and then save it to any image or video file format. You can also build a template from scratch and drag elements onto it.
You can add a curving effect to your text for a more elegant design to blend perfectly with curves, circles, and arcs. A great collaboration feature of Canva is its Canva Live, which engages your audience through comments, reactions, and questions.
Add dynamics to your text with Canvas text animations. You can choose from several effects to make your ideas alive on screen.
Click here to view our full Canva review.
Flixier
For the quick creation of high-quality videos, Flixier is a wise choice. Used by more than 30,000 people, the application is a fantastic tool for creating YouTube videos, webinars, online courses, Twitch streams, marketing videos, and Zoom recordings. Even better, you can choose a custom resolution, and then click a button to publish it directly on social media platforms.
You don't need to be a wizard when creating video materials because, in Flixier, you can easily make high-quality content. With an intuitive interface and drag-and-drop functionality, making videos is not just uncomplicated but fun!
Flixier also allows you to collaborate with your team in real-time. By clicking a button, you can share files and ask for feedback.
The cloud-based program has an arsenal of more than 2 million music, image, and video stock files. Flixier gives you access to stunning animated text, titles, and overlays for a more professional look.
Click here to view our full Canva review.
Storyblocks
If you have difficulty looking for that concrete image or video to support your ideas, raise your hands. Or you might have found it but can't remove the annoying watermark. Storyblock lightens that burden by providing a massive database of stock videos, audio, and images.
By subscribing to an account in Storyblocks, you can access and download royalty-free materials. There's no limit to how much you download! Even if your member is inactive, you can still use these files!
There are no free subscription plans for Storyblocks, but when you think of the inexhaustible resources found in the platform, it's worth the investment. Moreover, the premium plans are affordable and won't hurt your pocket.
You can download unlimited audio, images, and videos when you subscribe to the premium plan. You can also access HD, 4K, and After Effect Templates.
Click here to view our full Canva review.
Obsidian
Obsidian is one of the best note-taking software, keeping up with similar apps like Notion and Roam Research. If you want to increase productivity and organize local files, Obsidian is the way to do it.
Obsidian lets you build a network of thoughts using bi-directional links. The platform's interface is not complicated, so anyone from beginner to expert level can use it.
What sets Obsidian apart from other software is the ability to use it without an internet connection. When you are in a location where a Wi-Fi signal is intermittent or difficult to come by, Obsidian is the hero of the day.
The platform can only be accessed through a desktop, but its mobile app is now in the works. Obsidian assures its users of secure data storage because you can work offline.
Click here to view our full Canva review.
XSplit
Digital presentations, online streaming, and live recording have become today's norms for businesses or individuals. XSplit is an application that lets you do these things powerfully.
XSplit is a software portfolio that includes a lineup of powerful video tools:
· Broadcaster
Using this tool, you can do streaming and recording. Xplit's Broadcast offers a high degree of customization by dragging and dropping media such as images and videos. You can add Skype calls or capture calls in Zoom, Microsoft Teams, or Discord by clicking a button.
· VCam
Through this tool, you can customize or blur your background during calls.
· Connect Webcam
If you don't have a webcam, Xsplit will help you by turning your smartphone into one during conference calls, presentations, and live streams.
· Presenter
You can easily create a high-quality presentation with media-rich slides.
· Capture
Want to share what's on your screen immediately? Do it with XSplit's Capture. You can also enhance the screenshot or screen sharing by adding annotations.
The great thing is that you can use these applications with prominent applications like LinkedIn, YouTube, Facebook, Zoom, Skype, and many more!
Click here to view our full Canva review.
Companies using Creative Platforms
Conversational is a virtual receptionist that manages all incoming calls, depending on how you want it to. If your actual receptionist is on vacation, you can use Conversational to do personalized greetings to your callers.
To support its marketing and content strategies, the company uses Canva. Since Conversational started using Canva, their social media engagement has grown to 1100%. They gathered more meaningful results and could engage effectively with their audience.
Conversational uses Canva daily because of its elegant ready-to-use templates, which they can use even on a free account. They usually use three design templates: Facebook post template, blog title template, and Twitter post template. With drag-and-drop functionality, they can create blog posts with a professional look, bearing their brand.
The social media presence of the business also benefitted greatly through Canva. Because of greater audience engagement, their posts have garnered more likes, comments, and shares. Because of their professional-looking Canva materials, people enjoy seeing and sharing the posts right after.
With a simplistic and minimalist approach, Flowplayer offers its customers full-stack video solutions. The online video platform is popular among broadcasters, publishers, and digital media because of its awesome features.
Today, you can use Flowplayer to import videos from Flixier and vice versa. The new integration lets you connect your accounts in the two platforms, allowing a seamless workflow. Just bring your Flowplayer assets to Flixier, and you can start to edit right away.
After editing the videos in Flixier, you can export the finished product to Flowplayer for publishing to your linked website. You can grow your audience faster because of efficient video production.
Intel is famous for manufacturing processors we use today, whether in computers, laptops, or tablets. The Xsplit VCam helped streaming gamers using Intel graphics cards to intelligently remove background in real-time without affecting GPU performance.
XSplit's impeccable processing of Intel Graphic Technology allowed it to run games smoothly even when adding background enhancements. When gamers stream their games, they interact with the audience, so the latter needs to see the former's reactions. About half of the gamers are using webcams to broadcast their games.
Vcam enhanced the gamer's broadcasting experience through background removal, replacement, and blurring. Gamers must blur their backgrounds so that the audience can fully immerse themselves in the game. Traditionally, gamers would use a green screen to remove the background, but Vcam can achieve this even without a green screen!
Key Elements of a Great Creativity Platform
Yes, all the software above can level up your business, but you must also be careful in choosing because you are investing your money and effort. Creativity ultimately comes from you, but your ingenuity will be in vain without the proper software.
Strictly speaking, there's a long list of key traits of great creative platforms, but the essential ones are as follows:
1. Creativity and Engagement
The software must be a maximizer and not a limiter. When you have a lofty vision, it's frustrating when the software you are using hinders them. Thus, good creativity software must be flexible enough to support a big room for creative ideas.
Ensure the platform enriches the customer experience by continuously updating fresh tools, media, and templates.
2. Compatibility
Software compatibility helps make your team members inclusive of every process and update. In this manner, the planning, design, and execution are within your reach through the web, mobile, or any device.
Ensure your chosen creative platform is highly compatible with your operating systems, like Windows, OSX, or UNIX. A highly compatible software ensures satisfaction in your employees and customers.
3. Collaboration
Two is always better than one. From the design to the inception of your material, all your team members play a vital role in improving workflow efficiencies. For your whole system to work, you must share and manage files most coherently.
Collaboration is a real challenge when your team works in different locations. The adopted software should enable an online workspace that is visible to all members. This space must allow the speedy accomplishment of projects because of improved communication.
4. Cost-effectiveness
Don't just click that Add To Cart button without weighing the pros and cons of financial figures. Create a cost-benefit analysis for your chosen prospect creativity software and determine its cost. This will give you a good idea of the most appropriate software for your business during the specific period.
Does the software increase your IT costs? Or does it lower them, but the improvements increase efficiency and profitability?
5. Combination
You are investing in software for your business not as a stand-alone application but as a means to connect to other apps effortlessly. The software must integrate with other prominent applications so your data can flow in real time and you can resolve issues quicker.
It's easy to handle a handful of data, but when it becomes an enormous database, it affects your real-time view of the process.
6. Customization and Scalability
The software could address your goals in a general manner. Try to dive in for software that suits your specific needs.
The customization itself must also be straightforward and uncomplicated for the users. At first glance, customized software might involve a higher investment, but if the long-term projection outweighs it, go for it.
After identifying the software's capability to tailor-fit your requirements, check on how scalable it is for your organization. Can it also adjust as your company's needs evolve?
---
Featured Image: Canva, Flixier, Storyblocks, Obsidian, XSplit