Looking for an all-in-one document workflow automation tool to simplify your business processes? Learn about airSlate.
Business automation is essential for companies and organizations nowadays. Competition is growing, and customers are demanding real-time solutions. So how does airSlate help automate your business and meet clientele satisfaction?
The simplicity, flexibility, and efficiency of airSlate make it easier for managers and employees to manage daily tasks. Using simple yet powerful software, you can easily create pre-populated documents or multi-page forms based on user information.
Users only need to type in their names once, and it will replicate in the system for future use. There are many other reasons to consider integrating this platform into your business. Learn more about the airSlate software platform for single, no-code business document workflow automation solutions.
What Is airSlate?
As the first no-code business automation software platform, airSlate provides automated solutions, including e-signing, contract negotiation, no-code robotic process automation, and document generation. It keeps online forms into a single platform for easy access when needed.
This software platform also configures and automates business processes while integrating them into a system of information without writing code. Regarding inclusive workflow solutions, airSlate offers a wide range of features that help simplify day-to-day web processes.
As a well-serviced, cost-effective end-to-end document workflow automation solution, even users who are not tech-savvy can use the platform straight from templates. AirSlate is more affordable and user-friendly than other no-code business automation platforms.
How Does airSlate Differ from Other Software?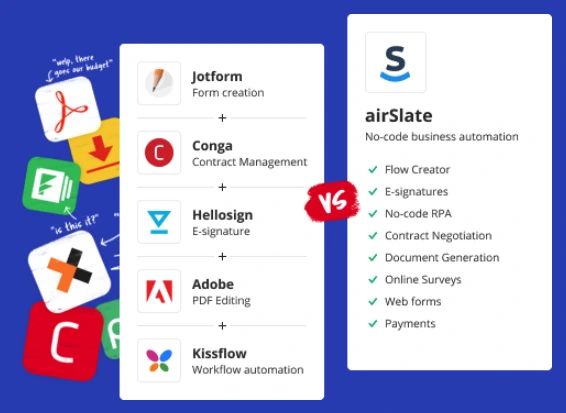 Unlike other business automation platforms, airSlate offers a proprietary library of bots, including Slack notification bot, signature type bot, pre-fill from CSV file bot, and update SharePoint list item bot. Choose from these bots and customize your web forms to suit your projects.
Moreover, it's a web form builder with configurable workflow routing for more efficient customer records management. It provides workflow analytics to identify issues that need your attention easily. The e-signing feature is legally binding, so you are guaranteed to protect sensitive information in your system.
Compared to similar platforms, this codeless workflow-building software focuses on contract life cycle management, document generation, and web form integrations with CRM and other record systems that don't use any codes.
Who Can Benefit from airSlate?
The main beneficiaries of the airSlate no-code document workflow automation platform are business owners, team managers, and workers who need to automate their manual processes. You can integrate the platform with other software to build a system that works for your everyday business needs.
Non-programmers or those who don't know how to write a single code to generate forms can also use this platform. This is a great solution if you are managing a company and your employees don't have technical skills such as building various web forms from scratch.
The following are the benefits of using airSlate in your business processes:
Customization of forms to match your business requirements. There are existing templates to help you create company forms that meet your needs.
The platform allows you to request attachments and signatures from users. It saves workflows directly to the cloud for safe storage.
Receive email notifications internally and send email notifications externally.
Easy to reach out customer service team that closely works with users to help them create an ideal document workflow that exactly meets their business needs.
The intuitive drag-and-drop user interface allows the creation of data entry web forms that can be used to fill up document workflows.
The platform has a PDF editor that links web form data to fillable fields in PDF format. The platform has a chat feature to help you easily contact the customer support team with questions.
Automatically send pre-chosen files to recipients and make changes to the files later on. With sophisticated features, you can easily use slates, bots, and flows without prior programming knowledge.
A wide range of integrations, including the ability for webhooks. Seamlessly connect integrations with the bots.
Good reporting on created documents, role-based access to company templates, redlining implementation, and quickly transferring data to another document.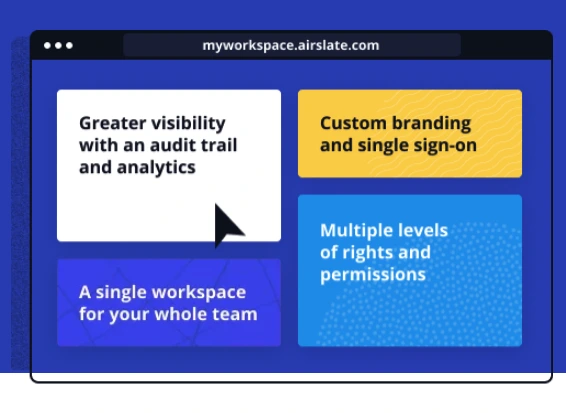 More importantly, the airSlate team is open to continuous feedback and suggestions to improve the platform for businesses and organizations. You can access it using your phone, tablet, laptop, or desktop computer.
Existing Platforms Integrated with airSlate
One of the best things about airSlate is that you can use plenty of integrations with the platforms and many opportunities for improving productivity. For example, you can integrate it with Salesforce, Atlassian Jira Align, MS Dynamics, NetSuite ERP, Google Drive, Dropbox, and Salesforce Commerce Cloud.
Regarding the flow templates, you can customize and connect multiple sources for your data and include them in your contract flows. Some of the most commonly used flows on the platform are the employee onboarding flow, contract management flow, collecting employee feedback flow, and the capital expenditure request approval flow.
Wrapping It Up
When choosing a codeless business automation software, it's important to consider the feedback from current users. Experiences can help you decide whether the solution is best for you. AirSlate is designed to help businesses create document workflows in an instant.
No professional programming skill is required to use the platform. All you need to do is follow the templates and contact the customer support team for your concerns. AirSlate understands that end-users opt for the latest version of forms to overcome complicated processes.
Furthermore, populating forms is made easier by the platform wherein you enter the information, which will be replicated throughout the system. With a few clicks, you can easily create document forms with the necessary information on users.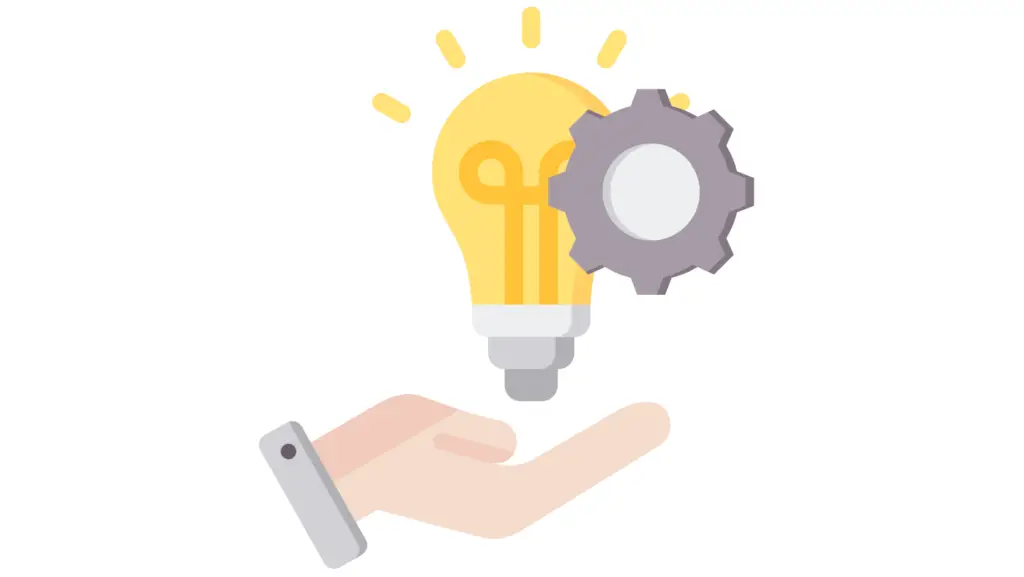 Before you buy, know that a free trial and the Freemium Version are available. Integration and premium consulting services are also available to help you manage your business automation needs at a reasonable price.
So what are the most common problems you have encountered in your current document builder platform? Do you think airSlate can do a better job for you without compromising user information and other essential requirements?