The need for a reliable online collaboration tool is on the rise.
Given the current scenario, it is no surprise people have turned to the Internet to perform routine tasks such as school lectures, office meetings, or even cooking and dance lessons. 
Many companies are likely using a video call application to check in, collaborate, and chat with their colleagues. However, something odd is that many people did not choose the classic platforms, but rather Zoom.   
The COVID-19 pandemic has directed Zoom conferences into the nation's public eye, with family members, friends, officemates, customers, classmates, and even private instructors using the app to connect during this period of uncertainty, social distancing, and remote work. 
Zoom's daily active users jumped from just 10 million to over 200 million users participating in meetings every single day. First-time mobile app users have gone 748% since March 2, 2020. Before the coronavirus pandemic, most of us had not even heard about Zoom. So why is everyone suddenly using Zoom? 
As we all realize, the major advantage of Zoom is that it is easy to use for any individual and holds powerful features to strengthen team collaboration. 
Discover if Zoom proves its brand-new fame and whether it is the best fit for your business. 
What Is Zoom? 
Zoom is a web-based video call application devised for every enterprise type and size. This online collaboration tool is developed to accommodate individual users, small businesses, large enterprises, healthcare organizations, educational institutions, and more. 
Anyone who requires video conference with others, especially those who work remotely, will consider Zoom a winning option. And the great news is that you get an application with great features without spending too much.
Accessibility and Ease 
When companies try to get thousands of people to implement a new form of communication, ease of use is crucial. Zoom does not have a complicated process to create an account like every other virtual conferencing platform. To join the meeting, you just have to type the meeting ID and the required password.  
Furthermore, if you are on a computer, you do not even have to install any software. You can simply click on the meeting link given by the host, enter your name, and you are in. 
Zoom's user interface is relatively lightweight, clean, and easy to use on mobile devices and desktops. Open the application, and you are shown with four options — New Meeting, Join, Share Screen, and Schedule. The home button, meeting list, chat tab, or contacts can be opened effortlessly as well. 
This is the initial look you find upon opening this video conferencing application, and it leads to the other application's features: lightweight, clean, and instinctive. 
Advantages of Zoom Application  
The main Zoom advantage is that it is accessible to enterprises of all types and sizes, and its price mirrors the robust attributes you get with every plan. Its ease of use merged with its functions is a vast pull for companies looking for a complete communication tool. 
As an online collaboration tool, you can create your collaboration requirements and tech load around the video application interface, thanks to its pack of collaboration and communication features and its incorporation with many other bundles. 
Zoom also offers an extensive all-in-one phone structure solution, hardware, and a chat function that helps simplify your everyday communication activities. 
Well-Rounded Communication Solution for Any Company Size and Type 
Zoom is perfect for companies of all sizes and shapes. It is a function-rich video call solution that is easy to put up and navigate. Some people use this video call tool within their organization. Some users utilize it in connecting with clients, improving prospecting, or reviewing project bids.  
Although Zoom's free plan comes with a host of functions, it is disappointing that the conferences are limited to only 40 minutes. 
This video conferencing tool is also relatively stable compared to any other video call application — unless your internet connection is unreliable, it usually works efficiently. Some users report that they have fewer connection disruptions and lag concerns using Zoom than other communication platforms.  
Video conferencing application is not the only tool used in any business. Many companies have CRM, project management software, payroll applications, and more. For optimal efficiency, a Zoom user would want the video call tool to incorporate well with another office software they use.  
And that is what exactly Zoom provides. 
For example, the Zoom user can integrate project management software to help jump on a swift Zoom call to review project plans with the team. 
Zoom also has an app marketplace where they can download integrated applications that enhance the overall experience. Programming., marketing, and project management tools are just some of the add-ons that you can incorporate into your Zoom application. 
Enhanced Functions of the Business and Enterprise Plans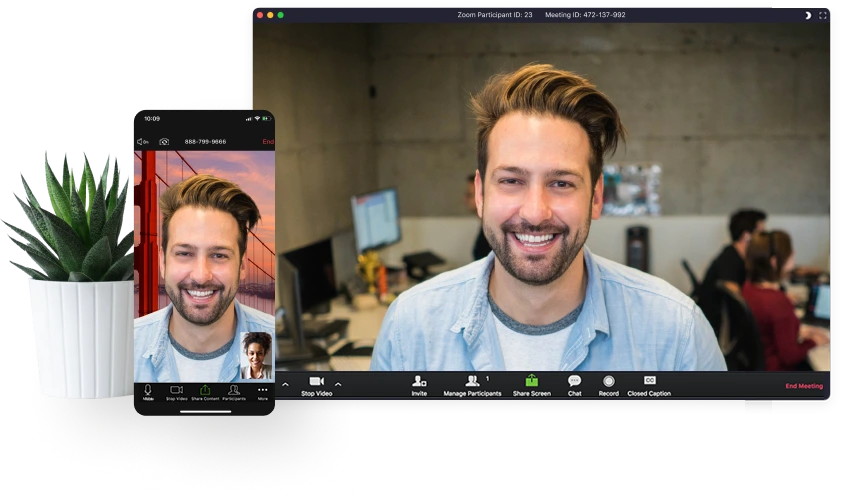 The conference time limit increases from only 40 minutes to 24 hours when you upgrade to a paid plan. Also included in the paid plans are additional storage for your recordings and customized meeting IDs. If you own a small, average, or large company, the Business and Enterprise Plans present more enhanced features. Customize the platform for your enterprise with vanity conference URLs and even company branding. 
The Business Plan has up to 300 participants in a conference, while the Enterprise Plan has up to 1,000 users with customer support, enhanced transcript capabilities, and larger cloud storage. Both plans provide access to phone-based customer support for users, and a dedicated client success onboarding manager is included in the Enterprise plans. Compared with any other video conferencing platform, Zoom's paid accounts offer great value for your money. 
Regardless of the license you choose, Zoom delivers plenty of stand-out functions. Aside from screen sharing, you can also write or annotate on your screen. All paid plans also present whiteboard incorporation. These functions make any virtual meeting practically as collaborative as a face-to-face conference. 
Zoom's chat is a powerful feature on its own because it can lessen dependence on other chat-based platforms. With Zoom, users can send messages one-on-one or even in groups, create a group of people to chat with, and share files. Perhaps there is a "marketing team" within your organization; in the Zoom app, you can create a group for collaboration and calendar an in-person video conference with one click. 
Scaled-up Security Issues  
Zoom has an outstanding positive standing across the most eminent review sites. It has had glitches in the past due to some security and privacy issues, but lately, the video conferencing giant has been rewarding expectations and providing reliable communications. 
Whether large or small enterprises, any manager or business owner who relies on video conferencing software and online collaboration tools to communicate and collaborate with his team or clients would want to store their data securely. As the number of users grows during the coronavirus pandemic, Zoom has been confronting some security and privacy issues.  
These controversies involve encryption policies, sending users' data to Facebook, tracking attendees, Zoombombing, etc. Other people also think that Zoom has end-to-end encryption, which in truth, it does not. These concerns have been addressed seriously by Zoom, and they are working to strengthen their security system. 
Conclusion: Is Zoom Worth It? 
Zoom provides the essential functions most companies and managers need to establish professional, end-to-end communications experience. There is no question that small teams and companies will love its budget-friendly plans and the ability to acquire additional products or package them together under the Zoom United plan.  
The conference capacity limits of Zoom outshine every other video conferencing and online collaboration tool, and its functions are as good and better. Even though Zoom wrestles in the customer support and security departments, the pros far outweigh the cons, as it is one of the more inclusive and scalable video conference call services available on the market today.