Managing a business is tough, but what is harder is ensuring a success rate, at least. With all the tasks needed to get done every single day, hiring someone is not enough. Time is the most valuable factor to consider if you want a business to thrive in the next ten years. You need to improve CRM and it cannot be possible to reach if you spend hours doing a single task.
Today, most businesses rely on technology to help run their businesses. Business software applications and tools are crucial in automating various tasks that would take some time when done manually. Not only are these tools time-efficient. They are also significantly cost-effective. Business software applications can save up to millions by accomplishing multiple tasks in a minute.
Thryv is one of the many business management solutions that helped several small businesses over the past years. It is a cloud-based marketing and customer-relationship management software that helps business owners establish a connection and deliver convenience to their clients.
History
Currently based in Dallas, Texas, Thryv operates in over 48 states, servicing more than 350,000 business owners. It started in 2017 through Dex Media, a company that publishes yellow pages, white Pages, as well as business tools for market research. As technology progressed, with manual search pages switching to digital searches, Thryv was able to provide marketing products and services to several local businesses – driving customers to clients' sites. It has formed alliances with several significant marketing companies, some being the key players in the marketing industry such as Google Premier Partner, Yahoo Preferred Partner, MSN, Bing, and Facebook.
In 2019, the company rebranded as a flagship software focused on running the business using modern, digital tools. With the successful launching of the company's mission, it was reported that they were able to gain 1.4 billion dollars in their total revenue in that same year, accumulating a profit of 35.5 million dollars. As the company grew and grew, Thryv Holdings Inc. reached 40,000 SaaS (Software as a Service) clients after opening it to the public through NASDAQ.
Key Features
Designed to provide efficient solutions to various business functions, Thryv ensures that it can integrate the following features:
1. Improve CRM (Customer Relationship Management)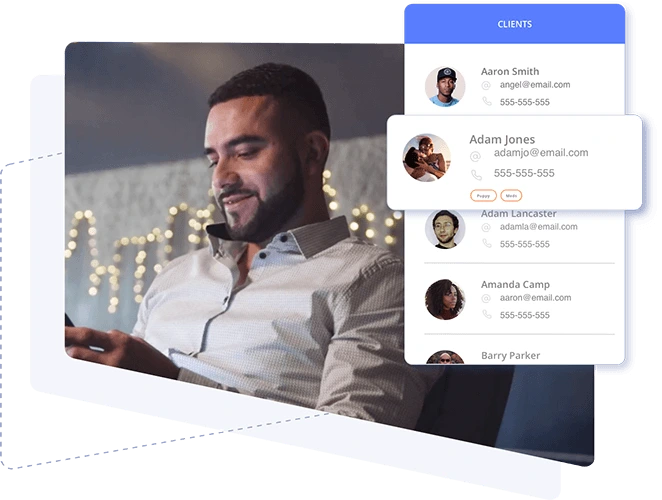 Finding the right CRM software is just as important as anything else. To generate leads, a company must improve CRM and be able to create customer trust, loyalty, and retention. This means that if you want to grow your business and keep it on top, you shouldn't settle with an average CRM.
In terms of choosing the right CRM to use, a business should be able to identify its needs and check which CRM tools are suited for its brand, and test them out. At Thryv, staying organized and engaged with clients is easy. The vision of Thryv is none other than to place its customers at the heart of the business. Thus, as a commitment to its core mission, Thryv continues to provide the business needs by:
providing a client portal customized for businesses where they can log in, connect, share schedules and documents, set appointments, and make transactions
managing and gaining access to a customer database
filtering data by using custom business tags
gathering data from online databases and social platforms to connect relevant postings to the business' database system
creating cross-references to internet links and using automatic data enrichment to enhance collected data via the internet and be able to pull customer insights from across the internet
2. Scheduling and Online Appointment Booking Calendar
Thryv also highlights other important features to its users like appointment booking to help them organize and manage their team's meetings and schedules, share calendars and easily book appointments in a specified setting. Since there are several businesses today with team members working in multiple time zones, staff and scheduling managing system like Thryv is essential to avoid the hassle of providing team members with updated employee-manager availability. This prevents managers from experiencing the urge to micromanage their members.
One aspect that determines the ability to succeed in collaborative learning is team composition. However, a mix of characteristics and different standpoints are unavoidable in achieving a common objective, which results in several companies finding it difficult to balance time and efficiency among their teams. Thus, causing miscommunication that results in significant work delays.
Calendar synchronization, which is one of Thryv's features, enables teams and departments to view advanced schedules for the day, week, and the whole year. This also allows them to perform advanced queries, demands, and requests on the calendar data posted that could include:
managing new member requests and team availability
scheduling a meeting as per every team member's availability
3. Consolidating email and business messaging platforms to improve the flow of real-time data across the team and the entire business
4. Online Presence Tools and Management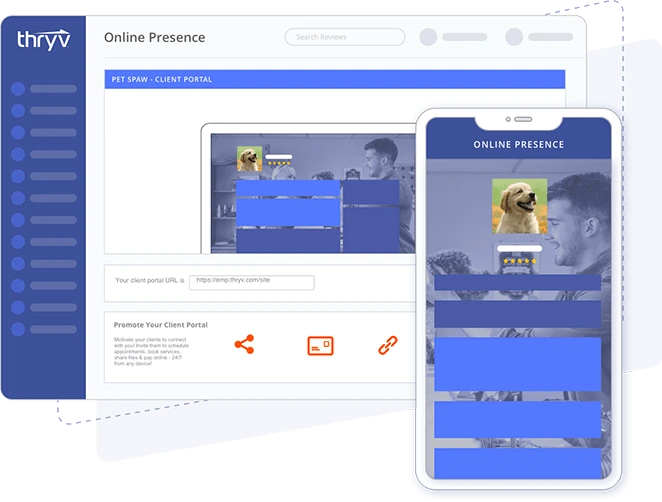 An online presence is defined by the extent of how easy it is to find a brand online. It is essential in building awareness and integrity for a brand. Almost 97% of shoppers use the internet to find businesses. To attract more customers, businesses should be able to reach and get to know prospects without hassle. This means that they must be readily accessible anywhere for customers to understand easily what the business offers.
Fortunately, Thryv has it all done in a few clicks. Thryv's online presence feature ensures that it can secure a business listing across hundreds of online platforms including the big ones such as Google, Facebook, and Yelp. Yes, Google is huge, customers love to use it, and placing a position on it is hard; which is why a part of Thryv's job is to remove the tedious authentication process and manage to make every Google My Business listing appear on the top search, secure a booking, and get recommended online.
5. Social Media Platform Management
Today, almost every person we know uses social media. Regardless of which type, social media has held an essential part in a business's marketing strategy. Social media platforms connect businesses to their consumers. It allows them to promote their brand while understanding consumer preferences and behavior.
With just one click, businesses can share stories, links, and videos, and post product content, from one place to another. For time management, scheduling posts in advance can also be done. With Thryv, everything is easy and convenient. All you need is a mobile device and you sure can track your business' social media updates anytime and anywhere. In line with this, Thryv ensures that it handles business owners' online reputation by managing everything from handling posts, responding to feedback, and assessing reviews and ratings.
For start-up businesses that get stuck fast with the constant trends, Thryv provides personalized pre-written posts to choose from for businesses to pull out whenever they run out of posts. Being a business software that is well-equipped and competitive, Thryv also reviews competitors' advertisements to guide businesses on which content to customize.
As part of its core mission, Thryv simply allows businesses to take full advantage of the social upgrades available and allow them to do all the hard work. No need to worry about posting content every month and boosting the algorithm to grow the audience because Thryv got it all covered.
*Click here to see: 5 Must-Have Features To Look For In a Social Media Management Tool*
6. Business Reputation Management
Reviews are indeed influential in a consumer's decision-making. Almost 59% of consumers use reviews to guide them in buying a specific product. Because every star counts, businesses should do everything to protect their reputation online. Gaining the loyalty and trust of consumers is key. Thus, if they will be able to generate more good reviews, more prospects can be expected.
Not only does Thryv ensure that the business can market effectively but it also protects and takes control of the reputation of every business it handles. Every review deserves to get noticed, and so Thryv sees to it that they get to respond and recognize every customer's feedback.
Thryv has an instant notification feature where businesses can check, view, and respond to new reviews posted on leading sites by just logging in. What's more, they also provide pre-built templates for reviews. When customers are satisfied with a product or service, they will most likely leave a review. And a better way to do it is to provide pre-built e-mail templates where they can request reviews, set appointments, and make transactions easily at one time.
Apart from the fact that being able to improve CRM and receive good reviews is important, checking on other competitors is necessary as well. For a business to lead, it must know the standing of its rival brands. This is where Thryv designed a Competitor Watch feature where every business is allowed to choose four competitors to look out, analyze, and compare thoroughly their rankings.
7. Sales & Payment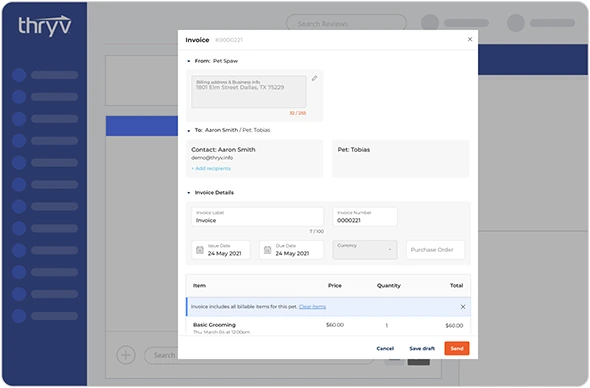 Have you ever heard of a payday everyday scheme? Yes, you read it right. Payday every day is one feature of Thryv that does streamline online payment processing to finish transactions smoothly and fast. With this feature, online credit card payments can be processed quicker than the usual processing time, thanks to Thryv for partnering with some of the top payment processors like ApplePay, Stripe, GooglePay, PayPal, and Square.
With this feature, transactions like storing credit card info, making payments, viewing an invoice, sending interactive estimates, setting reminders for overdue payments, booking packages and paying in advance, instant scanning of credit cards, and more can be done in less than a day.
What's also amazing is unlike other payment processors that have credit card surcharges, Thryv, together with its payment partners, won't charge you for anything. And last, but not least, there are no hassles in scanning your credit card because you can do it anytime and anywhere with your smartphone.
8. Document storage & sharing
Every company needs a team to finish the tasks needed per field. Processing all information and data to share with the team is crucial to meeting the business goal. Before, sharing files was done manually and it was time-consuming and costly. But today, with the intervention of technology, costs were cut and lots of time were saved.  
Thryv's online document storage and sharing enable companies to organize and save both external and internal files safely. Sensitive and confidential data from clients will surely be kept private and secure. Since Thryv values the company and consumers' safety, only certain people can access the files.
Add documents personally or request outside, every team member gets to select to whom and when to share the files. Thryv is also constantly updated so you won't always need revisions.
9. Marketing Automation.
Of all the marketing automation solutions used by several businesses, e-mail is indeed by far the most extensive and most effective way to reach prospective clients. Through Thryv's automated campaigns, newsletter subscriptions, and one-off messages would be sent nonstop to every email account. Once set up with Thryv, there's no single thing that needs to be done but to sit back, relax, and let clients come to you.
As a trusted business software, Thryv aims to target more customers for businesses to improve CRM and gain greater revenue, which is why it created consistent welcome and follow-up e-mails for clients to get reminded that such a brand exists. And when other clients decide to unsubscribe, they get an automated thank you newsletter and an option to come back again.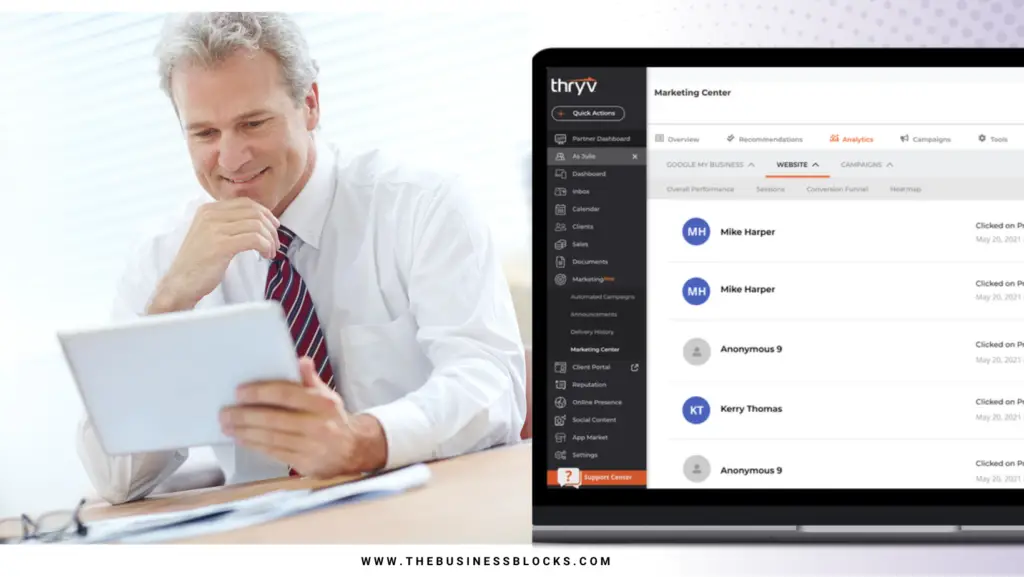 One good thing about Thryv is they won't leave you hanging as they always have a backup plan such as a library filled with ready-to-send emails that team members can send on any occasion. Delivery history is also provided to get an overview of the business' engagement metrics and analytics. Not only that, but Thryv has also enabled SMS opt-ins to expand the marketing list.
Truly, Thryv has taken up marketing to the next level as it also enabled small business owners to run marketing campaigns and manage interaction with clients via social media platforms such as Google, Facebook, Instagram, LinkedIn, and Twitter.
Thryv is an all-in-one software that does everything in one dashboard. All you need is to log in to your account and there you have it, a 24/7 manager at your service doing all the work without you raising a finger. If you are looking for software that can help you manage your business effectively and efficiently, check on Thryv to start your way toward success.