Trello is like a digital corkboard and the Trello board is your key to organizing and systemizing your workflow. Below you can learn how to use Trello boards to pin virtual cards containing important information in list form. You can fully customize these lists and add or take away any detail you like. 
The application follows the well-known Kanban method of organization and can help you effectively categorize data without compromising on accessibility.  
Stop struggling to manage your projects!
As of 2021, the application has over 35 million active users from every part of the world, which is a massive increase from the 14 million it had in 2019. Trello has gained popularity across universities, is actively used by start-up organizations and large, well-established businesses alike, and has become a staple in the world of digital organization. 
How to Organize a Project With Trello Boards 
Trello offers many fantastic features. Here's how to use them: 
Card Customization with your Trello Board
Trello's cards are remarkably easy to customize. All you need to do is pick and open a card by clicking on it, and use the toolbar to the right to add features to your list. You can customize the list's text and add images, too. Trello's text input is Markdown-enabled, allowing users to use keyboard shortcuts when typing to emphasize their text.  
You can also mention deadlines using the "Due Date" tool, make an interactive checklist, or invite other Trello users to collaborate with you on a card. 
Adding Members to Your Trello Board
Adding members has never been easier. You can easily invite as many people to your board as you like by clicking on the "Members" tab on the right-side toolbar. Once your members have joined the board, a small icon featuring their profile picture will appear. You can drag and drop these icons to cards to help divide tasks between collaborators. You can also mention members in comments by simply tagging them using the "Mention a Member" option listed right below each comment box. 
Trello's New Feature: Butler 
Trello's Butler feature aims to "let the robots do the work" and allows users to boost productivity through automation.  
Butler can: 
Follow rule-based triggers 
Create a custom card and board buttons 
Interact with the calendar and due date commands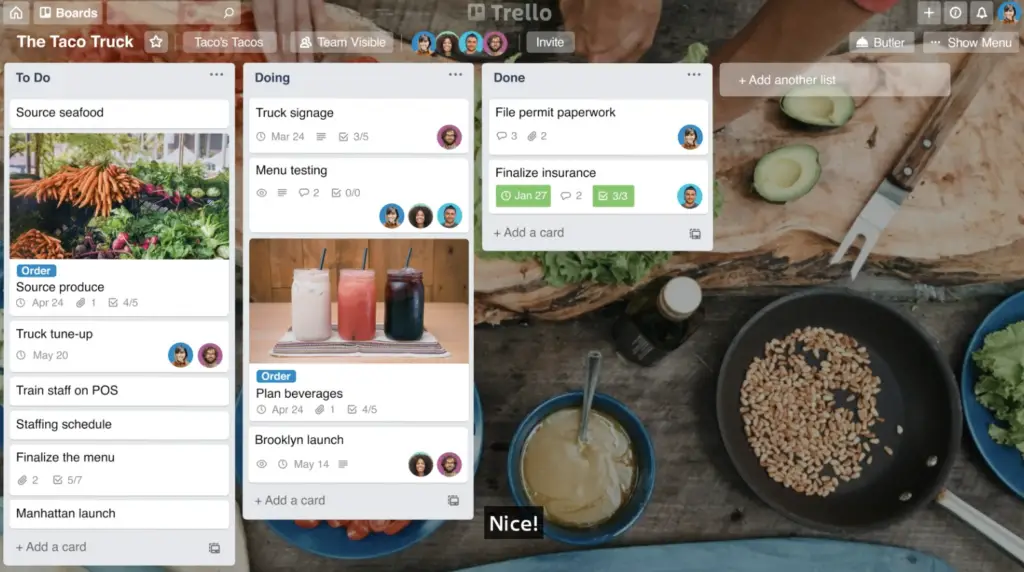 Trello Pros and Cons for Your Business
Trello, like any other product, comes with a unique set of pros and cons. 
| PROS | CONS |
| --- | --- |
| Trello boasts an easy-to-use interface with virtually no learning curve. It is suitable for people of all ages and does not require in-depth training or guidance to understand. Getting used to the layout and tools is easy, and can be comfortably understood on your own.  | This isn't the best application to use if you're aiming to write long passages. Trello's note-keeping feature is limited and will only let you pen short descriptions.   |
| This application makes teamwork easy by allowing you to add as many members as you like (for free!) You can then assign each member a card, or multiple members to various cards.   | Trello's customer support service isn't the best. Though polite and helpful, it may take you a while to get a reply from a customer representative.  |
| Trello's free version is remarkably powerful and allows you to go all out. While the paid versions certainly do have more to offer, it is unlikely that you'll need to upgrade to them. The free plan can easily cater to the needs of large businesses as well as individual or smaller group projects.  | There is no lagging or update time. Any changes made by any member with an active internet connection are seen on the spot in real time.  |
| Trello is accessible through any smart device. You can use the free downloadable app for iOS and Android, or open Trello on Kindle Fire tablets or your smartwatch. Trello also works on computers. All you need to do is log onto their website.   | |
| Trello's free version is remarkably powerful and allows you to go all-out. While the paid versions certainly do have more to offer, it is unlikely that you'll need to upgrade to them. The free plan can easily cater to the needs of large businesses as well as individual or smaller group projects.  | |
| You can easily integrate your Trello account with Google Calendar. Upon integrating a Trello board with Google Calendar, you will be able to view your cards and due dates together in one place. | |
| Trello supports Gantt chart creation, making data organization remarkably easy.  | |
| You can create as many personal boards as you like for free, so there's no true limit to the number of projects you can launch and manage simultaneously.  | |
Pros and Cons of Trello
Trello Pricing: Free, Standard, Premium, and Enterprise 
Trello has a set of pricing options to choose from: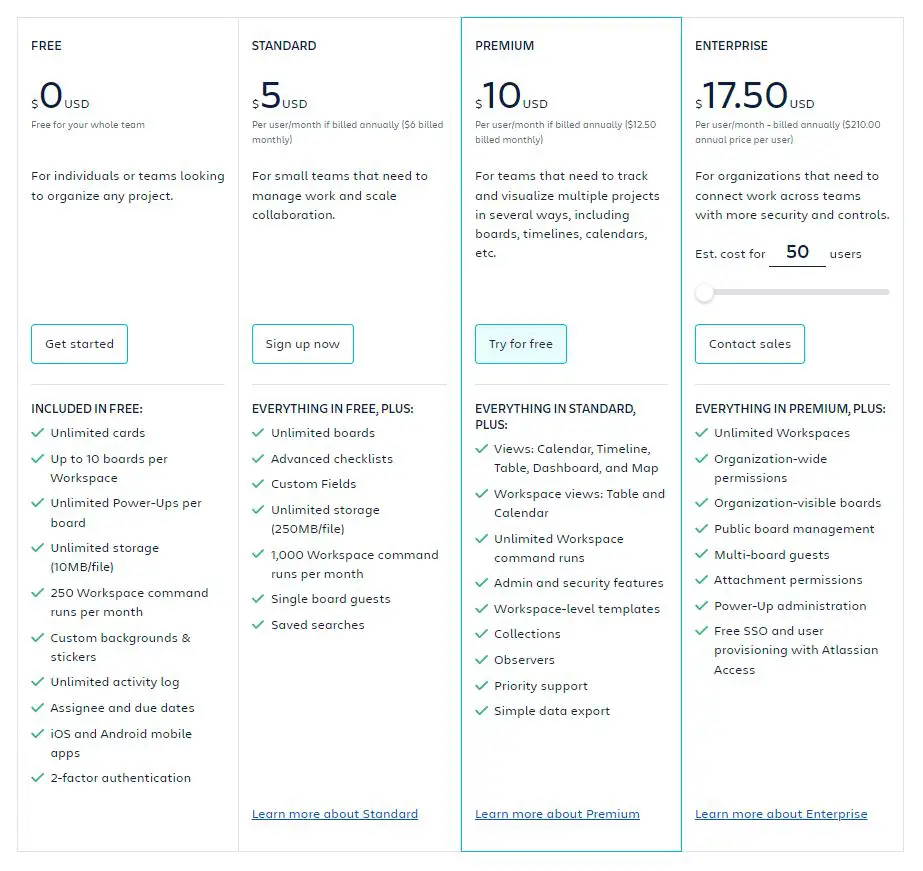 1. Trello Free Plan
Trello's free plan offers unlimited personal boards, cards, and lists. You can attach single files that are up to 10MB each. You can create up to 10 team boards and integrate a single Power Up function per board. This version also offers 2-factor authentication for admins to ensure security. 
The free version also has many excellent Butler functions, including the following: 
Ability to add simple automation to your everyday tasks 
Run Commands limited to 1 card button, 1 board button, and 1 rule per board 
An allowance of 50 Command runs per month 
2. Trello's Premium Plan  
This plan costs $10 USD when billed annually, or $12.50 when billed monthly. Similar to the Standard plan, this version offers unlimited personal Trello boards, cards, and lists. However, it also allows users to attach up to 250MB per file attachment.  
In addition to this, the Premium plan offers advanced checklists, priority support, and the ability to create Observers, which are team members who are allowed limited interaction abilities. You can also customize the background and add stickers. 
As for team features, you can create unlimited team boards and create board collections by grouping boards with mutual members or goals together. This version allows for unlimited Power Ups, the ability to create custom fields with advanced elements like checkboxes and dropdown lists, and adjustable list limits.  
You can also create card duplicates with the card repeater function, access the calendar view, add locations to a card view them on a map, and use the voting function to collect votes from team members. The Premium plan also allows for over 100 app integrations, including popular choices like Google Drive, Dropbox, and Salesforce. 
Here are the Business Plan's most prominent Butler features: 
1,000 Command runs per team and 200 per user, with the team quota pooling up to a max of 6,000
Command scheduling 
Email notifications 
HTTP requests 
This version also has many new security features: 
Advanced admin permissions 
Domain restricted invites 
Member deactivation 
Google Apps sign-on 
Simple data exportation (JSON, CSV) 
3. Enterprise 
This plan starts at $17.50 per user per month but can fall to $7.38 per user per month if more users (from the same company) are on board.  It offers all the standard and Butler features seen in the Business Class plan. The primary upgrade between the Executive plan and Business Class is in the admin and security feature department.  
Here's what Trello's Executive plan can give you in terms of admin and security features that the previous versions cannot: 
Public board management, allowing admins to view any company board, whether public or private 
Change user permissions, e.g., control Power Up and attachment restrictions for all employees 
Improved security with Atlassian Access (additional costs may apply) 
Trello is Recommended by Some of the Best Companies 
It is evident that Trello is a very flexible platform and has functionalities that can fit different types of workflows across different industries. Top-notch companies from various fields such as eCommerce, marketing, and even sport have been using Trello and have been putting in a good word for this impressive management tool.  


Final Thoughts
Trello is a powerful tool. The pros greatly outnumber the cons, and its user base has risen by 9 million active subscribers within just a year, proving that the application is worth investing in.  
Whether you choose to use the free version or opt for a paid plan, after subscribing to Trello, you're bound to witness a major upgrade in your organizational methods and productivity. 
Visit Trello's website or watch YouTube videos to learn more about how to organize a project.
References: 
https://projectmanagers.net/the-pros-and-cons-of-trello/
https://www.trustradius.com/reviews/trello-2019-08-09-09-28-24
https://www.computerworld.com/article/3226447/what-is-trello-a-guide-to-atlassians-collaboration-and-work-management-tool.html