Switching to digital signatures? Annature may be the e-signature platform you are looking for.
The Covid-19 Pandemic has forced us all to work from home and stay remote. Our digital workspace has become the norm that was predicted since the internet and the move to E-signatures or digital signatures is well on its way.
We have quickly adapted to doing everything from the comfort of our own homes (school, office work, and business). However, having to print and sign documents and contracts between parties became a significant hurdle, especially for small and medium business owners.
Almost everything now has switched to the digital. Going paperless has been the direction of virtually all businesses. Modernizing documentation solutions have been made available. Unfortunately, not everyone can afford it.
Electronic signatures or e-signing technology can be expensive for small businesses and, most of the time, under-utilized. If you are interested, we have reviewed Annature's competition on one summarised page – You can check out the top 4 TBB reviewed e-signature platforms here.
This is where Annature can fill that void, delivering a low-cost pay-as-you-use model, uniquely positioned for those businesses still on the fence about going digital.
Now Australia's dominating digital signature provider, it helps streamline documents for all types of enterprises.
It is an aspect-rich e-signing solution practice that can be embraced with the least effort yet instant results.
Introduction to Annature
E-signing is one of the most straightforward business workflows that can be adopted. It has a simple directional workflow, minor paperwork to chase, and curtailed postage and handling expenses.
Annature creator and co-founder Amreeta Abbott admitted that as a business customer, she got frustrated at how incumbent the e-signing companies were.
She decided to do something about it then and thus created an e-signing solution that's simple, effective, and, best of all, affordable.
Since its launch last year, Annature has been welcomed by the Australian and NZ market with open arms. And because of its digital nature, they were able to easily reach the global market at a rapidly growing phase. This Australian-based company continues to expand.
More companies are approaching to have their services integrated with Annature, extensively broadening their network.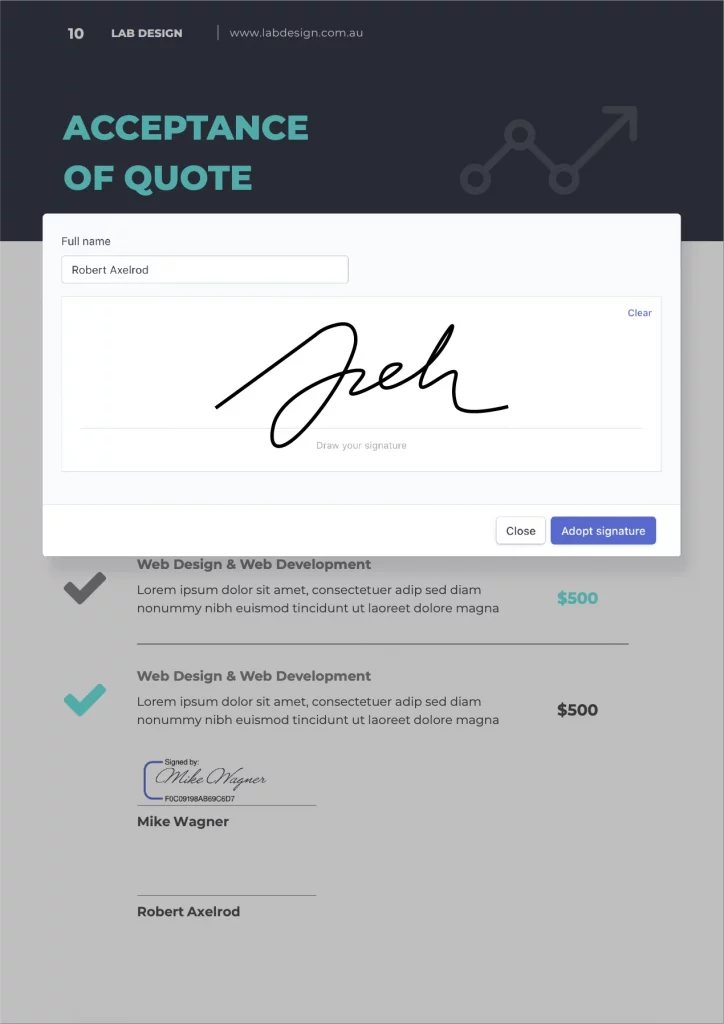 Annature delivers a full-fledged DTM result backed by over 25 years of experience.
It partners with The Australian Bookkeepers Network, Xero as a Connected App Partner, and Chartered Accountants ANZ as a sole Member Benefits partner in the electronic signing sector.
They are now supporting more than 1500 small businesses in the accounting and financial services industry to accomplish contracts with e-signatures at a reasonable price.
One Tree Planted, a non-profit tree planting charity, plays an integral part in Annature's business model. They can help with reforestation as every 100 envelopes are equivalent to one tree planted in Australia.
Eliminate costs associated with paper and save more trees from being cut by automating document sending processes with e-signatures. Improve customer experience and strengthen compliance while delivering a remarkable experience with Annature.
Which businesses can use Annature?
Annature was created with small and local businesses in mind.
E-signing technology has been made available before but primarily targets more giant corporations, costing a lot of money with expensive month-to-month contracts and minimum term engagements.
Accountants, real estate agents, law firms, and any type of business that hires staff and suppliers and has forms and contracts to be signed regularly will benefit from it.
Annature created a simplified technology and removed all the bells and whistles that most small businesses don't need to be made available and affordable for even the startups.
It's a horizontal solution, meaning it works across borders and for all industries.
Features & Benefits of the E-signature Platform
Annature boasts of tons of helpful features that benefit both users and clients alike.
It is beaming with great reviews and has helped many business owners and employees maximize their potential. Listed below are only a handful of what makes Annature unique and loved by its users.
Some of the things that you can do include:
Up to 10 team members can access the platform at no additional cost.
Create and re-use templates for all types of documents such as proposals, engagement letters, and tax returns.
Set up a customized branded number where your clients will receive messages from.
Reminders to sign a document can be set automatically and manually and can be sent through text and email.
Send your envelope in sequential order, especially if there are multiple receivers, and keep track of them as they are opened and signed.
A detailed completion certificate log of what was transcribed through an envelope, as it was sent, received, and sent back, including timestamps, IP addresses, and unique identifiers of the receivers.
Custom Branding
Personalization is one of the most loved features of Annature. Users can set up their company brand and colour scheme along with their logo. Once saved, these customizations will reflect in all envelopes that they will send in the future. By doing this, Annature gives users that exclusivity and pride that boosts company confidence for both the user and their clients.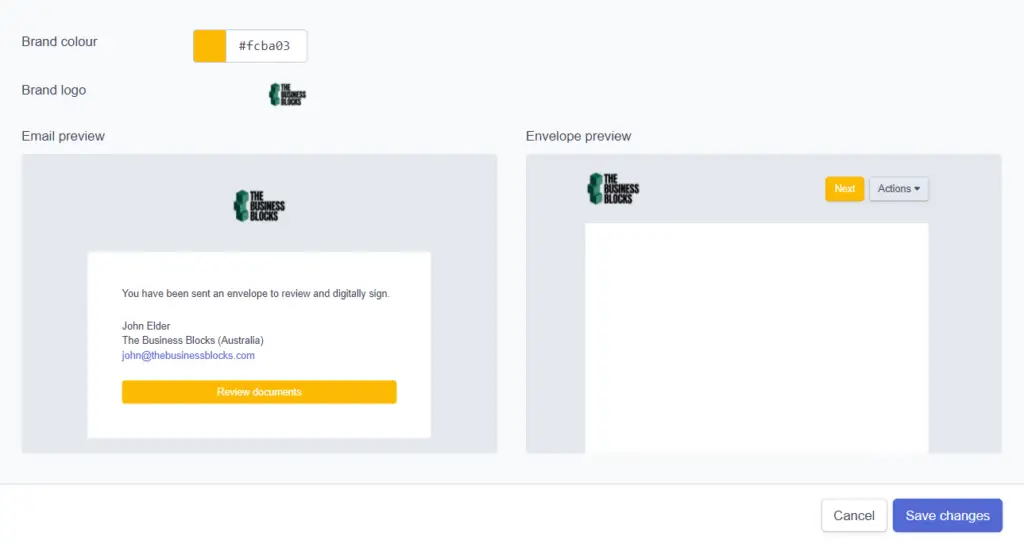 You can also create an 11- character business name that your recipients can see whenever they receive a text message notification.
Annature Integrations and API Documentation
From its SSO options for Xero on the login page to Annature's integration with almost every storage solution possible allows users to build seamless workflows.
Developers and Accountants love Annature's APIs that are feature-rich and robust.
Some of the storage solutions Annature integrated with are Xero, Stripe, FYI, DropBox, Microsoft, and Google.
You can explore all of their integrations here:
https://annature.com.au/integrations
https://documentation.annature.com.au/
Further Partnerships
August of this year 2021, Annature has also partnered with another champion for small business owners, First Class Accounts, and their franchisees, offering discounts, webinars, and training to aid them on how they can transition their businesses into e-signing.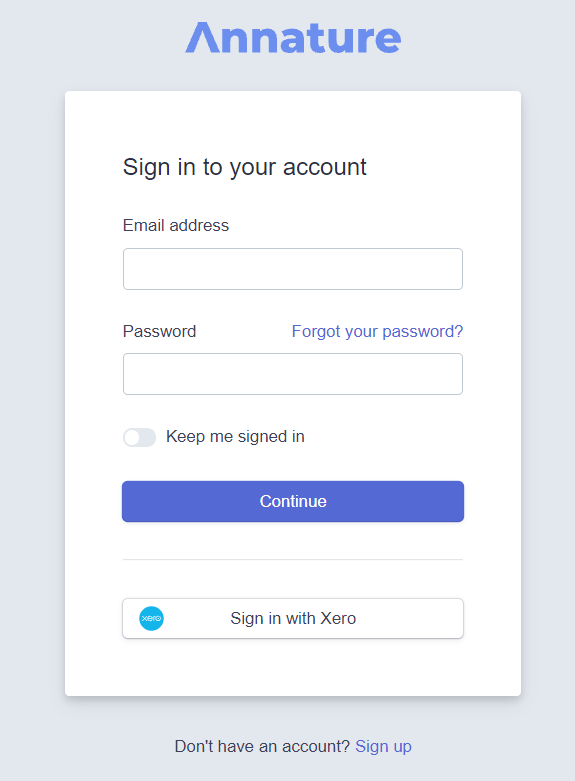 Is Annature Safe and Secure?
Annature has invested a substantial amount of money, resources, and time in ensuring to provide an international ideal on handling information security. It is the first and only Australian-made and owned organization to provide electronic signing technology in Australia and New Zealand to achieve an ISO 27001 certification.

They also embrace current secure technology, and their encrypted data are housed securely on Australian shores.
User Friendly
Annature's dashboard is pretty straightforward and very easy to use. It is a simple yet efficient layout that's easy to navigate and find documents you need by clicking a button. Their web-based interface is instinctive, adaptable, and responsive. It achieves everything that you need to accomplish without a fuss.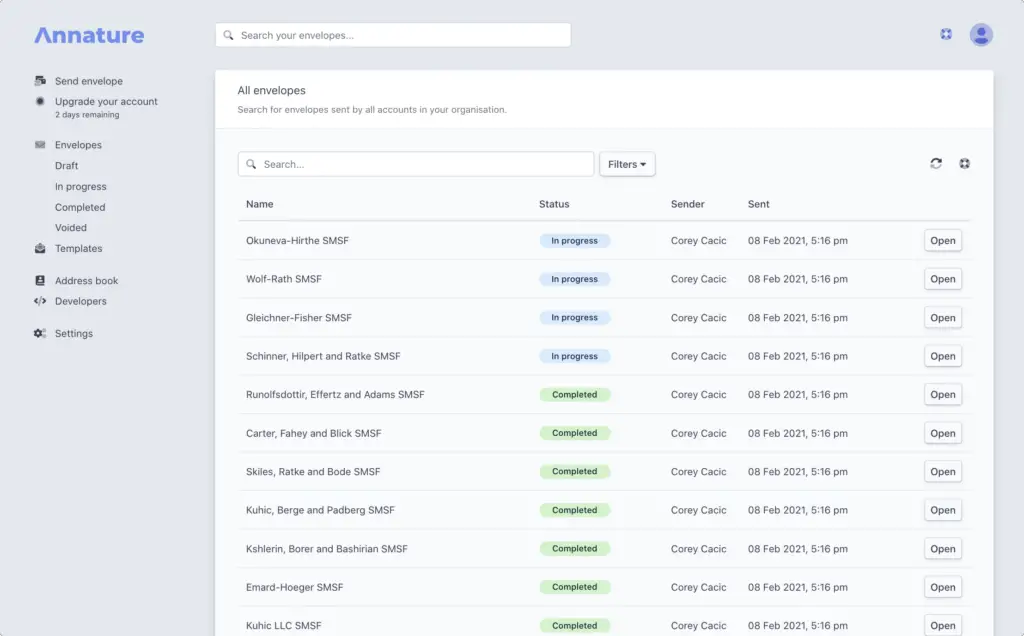 For people on the go, Annature is the only one that notifies via SMS, allowing them to sign contracts on a factual mobile-first approach.  
Affordable
Unlike more prominent E-signing platforms that charge a monthly subscription, Annature's pay-per-envelope is a breath of fresh air, especially for small companies and startups.
With the price starting at only $1.45 AUD per envelope, users can send documents to a client to be signed by using a stylus on the screen or even a finger.
The sender receives a notification of whether the document has been opened, signed, and completed.
It doesn't have any lock-in contracts.
It is entirely commitment-free.
---
Annature Alternatives, Other E-signature Platforms
PandaDoc: Enable your fast-moving teams with a simple, sophisticated all-in-one e-signature platform solution to easily manage the creation, editing, and signing of documents. Click here to view our full PandaDoc review.
---
What sets Annature apart?
Aside from price range, what sets Annature apart as an e-signature platform is its exemplary customer service.
They are pleasant and go the extra mile to help. They are quick to answer all of your questions, provide you with easy instructions and guide you patiently throughout the onboarding process.
Just like these small companies, Annature is also very much approachable. They also give suggestions on how you can better utilize their service based on your type of business. Just pick up the phone, and Annature's friendly team is one call away in case you need their help.
Another thing that's unique about Annature as an e-signature platform is the opportunity to get a feel of the platform for seven days for free. Most solutions ask for credit card information before providing a limited trial version. Annature lets users create an account without the need for a credit card, and they don't have any restrictions.
For the whole seven days, users get unlimited access to all platform features, send unlimited envelopes, and just get to know how it works to help you learn how it fits with your workflow.
You can ask for assistance thru the onboarding process, and they will gladly assist you.
They can even create a screen-sharing session with you to get you started.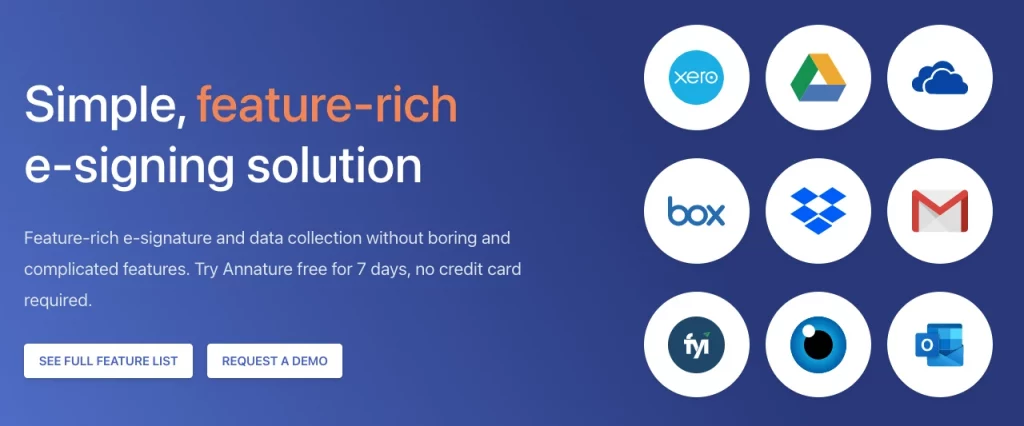 What's next for Annature?
In an interview with XU Magazine, CEO and founder Amreeta Abbott expressed how excited she is about how biometrics can come into their platform in the future.
Enabling clients to not only receive documents but also send some, for example, a driver's license and partnering with Stripe and Equifax to collect and verify that the document is valid with all the correct information.
This enables to delivery of a new way of KYC/AML and identity verification securely.
Annature is fast growing to be more than a company that provides e-signature platform solutions.
They are expanding their fraud protection capabilities and branching out into payments and ID verification.
Annature Q&A
What are the ways that a receiver can sign a document?
Once the receiver has opened the document to be signed, they will be presented with three ways to sign, to choose from electronic signatures Annature has created, sign away manually on using their mouse or a finger or stylus on their mobile device, or upload an image of their signature, which as an e-signature platform, Annature will sign and convert into a digital signature.
Is there a limit on how many documents or how many recipients can be sent per envelope?
Annature is true to their pay per envelope pricing model. An envelope can contain multiple pdfs and can be sent to as many recipients, with automatic reminders set – and that will all be just a single charge.
What is the difference between a message template and an email template?
A message template is a short message that the client sees as a preview of the email or text message notification. An email template has pre-saved documents; preset recipient roles. These templates allow you to send envelopes quickly and efficiently without the need to enter the same message and documents all the time.
How will a sender get notified of what happened to an envelope?
Everything that happens to an envelope, whether it was received, opened, signed, declined, or bounced if the email address is wrong, the sender will receive an email notification. Likewise, once the envelope has been completed, recipients will also receive an email notification.
Are there roles for team members, and how do they function?
Three roles can be set for members in the Team Members part under the settings of the dashboard. The Standard role can provide permissions within groups. The read-only role is for analysts or receptionists who don't need to sign any documents and only need to download the forms. Lastly, an Administrator role has full access and permissions.
What is a Recall feature, and how does it work?
Recall lets a user with an administrator role bring a sent envelope back to a draft, provided that the receiver or none of the receivers have signed it yet. This feature gives the sender a chance to make changes to the envelope in case there's a mistake or a missing document.
How can we go about sorting all the envelopes that have been sent, in case there's a whole lot of them?
On the Annature main dashboard, you'll see Envelopes on the left pane, and under that, all envelopes are automatically grouped by Draft (envelopes that haven't been sent), In Progress (envelopes with documents that haven't been signed or signed but not yet completed), Completed (envelopes that have signed and sent back documents) and Voided.
Interested in Annature?
Does Annature sound like an e-signature platform that you need in your business?
Do you want to know more about it and how it can help you with your workflow?
Switch to digital and give Annature a try today!
Send us a message, and we will gladly answer all your questions!