Want to learn how to create web applications? Read more to learn about how you can do it with Caspio.
Running a business today means offering useful products and services to your customers. How can you delight them with a custom experience? Caspio may be able to help you achieve this!
The latest trends are all about creating a unique online customer experience. That is why many brands are focusing on developing their own apps.
Your app can become a great way to offer additional value to customers. But it can also help connect and communicate with your target audience or potential customers. 93% of entrepreneurs claim that custom apps are essential for their business but are very expensive to develop*.  
However, with the sheer number of software platforms available on the market today, it can be overwhelming for organizations to find the perfect tool for their app development needs.
But this is where the Caspio software platform can make a difference to your business.
What is Caspio? 
Caspio is a user-friendly platform-as-a-service (PaaS) software that makes your entry into the app development world effortless. It offers non-technical business professionals like yourself the opportunity to create a customized, database-centric web app.
When was Caspio Founded?
Frank Zaman, the founder and CEO of Caspio, the goal was to enable organizations the freedom to develop custom cloud apps quickly and cost-effectively.
Moreover, he wanted business users to create their own apps without any prior knowledge in coding.
Though a challenging feat in itself, Caspio is now paving the way for other businesses, helping them thrive and strive in the competitive digital landscape. 
Businesses need to have access to information at all times from multiple locations.
Can Caspio help you create web applications?
Yes, even without prior knowledge of coding, you can easily use the point-and-click visual development tool to build you first app.
Moreover, utilizing database platforms can help companies quickly and effortlessly deploy apps promptly.
For many companies, investing in cloud database software offers the ideal solution. Employees can acquire information 24/7 while on the go.  
It provides flexibility that can make your business more efficient and productive.
Additionally, it can help organize information and streamline processes, making your brand more profitable. 
Is Caspio a good Bubble io alternative?
Bubble.io is a visual programming language and web development framework tool that provides a platform for non-tech savvy people.
The mission of Bubble is simple; a go-to place for all startups and entrepreneurs who are beginning their journey in building a web application.
With Bubble, you can build anything such as a marketplace, a social network, or even a CRM, without the need to set up a traditional programming framework.
Who is Caspio for?

Caspio is trusted by more than 15,000 businesses worldwide, ranging from government agencies to universities and everything in between.  
In fact, Caspio offers endless innovative use case possibilities, especially database applications for business processes such as sales, marketing, admin, finance, etc.
The following picture demonstrates various ways Caspio can be incorporated into your business.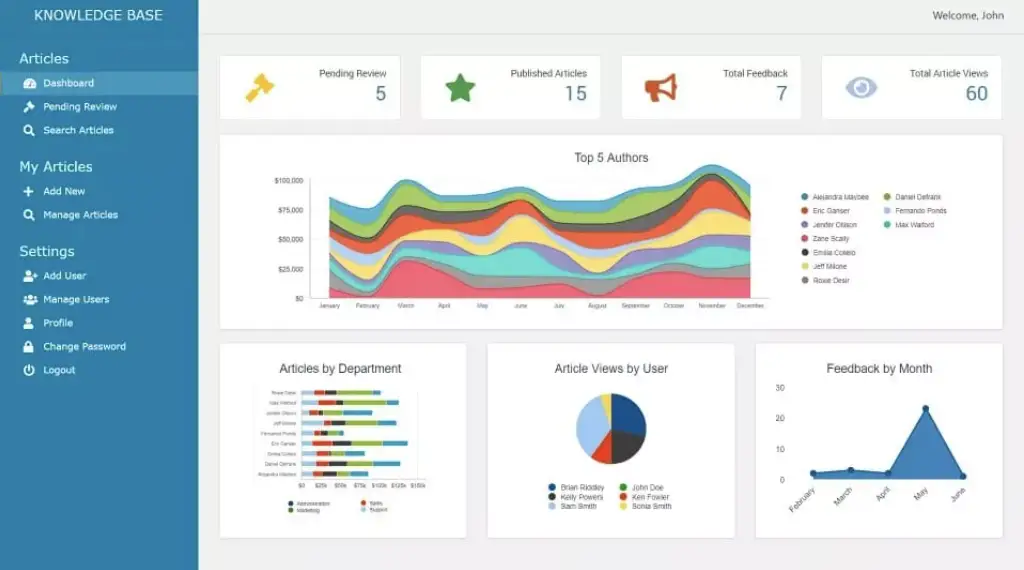 As the leading low-code platform, Caspio can be the ideal solution to your current needs as well.
After all, it was designed to help business managers create basic databases, data entry forms, generate reports, and much more.  
But more than that, you can develop your online database app without compromising on other essential features such as security, reliability, and scalability. It ensures you can capture, share, and manage data securely.  
Rest assured about the integrity of Caspio. We already mentioned that Forrester Research ranked Caspio as a Leader of Low-Code Platforms.
But it also comes with strong backing from the Better Business Bureau (a B+ score) and 4.8 /5 stars on Facebook. So yeah, it has a good reputation among its client base. 
Caspio Software Pricing Guide 
Caspio offers multiple pricing plans so you can incorporate it within your budget and align the software with your business needs.
Core features that all Caspio plans include: 
Point-and-click app builder 
Unlimited users and app usage 
Integrated cloud database 
App styling and localization 
Responsive and adaptive apps 
Seamless deployment 
App-level calculations 
Is Caspio Free?
You are in luck, Caspio offers a free version. You can check it out here. Unfortunately, it cannot be customized, and you'll get limited services, such as: 
5 data pages 
50,000 data records 
500 MB file storage 
100 email notifications per month
Even in the free version, you will still be able to create web applications and test them out with some users on the platform.
What is in the free version of Caspio?
You get the core features of the Caspio platform including the following:
Point-and-click app builder – Visual tools to create custom forms, reports, charts, calendars, etc.
Unlimited users and app usage – No limits on app users, app creators or data transfer.
Integrated cloud database – Fully-relational database supporting millions of records.
App styling and localization – Includes 5 style templates and 11 languages built-in, with the option to customize your own.
Responsive and adaptive apps – Optimized experiences across desktop, tablet and mobile devices.
Seamless deployment – Embed apps on any website, CMS or portal.
What are the next tiered prices for Caspio?
The Caspio paid pricing model starts from $125.00 per month for the subscription fee.
Though it is a fixed-price plan, you can avail 20% savings on a yearly subscription, bringing your monthly price down.
But depending upon your data records and file storage needs, you can opt for other pricing plans.  
Take a closer look at the different Caspio software packages: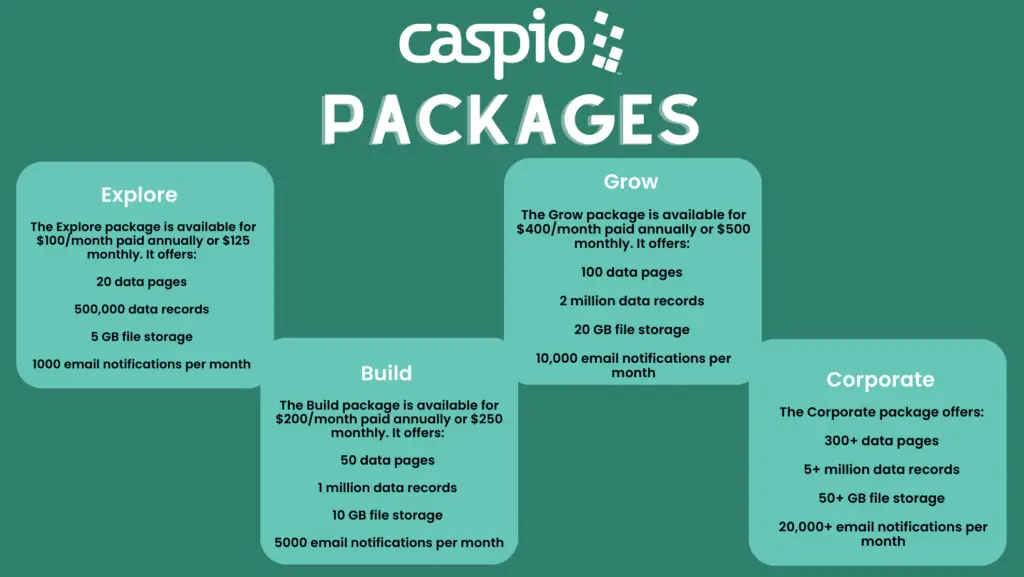 Explore  
The Explore package is available for $100/month paid annually or $125 monthly. It offers: 
20 data pages 
500,000 data records 
5 GB file storage 
1000 email notifications per month 
Build 
The Build package is available for $200/month paid annually or $250 monthly. It offers: 
50 data pages 
1 million data records 
10 GB file storage 
5000 email notifications per month 
Grow 
The Grow package is available for $400/month paid annually or $500 monthly. It offers: 
100 data pages 
2 million data records 
20 GB file storage 
10,000 email notifications per month 
Corporate 
The Corporate package offers: 
300+ data pages 
5+ million data records 
50+ GB file storage 
20,000+ email notifications per month 
The best part is that Caspio offers a free trial period to let you get a feel of what you're getting into. Moreover, Caspio provides comprehensive support to its users.
Depending on your paid subscription plan, you can acquire different levels of customer support. For example, every subscriber gets live support, but support ticket response times will vary.  
With the Explore package, responses can take up to 48 hours. But with the Corporate package, you'll get a response in 2 hours as well as advanced 24/7 emergency support and service-level agreements. 
Pros and Cons of Caspio 
Pros 
It's a low-code platform that's easy to use 
Ease of deployment 
The cloud-based server is easy to set up and operate  
Requires no hardware maintenance  
Supports multiple languages, including German, Greek, English, French, Italian, Dutch, Portuguese, Russian, Spanish, and Chinese.  
Tools are available on the platform to let users work with data 
Seamlessly Integrates with other tools and services such as Google Drive, Paypal, Zapier, WordPress, and OneDrive 
It can incorporate tables, views, reports, and data entry pages. The table design interface efficiently implements lookup tables and supports cascading lookups to facilitate access into finer-grained entries. Views allow users to join rows from other tables and filter out results. 
Actions and tasks can be automatically triggered depending upon the data that is input. For instance, after the information is submitted, a notification email can be sent, or the user can be redirected to another page. 
Supports localizations and style formats so that data can easily be exported from the source system and imported into other applications 
Customer support services are available 
Cons 
As a low-code platform, it's comparatively less flexible than other PaaS software on the market  
Working with large teams of developers can become challenging 
May find it difficult to integrate additional services like search and message queues 
All Caspio codes need to be wrapped in separate HTML, which can make non-technical professionals struggle 
Basic paid plans do not have access to APIs, Zapier, or automation/importing 
Final Verdict
This is your opportunity to improve productivity and efficiency across your business. By building apps with Caspio, you can slash dev times and costs. Moreover, it's freeing you from data silos and manual processes.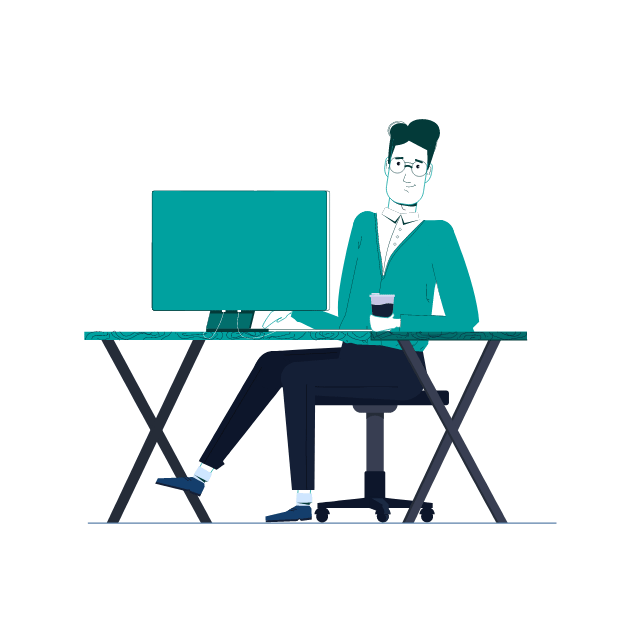 As a simple, straightforward, and quick way to create online database apps, Caspio is a viable solution that many businesses are considering. The critical question now is, are you ready to maximize your app's value with everything Caspio has to offer? 
---
*Featured Integrations*
What is Zapier?
Zapier is a task automation platform, meaning that it allows users to integrate the different web applications they use. The team is based in California but has a global reach as well as employees based in the United States and 23 other countries.
Zapier has over 2000 applications for you to choose from and works with all your favourite websites, including Facebook, Gmail, and YouTube, to allow for a hassle-free user experience.  
Check out our article here – Zapier Say Goodbye To Repetitive Tasks