Introduction
What are the odds a seed fully grows into a tree? Water, light, nutrients, and temperature are the four factors critical to a plant's growth. Deficiency in any of these factors will have a negative effect.
In application to business operations, there's always a possibility of error. Nobody is perfect but we all desire a smooth-sailing and stress-free experience.
Even when a person is fully dedicated to overseeing an activity, there is no assurance of zero error. It's more convenient to handle fewer items on the list, but when there's bulk data, expect it to be more challenging.
But what if you can set up elements to ensure your process is working smoothly with minimal error? What if you can create one workflow where you can monitor everything that's going on without spending excessive time and effort?
Yes, it's possible to organize all your processes and tasks using systemization platforms.
What Are Systemization Platforms?
To systemize means to simply arrange things in an organized manner. When applied to a business, it means implementing standard operating procedures (SOPs) to efficiently achieve business objectives. A systemized business ensures consistency in the quality of products and services and boosts morale among workers.
Systemization platforms, then, are the software that helps you check if your systems are in place and automatically notifies you of updates or deviations.
Using systemization platforms gives you a holistic approach to managing your business systems and procedures.
Examples of software to systemize your business are Asana, Notion, Stratsys, Nifty, and many others. We'll talk about them more, but we need to appreciate first the significance of these platforms.
Why You Need Systemization Platforms
A business without a system is like building a house without blueprints. Yes, you can attempt to build it but it will be laborious, and tedious, and you can expect a substandard quality.
When you systemize using intelligent software, you integrate all aspects in the process. This streamlines your business, which in effect, increases productivity, improves communication, reduces stress, and many more.
1. It increases productivity.
Work smarter, not harder! Don't get me wrong, hard work pays off and helps you succeed in the business. However, in the long run, we cannot eliminate the possibility of being burnt out from continuously handling a multitude of tasks.
When you systemize your operations, everything will fall into its proper place and timing. Because every detail in the business is defined and well-organized, there is minimal downtime, and you become more productive!
2. It improves communication.
Collaboration and connectedness are critical factors for the success of any project. Systemization platforms help reduce miscommunications, so there's no effort wasted. Instructions to project owners become clearer, minimizing errors.
When there are concerns or deviations from the standard, you can properly notify or message the concerned team member in the workspace. Doing these things manually consumes a lot of time and energy.
3. It reduces stress.
Stress comes from different triggers, but don't let it come for your business. Having a boatload of details can be chaotic and your team could get encumbered when no system is in place.
If you are assigned to manage the team, it's demanding to handle multiple projects without a single platform. An unoptimized workflow makes both managers and employees disengaged and frustrated. Project deadlines
might get missed and customers get upset due to unclear expectations.
Systemization unifies all people, processes, and technologies so that all will work as one.
4. It promotes proper delegation.
There's confusion and disorder when you don't set appropriate boundaries of tasks and responsibilities. A leader becomes effective when team members fully grasp their roles.
In systemization platforms, you get to quickly assign tasks to one or more persons. You can then monitor the progress of this task's accomplishment.
5. It ensures consistent customer satisfaction.
Garbage in, garbage out. The key to customer satisfaction is consistency in quality. When there is a gap or flaw in the established system, it manifests in the result. When you systemize your business, it solidifies the consistency of your workflow and processes, strengthening your quality.
Systemization platforms are indispensable tools in Customer Relationship Management (CRM). You can identify the most preferred clients your business needs, and incorporate them into your business for efficient client processing.
6. It allows more time for more important tasks and time off.
When you use a systemization platform for your workflow, you streamline the whole process, reducing a significant amount of completion time. The time shed off can be used for heavier tasks like analysis and strategic decisions.
Extra time can also be used for leisure or to unwind. Don't get me wrong, this is not to escape work. This is a manifestation of productivity. When your system is efficiently running with minimal supervision, you can devote that extra time to business planning or family vacations.
7. It reduces training time.
One of the tiresome things to do for managers is re-training. Training once or twice is manageable but when you administer the same training excessively, it is a different thing. When you incorporate the
SOPs into the platform, the standard way of doing things is accessible for everyone to see, black and white.
This eliminates an employee's over-dependency to perform certain tasks. They can easily access the information relevant to the job.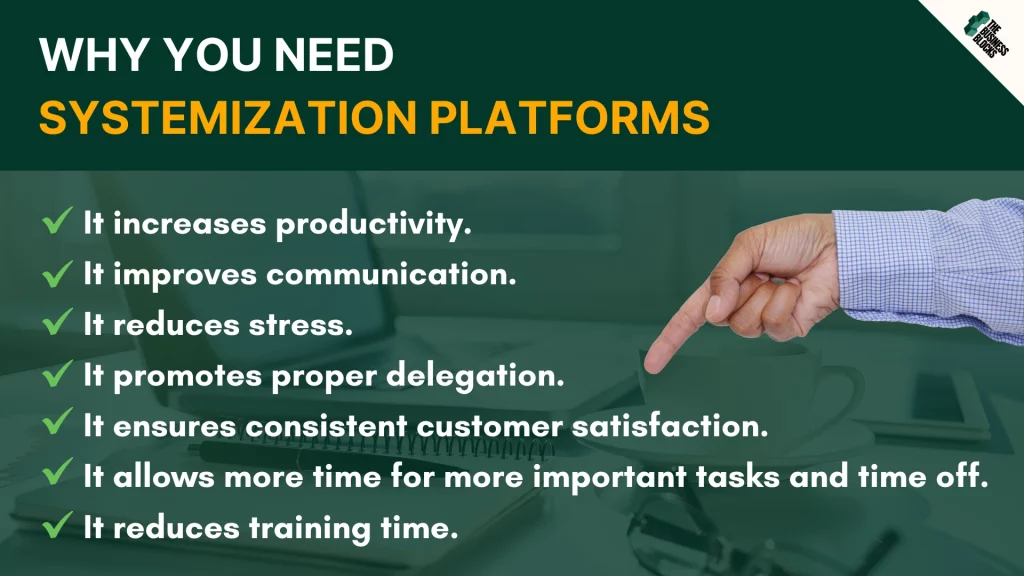 The Best Platforms for Systemization
Asana cultivates the cohesiveness of your team. With the software's My Tasks function, you can have a bird's-eye view of the project in real time. If you want to link a certain task to a team member, you can do this quickly by mentioning them with the "@" symbol. Yes, just like any social media chatbox!
There's that tendency for a person to be left out of the project loop but not with Asana. With the platform, you can efficiently manage new projects with custom templates that document processes accurately.
When we have the same task for multiple projects, we usually duplicate it. For Asana, you can simply add them to both projects so that project owners and stakeholders can monitor the task's progress. Asana's system is also meticulous in deadlines, so it gives you the option to use "start dates" to help you pace your work.
Click here to see our full Asana review.
Seeking unity in your team? Notion is a productivity software that allows your team to collaborate and manage projects together. At Notion's forefront is a Kanban board interface, which intelligibly simplifies the creation, storage, and collaboration process.
Capture the essentials of your project requirements in a creative manner using Notion's powerful note-taking. You and your team can conveniently insert text, list, audio, video, and many others.
If you're having trouble managing tasks in the project, you can do it easily with Notion. The platform uses Kanban boards where you can effortlessly move tasks and join processes together. You can even set up task notifications to automatically notify concerned task owners for any project development.
Click here to see our full Notion review.
Launched in 2000, Stratsys aka Stratsys Meetings is a cloud-based platform used for hosting virtual meetings and assigning relevant tasks to team members. The program is versatile enough to be available on Android, iOS, and web browsers.
Using the platform increases productivity and fosters collaboration among your group. You can alert everyone in your team by forwarding them the agenda ahead, including relevant documents. During the meeting, you can take notes on the agenda page and assign tasks to members.
Remembering the exact discussions of the previous meetings can be taxing. Stratsys stores the previous meeting's minutes, decisions, and pending actions, so you can review them whenever you start the next meeting.
Click here to see our full Stratsys review.
Create a collaboration space for your team in Nifty where you can manage projects, objectives, and communications. In just one place, your team receives real-time updates on task progress and documentation. It also lets you send messages to members directly!
Nifty lets you build discussion boards where you can facilitate multiple discussions for different projects. Create visual roadmaps so you can monitor project milestones and make sure that deadlines are met. This gives you an idea of the time remaining for the project's completion.
In sharing files, you can simply drag and drop the files onto the interface. In a single glance, you will have a holistic view of the progress of each member and the various projects.
Click here to see our full Nifty review.
Simplify project management, meeting scheduling, and team collaboration with nTask. The platform's planning function lets you draw a timeline to map out deadlines in real time.
To make meetings productive and interactive, you can develop a meeting agenda before the set date and share it with team members. Preserve any form of information by taking down keynotes during the meeting.
If you want to track time to identify downtimes, nTask allows you to do it. In case you forgot to activate the timer, don't worry because nTask's manual timesheets got you covered. Tired of manual signatures? nTask takes it to the next level through quick approval and disapproval.
Click here to see our full nTask review.
Do you need a web-based platform that stores your processes, systems, and checklists? SystemHUB can do all these. If you have an existing project management software, SystemHUB seamlessly works with it.
The software aims to let you manage SOPs independently from project management.
Inside the program is a massive template library that contains a database of processes and procedure templates, making business documentation a piece of cake. The established SOPs will guide your team members in their tasks, improving efficiency and profitability.
Click here to see our full SystemHUB review.
Consider Otter as a highly reliable and adept transcriptionist, except for the fact that it isn't human. Don't worry about writing notes because Otter automatically captures voice conversations and converts them into text format.
Otter arranges the transcribed text chronologically and can even apply labels according to the person speaking.
The wonderful thing about Otter is its ability to integrate with other virtual meeting apps like Zoom, Google Meet, and Microsoft Teams.
Click here to see our full Otter review.
Success Stories with Systemization Software
Sony Music
It's impossible not to come across world-renowned artists like Bob Dylan, Jimi Hendrix, Mariah Carey, and Michael Jackson. The people behind the heavy rotation of their music are the marketing and creative production division of Sony Music's Legacy Recordings.
As the group adapted to the new digital sales marketing, they needed to continually develop promotional materials for all 1,000+ artists of Legacy Recording. Without a standard process and the high influx of simultaneous campaigns, the team overlooked critical deadlines because of lost or incomplete requests.
Communication lines were blurry. Since there was no visibility in the whole process of creative assets, they could not check the real-time status, and couldn't report the situation to management. Moreover, the communication gap between the production and marketing teams resulted in a short unsupported volume.
When Sony adapted Asana, they were able to support their fast-paced process because of enhanced collaboration and customized workflows. From an email-produced newsletter, they moved their artist newsletter calendar to Asana. The result? the teams handling projects in fan-facing channels like social media and websites can manage their work in Asana itself.
By using Asana to collaborate requests into the campaign team's calendar, all requests were quickly attended to and action and the status was reported to stakeholders immediately. Sony was able to save 60 hours per month, which were instead devoted to devising strategies.
Blinkist
If you just can't finish reading a book or you feel defeated just by looking at new book releases, Blinkist is the place to be. Through their app, the company's team summarizes key insights called "blinks" from best-selling books so clients can quickly grasp their gist.
To ensure an efficient hiring process of quality candidates, Blinkist adapted Notion.
Previously, the company did not have a hiring resource center, and data sprouted randomly like mushrooms, leading to inconsistencies. With Notion, Blinks now places the hiring materials, training, and process all in one place. Even the referral tips, interview guidelines, and job descriptions are under the same workspace, synchronizing every process and team member!
Another brilliant thing that Notion did for Blinkist was producing customizable templates per role. Originally, the company wanted a uniform process for all roles but later found out that they had to factor in function and seniority. The notion made it happen through customized templates for each position.
Lastly, Blinkist capitalized on Notion to effectively share its company-wide newsletter. Unlike their previous method of sharing updates through email or messenger, Notion was able to convert news into workable knowledge.
Stena AB
Stena AB is one of the biggest ferry operators in the whole world based in Sweden with over 15,000 employees. The group consists of eight divisions and hundreds of subsidiaries, which makes coordination and monitoring complicated.
Implementing internal controls was an integral part of Stena AB but the diversity and disparity of the business divisions across different continents made it time-consuming. For example, in compiling and testing internal control documentation, Stena used Excel and emails, which prolonged the whole process.
Imagine having to receive thousands of Excel files all of which had variations in the data and format. It was too much to handle. To streamline their internal control activities, they took a leap of faith and Stratsys was nothing short of miraculous.
Using Stratsys, the company was able to consolidate all data, planning, and follow-up activities in one shared workflow. With a significant amount of time saved, the team devoted more time to analysis and follow-up.
Today, Stena AB can easily look up real-time information in Stratsys and stay updated on completed or delayed processes. The risk analysis is linked with documentation, so the company can identify controls that cover risk, and then apply improvement actions.
Simple Tips for Your Systemizing Journey
Since every business is unique, the approach and platforms used will also vary. If you're confused about how to start the journey of systemizing your business, you can follow the simple steps below: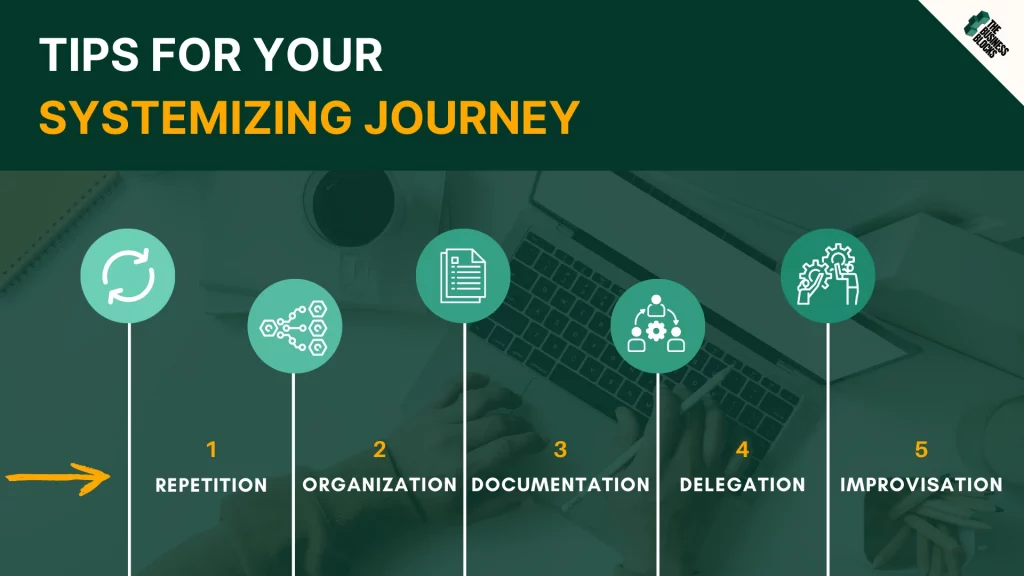 1. Repetition
List down all the routine tasks done repetitively (e.g. daily and weekly), then write their corresponding duration. Sort them according to duration.
2. Organization
Establish the hierarchy of your processes and procedures. Organize per department or in a well-organized fashion.
3. Documentation
Document your methods and determine the descriptions and lead times for each process.
4. Delegation
Delegate the task performing it, either through a person or through automation. This gives you an idea of the effectiveness of the documentation.
5. Improvisation
Never stop improvising! Assess your SOPs to see if they are optimal. If not, you can do incremental improvements.
---
Featured Platforms: Asana, Notion, Stratsys, Nifty, nTask, SystemHUB, Otter