Millennials and Gen-Z have grown up with social media and computers all around them. We cannot imagine a life without the internet, our phones, or whatever other screens we're always in front of.  
Today, you not only interact with friends online but also work and study over the net.
Studies have shown that most millennials spend around 7-8 hours of their day in front of a screen and approximately 2.8 hours each day on social media, and this number is only expected to go up.  
Since remote working and studying have become so relevant today, people have started to look for ways to maximize efficiency and productivity through online platforms. 
Gyazo has created a platform that aids in remote working and studying, among other activities, through screen capturing, recording, and making GIFs.  
Let's take a look at how this platform is used.  
Uses of Gyazo 
Gyazo can be used in a great many ways, below are just a few examples: 
Education
Through screen recording, teachers can create videos that their students can watch and learn from. Through GIF making, learning is made more fun and interactive.
In fact, screen recording, and live sharing make students more excited and prone to learning because it is more interactive and visual.
Support

Many companies use Gyazo for their support functions. Through screen capturing, support staff can give clear visual help in less time.
This also saves time and reduces hassle for users as they can simply take a screenshot of their problem and send it to the support staff directly. 
Finance 
People in finance can now quickly share current financial data with their clients and peers. Through live screen recording, the data can be accounted for and stored in the company's databases in video format.
Thus, remote financial work now has a seamless solution.  
Software Development  

Developers can now snap bug cases and paste clear error logs instantly to make explanations more efficient.
Through screen recording, they can also fix cases and sell their solutions to clients for further referential use or upload videos online for other people to watch and learn.  
How It Works 
Operating Gyazo is simple. However, if you're feeling a little lost, let us help you.
To start using Gyazo, you'll have to first download it from the website. No sign-up or login is needed for this part.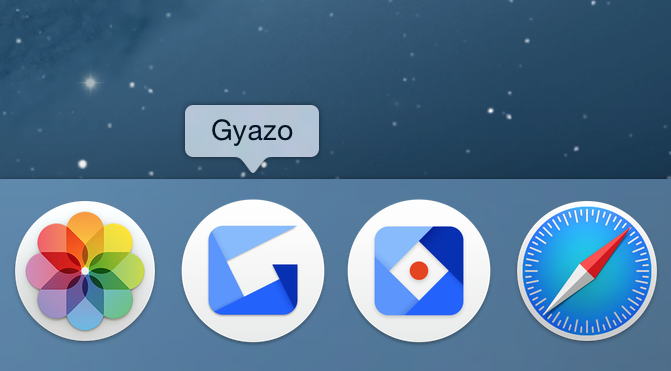 Once you've installed the software, you will see three different shortcuts appear on your desktop: Gyazo, Gyazo Replay, and Gyazo GIF.
Each of the three shortcuts leads to its respective function.
Let's go through them one by one.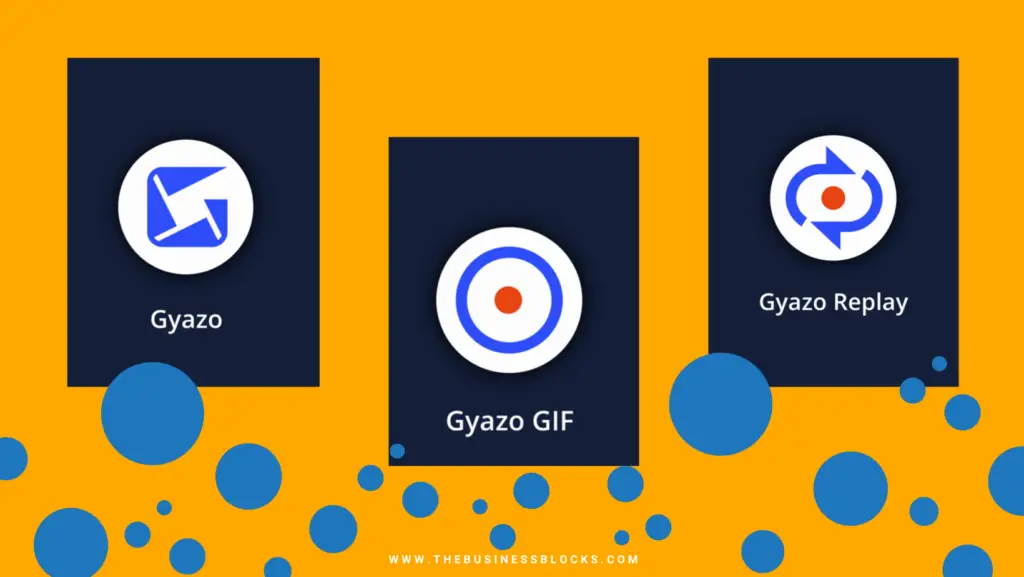 When you click on Gyazo, a tutorial will open. It will tell you how to capture screens and share them.
After launching Gyazo, you can simply go anywhere on your computer and click-and-drag where you'd like to take a screenshot.
Once you release your mouse key, an automatic link will be copied to your clipboard. This is the location of your image.
You can simply paste the link on your browser to open your image or share the link with anyone – your friends, your colleagues, or even your students.  

After going through the tutorial, you can now click on the shortcuts to directly access their functions.
To create a GIF, you simply have to click on Gyazo GIFs. Once you do, your cursor will turn into a plus sign that will allow you to select any portion of the screen.
Then it will automatically start capturing the activity on it.
Once finished, it will redirect you to your browser with a link to your capture, where you will be able to view your GIF live on the browser.
Similar tools are available for the pro and the team plans, with added features, of course. 
Overall, it is a straightforward tool to use for your professional or creative needs, and it can really enhance your work. 
Pricing  
Gyazo offers you exciting features for all their pricing plans, even the free one! The platform has three different pricing options to choose from, and we've listed the details below: 
Gyazo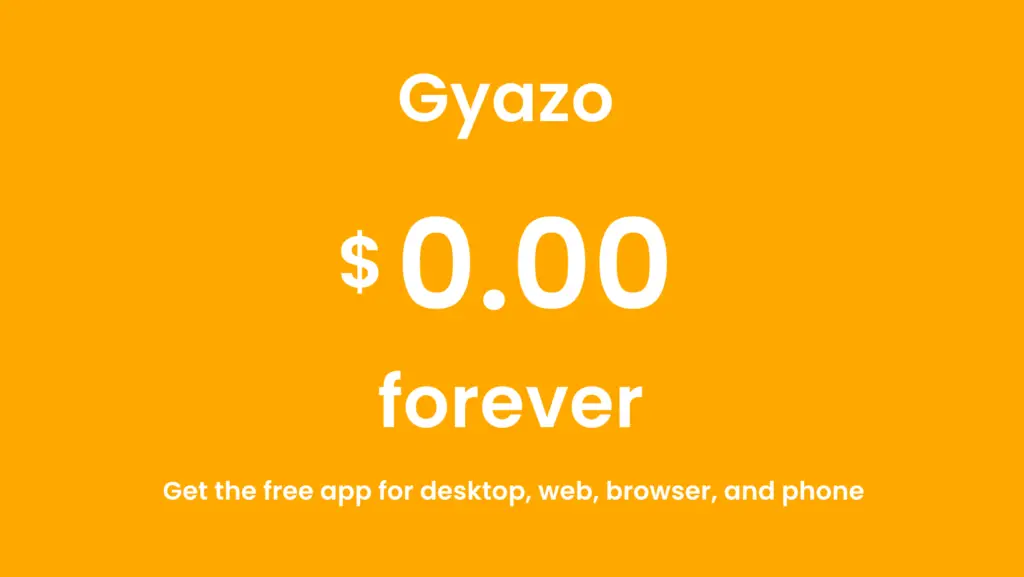 ● $0.00 forever 
● For individual users only
● Unlimited screen capturing 
● 7 seconds HD GIFs
● 7 second replay video with Gyazo mark (windows only)
● Browse most recent 10 captures 
● Share instantly with automatic uploading 
● Get the free app for desktop, web, browser, and phone 
Gyazo Pro
● Billed at $3.99 per month for a yearly subscription or $4.99 billed monthly
● For individual users only
● All the Gyazo features 
● Up to 60 second HD GIFs/videos
● Up to 30 second replay video without Gyazo mark (windows only) 
● Edit screenshots with text, shapes, blurs, stickers, and emoji
● No banner ads
● Password-protected sharing 
● Easy image search with OCR and auto-tagging 
● Unlimited browsing 
● Unlimited collections 
● Popular among photographers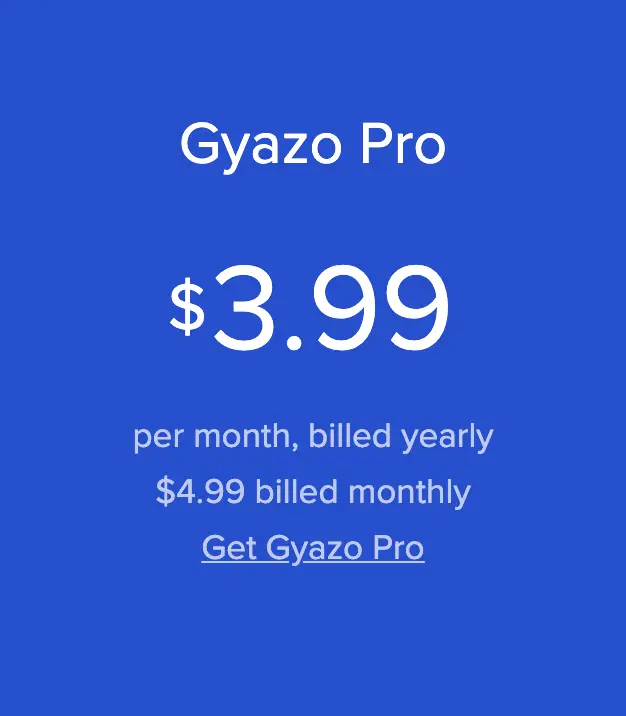 Gyazo Teams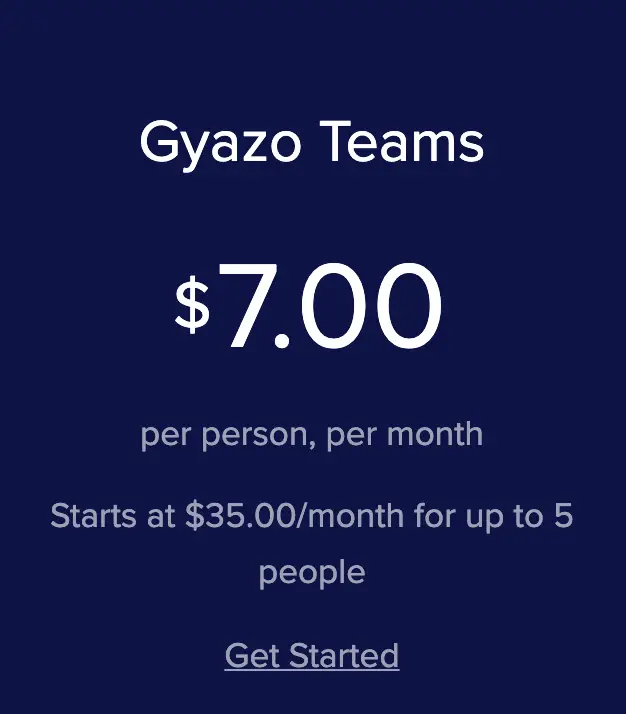 ● Billed at $7.00 per person per month or $35.00 per month for up to 5 people 
● For teams only 
● All the Gyazo Pro features 
● Private team-only sharing 
● Easy multi-user management 
● Optional SSO with Google G-suite 
● Custom team subdomain 
● High-priority support 
● One simple bill per team 
● 30-day free trial
Pros and Cons of Gyazo  
Pros  
Gyazo has a very user-friendly interface that lets you download the application onto your desktop without any hassle.  
You can share any portion of your screen as an image file instantly, just by one click.  
There is no registration required to download the software. 
It also can record screen movements as animated GIFs.  
Link generation and sharing are made easy with unique automated links for your images and videos. 
The platform is also very cost-effective; it has a free option and gives you a month-long free trial for the team plan. 
Gyazo is a place where collaboration becomes so much easier. Through direct access to your team members and their files, you can have a much more efficient and productive workflow.  
People often use the software for multiple purposes like ad creatives, software design, capturing bugs, financial report sharing, marketing, and support, since it is easier to share your screen and help someone out than direct them blindly.  
The software automatically scales large images and shares pre-existing images with ease.  
You can also find a tutorial window on the website that explains every detail about Gyazo.     
Cons  
Gyazo doesn't allow you to save your captures as local files directly, it only works through a cloud-based medium. 
The platform may interrupt some keyboard functions as it intercepts its own features onto the keys.  
Final Thoughts 
Gyazo is a great tool for screen capturing, as it makes things so much easier. No more trying to understand the complex ways of taking screenshots or recording videos, now it all happens through one click.  
Gyazo's user interface is delightful and makes working more fun. You will find it particularly interesting because it is not only used for screenshots and videos, it can also make GIFs.  
Gyazo's ability to help you create funny GIFs so easily is nowhere else to be found, making Gyazo an excellent platform to work with.
If you weren't already impressed, seeing that they've worked with Mixi, Unity, and Pixiv may reassure you. It is a great platform and very well worth your time.    
References  
https://gyazo.software.informer.com/