With businesses moving on and getting back on their feet due to imposed lockdowns, most of them are coping up with the effects of COVID-19. They have switched to remote working. The need for collaboration and online tools has increased. 
In this review, we will discuss Google's remote working platform; involving applications that are not so new to us. See what Google has improved to make their applications suitable in these trying times of remote working. And with businesses continuously embracing the new normal, remote working will surely stay.
An Overview
Before Workspace rebranded G Suite in October 2020, 6 million active businesses were using it. Before G Suite, there were Google apps for Work. Generally, most of these apps work with the help of the internet. You'll find applications like Docs and Sheets similar to Microsoft office. The primary difference: you can install MS Office on the desktop, so working offline is possible.
What Remote Working Needs
1. A one-stop online platform to collaborate
2. Cloud storage for continuous productivity updating and monitoring
3. Employees with the skills and passion to make remote working effective
4. Business tools specific to do tasks
5. Information security for confidential business data
What Does Google Workspace Do? 
Google Workspace is an online workplace or a digital office where employees working remotely can collaborate, communicate, and work together as a team. In this interface, you'll find Google's most-used apps for working: Gmail, Docs, Meet, Calendar, Drive, and many additional features. 
It's a subscription service for businesses that want to keep their team productive, efficient, and working together, and with constant communication even if they are not together.
A Major Update from Google for the Half-Year of 2021:
Workplace to Be Available for Regular Users with a Google Account at No Cost. 
The move aims to make collaborations as smooth as possible at no additional cost for Google users. Google also made more updates on Workspace tools. These updates will be able to keep up with its major counterparts, like Slack and Microsoft Teams.
The Gift of Integration for Users
For employees who had been using Google's apps, it would be a blessing to see your productivity tools in one platform. For employers and admins, it's such a convenience when you can monitor what your employees are working on in one interface.
Switching between different tools and tabs can be confusing. Lots of time can be wasted from navigating alone.
How Does It Differ from G Suite?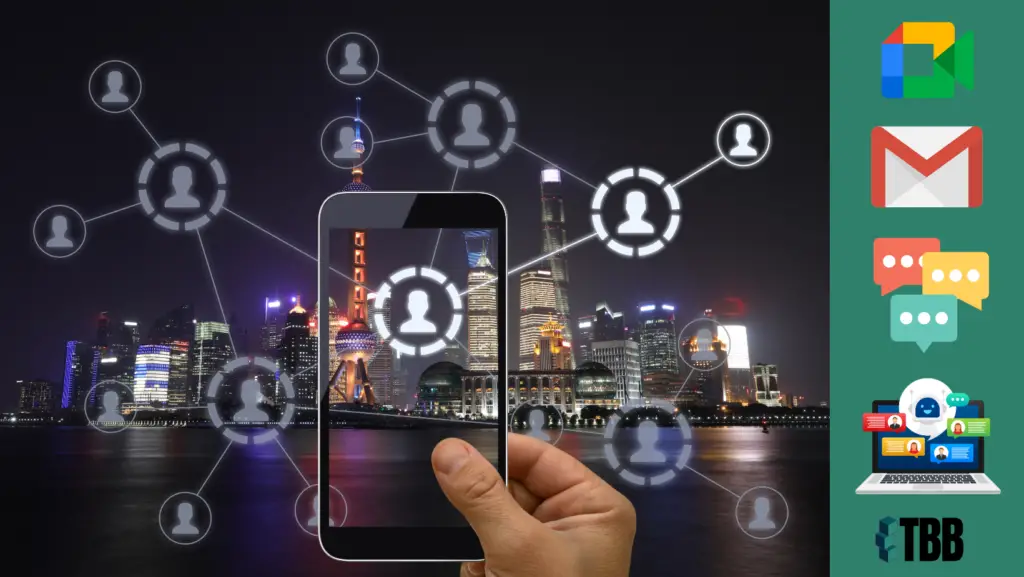 Fully Integrated Communication System
We're talking about Google's communication apps like Gmail, Chat, Meet, and Rooms (now Spaces). If you think it's a nuisance to put them all together on one screen, it's not. As a user, your Workspace will use Gmail as the home. You'll even find them tidier, so you can maximize each's specific function.  From the left side, you'll find a menu to select the communication functions of Workspace: Gmail, Chats, Spaces (former Rooms), and Meet.
Google Spaces works similarly to Slack. Users can find the group they belong to. It also has a menu for group chats, files shared, and tasks. The update also will include in-line threads, a neater way to reply to topic discussions.
An upgrade allows people conferencing in Google Meet to turn their meeting into a Companion Mode. The Companion mode brings a remote user and in-person user in one footing. In-person users will have individual tiles instead of putting them in one tile. Users can still use the polls and hand-raising features of Google Meet.
We're also expecting options for RSVP on the Google Calendar from the update.
Eliminates the Use of Adding Tab with Preview
For users who had been navigating on different tabs, the document preview is a lifesaver. Opening numerous tabs to find the wrong file is such a waste of time. If you have been using Docs or Sheets, you'll probably notice this preview when you hover on a link or hyperlinked text. 
Edit Google Docs with Chat
The time of sending files back to make revisions or send suggestions through email is long gone. While Docs, Sheets, and Slides, work similarly to MS Office, Google made it possible to do real-time editing documents such as spreadsheets. Being able to comment or make a note on files saves time significantly.
One thing we liked is being able to point out exactly where to make edits in the document. This function is a huge time saver since editors don't have to wait a long time for a response. As a business owner, you'll find it useful as it saves time and labor costs.
Shoutout Co-workers with Mentions
If you have been using the tag or mention feature on Facebook, this one's similar to it. It works by typing the character "@," so a smart chip pops out to select contacts or groups, even if you're working on a document. Google made things possible for users to work without leaving the documents or go to another tab.  
Meet with Colleagues Even When Working on a Document
Google Workspace is a haven for tech-savvy and multi-taskers. From here, the user can keep their documents untouched without switching to a new tab while hopping on a quick call or joining a video conference.
How Secure Is the Information That You Share on Google Workspace?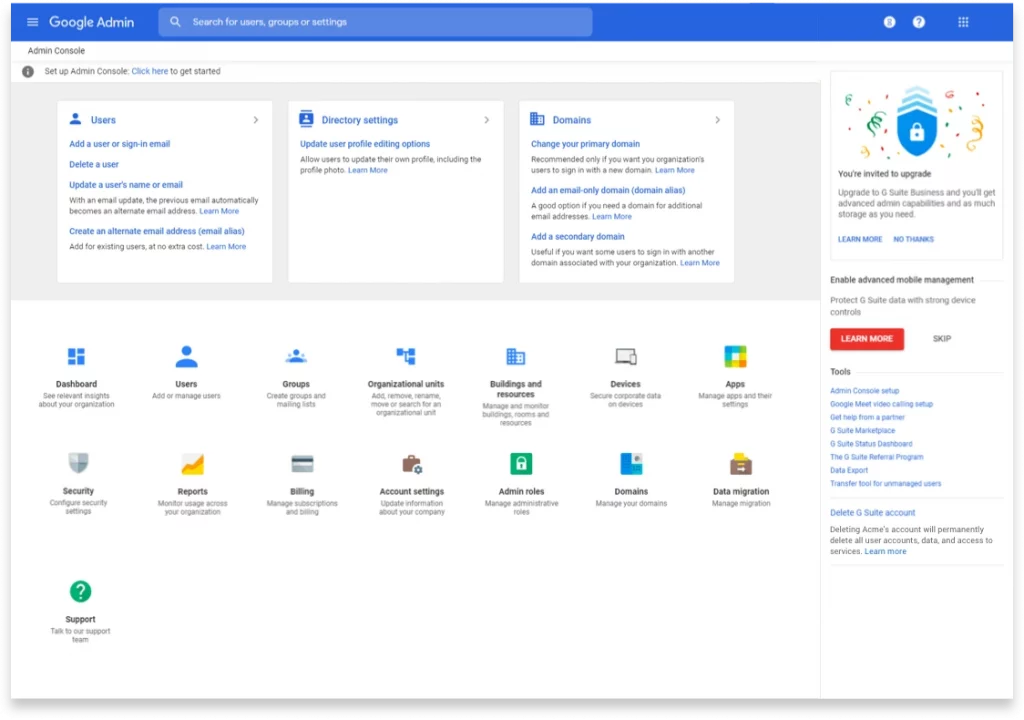 The premium service of Google Workspace eliminates profile creating at the end of users. Working with Workspace also eliminates the popping ads that we usually see on Google pages. It also uses three ways to authenticate: password, phone verification, and sign-in.
There are also configuration settings for account recovery. There are also options for restricting Google applications, so Workspace only allows access to your preferred Google applications.
Who Should Use this Interface?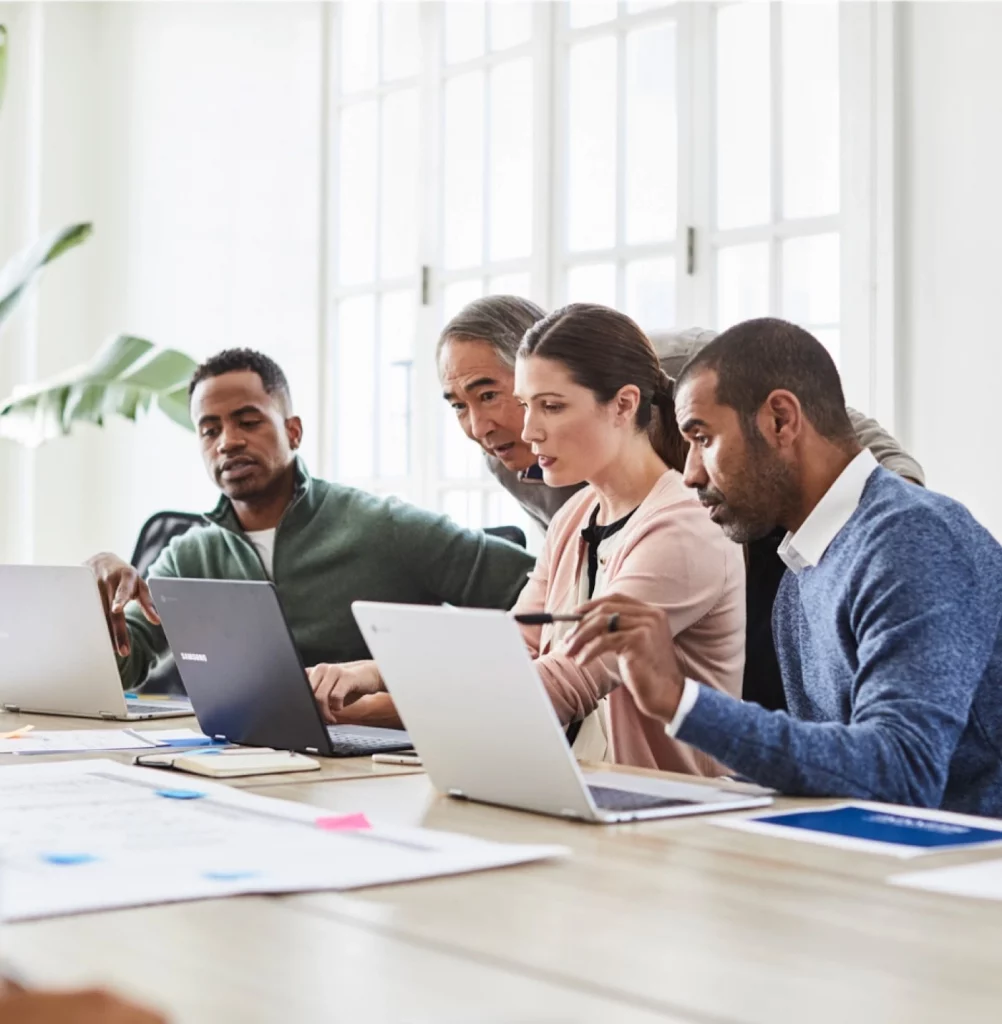 Workspace is a solution made for businesses that are switching to the remote working platform. It includes plans that start from 150 video attendees and a data allocation that starts from 2TB for each user. The amount billed depends on how many employees will have a user account. Each user will have an email account using the domain name registered by the admin.
Google has made Workspace free for every Google account holder just this midyear of 2021, but with limited features. They made a new plan for small businesses as well. The cheapest option allows 100 video meeting attendees and a data allocation of 30 GB.
Does Google Workspace Meet the Requirements to Run a Remote Working Setup?
Let's get back to the requirements to make remote working possible for businesses.
Does Google Workspace have a one-stop online platform to collaborate?
Yes. It uses Google Admin for moderators and Google Space for other users. You'll find the needed tools for each user in one dashboard, according to their responsibilities.
Does it offer cloud storage for continuous productivity updating and monitoring?
Yes. Each user will have data allocation, and Google Drive will serve as cloud storage.
Does it have business tools for performing specific tasks?
Yes.
For communication, there are Google Meet, Chat, Calendar, Currents, and Gmail.
For storage, there is Google Drive.
For productivity, Workspace has Docs, Sheets, Slides, Keep, Sites, and Jamboard.
For other functions, there are Google Vault, Workspace Marketplace, and Cloud Search.
Can it protect information stored in its cloud?
Currently, their level of protection is high enough for paying businesses. It's still improving its interface from potential data breaches. Their tool updates come with a system security upgrade. We're also expecting these upgrades on security for the next months for paying businesses: improved encryption for the client, policies for sharing documents on Google Drive and Google Labels, and protection from malware and phishing attacks.
Is it Worth It?
Definitely. We see a continuous adaptation of the new normal for work. For the next decades, we can still see Google dominating the World Wide Web. And perhaps, Google Workplace will be everyone's way of business.