Staying focused, productive and on task can be quite exacting.  Managing and juggling work tasks such as collaborative projects, expanding workflow, numerous hard and immovable deadlines necessitate employing tools and software that will aid us with our workloads. 
Task, project management and collaboration software can be pivotal in ensuring that project members and teams can be productive, providing an effective and efficient view of the progress and milestones of project tasks.
Through these tools, businesses can help their employees stay focused and productive by keeping multiple task streams simple and organized.  By allowing team members to break tasks into bite-sized chunks, large projects and jobs may be split into manageable sub-tasks.
Task management tools also promote collaboration and transparency, allowing visibility of all the facets of a project, tasks that are pending or those that are still in progress in addition to skills and contributions of each team member. 

Along with these perquisites, they also foster effective and facile communication.  When collaboration and interaction are kept simple and straightforward and when communication lines are kept open, an organization can be sure of a good working relationship among team members, cooperation, improved morale and efficiency.
Finally, a task management tool and management approach that are implemented and used well can help organizations manage deadlines, meet milestones, deliver projects or keep operations running smoothly. 
All these points highlight how these tools help in making sure that a business keeps track of different teams, activity streams and projects. Taskade is a popular and effective tool to boost productivity for personal endeavors, team projects or a business, organization or company.
What is Taskade?
Taskade is an online application that covers task management, team oversight, note-taking and collaboration.  This tool presents tasks, work breakdown schedules and other lists in an uncluttered, minimalist, contemporary and playful interface. 
It supports team planning and collaboration and ensures that all staff are aligned and on the same page, through real-time interaction and exchange of ideas.  This software can be used by teams or individuals, and can be utilized for personal or work projects.
Taskade boasts of a multitude of functionally-rich features that could be beneficial in organizing workloads, tasks and projects, such as creating, building and managing project outlines, workflows and checklists, allowing individual or teams to come up with a deliverable-oriented breakdown of projects or tasks that are broken down into smaller components. 

It is a cross-platform software that synchronizes lists and content across devices, establishing a sphere of up-to-date data regardless of the device and location. 
Taskade presents a pragmatic and practical solution in ensuring that employees working in a remote setup can stay connected and aligned, with a solution that lets team members keep track of tasks across the web and mobile devices promoting organized work, touting a streamlined workflow and helping teams or individuals achieve personal or team goals.
Taskade allows creation of a task list and this is the main gist of this application – a flexible task list, with an unlimited hierarchy and capacity for defining nested items; this is ideal for teams working on a project or individuals who would like to organize and employ a planner of sorts and stay on task. 
This tool also facilitates capturing of mind maps, documenting brainstorming ideas and sessions and noting down meeting agenda and points.  Furthermore, it can be used to document project roadmaps, milestones and outliners and to conduct team standup meetings and SCRUM huddles.  For individual users, Taskade can be used as a daily bullet journal or a diary. 

How Does Taskade Work?
The Basics
When Taskade is launched, the user is brought to the landing page which shows a neat and intuitive interface that gives sufficient guidance on how this tool can be utilized to organize tasks and projects. 
The landing or homepage provides easy access to items that were recently viewed or accessed, tasklist that can be filtered based on ownership and accountability, calendars, starred or items in a particular user's favorite list, lists and tasks in a shared workspace and the workspace view.  From the homepage, it is easy to locate and browse through the different components that need to be tracked, managed or reviewed.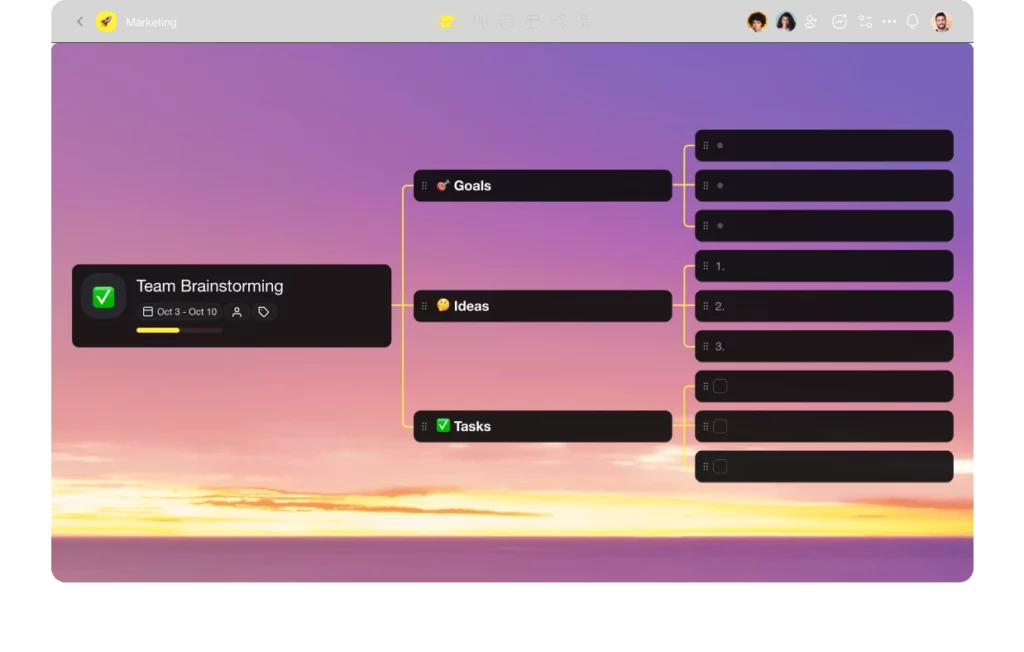 One of the strengths of Taskade is the use of workspaces, folders and projects that allows users to categorize, organize tasks, lists and other data that is captured in Taskade, thereby providing a high level of flexibility in terms of how the tool will be used. 
The use of this hierarchical structure can be utilized to compartmentalize and design access of data in a way that fits a project's requirements or an organization's organizational chart or structure. 
A workspace is a collection of folders, projects, tasks and templates; it is at the topmost rank of the hierarchy and is the first means or level of organizing items in Taskade.  One advantage of using workspaces is how each workspace is billed separately. 
These spaces can also be used to control access and clearly define members who will have access to a particular workspace.  One practical use for this is an individual who needs to monitor personal and work-related endeavors or a project manager who will monitor multiple programs from different companies with multiple projects.
Workspaces, Folders and Projects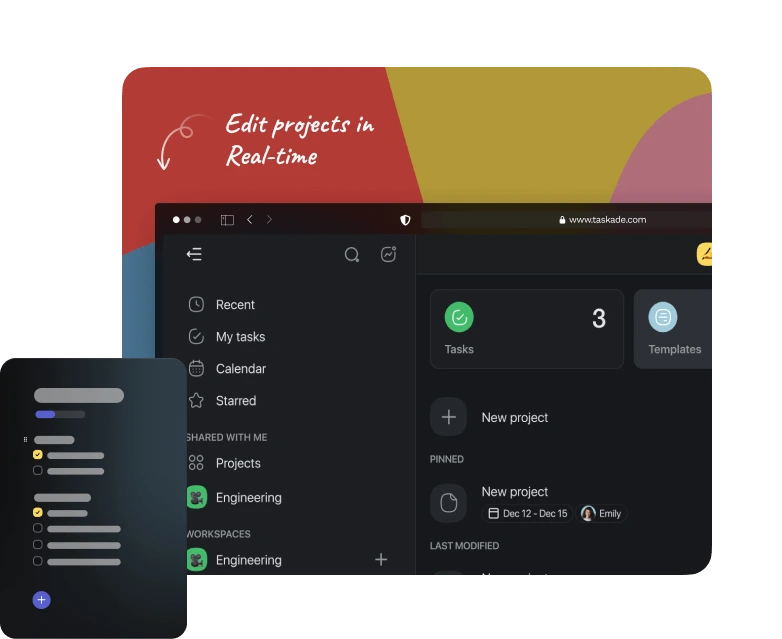 Within a workspace, users may create projects as self-contained units, which can be further organized and grouped into folders.  Folders can be utilized to group tasks, checklists or even projects into logical groupings based on ownership, clients or purpose.  Projects, on the other hand, is the most basic structure in Taskade that allows sorting and classification of tasks. 
Team members may be invited for each individual project, providing users with the means of controlling which staff have a view and access to each and every project.  Inside a project, tasks, to-do lists, media, mind maps and other documentation may be created.  Herein lies the foundation of Taskade's approach – providing and allowing the creation of a list view of all information pertinent to a project.  Items and components created inside a project can be organized neatly and in a fastidious manner. 
Taskade's editor and content manager provides a visual means of delineating tasks that needs to be achieved with options such as a checklist, bullet points, outlines or free-text.  Each item can then be given a due date and the person responsible or accountable for the task. Identified and assigned collaborators can provide reactions and comments to all of the tasks in the project. 
Taskade also offers attachment of media, files and documents from a number of third party systems like Google Drive and Dropbox and embedding of website links, published videos or social media content.  The editor provides various options for editing, formatting, sharing as well as sorting, duplication of tasks, and reorganizing like moving into other workspaces, folders or other projects. 
The option of using tags is possible, allowing another layer of organization and task categorization; this also makes it easy to identify, sort and search for components within Taskade.  This tool also features push notifications that covers events such as chat messages, comments, task completion and task assignment, ensuring that team members and collaborators are provided with updates in a timely and convenient manner.  Inside a project view, members of the project team may communicate via chat, voice or video call, fostering a collaborative work environment through an efficient and open medium of communication beneficial especially for companies with remote work setup.
Taskade also allows users to swiftly switch between different views for the tasks such as: default list style, Kanban board, calendar view, action view ( work schedule ), mind map or organization chart.
Templates and Roadmaps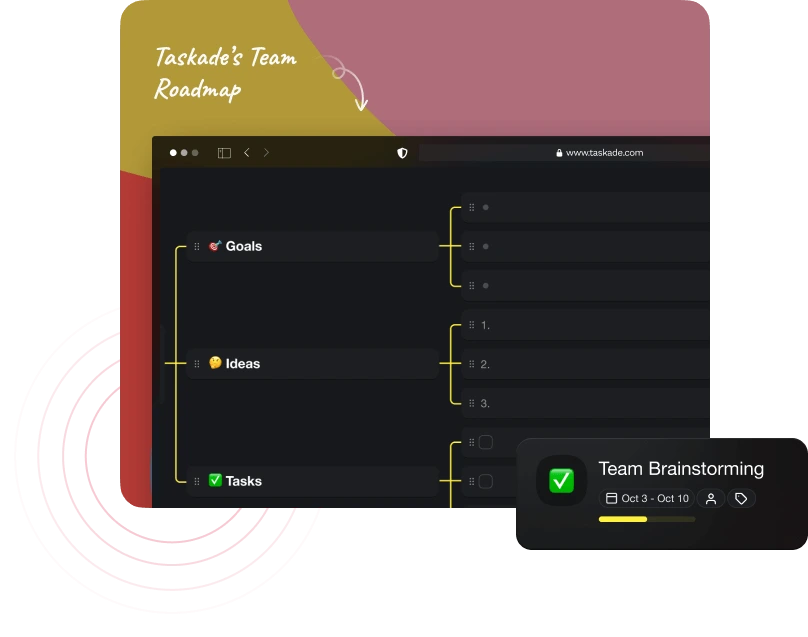 When creating content and artifacts inside a project, Taskade offers a wide range of ready-to-use templates that will enable users to easily formulate and prepare content and planned tasks.  Available options for the templates include weekly planners, bullet journals, project boards, team review pages and meeting notes, categorized into helpful groups such as templates for remote work, marketing, planning, roadmap, team management, among others. Productboard is one of the most popular project management tools that offers roadmapping services, however there are Productboard alternatives that may be a better solution for your team.
Users have the option of creating project pages from scratch, with a blank canvas or from the helpful templates.  These templates offer valuable and useful guides that may aid in devising, formulating and preparing what will be included in the project page.  For instance, creating a page using the Team Meeting Agenda provides a ready-made guide on how to prepare the content with sections for items to discuss, an attendees list and notes. 

Furthermore, creating a page with the Quick Sync-Up Meeting contains instructions on the tasks that might be essential for the task like starting the group call, defining tasks and due dates and the sequence of events for the said activity. 
Each component in the list can be assigned to team members and resources and with a due date.  The tone of the templates, the user interface employed and the playful use of emojis and other media presents an informal and whimsical approach to planning and project or task management.
The templates and project pages help a project team or an organization's staff to declutter and document and organize thoughts, fostering teamwork and allowing members to swarm together and work on tasks while viewing an up-to-date and unified list.
Although tasks cannot be used in the roadmap view, the projects can be plotted in this view, providing a quick overview of pending deadlines and a project's schedule.
Monitoring and Management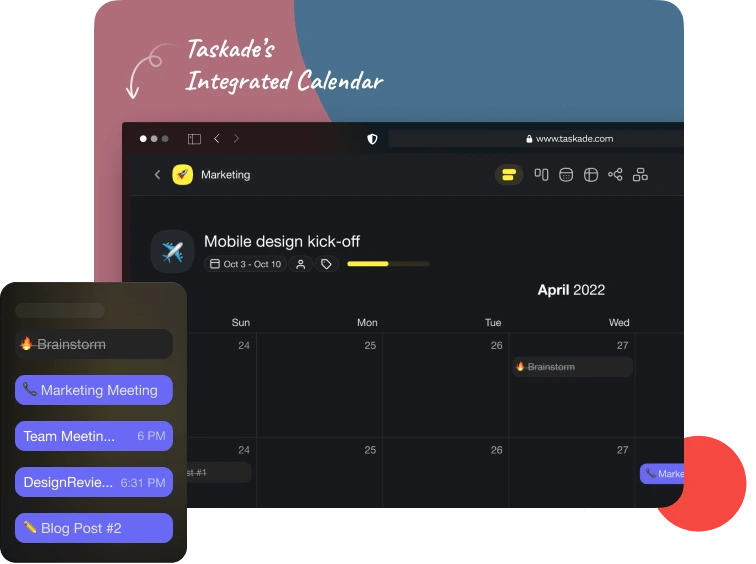 The different views and edit features that Taskade offers give users several options on how to determine tasks or projects that need attention.  Creation of components can easily be done and comes with the option on where the task or item will be created; users can specify the workspace, project or folder. 
Sections for pinned items and recently viewed or modified tasks and projects can quickly point team members to the pages or sections that they need to peruse.  As mentioned before, tags can be used to filter tasks based on purpose and progress.
These functions provide valuable means to gauge the progress and success of a team's endeavors as well as pinpoint what tasks are delayed and what areas should be rectified where more focus should be given.  Access and privileges of team members, invitees and collaborators can be easily managed by allowing them to be classified into editors, reviewers or users with limited access.
Taskade provides a visually rich and eye-catching representation that is highly customizable with a host of features that can propel an organization into a productive, successful and highly organized position.
Taskade supports web access, Windows, MacOS, Android and iOS.
Integrations with Other Platforms
Currently, these are some of the available integrations for Trainual:
Calendar Feed
Google Drive
Box
Instagram
Youtube
For tasks with due dates, Taskade allows creation of the tasks in other calendar applications such as Google Calendar, Yahoo Calendar, Apple Mail, Outlook and other Calendar Feeds.
Attachment of files, attachments and other media can be done with the integration of this tool with Google Drive, Dropbox, Box and social media pages such as Instagram and Youtube.
With the use of Zapier, use of Taskade can be enhanced by allowing support for actions and events like reminders for task due dates and task creation.
Pricing
What sets Taskade apart from other project management and task management tools is the fact that the full product is free.  Free users can use and take advantage of all the basic features.  Taskade also offers a paid plan, called Taskade Unlimited, but for most cases, for most people, the free plan is sufficient.
For Taskade Unlimited, the subscription fee rate ranges from $5.00 per month on an annual payment scheme or $9.00 per month on a monthly payment scheme.  Under the paid plan, the following advanced features are available:
Unlimited storage and version history
Workspace branding and more customization features
Recurring tasks and bulk assignment of items
2-way integration with Google Calendar
Maker/checker concept for workspaces and projects
Custom onboarding and priority support
Who is Taskade For?
Taskade is a very reliable management tool; it is very user-friendly, easy to use with a nice interface.  It is perfect for small- and medium-sized organizations and very apt for managing personal tasks, teams, projects or daily operations.  It provides a real-time collaboration and management tool that may help organizations using remote or hybrid set-up stay productive and task-focused.
Pros and Cons of Taskade
The Pros
Here are the factors that make Taskade an excellent tool:
This platform is feature-rich and comes with a lot of valuable functions.
Most of the essential features are included in the basic or free plan.
Taskade offers a great knowledge base and a multitude of ready-to-use templates.
The Cons
On the other hand, these are the possible flaws of this platform:
Although Taskade comes with a lot of features, not all of these are really practical and beneficial for project teams.  Some of these are just nice-to-have items.
This software only supports the English language.
The integration with Zapier is very limited, but the Taskade webpage contains future plans for additional actions and events.
There is no support for task dependencies.

The Wrap
The main focus of Taskade is very simple; it is a powerful organization, collaboration and management tool.  It provides a remote work sphere ideal for the remote work set-up and distributed teams.  This tool is very flexible, easy to use and is anything but serious and formal. 
It supports usage of templates, creation of checklists and formulation of workflows that can be used for personal tasks, team projects or organizational procedures and operations.
It provides a wide range of views and utilities that can be taken advantage of to lay down all tasks, milestones, deliverables and personal and business goals, organize them into manageable groups and allow for the efficient monitoring and viewing. 
The communication function is very helpful in facilitating team collaboration and fosters a quick means of discussing items, exchanging info and resolving issues and conflict. 
Taskade may serve as a central hub and repository for gathering, sharing and planning project artifacts.  It is very useful for personal and work goals.