Information is a key strategic resource of the military to protect the country and win wars. They need sufficient intel and effective communication systems to know their enemies and collaborate during the operations.
The same goes for the business world. A company must maintain solid communication platforms to keep the business thriving and resilient to the ever-changing needs of consumers.
As you and your team members collaborate, keeping the communication lines unhindered and the message elements as clear as possible is essential.
The majority of businesses today have already adopted platforms for communicating. We're pretty sure you're using one too. However, are you using the appropriate tools? Or if you are, are you using them correctly?
We seek to provide direction by giving you the top communication platforms and how they can make a difference to your business.
All of these platforms can be used for video interviewing, but please check out our comprehensive guide on video interviewing is available here if you want to start from the basics. You can check out our top 10 video interviewing software platforms if you want to get straight to the action.
What Are Communication Platforms?
The conventional methods of communication are via SMS, voice, and email. But due to the rise of technology and the need to exchange information fast, companies must incorporate real-time messaging, videos, and the ability to attach digital materials for more emphatic messages.
You can cope with these requirements only through communication platforms. They enable businesses to communicate in real-time thru messaging, voice, video, and other add-ons that make the interaction more meaningful.
Communication platforms have opened many doors of opportunities for marketing and sales. By accessing the communication platform used by the business, customers can inquire about or discuss the products and services they offer.
8 Great Advantages of Communications Platforms
Communication software does not just improve the delivery of a message, but they significantly impact the whole business. We listed below some benefits you can reap in using a communication platform.
1. It gives more emphasis to messages.
As visual learners, people get to assimilate the message more rapidly when using images and videos. When presenting an idea during a meeting, there is a tendency for the listeners to miss the point. With creative videos, people can easily absorb what's cooking.
2. It allows remote work.
The recent pandemic has constrained physical meetups and collaborations. Communications platforms let you carry on with all deliverables by creating a virtual bubble where you can meet, plan, design, and execute tasks.
No matter where you are, you can still collaborate with your team. You can engage your team members with meeting platforms like Zoom and Adam.ai.
3. It makes the collaboration efficient.
You and the other team members can collaborate using any means, but this question remains: how productive is the collaboration? How fast can you schedule a meeting?
Manually scheduling a meeting into your work calendar and disseminating the scheduled meeting with your team members by group chats or emails consume a lot of time. The program itself notifies them of this event by scheduling a session via the communications platforms where your team members are also connected.
When you need to decide on things, you can do it swiftly because you can see who is online and who can help you.
4. It provides greater recognition to employees
You don't have to wait and schedule an event when employees achieve something great. Why not reward them on the spot? Yes, with a centralized workspace, you can commend worthy employees immediately.
After reviewing the project, they immediately receive your feedback. The more you recognize their efforts, the more they become motivated to work harder.
5. It saves money.
Investing in communications platforms entails money, but the amount it saves outweighs your investment. Imagine the total time saved through productive collaboration and automated tasks.
Moreover, the platforms are cloud-based, so you won't have to do that much paperwork anymore. Paper and printing costs contribute a large amount to the company's expenses. Reducing them will save stationery costs and help the environment by reducing carbon footprints.
6. It is intuitive and user-friendly
Working with communication platforms does not need an expert programmer to get the thing started. With interactive interfaces, your current skills should be enough.
7. It lets you manage work easily
Managing a team is a serious business. You need to ensure that every detail in the process does not deviate from the standard and that each team member functions accordingly. When you have a communications platform, you can see through everything in one glance.
Information sharing becomes streamlined so you can delegate tasks and instructions with no hassle. With most workers having mobile access, connecting to them is at the tip of your hands.
8. It lets you handle activities simultaneously
Communication platforms let you multitask with projects intelligently. You can tailor-fit channels depending on your business requirements and employee preferences.
For example, you can use Microsoft Teams and Slack to communicate with workers regarding benefits. Under the channels you created, you can also create a subchannel for specific messages.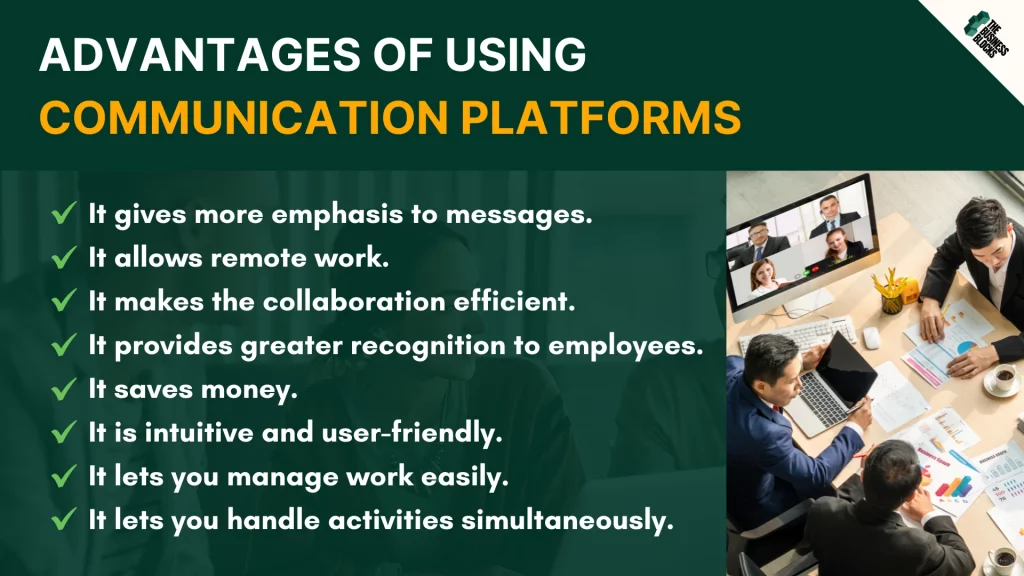 The Top Communication Platforms
Hundreds of impressive communication platforms are flocking worldwide, but we have compiled several ones that have proven valuable for any business.
Tandem. chat
Remote work is already an increasing trend, and it's even more encouraged at the onset of the pandemic. If you belong to a virtual work team, Tandem. Chat can be one of the best communication tools for increasing productivity and fostering collaboration.
Tandem is an office software that provides your team with a centralized virtual workspace for gathering and connecting from any location. It's like a real office, except for the fact that it's virtual! It simulates virtual conference rooms so you can brainstorm with your team.
To level up the collaboration experience, Tandem allows screen sharing of your screen, cursor, or any program. If your team members are using other apps in making a project, you are right
into it because Tandem has access to them. It integrates easily with over 120 platforms, including Google Docs, Asana, Github, Notion, and Trello.
Click here to see our full Tandem. Chat review.
Adam.ai
Adam.ai is an online meeting software equipped with artificial intelligence (AI) to boost the quality of your meetings. The platform's AI captures and retrieves information, which can be presented later for more valuable insights.
The software's interface is highly intuitive and user-friendly. You can integrate Adam.ai into major apps for collaboration, project management, CRM, video conferencing, scheduling, and file sharing. Inside Adam.ai is a Project page where all your existing projects are laid out, including their current status, scheduled meetings, tasks, and deadlines.
Also, there is a dedicated dashboard per project, which shows you in-depth updates and a timeline for keeping track of its progress. Adam.ai has a meeting room that lets you take notes and view files. You can also have a bird's-eye view of all meetings at a given time.
Click here to see our full Adam.ai review.
Trello
In the actual office, we use corkboards for disseminating and updating information relevant to the team. Consider Trello a digital corkboard where you can pin customizable virtual cards that bear information.
With just a few clicks, you can customize a Trello card, adding features, text, and images. You can set due dates and interactive checklists and invite other Trello members to enhance collaboration per card.
Adding members can happen instantly with one click. Do you want to assign them to a task? Just drag their profile icon into cards and tag them by mentioning them in the comment box. Trello's Butler feature increases productivity by letting you automate the creation of cards, board buttons, and calendar interaction.
Click here to see our full Trello review.
IdeaNote
Do you want a platform for capturing innovations and pushing them forward? IdeaNote could be the right software for your business. The platforms allow you to share ideas through widgets that can easily be embedded on your website, blog, or intranet. In it, you can include images, videos, or any attachments that support your idea.
To collect an idea, engage your team members, and evaluate their responses, you can do it with IdeaNote's workspace. You can set up internal or external workspaces in minutes and scale them higher to include more people. Prioritize ideas in a funnel-like fashion so you can push worthier ideas quickly for implementation.
IdeaNote also has data analytics to help you analyze and track the progress of ideas. Automation? The software has it, too, so you can automate repetitive tasks and integration with other apps.
Zoom Zoom is one of the most popular online meeting platforms ever, with 300 million daily users since December 2019. These figures mean that it's not just because it's famous but because of its impeccable features.
Having a cluttered workspace? Or want to push your brand? Zoom lets you customize virtual backgrounds even without a green screen. The software even lets you touch up your appearance, removing those unsightly blemishes and making you more radiant.
If you want to record the whole meeting, you can do it by simply clicking the record button and having the video ready after the meeting. For premium accounts, you can let Zoom transcribe the audio or hook up external voice transcription apps like Otter.
Click here to see our full Ideanote review.
Microsoft Teams
Microsoft never gets left behind, so they also have their online meeting platform for collaboration. When you adopt the software, you will use channels that serve as conversation boards for team members. Each member can view and add conversations in the General channel and use the "@" function to invite members into conversations.
There is also a chat option for messaging directly to individuals or as a group. If you subscribe to MS Teams, you can access SharePoint online as their document storage. You can do video calls internally with your team members or with people outside.
A unique feature is joining online meetings using a phone with MS Team's audio conferencing. This will require additional licensing, though. If you have a large team working remotely, the program can handle it.
Click here to see our full Microsoft Teams review.
Slack
Slack is considered a Swiss Army knife in communication because of its multiple functionalities in one "channel." One of the best things in Slack is the ability to pin messages in a channel so that they become visible to channel members. You can pin messages, files, and documents up to 100 times.
Managing documents are convenient in Slack because you can integrate with file management apps like Google Drive and Dropbox Paper. Since you can access your account directly from Slack, you don't have to go back and forth across apps.
Like Google, Slack's search function lets you do a comprehensive search in a breeze. You can search for exact and partial matches using an asterisk after a partial word.
Slack helps you not be overly dependent on employees so that you can customize an automated workflow according to business requirements.
Click here to see our full Slack review.
SocialQ+
Almost every business uses social media to build an online presence and attract customers. For this reason, SocialQ+ endeavors to maximize your social media to its full potential. Creating one or two content posts is easy, but consistency is lacking in most efforts.
SocialQ+ is a wonderful platform that becomes your social media manager. By managing your social media, the software creates, schedules, and analyzes your posts across all social media platforms like Facebook, Twitter, Instagram, Youtube, & LinkedIn.
Make your post's base content, and SocialQ+ previews how it looks when it goes live on social media platforms. You can also customize captions, attach media, or relevant files you must include in the post. After customizing your content, you can set up scheduled posts to save time and effort.
Click here to see our full SocialQ+ review.
How to Choose the Right Platform
All the mentioned platforms are indispensable tools for communication, but which is which? Each platform has strengths and weaknesses, so before you choose a platform, look at your organization first.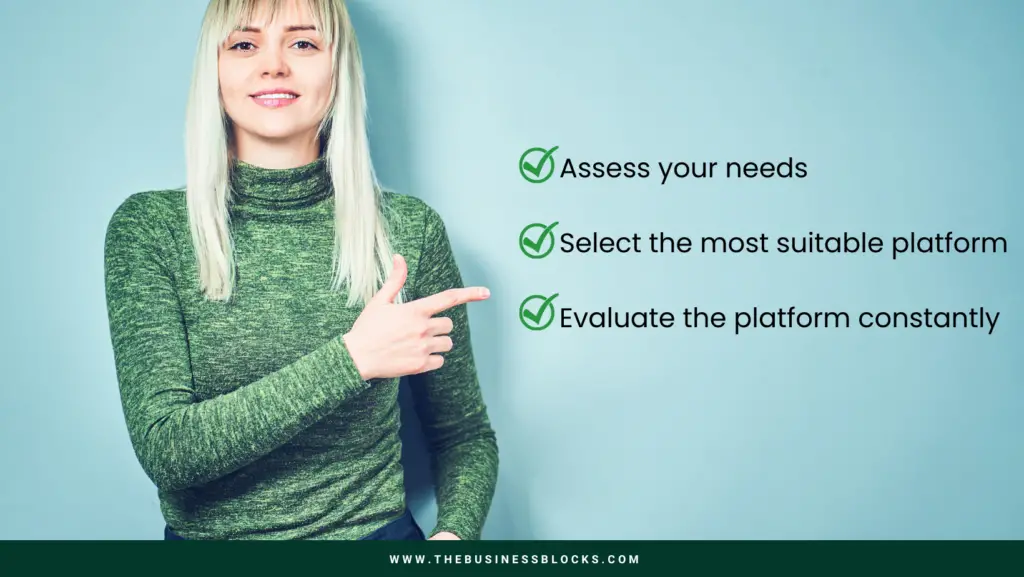 Assess Your Needs
You can map out your existing system and identify the gaps to know what your team needs. Once you have determined the specific inefficiencies, you are in a better position to choose the appropriate software.
During this time, it's important to take note of the present system's performance metrics or key performance indicators (KPI). This will serve as the basis for your objectives.
Select the Most Suitable Platform
There is no perfect platform, meaning you might need to adopt more than one platform to address your communication gaps. If you currently use platforms in your company, choose the one that best integrates with them.
Below are the key features you need to look for when choosing communications software:
Does it reflect data in real time? Do its features and capabilities address a good portion of the communication weaknesses? Ensure that the platform can increase workflow and productivity.
The platform must be straightforward to configure according to your team members. Your team members must not have a hard time learning about it.
You could have feature-rich software but have difficulty accessing it, or it can only be accessed on a single device. As much as possible, the chosen platform can be optimized to function in any device or computer operating system.
The software should properly integrate with the ones currently used or with most applications in the market.
We are dealing with data here, so it's important to check if the platform stores it in a secure location.
It would be very helpful if you make a cost-benefit analysis. Enumerate all the costs and benefits of investing in the software and compare it to the costs involved if you won't go for it. If subscribing to the software is more favorable, then look at it.
Evaluate the Platform Constantly
Once you start implementing the communications platform, it's only a matter of time before you see results. Look back at the specific objectives you established and determine if your communications software did its job.
---
Featured Platforms: Tandem. Chat, Adam.ai, Trello, IdeaNote, Microsoft Teams, Slack, SocialQ+