How to create custom forms, digital forms or surveys?
Data gathering and creating digital forms is the process of collecting quantitative or qualitative information for evaluation based on specific variables. 
The challenge, therefore, when gathering data is making sure that the data is clean and reliable and whether the user has a good experience.
Pen and paper is the stone age of data gathering, wherein we collect data using manual methods. 
While we don't see anything wrong with the process itself, there is a high possibility for this method to fail. 
In what ways? 
Top 5 Reasons to Go Paperless and Gather Data Digitally
1. It becomes costly over time
Yes, the price of paper is generally cheap but over time, a paper-based method of data gathering gets costly. A simulation study conducted by the National Center for Biotechnology Information showed that paper-based studies will be 49-62% pricier than digital means when used for the same period.
When you use a manual method, paper is not the only reason for its expensiveness. You have to factor in also the workforce, reprinting due to error, file management, and other costs associated with it. 
2. It decreases productivity
Writing something manually takes time, so it affects your productivity. A task may take a few seconds to finish but if you lump all the manual tasks together, you will be shocked by the lost hours devoted to non-productive tasks.
Take for example you have a timesheet that needs to be filled up in every stage of the process. Each stage consumes time until it reaches the person in charge of collecting all these timesheets. 
Well, guess what? He has to encode all of these into an ERP system or spreadsheet! 
3. Data becomes unreliable
Manual recording can be taxing. It's easier said than done! During the first few times, manual data gathering may still be consistent but over time, data gatherers tend to get complacent and gather data in batches. Over time, the data is gathered in longer gaps of time, making the data unreliable.  
Moreover, manual data collection will not help fix problems as they occur. Once you have received the data and analyzed it, a good amount of time has already lapsed.
4. Workers will get sick of the process
During the first time, they might enjoy the data gathering process. However, in the long run, they will see the whole thing as tedious. Why should workers continually engage in a tedious task when a machine could do this?
5. Data is harder to analyze
Since the data gathered is not well-organized, it's strenuous to make an in-depth analysis. For example, if you are a beverage company and you are requiring from all the branches a monthly report of the company's defective products, how are you going to handle it? 
Suppose one of your products is called Apple Soda 250 ml. The data collection might sound easy but some might render it as Soda Apple 250 ml or Soda App 250, or SA 250ml. The point is that it's hard to analyze data with many variations.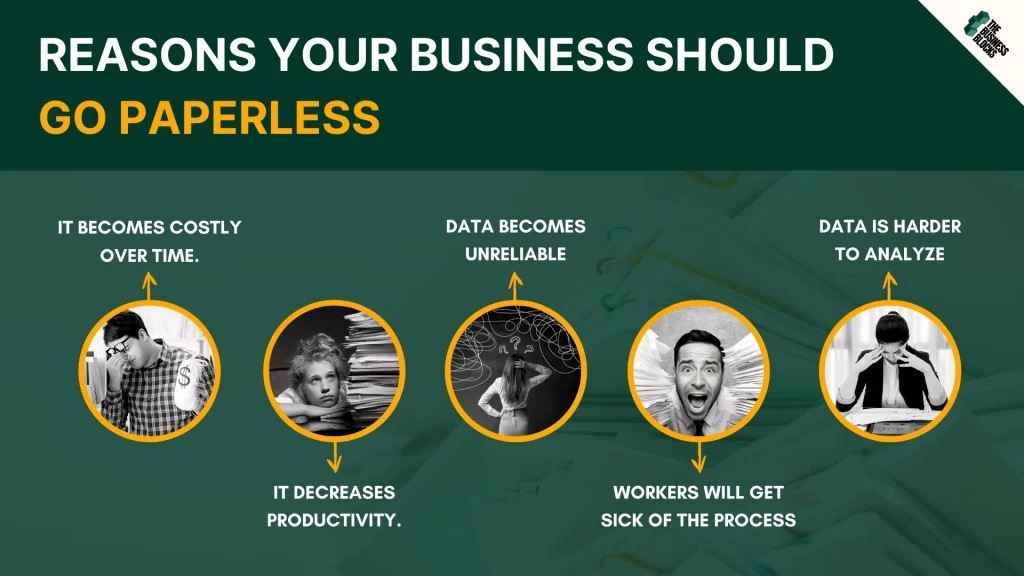 How Custom Forms Can Help You
Paper is considered an obsolete, if not an inefficient medium for gathering data. Aside from the fact that it is difficult to retrieve, there's a high risk of losing it along with the information it carries. It's costly and time-consuming, not to mention not environment-friendly! To appreciate the digital means of data gathering more, kindly look into the following benefits:
Unfortunately, paper is still being used in many businesses today. These stationery, along with the toner, printer, and other printing paraphernalia, are purchased by your company and use up a significant portion of the budget.  Instead of spending money year after year, why not invest in digital form software? This will give you long-term savings.
Though the task is simple, it already consumes time, which can be spent instead on analysis and other more important business tasks. Some information have to be written in a report or encoded in a spreadsheet at the end of the day. After the first-level data input, the recipient may also need to encode it in another medium. However, when you use data collection software, you can input the data in multiple levels simultaneously. 
Data collection software does not just simply replace the pen and paper method. This application has extraordinary features to level up your data-gathering efforts. With digital forms, you can insert photos, barcodes, QR codes, and even a signature! You can organize the accomplished forms easily, cluster them, and export them into one file format where you can have them as one. Moreover, if you want to modify the form, you can do it with ease.  Simply add an extra paragraph, change the font, or add a drop-down menu – it's all in your hands! If you do this all manually, it will take time and incur additional costs for printing the revised forms.
IT REFLECTS REAL-TIME DATA ACCURATELY
For the manual method, the submitted data may wait for batch processing. Since you are treating data digitally, they are easily stored inside the system for processing. Furthermore, you can check the status of the processing. With digital software, there is less error encountered because you can set parameters to define the inputs before entered. For example, if the encoder has to input a certain SKU, you can define in the drop-down list the standard format of this SKU.
IT MAKES DATA RETRIEVAL EASY AND ORGANIZED
When using manual data collection, searching for specific data is like looking for a needle in a haystack. This is especially true when you are in a large-scale operation and the pile of forms is mountainous. Since digital forms are stored on the cloud server, you can access data instantly at any time of the day. By using filter options, you can search data based on a set of keywords. Custom forms play an important role in standardization because it's easy to implement changes. This can help improve productivity in the business.
IT IS GOOD FOR THE ENVIRONMENT
The unending use of papers is bad news for mother earth. A large number of used paper ends up in landfills. 
Digital Form Platforms
To simplify data gathering, companies invest in IT to make the collection process efficient and accurate. Below are some of the software that businesses have adopted to survive in the digital ecosystem:
Microsoft Forms
Microsoft has been with us for a very long time now and they have developed this software to streamline data collection through surveys, polls, and quizzes. All collected responses can be analyzed with its build-in analytics and exported to Excel for further analysis. The interface is incredibly beginner-friendly.
Once data has been collected, you can simply integrate them with other applications like Microsoft Outlook, Teams, and other Microsoft 365 programs.
Click here to view our full Microsft Forms review.
Airtable
Traditionally, we use a spreadsheet to collect and organize data. Airtable enhances the custom form process by using databases. 
So what's the difference between them? Both have grid lines, tabs, rows, and columns. Unlike spreadsheets, databases are more powerful because they contain relational data.
Yes, we still use spreadsheets because they are indispensable tools for calculation. However, when we are dealing with a large amount of information, it's wise to opt for a database. Airtable offers you both!
Click here to view our full Airtable review.
Jotform
With more than 10 million users worldwide, Jotform specializes in creating online and digital forms through simple drag-and-drop techniques or choosing from pre-defined templates. Even with its free account, you can already do a lot of customization.
You can simply make fillable PDF forms and have the results emailed to you directly! It is phone-compatible and can integrate with over 100 software platforms.
Click here to view our full Jotform review.
Formstack Forms
Used in over 112 countries, Consider FormStack as a one-stop-shop in seamlessly creating surveys and custom forms, data gathering, and eSignature collection. Why manually send information to people when you can automate that for greater efficiency?
With Formstack, you can automate tasks like sending information to prospects, collecting information from existing customers, and sending instructions.
Click here to view our full Formstack Forms review.
Survey Monkey
It's impossible to use survey tools and not hear about this brand. Founded in 1999, SurveyMonkey is considered one of the world's most popular survey tools.
The software boasts of its super user-friendly interface that is packed with hundreds of templates and features that simplify the whole survey process. Compared to other survey tools, SurveyMonkey has more powerful data and analysis tools. 
Once data has been gathered, the software gives you the ability to create dynamic charts and export them according to your desired format.
Click here to view our full Survey Monkey review.
Typeform
Typeform is known for its flexibility in creating surveys and forms. What makes this software unique is that it seeks to make the collection process a comfortable and relational experience. 
If you want to create surveys and questionnaires that show one question at a time, then Typeform can do it. With over 100 templates in different themes similar to Canva, if you've used it. Just pick a theme, modify it according to your needs, and you're good to go!
It is a web-based platform so you can create surveys online and the good part? You don't need to put codes. Typeform is fully encrypted you can be confident that your data will be secure.
Click here to view our full Typeform review.
Peakon
Trusted by leading global brands, Peakon gives employees the chance to speak their hearts. By giving employees a chance to provide their feedback, you can look up these insights in Peakon's heatmap to gain a fresher perspective and make decisions out of them.
Making surveys can be effortless because it's user-friendly and straightforward. Peakon gives the employees an interactive experience while maintaining the utmost confidentiality. 
Click here to view our full Peakon review.
Mentimeter
You might have heard of this term in virtual training or seminars when the speaker asks you to answer a poll or question. Mentimeter it is! 
Make your presentations alive and interactive using Mentimeter's flexible tools.  The software is particularly effective in classroom discussion or educational training. 
From young students to veteran employees, Mentimeter is easily lovable because it makes data gathering an interactive experience.
Click here to view our full Mentimeter review.
How Companies Apply These Platforms
It's amazing to know what the mentioned data collection programs can do, but what's even more impressive is how they fare in the actual world. We have compiled a list of companies using these software, which has led to improved people management, productivity, and customer satisfaction. 
Audi Business Innovation (ABI) 
ABI is a subsidiary group of Audi AG, with a mission to continually rethink the automotive core business with a user-first mindset. To quickly gather feedback from their users as inputs to their designs they make use of SurveyMonkey.  
Audi sought the needs of the users to formulate ideas and create new concepts. With SurveyMonkey's tools, Audi is able to use the platform as a mock-up test, letting the respondents react to particular images.  Through the digital survey platform, Audi is able to save time and reduce the risk of venturing into impractical business decisions. 
Heavy equipment is synonymous with Bobcat. To properly manage workflow and detect equipment issues, Bobcat takes advantage of JotForm, particularly its Assign Forms feature. When clients bring their Bobcat equipment for repair, Bobcat's technicians need to collect vital information like name, email address, machine photos, and signature in their own custom form.
Previously they did this using an online web-based form, but encountered security and network issues.  With JotForm, Bobcat uses tablets or mobile devices installed with the app and can conveniently collect client details even when not connected to the internet. 
Ramsac is a reputable IT company offering 24/7 support to its clients. They had an event wherein they captured visitor details and quickly sent them to their Managing Director, who was speaking on that event. The details had to be shown on the screen and used by their Business Development team after the event. With Microsoft 365's Forms, Flow, SharePoint, and Power BI features, they found the solution to their problem.
Ramsac used the Microsoft Forms feature to capture their answers to set questions. Once answered, the Flow function automatically pushed the visitor's responses to SharePoint via a custom form.  To display the survey result on screen, Ramsac used Microsoft PowerBI. After the event, they imported the data pushed in SharePoint into their CRM system. 
Managing Time's video production team was extremely hectic because of complex tasks like scheduling, invoicing, budgeting, inventory monitoring, organizing film festivals, and others. All of these things have made data entry a tedious task.  With normal spreadsheets, the production coordinator had to enter the same information over and over again. The high volume of invoices triggered them to search for a tool to monitor every step and notify them of any budget discrepancies. 
With Airtable's rich field types and email integration, custom form creation is simple, freelancers automatically receive notifications when their invoice status changes. By linking records, all budget information is synced, so there is no need to constantly update the budget and send reports. Moreover, Airtable shows the overlaps in their respective tasks, giving them insight on how to collaborate more efficiently. 
With a workforce nearing half a million and 100 million customers in 67 countries, Sodexo has a large responsibility globally for their customers and employees.  With such a numerous and dispersed workforce, Sodexo sought a way to improve the time consumed when soliciting feedback.
There was a time when employees viewed surveys as an obligation already. Peakon helped Sodexo by letting employees see that their feedback has been well-acknowledged. Since the results of the feedback are real-time, managers can immediately hold their accountability.