Learn how to stream using Xsplit on Facebook, Youtube, Twitch, and many other platforms without hassle.
Live streaming has changed the way people can share their work with audiences. Content creators have been able to showcase their art worldwide with the introduction of live streaming as one of the leading tools over the past few years.
However, there are still plenty out there who have yet to use this platform, but if you're looking for new ways to get your voice heard, then XSplit might be the tool to succeed on this platform. 
As a content creator, XSplit is one potential solution that hopes to give your voice access and visibility on the internet. Let's look at what this tool entails in its entirety.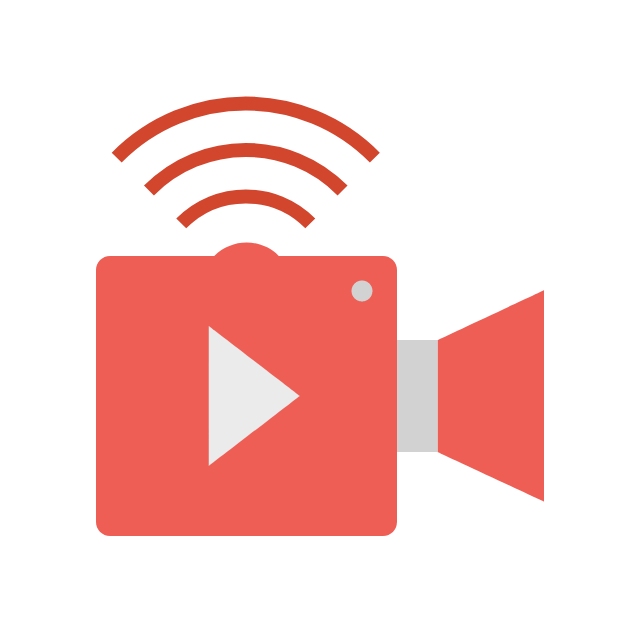 What Is XSplit? 
XSplit is the ultimate live streaming and video mixing application. XSplit has been around for years, providing users with an easy way to stream videos online without hassle from behind their computer screens.  
It is a powerful tool designed especially for you if you're interested in learning how to stream using Xsplit on Facebook, Youtube, and many other platforms or recording videos on your computer screen – whether it be professionally as an entertainer or a gamer or just casually as someone who enjoys streaming. 
XSplit offers different products such as Broadcaster, Presenter, and VCam; and comes with a variety of features. The software can play 2D and 3D games besides media content, like videos and music. XSplit's products are easy to set up, but you get more control over what's happening on your screen with the advanced settings.
XSplit Broadcaster: Features and Integrations 
How to stream using Xsplit?
XSplit Broadcaster is perfect for gamers who want to capture their gameplay in real time or for those who want to mix a stream of different content into one cohesive show with professional quality production value. 
XSplit Broadcaster supports all major streaming platforms and can be customized for any content, such as live game broadcasting. The easy-to-use tools allow you to create custom layouts of your scene with graphics or video overlays, chat bubbles, panels with widgets that display relevant information about the streamer like viewer count and donations, polls for interaction with viewers, a "pinning" function that allows you to keep certain parts of the layout on-screen at all times, such as an overlay, and more.  
With XSplit, you can expand your creativity with unlimited scenes to ensure you can customize it just as you want. It includes scene numbers for broadcasting so that viewers know exactly when something meaningful is going down in their stream.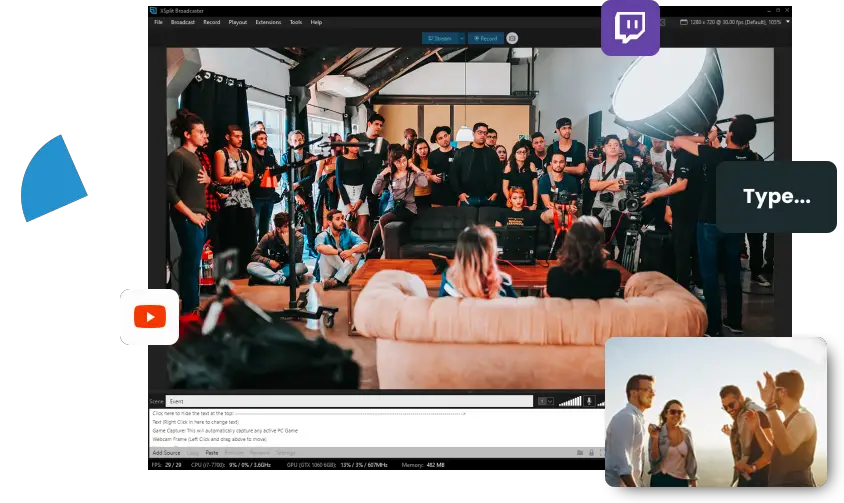 In addition, you can create custom graphics and scenes to spice up your presentation. In-app recording lets viewers get more insight into your gameplay while watching or learning how you play. Streaming tournaments, for example, can also be annotated with free text, which is useful if you need to remind your viewers about certain rules. 
The platform includes more than just plain images. You can drag and drop the image of your choice straight onto your stream, saving you tons of time selecting an appropriate graphic for each video clip.  
With Projector Mode, your games can be projected onto a massive screen or divided into multiple screens so viewers and players alike can see the action up close. This mode is perfect for eSports competitions where both audiences need an on-screen view of what's happening while allowing gamers quick access to their game settings without interruption. 
If you want to go live on multiple platforms simultaneously, look no further than XSplit's new multistreaming feature. Through this feature, you can easily learn how to stream using Xsplit on Facebook, Youtube, and many other platforms Users can broadcast up to 3 streams simultaneously without installing third-party apps or software. This is perfect for those who want their stream available across Facebook Live, YouTube Gaming Streams, and Twitch. 
XSplit Broadcaster is a fantastic streaming platform with many opportunities for monetizing your stream. It comes with great tools like Super Chat and Super Stickers to help you engage with your viewers in meaningful ways, which can lead to some serious cash through the XSplit Partner Program if successful. 
This streaming software integrates with various programs like Twitch, YouTube Live, Dailymotion, StreamShark, Mixer, Ustream, and many more. In any case, you'll receive high-quality broadcasts regardless of your platform choice. So hurry up and learn how to stream using Xsplit on Facebook, Youtube, and many other platforms!
XSplit Presenter: Features and Integrations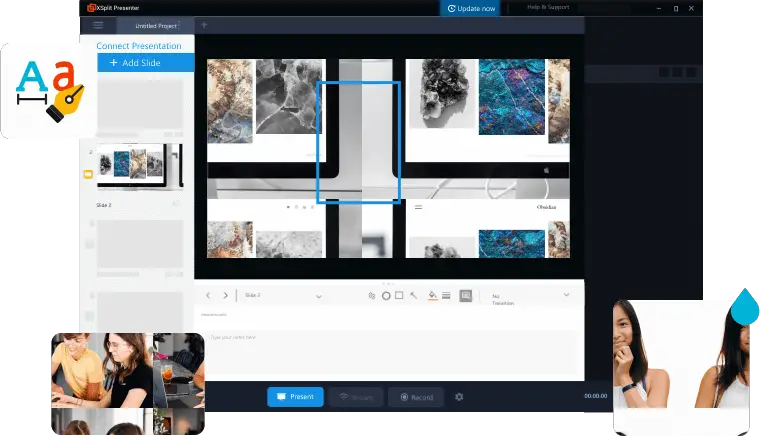 XSplit Presenter is a powerful application that lets you remotely host dynamic presentations via supported video conferencing apps such as Zoom, Skype, Google Meet, Microsoft Teams.  
It also allows you to record your presentation locally or through any other hosting channel like YouTube and use stylized overlay elements for an engaging slide experience with slide drawing tools. 
With XSplit Presenter, you can import slides from Google Slides or Microsoft PowerPoint and easily add videos from YouTube. You can connect the program with Zoom for live streaming activities such as lectures; or Skype if you want an on-the-spot chat session about what's being shown in your presentation.  
XSplit Presenter integrates with Google Slides, Microsoft PowerPoint, or even PDF files, enabling easy content creation that can be shared on any platform. Sharing and saving presentations have never been so straightforward.  
XSplit offers an efficient way to multitask, allowing you to connect with coworkers and friends on various platforms such as Zoom and Teams. Through its camera functionality, XSplit eliminates Messenger pop-up interruptions. 
XSplit VCam: Features and Integrations 
XSplit VCam is the latest green screen technology that allows you to replace or blur your background with a single button click. It makes it easy for anyone, even amateurs, to make professional-looking videos. 
It's simple to use with an intuitive interface, so editing video in almost any imaginable scenario only takes seconds. This makes broadcasting on social media easier than ever before because now broadcasters don't have to worry about finding high-quality backdrops and instead make one up with XSplit's VCam. 
You can create a professional-looking video with XSplit VCam easily. It has unlimited customization options for replacing your background in live streaming and recording. With this versatile tool, you can apply any image or webpage as the backdrop of your broadcast.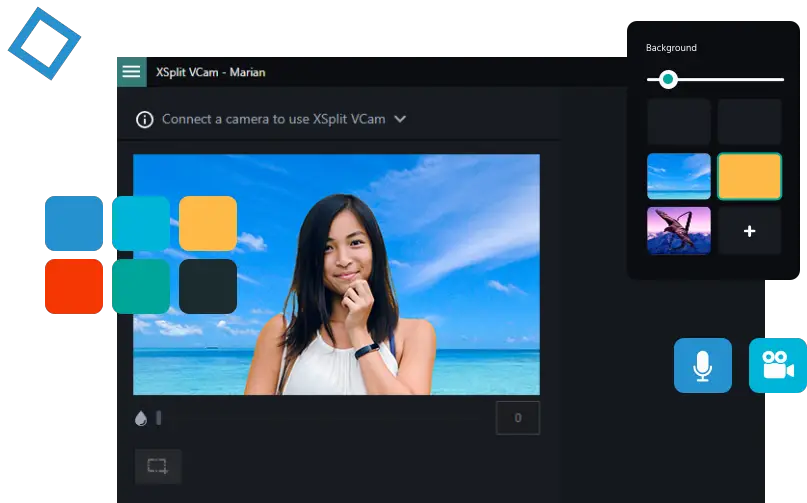 This program can take your recordings to the next level, regardless of your streaming platform. XSplit VCam lets content creators make their videos look professional without complicated settings or post-production work. 
With its intuitive interface designed to make it easier than ever, you can record yourself without knowing how complicated video editing software works.  
The app works seamlessly with popular streaming apps, so you can easily create your unique content from whatever it is that inspires you. 
Who should use XSplit 
XSplit is suitable for presenters, broadcasters, or streamers in general. XSplit provides a user-friendly interface and is cost-effective for what you get. Plus, it's extremely powerful and affordable with its premium features to help creators grow their channels. 
It doesn't matter whether you're just starting out broadcasting online or how long you have been doing this; XSplit has something that will work for you. XSplit is designed to make life easier, so your focus can be where it belongs: creating awesome content so people can watch your creations. With virtually no limit on the number of viewers, creators can maximize this tool. 
Why Use XSplit Over Other Streaming Platforms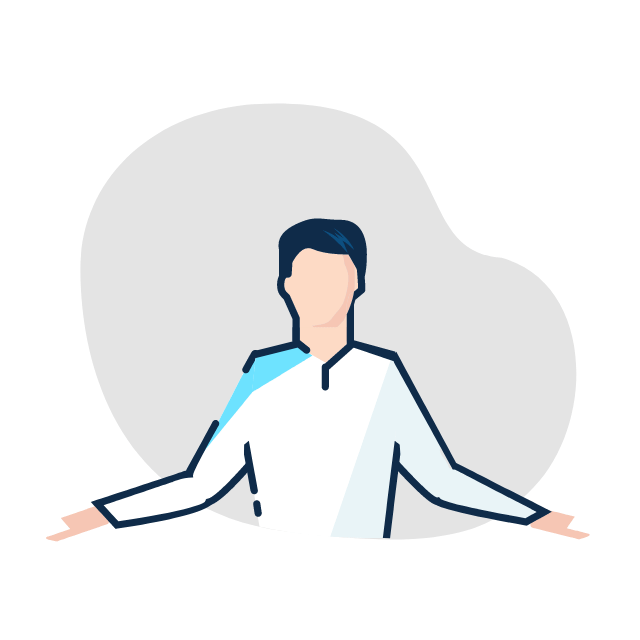 This program lets you easily learn how to stream using Xsplit on Facebook, Youtube, and many other platforms with no hassle! It is very easy to use not only for streaming but also for recording. This software was designed with the average user in mind, so it will be quick and simple even if you've never used an encoding before.  
Setting up XSplit is simple. It has built-in programs that simplify things, but users may need to tweak resolutions and other settings. 
Additionally, XSplit Broadcaster is one of the best software for gamers that want to stream their gameplay. The intuitively designed and easy-to-use suite of creator tools makes professional streaming a little easier. With its cutting-edge features and quality content production capabilities, you will not be disappointed with this product. 
Whether you're a gamer, an entrepreneur with live video production needs, or an organizer of live events, this review may encourage you to consider XSplit as your top choice in streaming software.