Ever wondered how contracts are usually signed over the internet?
The world is increasingly shifting towards consuming data that is visually appealing and easy to navigate. Making sure your contracts are visually appealing is more important than ever.
But have you wondered how contracts are usually signed over the internet?
We have come a long way from mechanically presented text and typewritten contracts.
Now, it's all about aesthetically pleasing and easily customizable online documents. 
Gone are the days when you had to labor through a word file to create a sales contract, edit it, and add mailing lists from spreadsheets. Today, you have services like PandaDoc that help you shorten the process and create exquisite sales documents that are bound to get you a deal!
What is Panda Doc?
PandaDoc is a software platform that streamlines and accelerates your document processing. You can create contracts using the many different templates, send them to your clients, negotiate, e-sign, and store transactional documents all in one location.
PandaDoc is built to help sales representatives with quotes, proposals, and contracts. However, it does a lot more than that. It is a one-stop-shop for all your business document-related problems.
W have reviewed Pandadoc's competition and summarised the results here. 
Is Pandadoc a good document workflow tool?
PandaDoc works through a simplified process of choosing templates and creating your business documents. Once you log onto PandaDoc, you will see your dashboard. The dashboard will visually tell you which stage your document is in and will also give you a forecast of where your deals are likely to go.
A toolbar will appear on the left side of the screen, which shows you what section of the software you are accessing. You can simply choose to either select a pre-made PandaDoc template or create a custom template of your own for your document. 
Once you have decided, you can simply hover your cursor over the template to click on "create the document." This will redirect you to a pop-up that allows you to add as many recipients for the document as you like. You can then simply start editing and customizing your document to your requirements.
You will be able to add things like images, videos, and tables too. The videos will appear and play right in the document. Additionally, you will have access to the drag and drop functions for textboxes and will be able to customize them entirely to your needs. Access to pre-saved product information was never this easy. You can add pricing plans and other visual aids to make your document look even more appealing. 
Finally, you can add PandaDoc's electronic signature, and it is ready to be sent. You can directly send it through your dashboard. All you have to do is write a customized message, set an expiration date, or a reminder as needed, and your document is on its way.
PandaDoc will then allow you to access the analytics of document interaction and best help you as a document workflow tool.
It will tell you how many people have viewed, opened, or finished the document. It will even tell you how much interaction each page had.
The client does not have to go to their email to write a response; they can easily share any queries or comments directly on the document through the chatbox.
Pandadoc helps you streamline all your proposals and contract workflow and provide you full transparency into the analytics of those documents.    
Integrations and Document Processing
PandaDoc can be integrated with Zapier. This allows you to automate your workflow by connecting PandaDoc with 2,000+ apps to make your work much easier and help you become more productive.
To learn more about Zapier, check out our review.
Top integrations on PandaDoc:

Hubspot is an efficient marketing and sales software platform that can be used to create web pages, blog posts, email sequences, and more to help you track your success in attracting visitors, converting leads, and closing customers.
Airtable is a database app that is compatible with tables and spreadsheets. It is a great and versatile app that is perfect for getting the most out of your data. Check out to the review!
Slack provides a better way to communicate with your team. It's faster and more organized than email and is aloso a good document workflow tool.
Outlook is an email management system that allows you to email, manage your schedule, store contact information, and track your tasks.
Pros and Cons of PandaDoc
| PROS | CONS |
| --- | --- |
| PandaDoc has a very user-friendly interface that can easily be understood and handled by new users.  | PandaDoc could improve its presentation capabilities. |
| It allows you to have a free 14-day trial for any of the paid plans to make an informed decision to pay.  | PandaDoc's integration with other software does not perform very smoothly. |
| PandaDoc is perfect for developing dynamic proposal templates and pitch decks. New documents can be created directly from these templates, making customization easy and efficient.  | Some of the system-generated emails can often end up in spam. |
| This platform has the ability to handle large content libraries and product catalogs. The ability to reference and inject elements from these tools makes proposal building a snap. | |
| The integration capabilities are fantastic. The ability to originate sales docs directly from CRM records and have that 'event' time-stamp into the contact record is also remarkable.  | |
| This platform gives excellent insights into sales activity. It triggers them into the actual document for a more in-depth engagement history. | |
| It allows you to save templates of the documents that you frequently use.  | |
| It gives you email updates when your documents are viewed and completed. | |
Pricing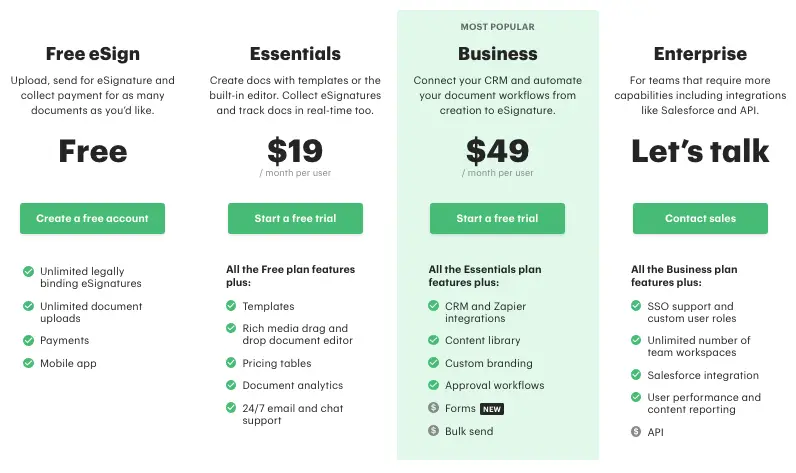 1. Free eSign
Billed at $0 monthly and annually 
Unlimited legally binding eSignatures
Unlimited document uploads
Collect payments for as many documents as you like 
Unlimited users
Activity tracking and notifications 
2. Essentials 
Billed at $25 a month and $19 per month for a yearly subscription 
All the free plan features 
Free 14 day trial 
Create docs with public and custom templates 
Collect eSignatures and track docs in real-time 
Pricing tables 
Audit trails document analytics 
3. Business 
Billed at $59 a month and $49 per month for a yearly subscription 
All the essentials plan features 
Connect your CRM and automate your workflows 
Content integrations 
Custom branding 
Approval workflows 
Zapier 
Bulk send 
Salesforce integration
Unlimited number of team workspaces 
4. Enterprise 
Get a quote for billing 
All Business plan features 
SSO support and custom user roles 
Unlimited number of team workspaces 
Salesforce integrations 
User performance and content reporting 
Custom eSigning and document generation 
Contract renewals with automatic reminders 
Is PandaDoc Safe?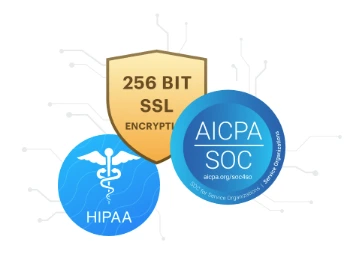 PandaDoc's all-in-one software includes unlimited secure legally binding electronic signatures to streamline your work. This technology is compliant with ESIGN and UETA and ensures your document's safety. They also provide you with an electronic certificate with every signed document. Every PDF is password protected to verify eSignatures. 
"The security of your data is our highest priority. PandaDoc is SOC 2 Type 2 compliant, and we regularly perform external audits to ensure our security is at the highest of standards. All of your data is encrypted in transit and at rest and then stored in a SOC, FISMA, and PCI DSS Level 1 compliant cloud. PandaDoc is committed to be compliant with GDPR."
PandaDoc Tips
Take advantage of the PandaDoc content library to save time.
One of the features that differentiate PandaDoc from its competitors is the document library.
You can use the content library to store the content you frequently use in your documents.
You will like how keeping items close at hand will help your efficiency and save you plenty of time. Don't create proposals from scratch ever again.