Many business owners agree that developing a unified customer service strategy can be a challenge. A customer's needs can range from a need for assistance with a technical problem to a need for assistance with a billing inquiry.
To provide the best service possible, the customer service team needs to answer these needs in a unified manner. Hence, having a unified customer service platform that is designed to bring all of your customer service activities together in one place plays a big role in leveling up the way you run your business.
And that's where Zoho One comes in.
What is Zoho One?
Zoho is a cloud-based suite of integrated office productivity tools, including web-based word processing, spreadsheet, and presentation software. Zoho presents a comprehensive and affordable way to complete your work independently and is a valuable tool for small businesses.
It has more than 35 web applications and mobile apps with a unified administration making it a valuable tool that provides solutions needed to acquire and serve your marketing, sales, and customer relationship management requirements; run your finance, recruitment, and HR operations; and give your employees all the tools for better collaboration so they could get their work done more efficiently such as office suite, mail, personal productivity, and collaboration more apps.
How much does Zoho CRM cost?
Zoho CRM is an all-in-one solution that enables you to customize the user interface of your company's CRM to meet your specific requirements and preferences. What's more? You can do all that without writing a single code!
Zoho CRM has 4 pricing options: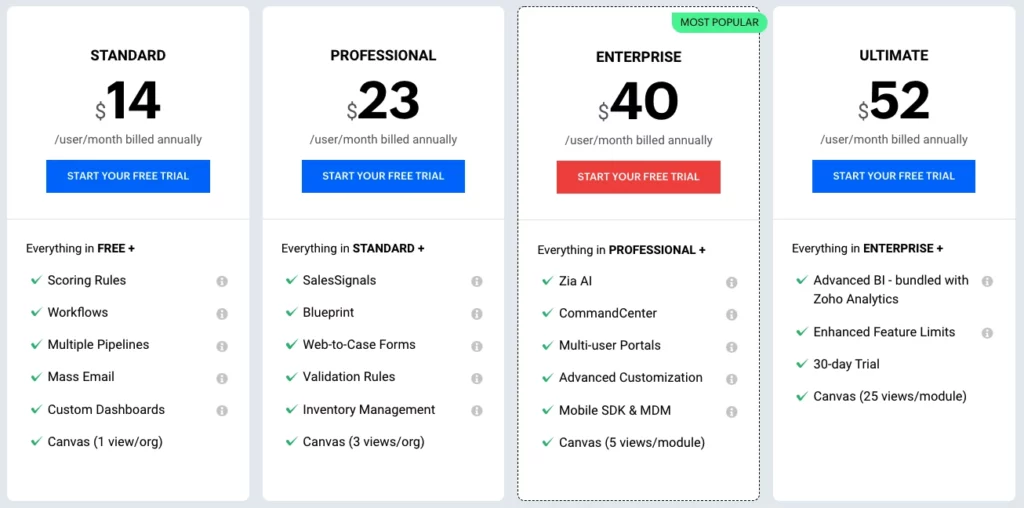 1. Standard – $14 per month, billed annually
2. Professional – $23 per month, billed annually
3. Enterprise – $40 per month, billed annually
4. Ultimate – $52 per month, billed annually
Refer to the image above for the inclusions of each package.