Video interviewing software has become indispensable in the post-pandemic world. Many businesses and organizations now operate with remote teams.
Remote hiring is an integral part of running a remote team and Indeed ran a study and found that 82% of respondents employ video interviewing in their process.
Remote hiring is not easy to manage and execute. There are several challenges to remote hiring, like ensuring transparency, coordinating interviews, and keeping track of applicants.
Now, the goal of hiring managers and HR professionals is to find ways to streamline remote hiring processes and overcome these challenges. Video interviewing tools enable remote teams to effectively carry out remote recruitment.
If you are new to video interviewing, you can check out our comprehensive guide on all things interviews. We also have our statistics page where you can find out everything you need to justify moving towards implementing video interviewing into your hiring process.
What is Video Interviewing Software?
The term video interviewing software can be misleading since these tools do much more than host video interviews. Video interview tools come with a suite of features that make them more powerful than video conference tools like Zoom and Google Meet. For example, you can set pre-recorded video tests for candidates using these tools. You can also sort applicants on the basis of their skills, experience, or other parameters.
In other words, video interview software provides a complete suite of tools and features for HR professionals to manage online hiring.
How is Video Interviewing Software Useful for HR?
Features and uses of video interview tools vary depending on which tool you use. However, most tools have some common features.
You can perform the following tasks with video interviewing software:
Host video interviews with candidates
Create pre-recorded tests to filter applicants
Integrate with ATS (Applicant Tracking System) to streamline the hiring process
Build a talent pool of candidates
Filter candidates based on their skills, experience, etc.
Manage communication with candidates
Create multiple interview formats (video, audio, text)
Depending on which tool you choose, you can get additional features like candidate ratings, feedback, group discussions, and integration with other platforms. We have a more comprehensive list of video interviewing software features and benefits to consider for your business here.
Video interviewing software makes every aspect of the hiring process more efficient.
Top 10 Video Interviewing Software in Details
1. VidCruiter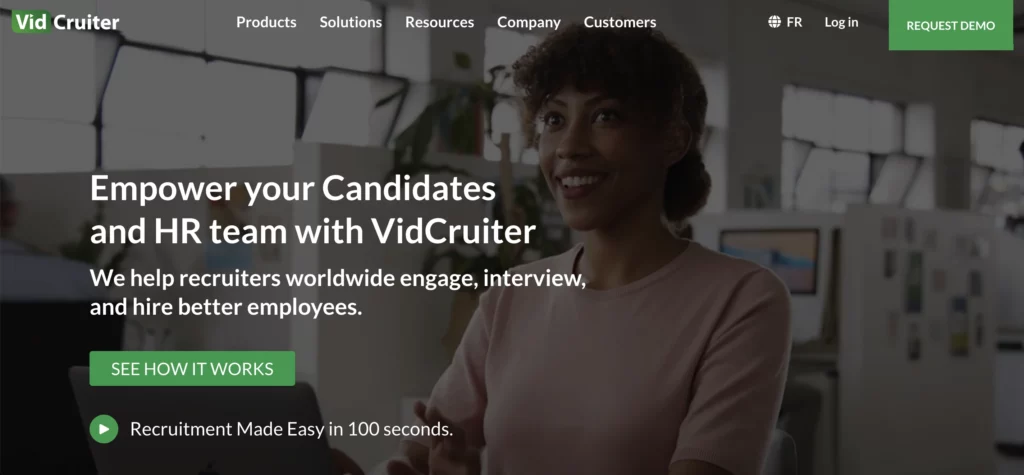 VidCruiter is one of the best video interviewing software out there. It has earned the first position on this list due to its user-friendly interface, functional features, and extensive integrations. Several leading companies use VidCruiter to manage their hiring process.
The best feature of VidCruiter is its applicant management system. Anyone who applies for a position is kept updated about the status of their application. No candidate is ghosted, and as a result, your company gets positive reviews and draws more applicants.
Apart from its advanced features, VidCruiter has all the regular features like 1:1 video interviews, pre-recorded interviews, and automated scheduling.
2. SparkHire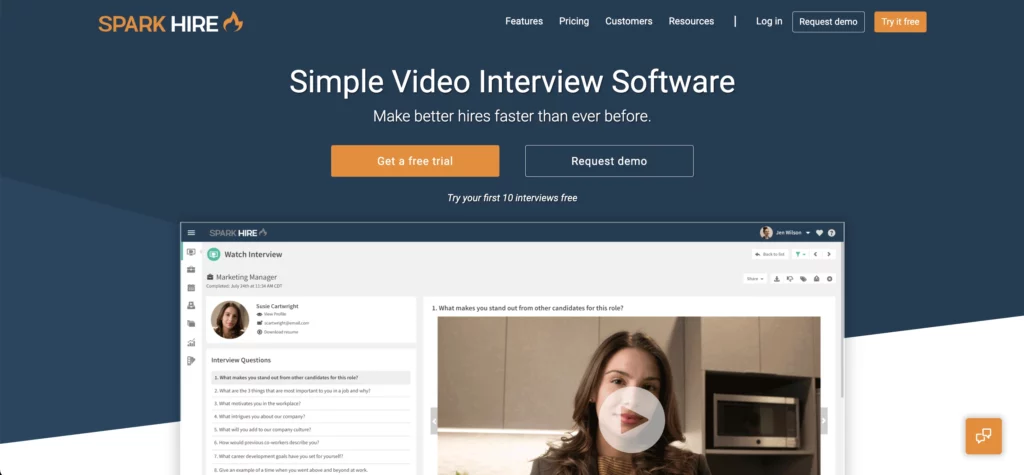 SparkHire is among the best video interviewing software to screen a large number of candidates. You can also host 1:1 and pre-recorded interviews with SparkHire. The most impressive feature is its dashboard where you can see and evaluate every candidate and their interviews. You can then rate and comment on each interview and sort out the most suitable candidates. You can also document rejection reasons and send emails to notify rejection.
SparkHire is a great video interview tool that provides a complete suite for conducting online interviews. Be it scheduling, collaborating, or filtering, SparkHire does it all.
3. ScreeningHive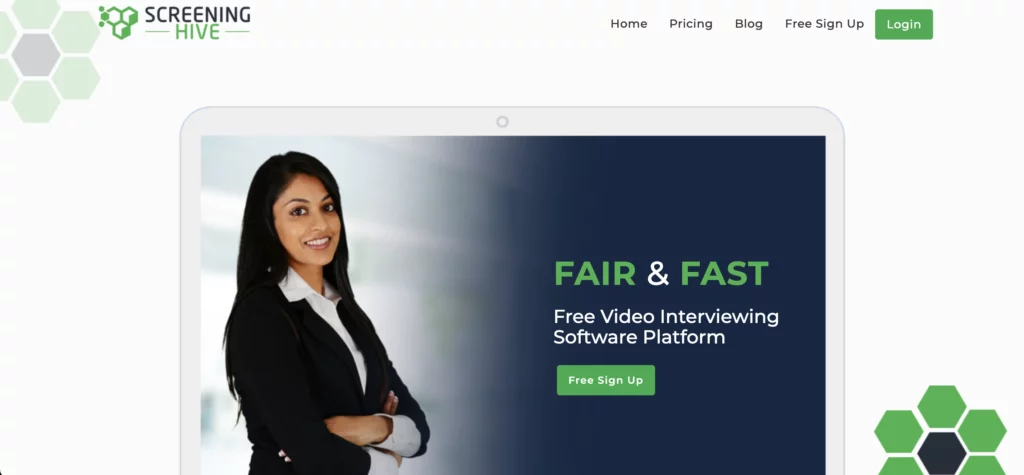 ScreeningHive is a streamlined video interviewing software that lets you create pre-recorded video interviews with different templates. You can then set up a time for candidates to take the test. ScreeningHive manages all the aspects of the one-way interview, like checking microphones and cameras and ensuring transparency. You can conduct individual interviews or batch interviews with ScreeningHive.
Once the interviews are done, you can evaluate each applicant and rate them accordingly. It helps recruiters save a lot of time and money, especially when there are numerous applicants. ScreeningHive is an effective video interviewing software for businesses of any size.
4. HireFlix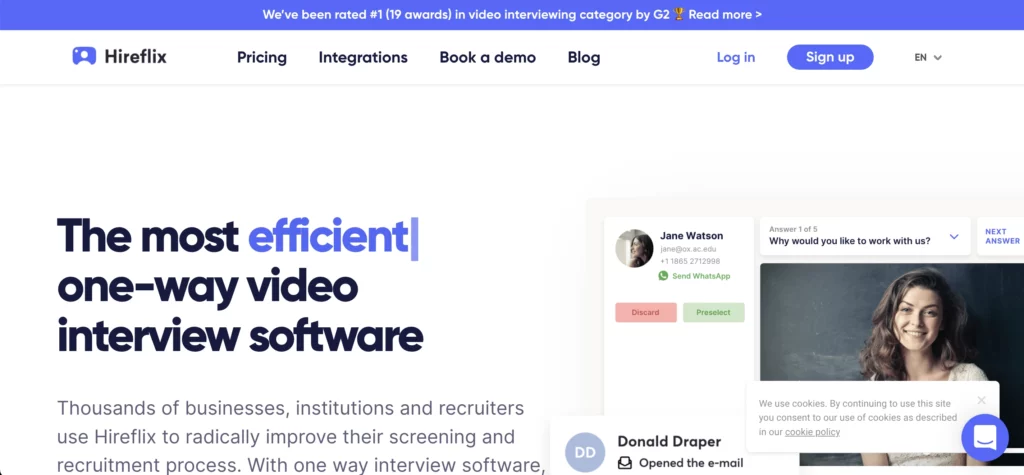 HireFlix is the best video interviewing software for one-way interviews. However, that's not all. HireFlix is an all-in-one suite for HR professionals and recruiters. It integrates with your ATS to provide a seamless hiring experience for both recruiters and candidates.
According to G2, HireFlix is the best video interviewing tool. It's a must-have tool for recruiters who want an easy-to-use platform for managing their entire recruitment process. HireFlix also gives candidates a great experience by keeping them updated about the status of their applications. You can conduct unscheduled interviews with HireFlix as well, where candidates take the interview whenever they want. All the interviews are saved for evaluation and selection.
5. Kira Talent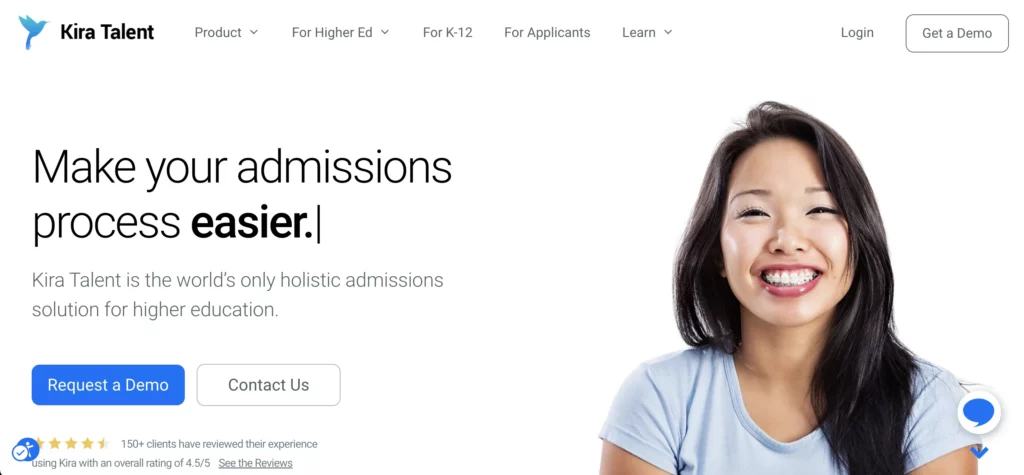 Unlike the other tools on this list, Kira Talent is not primarily targeted toward HR professionals and recruiters. It's an online evaluation tool for educators and educational institutes. Kira Talent lets schools, colleges, and other educational institutions evaluate candidates on various parameters. For example, it lets you host customized competency-based tests to get a complete overview of a candidate.
Kira Talent is a must-have tool for education institutes that strive for excellence. It takes away rote learning from the evaluation process and helps educators understand students better.
6. Willo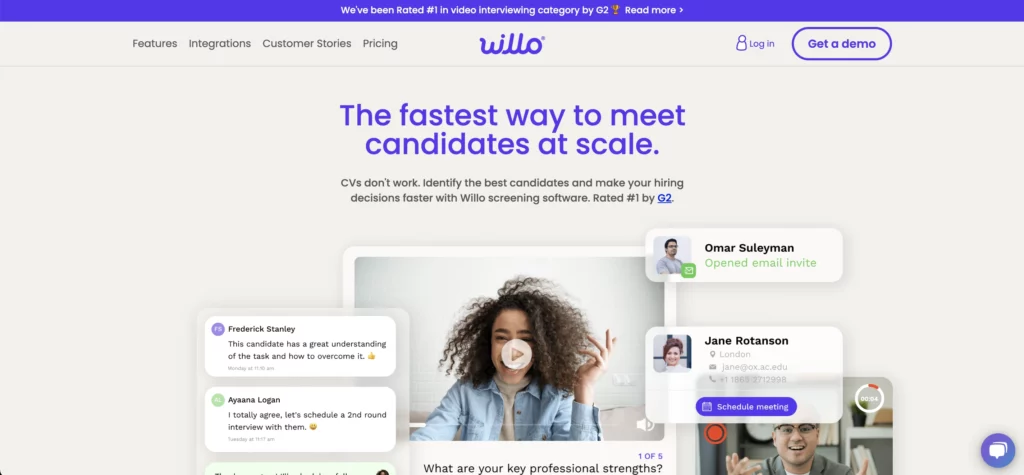 Willo is an easy-to-use video interviewing software best suited for companies that want a scalable solution. You can conduct thousands of interviews every month with Willow. You can get a free trial of this tool to decide if you want to continue using it.
The best thing about Willow is its easy 4-step process to conduct interviews. The first step is to set up a video interview with questions. Then send the link to applicants, who can complete the test in their own time. Finally, you get all your interviews in one place to evaluate.
Willow may not be the best video interviewing software, but it has the essential features with a simple user interface.
7. Hinterview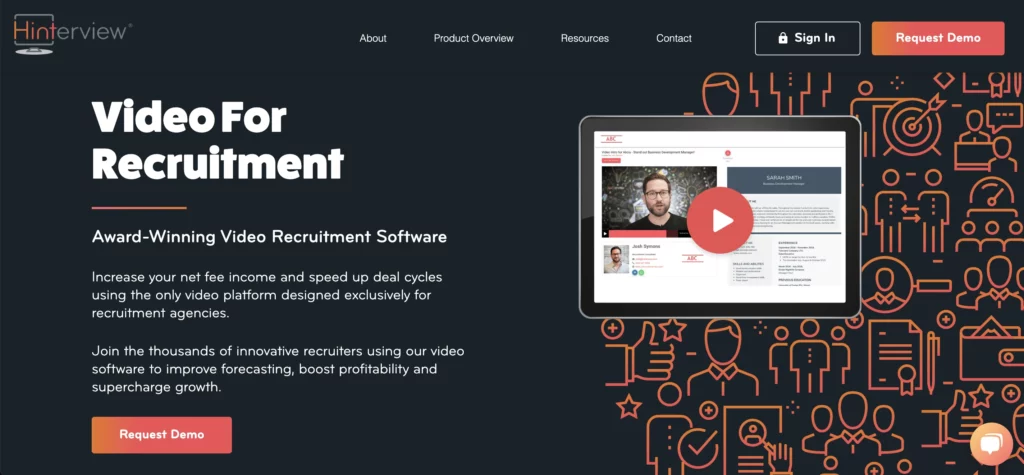 Hinterview is the best video interviewing software in terms of features, integrations, and support. Unlike the other tools on this list, Hinterview is a software suite. Hinterview and Hintro are the two apps in the suite. Hintro helps create one-way videos for clients and candidates. Hinterview is meant for two-video interviews and meetings.
Hinterview is designed for recruiting agencies. Early-stage startups and small businesses won't find all of its features helpful. Hinterview also provides training and support for businesses and HR teams.
8. myInterview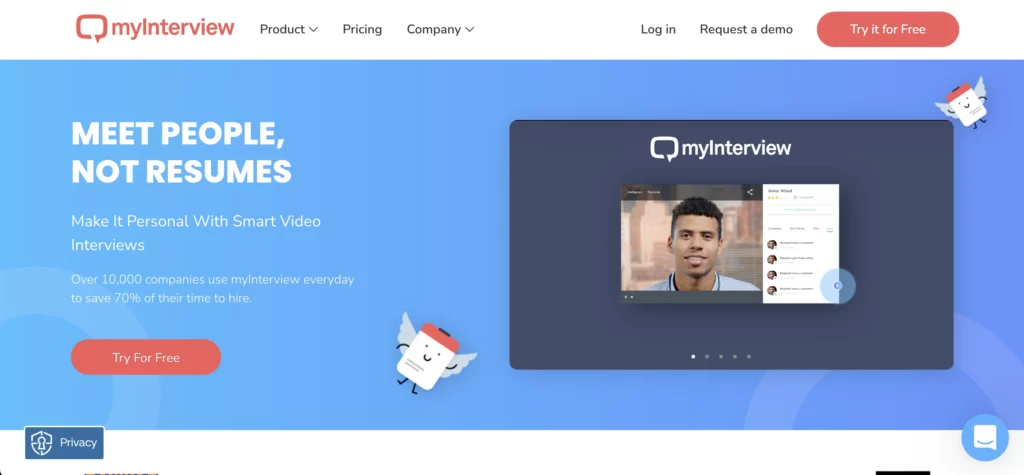 myInterview calls itself 'the future of hiring', and it's not far off from the claim. myInterview Intelligence™ uses machine learning algorithms to identify the best matches for different job descriptions. As a result, you always have a selection of ideal candidates for every opening.
If you are comfortable with AI managing a large part of your hiring process, myInterview is a great option. It analyzes interviews for personality traits, soft skills, and keywords that match what you're looking for. myInterview also has a free plan that you can use for as long as you want.
The heavy use of AI in screening is a promising step toward automating hiring tasks. myInterview is doing a great job in this field.
9. EasyHire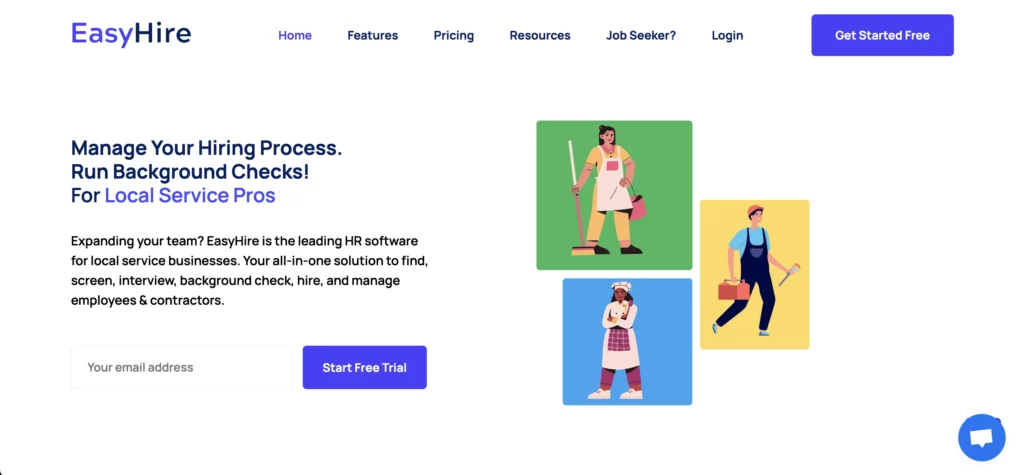 EasyHire is another video interviewing software that uses AI and machine learning to filter candidates. Specifically, it uses emotion recognition technology to evaluate video interviews and give unbiased insights. You can speed up your hiring process significantly with EasyHire.
EasyHire helps hiring teams make quick data-driven decisions. You can compare multiple candidates on the basis of specific metrics.
If you want a comprehensive video interviewing software, EasyHire will cover all your needs. It has all the features that hiring teams can benefit from.
10. InterviewStream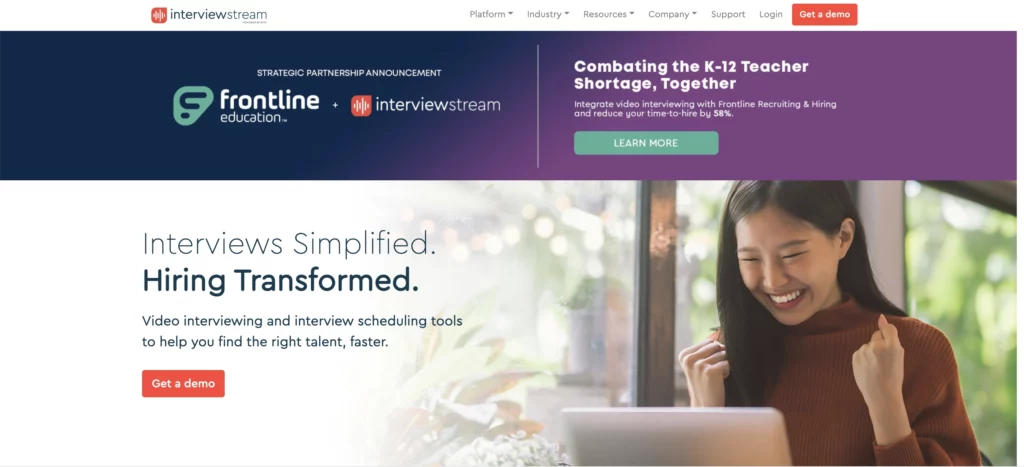 InterviewStream has all the standard features of video recruiting tools. You can create custom interviews, schedule interviews, review recorded interviews, and communicate with candidates from the platform.
InterviewStream has four apps that work together as a suite: interview builder, interview on demand, interview scheduler, and interview connect.
If you want a simple and reliable video interview software, you can consider using InterviewStream. Compared to some video interviewing tools, InterviewStream is quite streamlined and minimalistic.
As a result, there aren't many things that you'd need to learn to use this tool. InterviewStream caters to several industries like schools, universities, large companies, and emerging businesses.
Who are the Target Users of Video Interviewing Software?
HR professionals are the primary target users of video interviewing software. However, anyone who frequently hires employees can benefit from these tools.
For example, agency owners can use video interview software to connect with freelancers and independent contractors.
Video interviewing software has immense potential in the education sector. These tools can be used in online education to enable a more efficient channel of communication between students and instructors.
Compared to video conferencing tools like Zoom, dedicated interview software is much more capable of creating an interactive learning environment.
Video interviewing software is essential for anyone who wants to establish a more efficient channel of communication with stakeholders.
Notable Features of Video Interviewing Software
There are several features that stand out in video interviewing software. We have already discussed the common features of video interview tools above. All these features work together to make the hiring process smoother.
The ability to hold asynchronous interviews differentiates video interviewing tools from other video conferencing tools. Moreover, video interview tools are fine-tuned for HR professionals.
They perform tasks that make hiring easier and smoother by ensuring that you don't miss out on any deserving candidate.
At the same time, they help improve transparency and can make your company more desirable for job seekers.
Other Software and Services Related to Video Interviewing
Applicant Tracking Systems are the closest relative of video interviewing software. Most video interview tools integrate with ATS and provide a comprehensive system for managing candidates and talent pools.
Video conferencing tools are also useful in some aspects of hiring. However, video conferencing platforms become redundant when you are also using video interviewing software.
Workspaces (Google Workspace, Microsoft Workspace, etc.) can also integrate with video interview tools to streamline hiring. You can inform candidates about the latest developments and keep them updated, all from within your video interview tool.
What are the Benefits of Using Video Interviewing Software for an Organization?
There are multiple benefits of using video interview tools. Here are some of the most significant benefits:
Save time: Hiring can be a long-drawn and tedious process. From posting ads to screening CVs to conducting interviews, the entire process can go on for months. Video interview tools make these processes significantly faster. For example, a pre-recorded video test can screen hundreds of candidates and give you a list of the most promising applicants. HR professionals can save a lot of time by using these tools.
Save money: The longer a hiring process continues, the more expensive it becomes. Apart from resource expenditure, a company can lose out on potential gains by having a vacant position for a long time. Video interview tools enable fast recruitment and help businesses save money.
Brand awareness: As we already mentioned, video interview tools and applicant tracking systems promote transparency. You can also set up a mechanism for giving and receiving feedback. These things make your company a more desirable workplace. As a result, you will get better applicants without spending a lot of money on ads and job posting websites.
Complete control over the hiring process: It's extremely difficult to manage every aspect of the hiring process effectively, especially if the HR team is short on resources. Video interview tools make it possible to have organized, systematic, and controlled interviews even with a small HR team.
Easy to use: Most video interview tools have no learning curve. If you are familiar with general video conferencing apps and applicant tracking systems, you'd be able to use video interview software. These tools also integrate with the existing workflow of a company, so there's no need for a complete overhaul of hiring systems.
Efficient screening: Manually screening thousands of candidates is a humanely impossible task. Fortunately, video interview tools make it easy to set up automated tests and filter unqualified candidates.
Talent pool creation: Most companies understand the importance of having a talent pool. If you don't have one, a video interview tool can help you create a comprehensive talent pool. This pool would consist of candidates who are promising but you don't have any immediate openings for them. Having an extensive talent pool makes hiring much faster.
The Wrap
Remote hiring comes with many challenges. One of the most effective ways to overcome these problems is to use a video interview tool. We hope this list introduces you to the best video interviewing software available in 2022.