What is open source no code?
A no code platform is an easy and fast alternative to more traditional software development approaches. An open-source no code development platform is a platform by where the source code is free and available to download and deploy by the end-user where that user can edit and upgrade the code as they see fit.
Its authors, usually part of a community or group make its source code available to others who would like to view that code, copy it, learn from it, alter it, or share it. It includes a family of tools that will take you from end to end on the development and deployment of applications using a visual interface.
Most of the time, it's drag-and-drop, and sometimes even node-based, which allows you to program in actions and functions using flow charts and other diagrams.
The top 9 most popular open source no code platform's:
You may have a specific use case for your no code requirement so we have reviewed a few different platforms that specialize in their respective areas, including application development, automation, enterprise rivals, website, and internet of things:
45,000+ entrepreneurs

who have saved $ millions with Secret, the #1 SaaS deals platform – Here
Budibase – OS for the best application development
Joget – Simple and effective open source platforms
Convertigo – The First Open Source Enterprise no code platform
Huginn – Create and manage Zaps, just like Zapier
StackStorm – Enterprise Platform Without The Costs
WordPress – Trusted by the Best
REI3 – Best for Small to Medium Businesses
Baserow – Create and manage databases with this app
Node-Red – IoT OS System
PyCaret – Machine Learning Platform
---
Through utilizing a user interface, it appeals and caters to not only developers but also citizen non-developers who are interested in creating either an MVP or a fully developed and deployed application. No-code does allow for minimal hand-coding if it is desired, though the underlying functionality of the application is dependent upon the infrastructure that is laid down underneath the user interface.
The statistics below provide an overview of the scale of the no code market:
Accelerated adoption of no code platforms will change how teams organize and Forrester predicts that in 2021, 75% of application development will use no code platforms (source).
Gartner Forecasts Worldwide Low-Code Development Technologies Market will increase in 2020 by 22.6% in 2021 (source).
According to the market research study published by P&S Intelligence, the global no code market will witness a 31.1% CAGR during 2020–2030 to reach $187.0 billion by 2030 (source).
It is clear that the industry and the ecosystem is growing at an increasing pace and the prevalence of citizen development and the reduced cost of no code platforms to deploy will support this growth right into the late 2020's.
What is an open source no code development platform?
A typical no code development environment consists of these characteristics:
Drag and drop interfaces allow for easy development processes.
A visual modelling tool that allows you to create the UIs, data models, and functionality with the option to add in hand-written code when needed.
Connectors that handle the data structures, retrieval, and storage.
Out of the box functionality allows you to skip having to build your core modules from scratch, and instead focus on building new code.
Automated application lifecycle manager that allows for building, deploying, debugging, and the staging and production process. Testing is possible here as well.
While no code software generally follow these guidelines, no two no code software are alike, and they are all designed to cater to specific functionality.
Additionally, if you are wondering what is no code software, then you should know that it is software specifically designed for business owners and citizen developers who do not have a background in coding at all.
The Business Blocks' Take:
As a visual web development platform, Adalo is specifically designed to structure workflows and data so that apps can be built without code. The platform offers templates to guide users in creating apps and websites. However, one thing that sets this no-code web and mobile app creator apart from competitors is that it simplifies native app development by publishing to mobile app building stores on the platform.
Best for: No-Code App Building
Unique Features:

Turn Real Ideas Into Real Apps
Drag & Drop Components
Set Up Dynamic Actions
Easy to Create & Connect Your Database

Price range: $45.00/mo to $250.00/mo
Free Version: Yes
Why use open source no code?
An open-source no code development platform is an open-source solution that allows the user to create applications via a drag-and-drop interface, minimizing the amount of code required to write and maintain. Open source no code platforms are usually free. However, some platforms provide enterprise-grade features for a reasonable fee.
What's the difference between closed and open source software?
Some software has source code that only the person, team, or organization who created it—and maintains exclusive control over it—can modify. People call this kind of software "proprietary" or "closed source" software.
Only the original authors of proprietary software can legally copy, inspect, and alter that software. And in order to use proprietary software, computer users must agree (usually by signing a license displayed the first time they run this software) that they will not do anything with the software that the software's authors have not expressly permitted. Microsoft Office and Adobe Photoshop are examples of proprietary software.
Open-source software is different. Its authors make its source code available to others who would like to view that code, copy it, learn from it, alter it, or share it.
The pros and cons of an open source no code platform
Pros of No Code
Cons of No Code
Flexibility: For open source software, flexibility is a critical feature that supports this method of software deployment. The end-user depending on the developer resources they have access to have ultimate customization potential without the worry of terms and conditions breach from the company.
Support and Warranty Limitations: As the open-source product is not profit or commercially driven, user support could be managed by the community or by contractors who specialize in the product. This leads to disparate and often incomplete knowledge based on the product.
Control: Proprietary software is closed source and typically it is against the terms and conditions to reverse engineer the product. Open source flips this on its head and the end-user can customize and control the basic code behind the product for their own deployment. Companies with the resources can take advantage of this and create a product that is truly fit for purpose.
Sustainability and Orphan software: This potential issue is typical of both a commercial product and an open-source project. Worst case scenario is a hack or the product becomes orphaned due to lack of community or developer interest over time. But again a company that manages its own resources can support these platforms into the future.
Reliability: Just like with orphan software, reliability can go either way with both open and proprietary software. The user relies on the company updating, patching, and enhancing the codebase as well as the community for open-source software. Updates and patches can be managed via the community and supported this way.
Changing licensing terms: The terms and conditions for open source software are still community-driven and require an element of consensus but are typically open. This may lead to problems if you provide a service on top of the platform for your end-users (due to lack of control from your side).
Transparency: The main use case for no code platforms is the fact they are flexible and can be customized to the users requirements. Open source code is supportive of this where the users can review and customize the code and as the product are usually community-driven, the roadmap and product plans are a lot more transparent.
Enterprise usage fees: A small negative is the cost and resources required to deploy and run your own instance of the open-source product. This is minimal in the long run but can be a hurdle for the unsophisticated consumer looking for a cheap alternative.
Peer Review and Community: Open source community with passionate programmers and citizen coders means that the code can be peer-reviewed and supported by well-intentioned members. This is typical of the collective and supportive nature of the development crowd to open source projects (Wikipedia, GitHub, etc).
No vendor lock-in and Reduced Costs: Barring the terms and conditions of the open source project, basically "aperta" or open/free to use at your will. No locked in terms and forced upgrades or payments which can render some platforms unsustainable to continue to use due to the high cost of ownership.
Pros and Cons of Open Source No Code Development Platforms
The Business Blocks' Take:
Work fast with low-code – Quickly build powerful multi-user apps to fulfil software requirements – goodbye spreadsheets and shared mailboxes.
Worth its price – Run REI3 with next to no costs – its free to use with enterprise services that are much cheaper than other low-code products.
Everything in your hand – Stay independent with full authorship over your apps – on-premise, in the cloud – self-hosted or however you want
Price range: 2,50 € – 5,00 € – per user and month
Free Version: Yes
The top 5 open source no code platforms
1. Budibase – OS for the best application development
Budibase is an open-source no code platform, and a faster way to build business apps that empower teams and improve productivity. Businesses like IBM, Deloitte, Proctor, and Gamble, Rakuten utilize the platform internally.
It utilizes internal databases but also has integrations into the leading DB's including ArangoDB, DynamoDB, Mongo DB, MySQL, S3, and more.
Product Features include:
Build internal tools super fast for all team members.
Set up and automate forms within your business.
Create admin panels to manage data and
Simple portals for teams and customers.
You can find out more about Budibase at https://budibase.com/ and their resources page at https://docs.budibase.com/

2. Joget – Simple and effective open source platforms
Joget DX is considered in the new generation open source no code platform which is typically built for faster, simpler digital transformation (DX). Joget combines the best of Rapid Application Development, Business Process Automation, and Workflow Management.
Joget empowers business users, non-coders, or coders with a single platform to easily build, deliver, monitor, and maintain enterprise applications. Joget DX combines the best of business process automation, workflow management, and no code application development in a simple, flexible and open platform.
With more than 200,000 open source downloads and more than 12,000 community members since inception, the latest major release Joget DX is the next-generation successor to Joget Workflow. Jogged DX combines the best of process automation, workflow management, and no code application development in a simple, flexible and open platform.
Product Features include:
Progressive Web Apps (PWA) and User Experience (UX)
Web Push Notification and Offline Support
Built-in Application Performance Management
Web App Log Viewer
Embedded Git Integration for Collaborative Development and Deployment
Artificial Intelligence (AI) and Smart Decisions
Bundled No Code TensorFlow AI Plugin
Bundled No Code Rules Engine Plugin
Extensibility via Add-On Builders, and
Enhanced Workflow
Check out the product here https://www.joget.org/product/ and for further information, you can check out the community here – https://www.joget.org/community/.
---
The Business Blocks' Take:
BitSkout is a no-code data extraction software that helps IT teams detect document types, and automate, classify, compare, and forecast data. It is a web-based data extraction software that helps analyze text, images, and location from emails, forms, invoices, and more using plug-n-play automation.
Best for: Automating data management
Unique Features:

AI/Machine Learning
Document Extraction
Email Address Extraction
Image Extraction
Phone Number Extraction
Pricing Extraction

Price range: $60.00/mo to $200.00/mo
Free Version: Yes
---
3. Convertigo – Accelerate Your Projects with No Code
Imagine you can make any app you want. From simple handy workforce apps to Enterprise grade multi-device transactional applications helping companies to accelerate their business.
Check out Convertigo here.
Get live sooner with with No Code platform application development which makes your Enterprise to get business success more efficient, delivering complete applications, similar to Pro Code but faster and cheaper.
Convertigo's solution offer the following benefits:
Data security and User Authentication,
Offline Data and Task Scheduling,
Activity Monitoring,
Data and API Connectors,
Web and Mobile Responsive,
Back-end Business Logic and & workflows.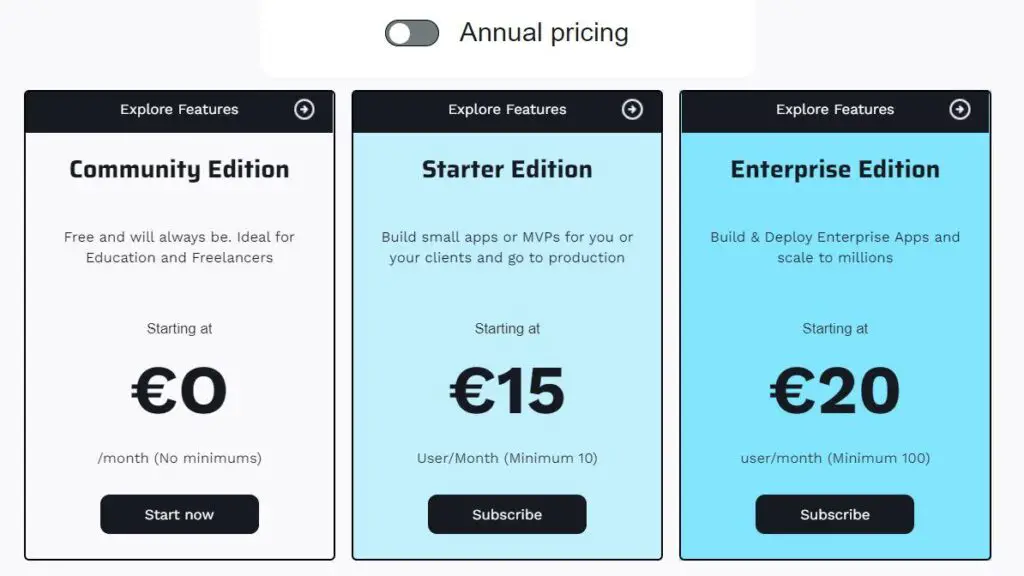 4. Huginn – Create and manage Zaps, just like Zapier
Just like Zapier and Integromat, Huginn is the open-source version that supports users to create no code automation and inter software connections. Huginn has a super active community with over 30k stars on the Github platform and Huginn is an easy choice if you have to go open source solid when choosing a no code automation platform.https://www.youtube.com/embed/LkYPZ6xxK6U?feature=oembed
Product Features include:
Set up and scrape websites for their data and even receive an email when they change.
Connect to Jabber, JIRA, MQTT, nextbus, Pushbullet, RSS, Slack, StubHub, translation APIs, Twilio, Twitter etc
Send digest email to your audience at controlled times.
Track counts of high frequency events and send an SMS within moments when they spike.
Send and receive WebHooks
Track a location for equipment or persons over time
5. StackStorm – Enterprise Platform Without The Costs

Companies Using StackStorm
StackStorm is part of the Linux Foundation as one of their premier projects. It offers robust features including an "If This Then That" platform when users can set up simple or complex automatons. Another brilliant feature of the platform is its powerful events driven automation process, by where complex workflows can be automated using the following steps:
Sensors – These sensors are python software based sensors that watch out for any event that is required to trigger the StackStorm system into action.
Triggers – External events that kick off a required thing to happen. There are generic triggers (e.g. timers, webhooks) and integration triggers (e.g. Sensu alert, JIRA issue updated). A new trigger type can be defined by writing a sensor plugin.
Actions – Generic actions such as ssh, REST call or integrations (OpenStack, Docker, Puppet) occur after the input trigger occurs. These actions can be invoked directly by user via CLI or API, or used and called as part of rules and workflows.
Rules – Think about his like a map of the flows and how the events can run through the system. You have to match the action with the required output.
Workflows – Workflows connect actions together into flows, defining the order, transition conditions, and passing the data. Most automations are typically more than one-step and thus need more than one action.
Packs – User created workflows can be downloaded as "packs" by grouping integrations (triggers and actions) and automations (rules and workflows). These can be downloaded on the StackStorm Exchange.
Audits – Audit logs are perfect for tracking and managing your development logs for your platform.
6. WordPress – Trusted by the Best
Started in 2003, WordPress was forked from a copy of b2/cafelog by two gentlemen called Mike Little and Matt Mullenweg. This open-source project aimed to close the gap in the market where there was the need for an elegant, well-architected personal publishing system that could be managed by a user in a drag and drop manner.
WordPress is licensed under the General Public License (GPLv2 or later) which provides four core freedoms, purpose, change, copy and redistribute.
Today, forty-three percent of the web uses WordPress, from hobby blogs to the biggest news sites online. Beautiful designs, powerful features, and the freedom to build anything you want. WordPress is both free and priceless at the same time. You can learn more at https://wordpress.org/about/
Product Features include:
Customizable designs.
SEO friendly.
Responsive mobile sites.
High performance.
Manage on the go.
High security.
Powerful media management.
Easy and accessible.
7. Rei3 – Who is REI3 for?
REI3 is ideal for small- to medium-sized enterprises. For basic functionalities, ready-to-use applications are already available and can be deployed with vanilla implementation. You can check out our full review here. However, for more complex functions, resources with basic coding skills are required.
The Pros and Cons of REI3:
Here are the factors that make REI3 a viable option as a development platform:
The platform is free to use and is open-source with no user limit.
Applications developed through the platform are lean and not resource-heavy; they are automatically compressed and cached.
REI3's builder is easy to set up.
Users can benefit from regular updates and releases that extend the platform's capabilities.
Applications can be exported, transferred into other instances and shared within the REI3 community.
On the flip side, here are some drawbacks of the platform:
The interface of the builder can sometimes become clunky depending on the server.
For complex logic and business solutions, coding with PostgreSQL is needed.
The platform is relatively new to the low-code sphere.
We have a few other platforms that you can review and sink your teeth into after reviewing the ones above:
9. Node-Red – Best for IoT apps – Click here
10. PyCaret – Best for machine learning – Click here
But What About the No Code Process?
The development process in a no ode environment is much more streamlined and easier to maintain than in the traditional environment:
1. Make your determination of requirements.
2. Choose third-party APIs.
3. Use the visual IDE to draw the workflows, data models, and UIs.
4. Use automatic capability discovery to connect APIs.
5. Add any necessary front-end code or customize the SQL queries.
6. User acceptance testing.
7. Deploy the application and push updates easily.
Summary
No code design environments really do put technology in the hands of the ambitious, small and agile without such a high barrier to entry that would have normally barred those who do not have a background in development.
However, so many integrations have been made to create an environment that is easy to develop within. Nothing needs to hold you back from creating your MVP and bringing it to market.
No code software is specifically designed to make the process easy and secure with all of the security measures that are in place. Don't allow the idea that developing within this framework will not leave your end users secure.
The only breaches derive from developer errors with custom code, so make sure you always consider that with any additional code you add.
Other than that, your no code solution will cover all the bases that are needed to satisfy the demands, wants, needs, and hesitations of your customer base, while keeping you agile and ahead of the competition.
---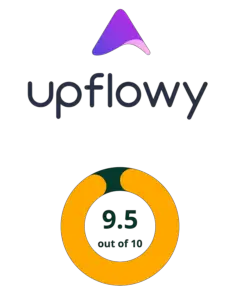 The Business Blocks' Take:
Upflowy is a SaaS product that lets you take control of your signup flow. It provides you complete design control over your landing page, allowing you to tell your story and communicate with your customers and prospects. With Upflowy, you'll be able to measure and analyse each data point in your funnel, providing you with actionable takeaways on how to optimize your page to achieve your goal. You'll also be able to run A/B tests and set up smart experiments with personalization capabilities that are easy to set up.
Best for: Building flows for your onboarding process
Unique Features:

AB Testing
Drag-and-drop
Forms Management
Landing Page Builder

Price: $15.00/mo to $125.00/mo
Free Version: Yes
---
Frequently Asked Questions:
1. What is meant by no code platform?
No-code development platforms enable both programmers and citizen developers to design and build applications by employing an easy-to-use graphical interface and drag-and-drop functions.
2. Which is the best no code platform?
G2.com has provided a listing of the top no-code development platforms. Factors that have been used to determine this list are support for data migration, platform compatibility, workflow management and performance of the platform in terms of partnership with businesses and organizations. The top ten platforms in this list are ServiceNow App Engine, Airtable, Appy Pie, Glide, Quixy, Jotform Apps, Softr, Salesforce Platform, AppSheet and Jotform Tables.
3. How many no code platforms are there?
There are quite a huge number of applications that have piqued the interest of individuals and organizations in implementing no-code platforms to provide solutions for their business needs. The number of platforms is still on the rise as more and more software companies strive to provide more options in the no code development domain. Some popular platforms are Webflow, Scapic, Mailchimp, Parabola, Voiceflow, Bubble, Makerpad, Airtable, Coda and Gumroad.
4. What are open-source programming tools?
Open source software tools are software applications that allow access to the underlying source code so that anybody can inspect, analyze, implement, adapt and modify the solutions. The source code refers to the component of software that is abstract to ordinary users. This pertains to the technical framework that makes software work.
5. Is WordPress a no-code platform?
WordPress is both a traditional software and a no-code tool. This popular web publishing tool allows non-technical proficient users to create and publish webpages, as well as empower professionals and freelancers to apply additional functionality to their webpages via coding.
6. Why no-code is the future?
As more and more organizations resort to the usage of low code or no code platforms, the scope and breadth of business needs that these tools provide solutions for also increase exponentially. More and more citizen developers are delving into software and solutions programming using these tools, thereby increasing the resource pool of individuals that can build and deploy software solutions.
7. What are three examples of no-code tools?
There is a myriad of no-code tools that are available in the market. Some of these are Hubspot CMS, Bubble and Code2. Some tools are meant to provide specific functions for a particular department or business need while some are very versatile in terms of the available types of applications that can be created through them.
8. Can I create an application without coding?
With the use of no-code platforms, learning how to code using programming languages are not necessary anymore. The members of an organization's development team may opt to use an application builder that is apt for the needs and requirements of the business.