Nowadays, businesses count on their employees to become more technical than ever regarding digital information. That means creating forms online and gathering data, even if you don't have a programming degree.
The good news is that you don't have to be a programmer to obtain the information you need. More and more companies are going to no code solutions when creating forms and automating their workflow.
If you've needed to create online forms and obtain data without contacting your IT department, Formstack is perfect for you. You can create the forms you need, obtain the signatures you require, and automate the tasks you need to be done without writing a single line of code.
What is Formstack?

Formstack is a business solution that allows non-IT people to create forms, gather information, and interface with other no-code products. Formstack offers a workspace where you can quickly automate manual tasks such as creating documents, getting signatures, and creating custom forms without the need for coding or complicated tasks. 
How to create online forms?
Because Formstack has interfaces to many popular applications, you can quickly create forms for products such as Mailchimp, Dropbox, Google, Salesforce, Constant Contact, Facebook, Paypal, WordPress, Stripe, and more.
What products does Formstack offer?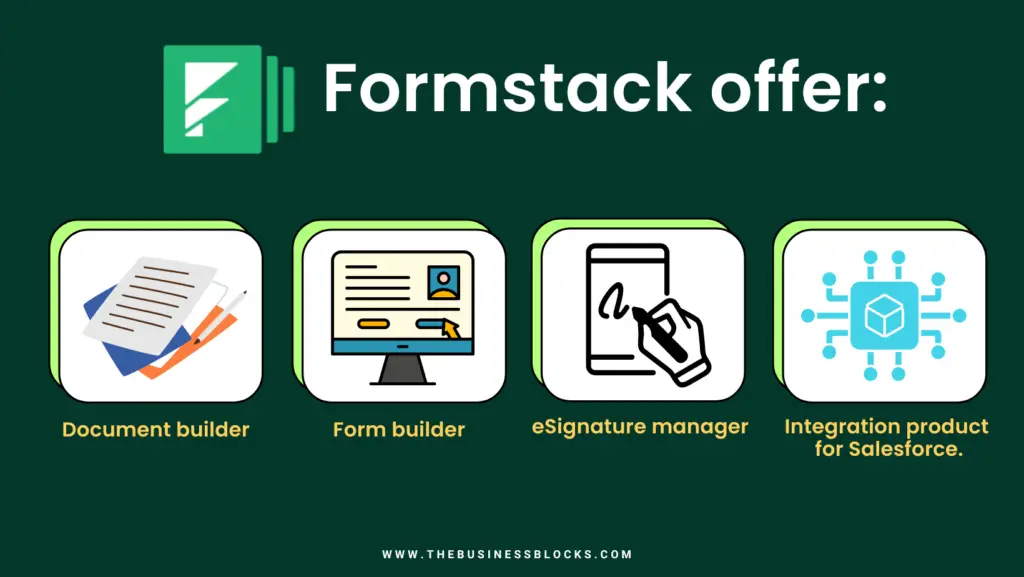 Formstack offers several products inside their workspace. The products are a document builder, a form builder, an eSignature manager, and an integration product for Salesforce.
The workspace allows the user to design and streamline their work tasks effortlessly, allowing them to automate many common day-to-day tasks.
The document builder offers common templates that can be customized to suit your organization's or company's needs. You can also develop your custom template from scratch.
The form builder has templates you can modify to create your own or customized forms. Either way, both allow you to interface into your chosen app to save or process the data according to your needs.
The eSignature manager helps you obtain the necessary digital signatures for documents, plus it stores your digital signatures and applies them when needed.
The Salesforce integration lets you easily integrate documents, forms, and digital signatures into your Salesforce app.
Who can use Formstack?
How to create an online form using Formstack is as easy as it sounds. Just about anyone in your workforce who can operate a computer and use an application should be able to use Formstack easily. As long as they're familiar with basic processes such as workflow and documents, the intuitive nature of Formstack should be easily mastered.
What does Formstack Cost?
Pricing and integrations
The pricing for Formstack is in three groups: Starter, Pro, and Enterprise.

Starter Pricing and Features
$360/month, billed annually
The Starter pricing allows access to forms, documents, and eSignatures, allowing five users and one stored eSignature. It fully integrates into whatever app they support; however, they only allow 1000 submissions per form saved in their database.
Pro Pricing and Features
$630/month, billed annually
The Pro pricing allows access to forms, documents, and eSignatures and allows ten users and three stored eSignatures. It fully integrates into whatever app they support; they allow 10,000 submissions per form saved in their database.
Enterprise Pricing and Features
Call for pricing.
The Enterprise pricing allows full customization, including HIPAA compliance. They allow access to forms, documents, and eSignatures. It fully integrates into whatever apps they support.
Create Online Forms and Integrations with Microsoft