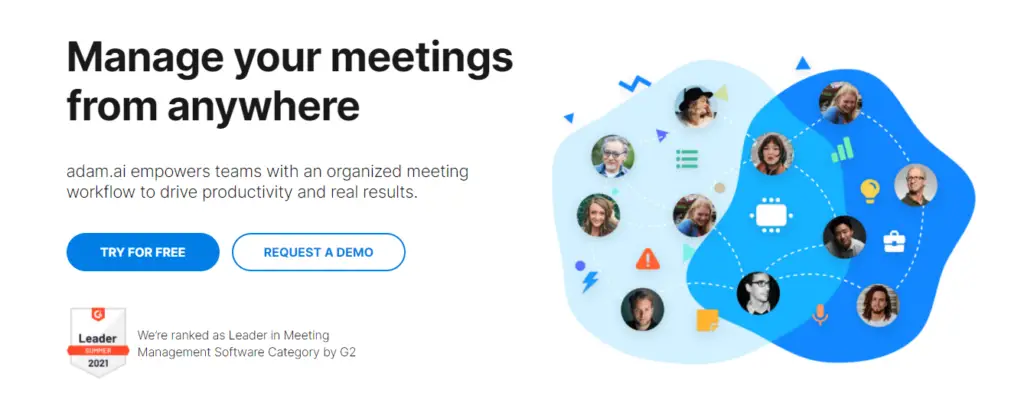 Manage your meetings from anywhere!
Have you been looking for a Microsoft Teams alternative?
Adam.ai is an online meeting management tool that employs artificial intelligence to help you make your meetings more productive. It is helpful in every professional setting. Whether you're employed at a small start-up or at a large scale corporation, Adam.ai can help you boost your meetings' quality.
It does so by using artificial intelligence to capture and retrieve information, which is then presented to you during meetings to help enrich the period with valuable knowledge and information.
How to Use Adam.ai
Adam.ai is simple and easy to use, which is one of the reasons why it's so popular among people of all ages. The accessible interface is what makes it perfect for office settings where the goal is to conserve time and spend energy on more important things, like completing projects.
Integrations and workflows
There are plenty of integrations with your most common software applications including Outlook, Zapier, Asana, Trello and Slack.
Check out the other integrations here and you can check out the The Business Blocks ecosystem here. You will know it is a good alternative to Microsoft Teams after you sign up and review it yourself!

Below is an in-depth explanation of how Adam.ai is set up and how you can use its impressive set of tools to streamline your work life:
Projects
The Projects page is where you will find information on your running or future projects. There are a number of tabs on this page, each of which represents a single project. Within each tab, you will find a notification highlighting the project's current status, any scheduled meetings, and a list of related tasks and deadlines. At the bottom of each tab is an indication of all the people who are collaborating on the said project. 
You can use the Projects page to create new projects and scrap old ones. 
Other Microsoft Teams Alternative
Zoom web conferencing
Tandem.chat
UseTalk.io
Project Dashboard
Each project has its own dedicated dashboard, which contains in-depth information about the task at hand. Dashboards also feature a timeline to help you keep track of work done and any future deadlines you're expected to meet. 

Meetings
The Meetings page offers a bird's eye view of all the meetings currently taking place amongst team members as well as future ones. You may create new meetings or cancel them from here.
Meeting Room
This is a digital space where meetings take place. It offers many additional options like the ability to take quick notes, make action lists, and view important files without leaving the meeting room.
These are the core pages on the Adam.ai platform. There are many extra options available, too, each with a unique page.

Features
Adam.ai has plenty of excellent features:
Paperless documentation: Adam.ai allows users to keep all their important notes, files, and documents safe by storing it on their favorite cloud database, from where it then retrieves data and presents it in meetings as needed.
Collaborative decision making: This feature allows users to take a vote or survey their teammates and peers to collect valuable data about their opinion on a topic.
Action lists: Users can create a list of actions to help everyone else attending the meeting stay on track and get work done.
Easy collaboration: With the help of Adam.ai, users can track communications across up to six other channels with the help of just one platform. This saves users both time and energy.
Better accountability and improved performance assessment: Team leaders can create goals and action lists for their team members to help keep track of their performance and encourage them to put forward their best work, ultimately improving productivity and work quality. 
Share important projects: Team leaders will especially appreciate the fact that Adam.ai allows its users to upload important files and project documents and share them with the entire team across multiple platforms. This is made possible by Adam.ai's Meeting Assistant Solution, which enables users to link their data distribution to other platforms, like Office 365, Zapier, and Trello. 
With such an expansive set of features, it's highly unlikely that you'll need another meeting manager application to help you organize your office life.
Adam ai
Pricing
Adam.ai allows users to pay either by the month or by the year. When billed annually, the Pro plan, which is suitable for up to 30 team members, costs $4.99 per member per month. However, the cost doubles when paid on a monthly basis. When paid by the month, Adam.ai costs $9.99 per member per month.
There are four basic Pro categories to choose from. Each category's price is the same at either $4.99 or $9.99 per user per month. 
Here are the four categories:
10 Users: 50 GB Meetplace storage
15 Users: 75 GB Meetplace storage
20 Users: 100 GB Meetplace storage
30 Users: 150 GB Meetplace storage
Here's what else you'll gain access to once you sign up for the Pro program:
Unlimited meetings
Ability to create as many projects as you wish
Unlimited app integrations
Dedicated decisions page
Basic branding and customization
Live chat and tickets support
There is also an Enterprise plan for companies who want a plan that supports over 100 people. Those wishing to subscribe to this plan must contact the Adam.ai sales department to find a suitable pricing plan.
The Enterprise plan includes all the features from the Pro plan as well as the following:
Unlimited Meetplace storage
Advanced branding customization
Custom integrations
Single Sign-On (SSO)
Dedicated cloud instance
Onboarding sessions
The ability to import all past meeting minutes and content
24/7 premium customer support
There is also a free version that offers support for up to 5 members and has a meager 5 GB Meetplace storage capacity. You may host unlimited meetings on this. However, projects are limited to 3 and integrations to just 2.
Is Adam.ai a Good Alternative to Microsoft Teams?
Like any platform, Adam.ai comes with a unique set of pros and cons:
Pros
The application is easy to use, and there is no significant learning curve. The interface is simple and straightforward and makes for hassle-free user experience. 
It comfortably integrates itself with other popular applications like Dropbox, MS Teams, Google Drive, Zoom, and WebEx.
Adam.ai allows for remote meetings, hence helping to connect team members from different parts of the office or even the world.
Team leaders hosting a conference call can dedicate specific roles to each attendee.
It comes with a 30-day free trial and has an extremely affordable payment plan.
The platform offers 24/7 live customer support.
Cons
Adam.ai requires a constant and stable internet connection to work.
It is only free for the first 30 days, after which users must subscribe to a paid plan.
Only a limited number of attendees are allowed to attend the meeting unless the expensive Enterprise plan is selected. 
As you can see, Adam.ai is not without flaws. However, its flaws strongly overwhelm the number of pros and benefits it offers. This brings us to the next question: is Adam.ai worth it?
Final Thoughts: Is Adam.ai Worth It?
Adam.ai is a paid application. Hence it's worth stopping and considering whether or not you should invest in it. 
As far as customer reviews go, Adam.ai has a sea of positive ones highlighting very few cons. It also has a large user base with many satisfied customers. This is a strong indicator of its brilliance and suggests that the application is worth investing in.
Adam.ai is perfect for large and small teams alike. The cost is also not too high, especially when billed annually. This platform can help you streamline your meetings into one place and communicate with your team members no matter where they are!