Many teams are happy with their Microsoft excel spreadsheets but they ultimately get to a point where they are overrun with work and are looking for a software platform that offers more. They search around and come across a brightly coloured excel alternative called Airtable and think to themselves, what is Airtable? and why haven't I seen this before.
They quickly realise that data accessibility and efficient processes are key to a successful business and that excel as powerful as it is, just doesn't cut it anymore.
Organisations need to enable their workers with process accountability and the best tools available. In the past, people would use paper files and documents to store important information. However, everything is digital now, and paper files are a thing of the past.
This has led to many people searching for a product or software that can help them organize their digital data under one roof. While there are many options available, most of them do not propose a powerful enough solution to the problem.
However, Airtable is one of the few platforms that many people around the world use without having to worry about it being inadequate. 
"Organize anything, with anyone, from anywhere."

AirTable.com
What Is Airtable?
Based in San Francisco, Airtable is a cloud collaboration service founded in 2012 by Howie Liu, Andrew Ofstad, and Emmet Nicholas. The platform aims to help people store and track data, create graphs, and keep records of important information with the help of digital spreadsheets.
Airtable has a brilliant interface which is convenient and accessible, yet remarkably detailed and complex.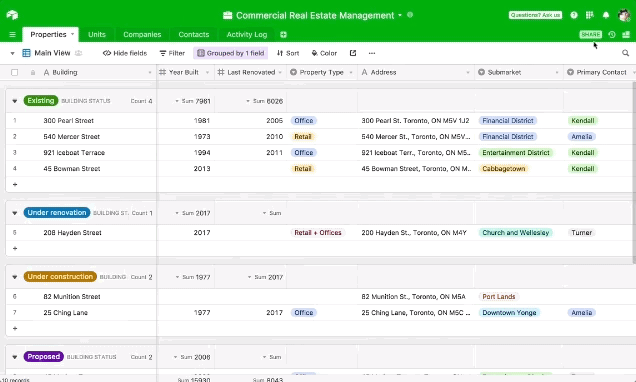 Who Is Airtable For?
Airtable is for everyone who needs to organize important data, be it through infographics, charts, images, or text. This means that small and large businesses can use it, as can those planning an important event, like a wedding or corporate party.
It is excellent for individuals as well as teams. It can also help people store data and also schedule work for themselves to complete in the future.
What Does Airtable Do?
Airtable is for anyone who needs a more effective alternative to Google Spreadsheet and Microsoft Excel. But Airtable is much more than just a spreadsheet-making platform. It can be used as an:
Image storage database
Business development tracker
Back-end event organizer 
It does so by allowing users to divide their work into "bases," each of which is dedicated to a specific purpose, like advertisements, event marketing, and copy management. These bases contain multiple tables, or spreadsheets, each of which contains relevant content and data.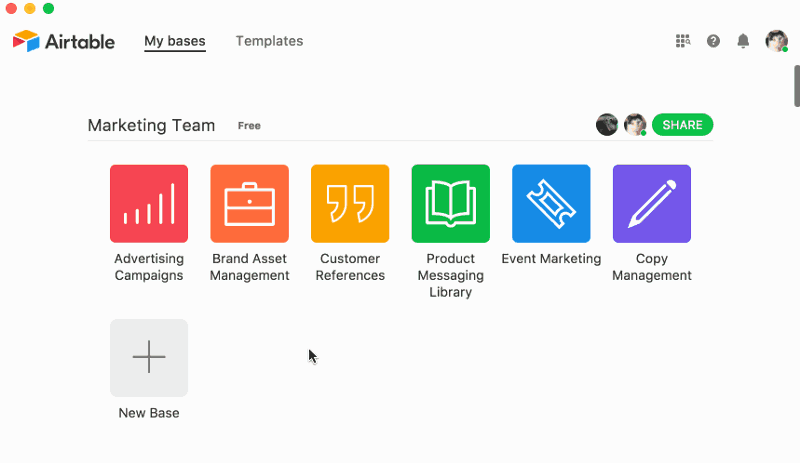 Airtable is essentially for anyone who needs to organize their data but wants a platform that is more advanced than Google Sheets and Microsoft Excel – neither of which allows for categorization of data into larger bases. Airtable makes it extremely easy to organize data and will make sure that users can easily keep track of important information without having to use multiple platforms.
How Much Does Airtable Cost?
Airtable offers a free version which covers all the fundamentals required by the average user. However, those wishing to accomplish more with the application can opt for one of its paid versions which come with a variety of premium functions.
Below is an introduction to each plan:

Free
The free version offers unlimited bases with 1200 records per base. It offers 2GB attachment space per base, with a 2 weeks revision and snapshot history review option. This version of the application provides a rich selection of field types, including file attachments, check-boxes, drop-downs, and more. Users can also use the grid, calendar, form, kanban, and gallery views. The application allows for real-time collaboration and commenting as well as accessibility through a web browser, desktop, iOS, and Android. As for support, the free version includes email support and offers a self-serve knowledge base that can be accessed through the platform's official website. 
Plus
Airtable Plus is $12 when billed monthly, and $10 when billed annually. 
It offers unlimited bases with 5000 records per base and a 5GB attachment space per base. Users can also take benefit of its extended 6 months revision and snapshot history. Apart from these benefits, there is no major difference between Airtable Plus and the application's free version. 
Pro
Airtable Pro is $24 when billed monthly, and $20 when billed annually. 
It offers unlimited bases but with a staggering 50,000 records per base and a 20GB attachment space per base alongside a 1-year revision and snapshot history. It contains all the basic essential functions listed in the Free and Pro versions, as well as a range of advanced additions:
Blocks
Additional colour and styling options
Advanced calendar features
Custom branded forms
Personal and locked views
Password and domain restricted private sharing 
Field and table editing permissions
Plus: access to new features as soon as they're out!
The Pro version is intended for professionals who rely on Airtable for the majority of their spreadsheet-related work. Users can choose from these three plans depending on their requirements and usage frequency. Every user must pay for themselves, even if they're working in a team with other Airtable users. The cost listen above is per account/user. 
Airtable User Guides
Getting started with Airtable: (Link)
Use cases and specific guides: (Link)
Power user guides: (Link)
Airtable Integrations and Upgrades
If you would like to learn more about Airtable integrations and how you can level up with Zapier (Link).
Also, if you would like to turn your spreadsheets or Airtable into applications (Link).
What Are People Saying?
Airtable has become extremely popular across the world, and users have a lot to say about it. 
The platform is used by small and large enterprises alike, which means that its reach is far and wide. Business owners and team leaders seem to appreciate the fact that Airtable allows other team members to collaborate on scheduling. Many team leaders have also decided to make using Airtable compulsory for all their peers to make sure that they all stay on top of their work and organize it effectively. The fact that one can store PF and JPEG files makes this platform a clear winner. 
People also seem to like the fact that posts can be scheduled day-to-day and that these scheduled posts can be viewed using the "monthly view" option. 
They also like the layout because of how eye-catching it is while still being easy to use. There are, however, some parts of the application that users find slightly complicated. Still, they have also noted that it does not take long to learn how to use those parts of the application.
Many corporations do not appreciate the pricing model. Most platforms in the corporate world offer team payment plans and packages, which can help corporations save a big buck when they buy software for team usage. However, every Airtable user must pay for themselves, which rakes in a high cost for teams. 
They also do not like how there is a limit of 3 posts that can be seen on the daily schedule. People would also appreciate having more space to write captions.
On a more positive note, users like the application's flexibility and the fact that it can be integrated with other applications, like Slack and Shipstation. For many, the free version is enough, too.
Is Airtable Any Good?
Yes, Airtable is a good and useful platform. Like any application, it does have its shortcomings. However, these are not significant enough for people to abandon the platform altogether.
Airtable is more advanced than any other spreadsheet application on the market and is great for individual and team use. Most users would recommend the platform to other people. 
Final Thoughts
Airtable is a great platform that makes organization easy. It allows users to compile all forms of data through bases and spreadsheets, hence allowing them to have all important information present under one umbrella. 
While the free version has plenty to offer, many people use the paid version, too, despite the somewhat high cost. This is because they believe that there is no better platform for data organization than Airtable. 
Well, I hope you have enjoyed this review of Airtable and if you need any help, head over to the The Business Blocks – YouTube channel.