Best Project Management Tool for Remote Work
Remote work is now the norm and with an ever-increasing digitization of the project management functions, workers are expected to keep their managers up to date with the status of each project in real time.
Check out Asana here.
Asana is a well-known project management tool. The founders, Dustin Moskovitz and Justin Rosenstein, were early at Facebook, until they left in 2008 to work on Asana.
Four years later, they were able to launch this service to the world, after landing millions in seed investment. Mark Zuckerberg, also eventually invested in Asana.
A wide range of companies, such as Uber and eBay, use Asana to manage group projects, and also to manage individual employees.
This app removes sole dependency on emails when it comes to communication in leading a group on a project.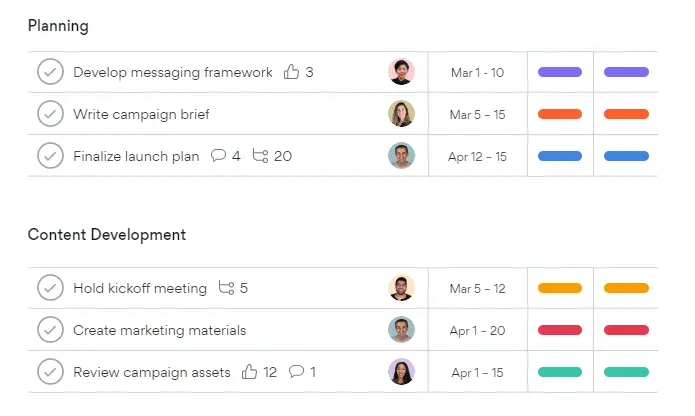 Asana is an impressively simple project management tool, with multiple features that make it a good choice for many companies and individuals to use.
What is Asana?
Asana is a web application intended to help groups create, track, and manage their work.
The software helps the group lead a project from inception to completion with these simple criteria:
Break each part of the project into smaller tasks.
Appoint these tasks to individuals.
Allot a deadline corresponding to each task.
Asana allows the group lead and team members to place comment, change status and upload documents as well, making communication easy and convenient!
Asana conveniently links with Cloud App – Check it out here
Features
This cloud-based software has features geared specifically towards making task management easier.
Essentially, Asana is a virtual workspace that updates team members on their tasks and allows them to complete their tasks quickly and efficiently.
Mobile
Besides the web app, Asana offers a mobile app for iOS and Android. Most highlights are accessible on the mobile, but they may contrast between the platforms.
Work, project, and task management
Asana allows you to break work into manageable pieces for both yourself and your group. You can also record your work as an agreement to keep track, or use Kanban sheets for your projects, meetings and drives.
On Asana, assignments are given a clear owner, so everybody knows who's doing what.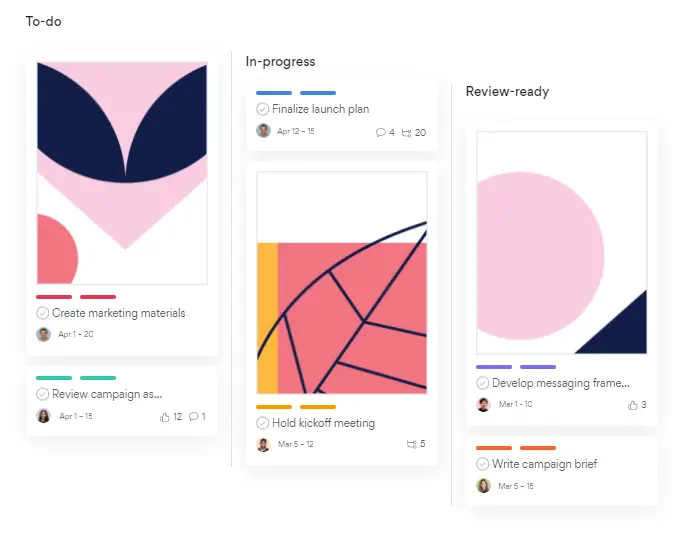 Communication
Communication is easy on Asana.
The team lead can explain the task in detail via the chat. The option of comments allows easy communication between the lead and other employees; it's also another way to explain more about the tasks assigned.
This way everyone understands their tasks and also stays updated. It is important that you leave comments on the relevant pictures or PDFs to simplify tracking.
Asana is available in English, French, German, Spanish, Portuguese, and Japanese.
Views
Plan your day with an organized daily agenda. You can get notifications for the projects, discussions, and undertakings you're following and channel them accordingly.
Asana has a color-blind friendly mode as well so all employees can use the app with ease. View files, calendars, advance search reports, portfolios and much more in Asana.
Not only is the app color-blind friendly but also user friendly; anyone can use it.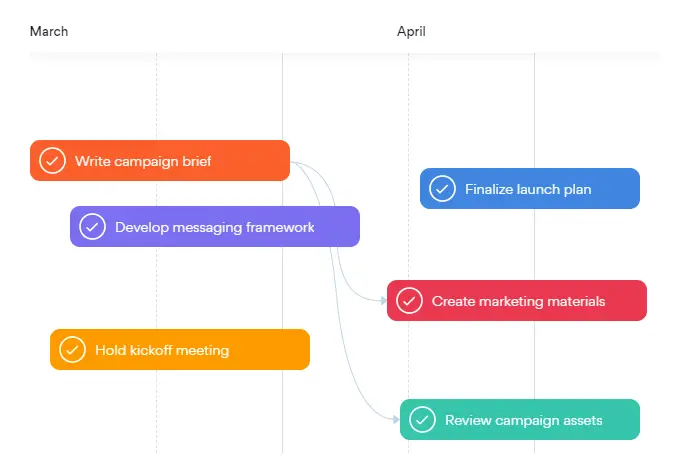 Team management
With Asana, team management can't get any better.
You can make groups, arrange your activities, and assign them to team members. You can also get your colleagues familiar with a common schedule and discussions and control group security settings.
Asana makes it easy to do work according to deadlines and gives you notifications when there is a task update. It ensures data security, allowing you to trade or exchange information whenever you want.

Pros and Cons
As is the case with each application, Asana has its own set of pros and cons. Below, we've listed these pros and cons in detail so you can see if Asana is a good fit for you!
| PROS | CONS |
| --- | --- |
| The free plan offers the most essential features. Users on a restricted budget can opt for this version of Asana. | Asana's interface is slightly complex, which can be confusing for new users. |
| It allows you to change your tasks as per your changing requirements. | The numerous features Asana has to offer make the app complicated and can make it difficult to find the exact feature you're looking for. |
| It allows users to invite new members in order to team up on a project. All team members can view all the assignments, files, and individual comments. | Tasks can only be assigned to one individual only |
| All business task details on this project management software are confidential. Asana underpins this through its stockpiling safety efforts. You can use Asana with no worries of any information being leaked. | Asana supports JSON and CSV formats, but not PDF and Excel, which are the ones used most commonly. |
| It helps organizations and associations center around being profitable. Even the least complex task inside a project is marked with a name, so it's easy to find and manage. | Asana does not track the amount of time spent by individuals on their tasks which makes classifying the work hours of members into billable and non-billable hours crucial. |
| It permits clients to include records from Dropbox or Google. | |
Asana Pricing Plans
For groups of up to 15 users, Asana is accessible for free. With the free plans you'll get:
Unlimited tasks, projects, and conversations
Basic dashboards
Premium plan pricing starts at a cost of $14.99 per user/month charged annually but this fee can be decreased for large groups. With the premium plan, you will get these additional features:
Private teams
Exclusive projects
Unlimited guests

Final Thoughts
Asana is an excellent project management software that helps you to plan and structure your work. It lets you set deadlines, share details, and delegate assignments.
To remain on track, Asana also allows you to track your progress. By breaking bigger projects down into smaller tasks,  you can know the progress of the whole group.
If you made it this far and you would like to know how to create your won cool featured images, check out this detailed post on Canva, the best creative platform.
---
*Featured Integrations*
What is nTask?
nTask is a cloud-based task management platform that caters to individuals and businesses alike. It provides users with tools that enable collaboration with team members, task management, meeting scheduling, and more.  
Check out our article here – Slack: An Efficient Project and Task Manager