Our everyday lives have become so dependent to the internet – from socializing, operating businesses and even learning. We have come to the point where education is no longer just accessible through physical campuses, but also through digital platforms. The internet contains so much information that people go online to learn just about anything. 
This phenomenon gave rise to e-learning platforms. Hundreds and thousands of online courses have become available online allowing people to learn anytime and anywhere. The convenience and flexibility to learn at your own pace is what makes online courses very marketable to so many learners. Hence, many people saw this as an opportunity for them to make money by building and selling their own online course. 
Creating your own online course may seem very difficult and time consuming. However, there are actually tools you can use to come up with your own online course in a fun and easy way. One of them is WP Courseware. 
What Is WP Courseware?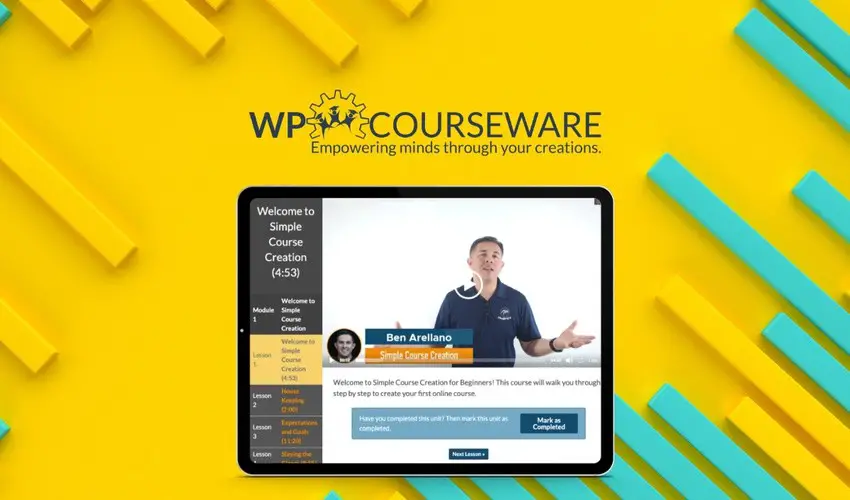 WP Courseware enables you to easily create and launch your own online course with just a WordPress site. It is an amazing WordPress plugin that lets you turn your idea into a profitable digital course. What's more, it has no revenue sharing! That's right, it gives you the opportunity to have a passive income and keep every single penny you make. 
Developed by Fly Plugins in 2012, this online course builder has amazing features that make it such a user-friendly tool even for those who don't have any experience in building an online course. 
Not only is it the first ever course builder for WordPress, it has also become the most-trusted, with over 21,000 course creators who have successfully monetized their ideas after launching their online course through WP Courseware. 
How to Use WP Courseware? 
One great thing about WP Courseware is its ease of use. With just a few steps, you can already get started building your own course. 
First, install the WP Courseware Plugin on your WordPress site. 
Then, activate the plugin and you will see two new additions on your dashboard: Training Courses and Course Units. 
WP Courseware Key Features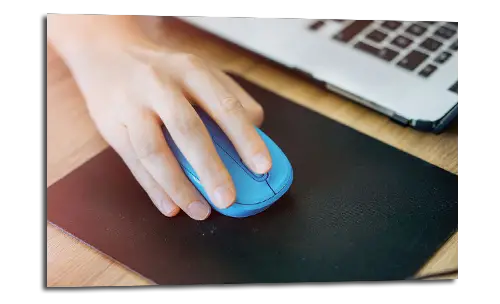 Drag and Drop
Even without any technical expertise, you can quickly organize your course to make it easy-to-navigate for users by dragging and dropping your content to whatever arrangement you want.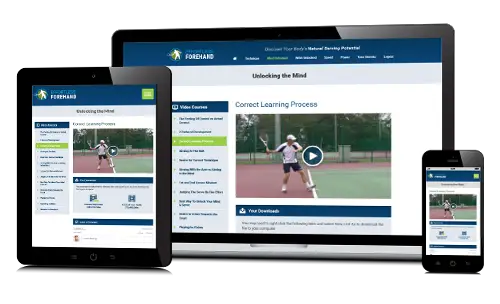 Adding relevant video materials
WP Courseware lets you add videos to your course to make it more fun and engaging for learners.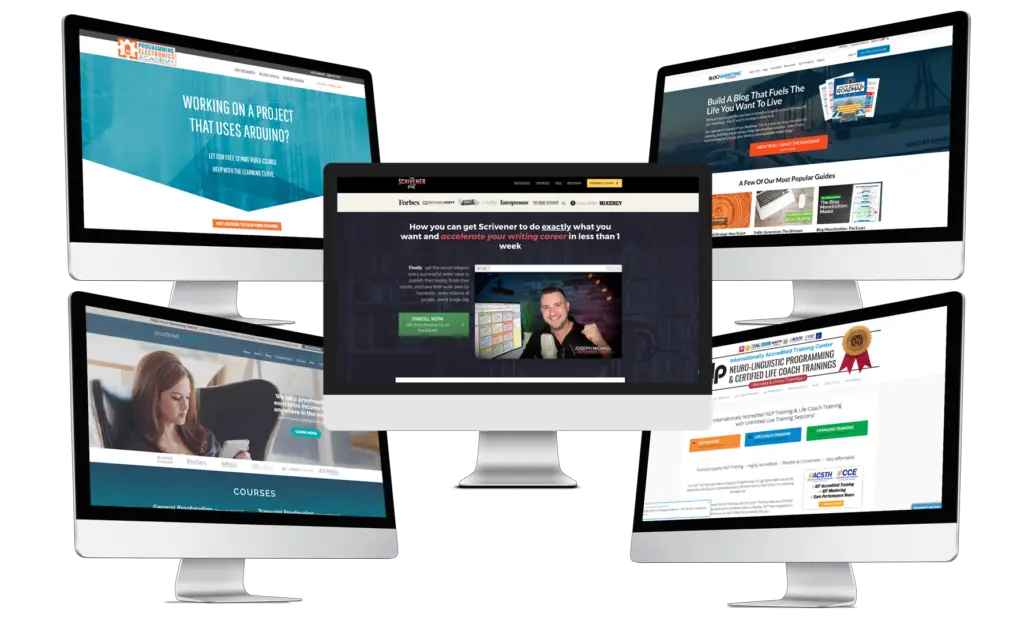 Appearance customization
No need to use codes, you can easily customize your course according to your branding and style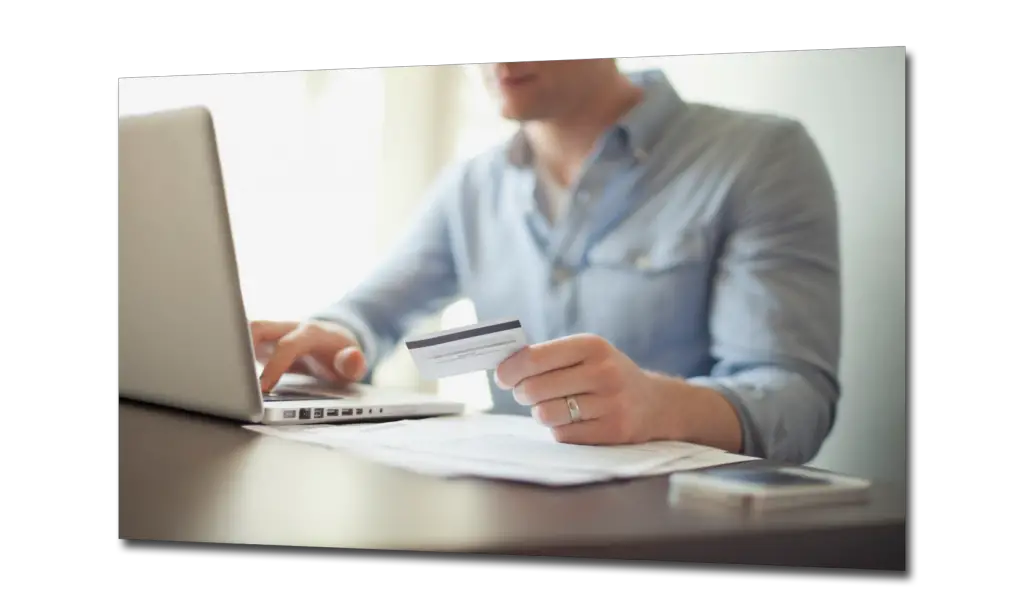 Payments
Allow your learners to have flexible payment modes, be it one-time payments, installments, bundles, and more.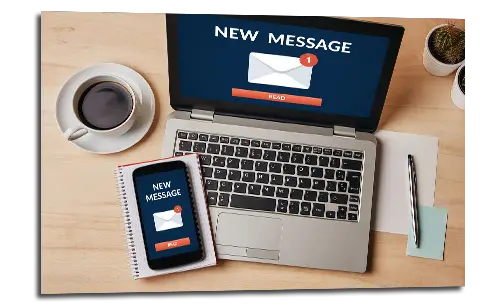 Automations
You don't need to go through the hassle of manually notifying your learners about important info or messages, you can automate notifications, emails and even quizzes. 
Launch a course before it's completed 
You can start selling your course even before it's full completion. WP Courseware allows you progressively to drip content based on enrollment interval, or specific dates.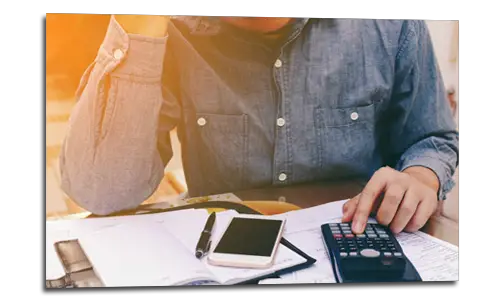 No revenue sharing
No need to pay the host site any subscription, all the money your course makes is yours
Pricing 
WP Courseware offers three plans, and here's what you get when you subscribe to any of the plans: 
Deal Terms  
Lifetime access to WP Courseware Guru Plan
No codes, no stacking—just choose the plan that's right for you
You must activate your license within 60 days of purchase
All future Professor Plan updates
Ability to upgrade/downgrade between 3 license tiers
GDPR compliant
Only for new WP Courseware users who do not have existing accounts
60-day money-back guarantee, no matter the reason
Features Included in All Plans 
Customizable course branding and style
Ability to use your own WP theme
E-commerce and membership integrations
Intuitive drag-and-drop course builder
Quiz and survey functionality
Scheduled content drip
Set required course prerequisites
Customizable course completion certifications
Classroom grade course books
Built-in shopping cart support
Stripe and PayPal integrations
Membership functionality
Recurring subscription payments
Offer affordable installment payments
Offer online courses for free
Offer teaser content
Restrict course content
Completed student management
Automated instructor and student emails
Instructor course management roles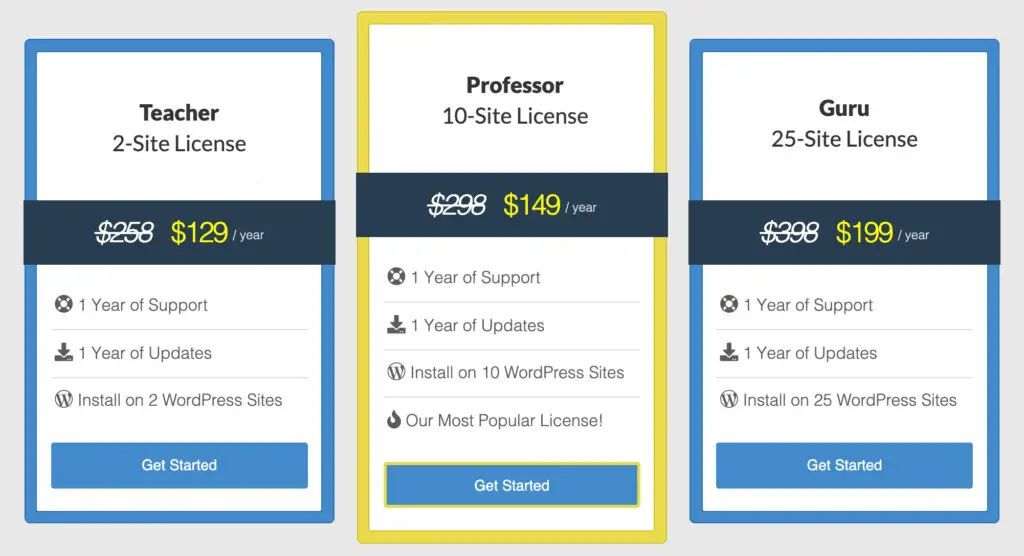 Teacher Plan – $129 a year
All WP features included
Install on 2 WordPress Sites
Professor Plan – $149 a year
All WP features included 
Install on 10 WordPress Sites 
Guru Plan – $199 a year
All WP features included 
Install on 25 WordPress Sites 
Pros & Cons 
Pros 
Simple and easy to use
Highly customizable
Drag and Drop feature
Perfect for business development
Easy integration with a variety of other plugins
Great grading functionality for students and teachers
Good customer support
Unlimited number of courses and students
Compatible with all your video hosting options like YouTube, S3 Media Maestro, Wistia, Vimeo, etc
Cons 
Free trial not available.
Not for very large e-commerce uses
Limited ability to import course content from another source
Summary 
WP Courseware is definitely recommended for those who looking to build their own online course but have no prior experience in doing so. It is optimized to make your course building experience easy, fun and simple! Although it has its limitations, but the amazing features it currently has are enough to cover up for its shortcomings. 
And the best thing about WP Courseware is that it has no revenue sharing! It is perfect for those who are small-time course builders who are still starting up and are not yet earning that much as they are able to keep all the revenue which they can use to further develop their courses and even fund new courses they may want to create in the future. 
References: 
https://flyplugins.com/wp-courseware/
https://appsumo.com/products/wp-courseware/
https://www.capterra.com/p/165110/WP-Courseware/