What is Power Automate? Learn more about workflow automation and how it can help boost productivity and efficiency at work. 
Try to imagine this situation. You or your employees need much time to finish a task. They cannot focus on what matters the most in the company. Because of that, problems arise everywhere in your workplace, and you have no idea how to solve the issue.
Does this situation sound similar in your company? If so, you might have an unproductive workplace. This issue can be an effect of doing repetitive and manual jobs every day. 
Doing those kinds of tasks every day can be exhausting for any person. As a result, your company might not be as efficient as you would have liked.
Thankfully, there are now several platforms that allow you to automate workflows. This kind of tool has many valuable benefits. 
One of which is having the ability to handle repetitive tasks in your company. It also makes the process faster and easier, which increases your productivity level.
An example of this type of platform is Power Automate by Microsoft. This tool allows you to link workflows to your data by using connectors. Also, you do not need to be knowledgeable in coding to use Power Automate. The platform has a no-code approach, so you can rest easy in automating your workflows.
So, suppose you are a manager or a tech-savvy worker. In that case, Power Automate might be an excellent choice for your company. Why? It lets you automate workflows, allowing you to focus on the more vital tasks in your company. You can also speed workflow development by using Power Automate with Azure DevOps.
Find out more below to see how using this platform can be beneficial for your company.
What is Power Automate?
How does it help with workflow automation?
Before diving into the topic, you must first understand the purpose of Power Automate. It is a cloud-based platform that lets you make automated processes. You can do it by using connectors and drag-and-drop tools. This way, you can automate manual and repetitive tasks without coding and with ease.
With Power Automate, you can connect other platforms to the system. Currently, there are over 100 options that you can integrate with this platform. You can link most business productivity applications such as Trello, Slack, and Outlook. It also includes Social Media networks such as Twitter and YouTube.
Power Automate lets you synchronize files, receive notifications, and more. It is also part of the Office Suite or Office 365 subscription. Meaning, if you subscribe to a business plan, this tool will be available in the package. Thus, allowing you to use the platform.
Don't know where to start? Do not worry. Power Automate is also friendly for beginners in using automating platforms. If you find the process challenging, you can always use the template library. This way, you can automate the processes even if you are a beginner.
Additionally, you can access this platform whenever you want. The Power Automate app is downloadable in both Google Play and the Apple app store. Thus, you do not have to turn on your personal computers only to manage the Power Automate platform. You can check and manage your workflow through a smartphone or a tablet instead.
How does Power Automate differ from other workflow automation tools?
As mentioned earlier, it is possible to use templates in Power Automate. This ability is one of the selling points of this platform since it allows you to automate easier. 
There is a wide selection in the template library. Thus, there is a high chance that you can find the template that you need.
With templates, you need to connect Power Automate to another platform. 
For example, you want to receive emails from your Outlook and view them in Microsoft Teams. That is an example wherein you can use Power Automate to automate the process.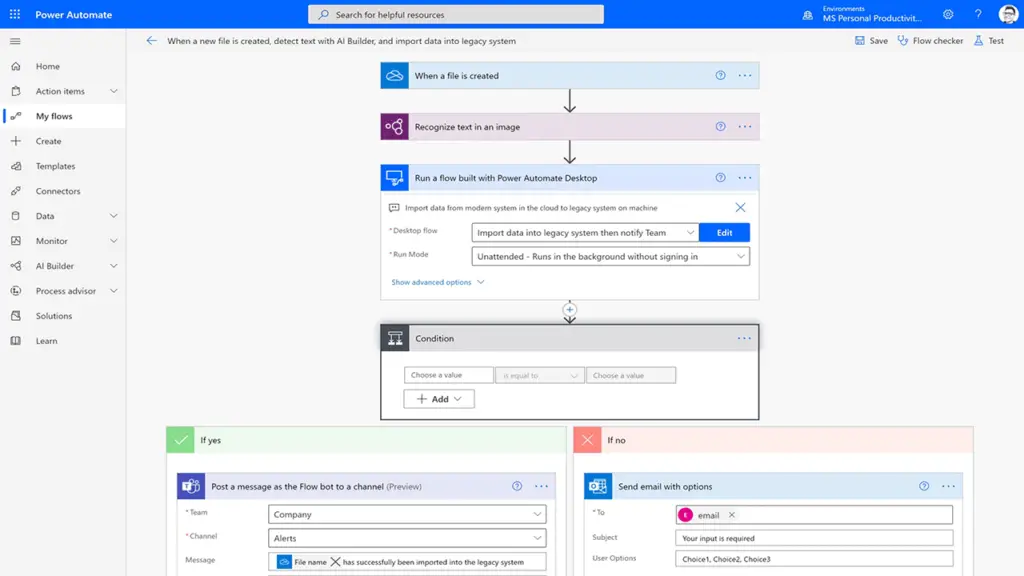 Some featured templates that you can use in Power Automate are:
Save email attachments to your business' OneDrive account
Receive a push notification whenever someone messages in your team
Send a personalized message when someone uploads a new document or any file in your organization
Another selling point of Power Automate is the ability to connect with Azure DevOps. This tool allows your team to share code and check all work. It is perfect if you prefer to build automated processes quicker. Also, this workflow automation tool can speed up and improve the development of your business workflow.
Target Market of Power Automate
In general, Power Automate is excellent for companies that aim to boost productivity. After all, it allows for better workflow automation, making your tasks more manageable. 
You can also use a template to automate the process. Some industries that can benefit from this platform are Banking, Healthcare, and more.
Power Automate is also for the IT decision-makers. This platform allows them to create and develop their business solutions. It also lets them focus on the more advanced integration tools. 
One example is the Azure DevOps. They can also help, support, and empower the employees in your company.
Power Automate Integrations with Existing Platforms
It is necessary to connect with other existing platforms to make automated processes. These tools include your standard productivity apps, such as Trello. Or, you can also integrate your social media networks such as Twitter and YouTube. As of the moment, Power Automate supports over 100 platforms for integration.
Below is a list of the popular existing platforms that you can integrate with Power Automate:
Office 365 Outlook
This platform is where you can receive, read, compose, and send email messages. It is also possible to schedule upcoming meetings with Office 365 Outlook. If you have something planned for the day, it will notify you hours before the meeting.
OneDrive for Businesses
OneDrive is a storage space that allows you to store files such as documents and pictures. This platform is helpful when you want to share resources with other employees. It also allows you to download files, as well as the freedom to set the visibility settings. You can either set it to the public where all people in your company can see the file. Or, you can select specific users to see the file and share the link.
Trello
Trello is a Kanban-style productivity tool. It allows you to create cards and organize tasks on a list form. You can also set a deadline for a specific item and add other members to a team. In Power Automate, there are plenty of situations wherein you can use Trello to automate. One example is the ability to copy all tasks in your Outlook to Trello. You can also send an Outlook email to your employees when you create a card in Trello.
YouTube
If you own a channel, you can also integrate YouTube into your workspace. As most of us know, YouTube is widely used to share and view videos made by various content creators. When you integrate YouTube to Power Automate, you can set it to notify you whenever a channel posts a new video. You can also track the data of your YouTube videos on a Google Sheet and more.
Twitter
Twitter is one of the most widely-used social media platforms today. This platform is helpful when you want to promote your products and services. With Twitter, you can integrate it to Power Automate so that you can email a tweet from a specific user. You can also get a push notification of a tweet containing a particular keyword. That feature can be excellent for monitoring your competitors when used well.
Microsoft Teams
If you use Power Automate, you might as well use Microsoft Teams to collaborate in your company. If you already use Microsoft Teams, you can automate some tasks using Power Automate. Let's take the example when a person sends an email to your Outlook email address. With Power Automate, you can see the contents of the email on Microsoft Teams.