Are you looking to start your career in digital design or just trying to edit some images for your business?
Editing photos in order to make them aesthetically pleasing in order to attract clients, can help improve the company's online presence and help you differentiate your brand. Viewers are more likely to communicate with a company that appears credible, so having unique images is an important step in strengthening your company's digital marketing strategy.
With the support of AI and content-aware technologies, Colorcinch focuses on streamlining the environment of photo editing and simplifying the processes of photo enhancement. Guiding you through the editing process with toggle options and precision controls.
The processing of editing photos is one of the most time-consuming aspects of digital marketing. If you're looking to save time, it has become easier than ever to edit photos even without experience and knowledge in using professional and complex photo editing software.
Introducing, Colorcinch!
What is Colorcinch?
Colorcinch is a digital designing platform streamlining the environment of photo editing and simplifying the processes of photo enhancement, allowing those with less experience to get comparably amazing outcomes. Their aim is to make advanced editing simple and accessible to everyone.
Formerly named Cartoonize, a small group of passionate designers and photographers from Seattle, Washington dedicated their time, with the support of AI and content-aware technologies, to rebuild the software from the ground up with a new focus on cloud editing, and eventually rebranded it as Colorcinch.
With Colorcinch, you can instantly create, edit and turn your photos into beautiful images without having to sign-up! That's right, you can utilize this editor for free!
Colorcinch Features
All-in-one photo & text editor
You can achieve professional and stunning results with Colorcinch's wide selection of essential tools for digital designing. You can easily crop and resize photos with predefined aspect ratios; straighten and rotate images to adjust fine lines; fully control your photo's exposure; sharpen and blur your photo's details to your liking; enhance the color and vibrance; add text, layers, and export as JPG, PNG or PDF and achieve stunning print quality of up to 400 DPI.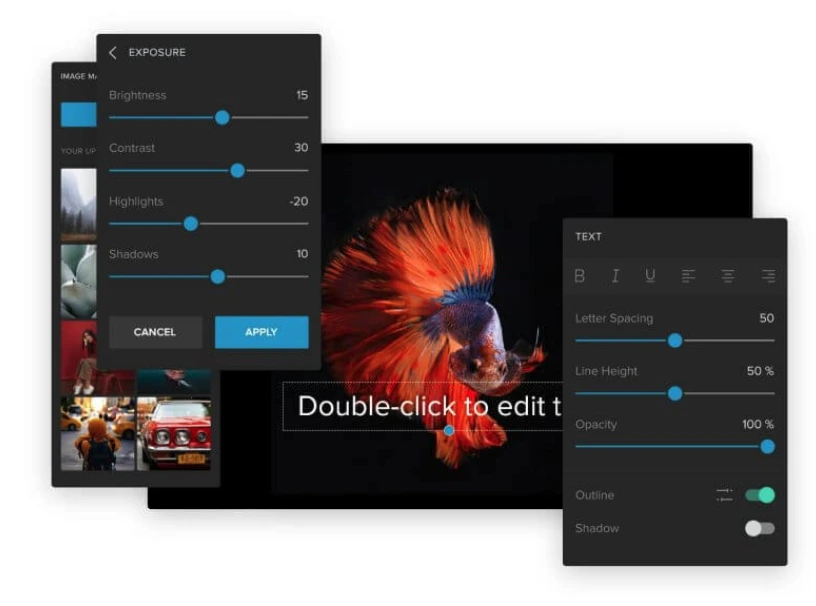 Adjustable filters & cartoonizer effects
With just a click, turn your photos into sketches, paintings, cartoons, digital art, and more. You can be as creative and unique as you want using Colorcinch's hundreds of specialty filters and effects.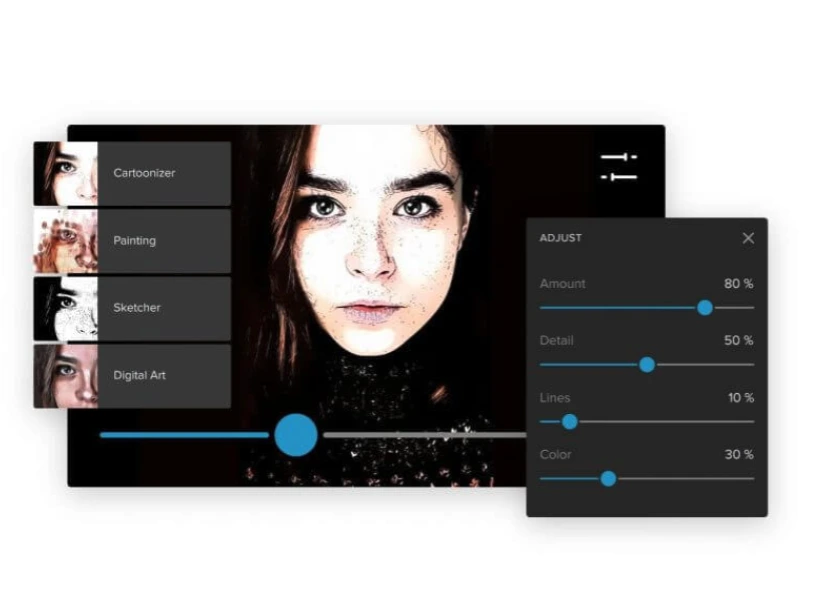 2.5 million photos, graphics & icons
Colorcinch has an extensive library containing high-resolution stock photos that you can use both for personal and commercial use; over 50,000 vector graphics and icons; and hundreds of masks and frames.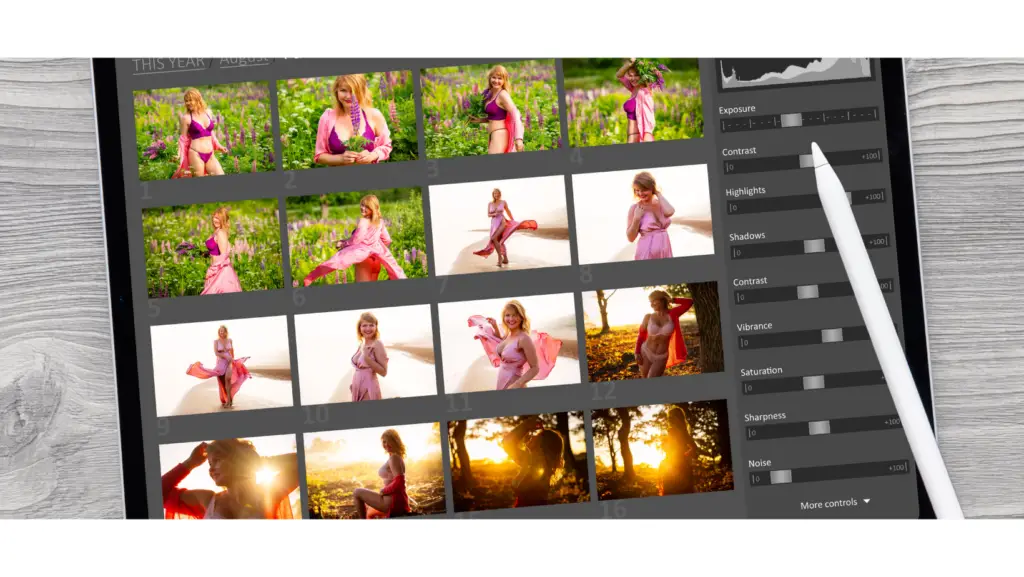 Other Features:
Cartoon photo maker
Add to scenes with overlays
Fine-tune clarity & details
Create & organize layers
Apply artistic masks
Transform with blend modes
Export for print at 400 DPI
Stylize with frames
Freehand drawing
Full-screen editor
Custom color overlays

Favorites
Redo & undo
Adjustable vignettes
Opacity & intensity controls
Smart guides
Blend modes
Dynamic color picker
Keyboard shortcuts
Is Colorcinch free?
Colorcinch has a free version where you can access and download the edited versions of your images. Colorcinch's free editing tools are indicated where they are missing the Orange Diamond in the top right hand side. You can also access the premium effects, filters and overlays to see what the end result is from your edited image but you do need to sign up to their monthly or annual plan to access and download this content. You can review the Colorcinch pricing below under their "Plus" pricing plans.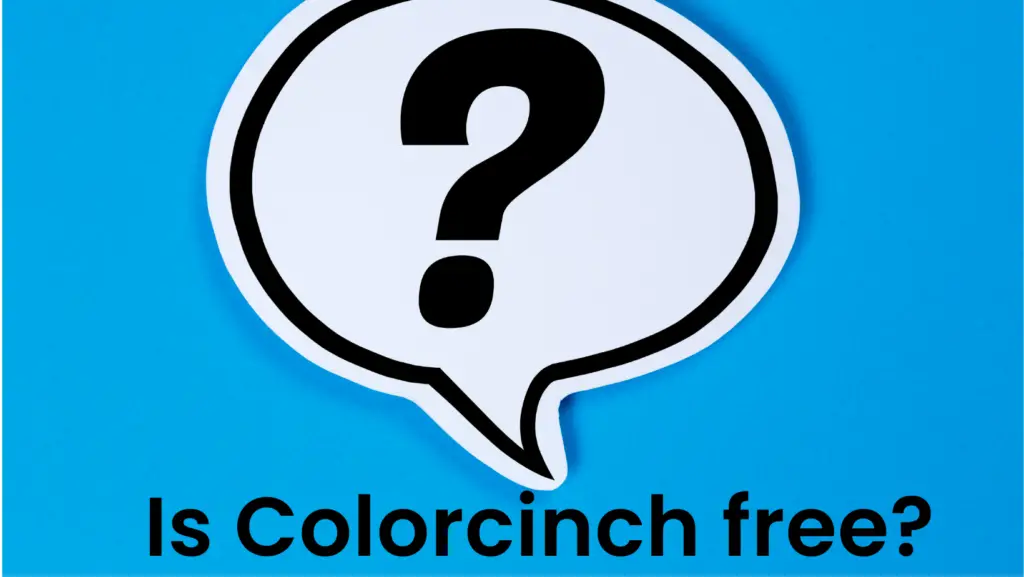 Colorcinch Plus Pricing
If you can do a lot with all of Colorcinch's free features, imagine what you can do with Colorcinch Plus! You can subscribe to their Plus version and experience limitless creativity with full ease.
Colorcinch Plus has two plan options:
Annual Plan
$3.99 per month, billed annually at $47.88
All Plus features
All graphic collections
Limitless projects
Monthly Plan
$5.99 per month, billed monthly
All Plus features
All graphic collections
Limitless projects
Final Say
In the digital era, the aesthetics of a business have become just as important as its business plan. Without a well-put-together, professional image, it can be difficult to even put a foot in the door.
Today, many business owners are doing what it takes to ensure that their company has a powerful visual presence, from professionally-edited photos to sleek, minimalist logos.
For many entrepreneurs, visuals are a key component of their marketing strategy. If your company relies heavily on visual content, take your digital designing to the next level with Colorcinch. It is definitely a valuable platform you can add to your business' creative tools.
---
Check out these other Creativity Platforms in the TBB Ecosystem: