There is no doubt that this is the age of technology and collaboration software. Almost every single project taken up has various platforms for individuals to work on it together, or for people to keep a check on the progress themselves.  
All of these are exceptionally useful for businesses as there are multitudes of teams working on multiple projects, and there is a need for project management platforms to help make collaboration convenient, comfortable, and possible all at the same time.
This is where technology comes into the picture: There are several options for businesses to consider to assist with collaborative work. All you need is the internet – you don't need to look any further!  
What Is Nifty? 
One of the most renowned platforms for work collaboration is Nifty. It is a project management software that allows individuals to collaborate through the automation of progress reporting, alignment of project teams, and acceleration of project cycles.  
It is a remote collaboration hub through which you can manage all of your teams, files, goals, and projects all in one place. It is meant to make the lives of teams easier by managing your workflow and providing you everything your team requires to get a job well done.  
What is Collaboration Software For? 
Nifty is ideal for businesses working on various projects as there is plenty that needs to be taken care of with a significant number of people on board. Businesses can keep track of everything they are working on through the use of this project management software.  
Besides businesses, if you are working on a project yourself, Nifty is perfect for you. It is an excellent platform for client project management. It allows you to keep together client projects, deliveries, and communications all on one platform. Thus, you will always be in touch with your client and check on your progress while working. 
Moreover, Nifty is a fantastic platform for digital agencies and legal case management too. Digital agencies can make good use of the comprehensive management software, while those working on legal case management can utilize the options to organize cases and to automate progress reporting for their firm and clients. 
Lastly, marketing teams can benefit as they can automate their processes to concentrate on important work, and product management can also become easier as a collaboration with Nifty can reduce product development cycles.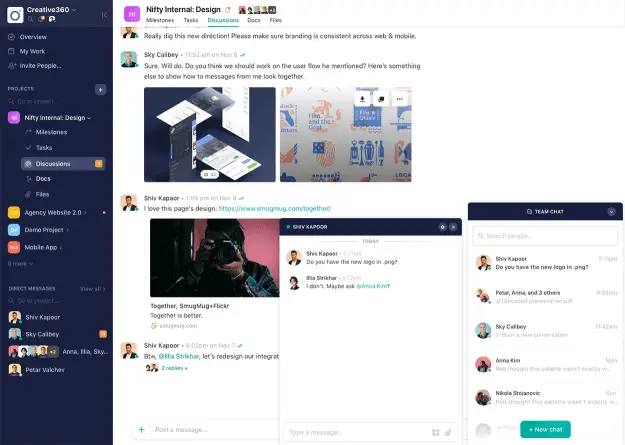 What Does Nifty Do? 
Nifty has various features to offer project teams. There are options such as file sharing, collaboration support, and time tracking, allowing project teams to have significant control over their projects. Here are a few benefits the tool has in store: 
Workflow collaboration software hub: This can be used to speed up project cycles, automate progress reporting, and align teams as well. The workflow collaboration hub manages to keep all project team members continuously connected, and also has options for you to set your own project goals while you create a timeline for the deadlines you have. 
Share ideas: Nifty has a fantastic file-sharing feature that allows everyone on teams to pitch in with whatever suggestions they have in mind. All documents linked to your project are stored in an accessible and secure place and can be accessed and shared from Google Drive, Dropbox, or computers, allowing them to be accessible whenever necessary.  
Collaborate with documents: Through Nifty, you can create collaborative documents with your team members stored safely. You can use Nifty Doc, Google Doc, or spreadsheets for this purpose. There are also features for you to leave notes or feedback on documents for other people to go through. Documents can also be used to invite team members to the discussion by launching a document from Project Discussions.  
View project milestones: As you can view milestones, you can always check how far your project is moving ahead. It provides you with the option to look at your project's sprints, phases, and initiatives. There is also a Swimlane view that clarifies project objectives for your agile teams as it combines milestones and task lists for you.  
 These are some of the central features of Nifty.
Other features are listed as follows: 
Conversational Files 
Milestone Dependencies 
Collaboration Software
Direct Messaging 
Custom Fields 
Time Tracking 
Timeline View 
Custom Labels 
Task View 
Real-Time Collaboration 
Message Threads 
Quick Collaboration 
How Much Does Nifty Cost? 
Nifty has four different pricing plans for you to choose from.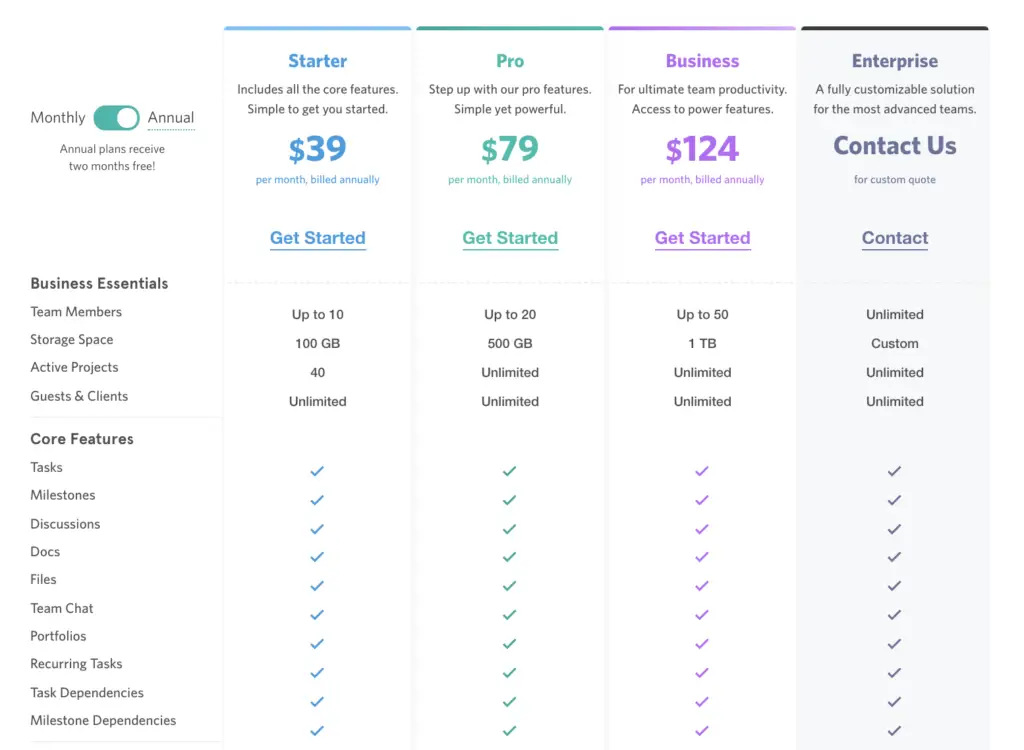 Starter 
This is ideal for small teams and individuals working by themselves. This package is available at the cost of $39 per month. It allows 10 active projects, 10 team members, unlimited guests and clients, and 100 GB storage space. 
Pro 
The Pro Package is suggested to small and medium-sized teams. It can be purchased at the cost of $79 per month and allows for 500 GB storage space, unlimited guests and clients, unlimited active projects, and 25 team members.  
Business 
This is the go-to package for medium to large teams as it has many powerful features in store. It is available at the cost of $124 per month and allows for 1 Terabyte storage space, unlimited guests and clients, unlimited active projects, and a total of 50 team members.  
Enterprise 
This is the perfect option if you wish to customize the features available to you. You are provided a custom quote depending on the storage space you request, while the number of team members, guests and clients, and active projects available to you are unlimited.  
One of the aspects that make Nifty a great option to consider is that there is an option for you, whatever your budget and team size might be. All you need to do is take a look at your requirements and make your way to Nifty – you will find something for you there.  
What Are People Saying? 
Nifty is a very popular collaborative tool all across the world. It is best known for the ease of use it has to offer in managing projects and is seen as an attractive alternative to other collaboration teams out there.  
Workplaces have commended Nifty for providing a very clear and effective platform to communicate with team members, and the platform is also appreciated for allowing for tasks to be assigned and tracked easily.  
On the other hand, a few teams have pointed out that their pricing model is unsatisfactory. It is based on the size of a team. However, the size of a team does not necessarily determine the extent of the work that needs to be done. Hence, a bit more flexibility would make the platform more appealing. 

Nifty Good as Collaboration Software? 
Considering all the features Nifty has to offer, there is plenty in store for teams to get their work done effectively. It is a very useful platform as it allows for communication and collaboration to occur with plenty of ease and convenience.  
It has more to offer than most collaborative tools out there, ensuring that it stands out as a project management platform to use.  
Final Thoughts 
Nifty is a fantastic platform that allows for work to be easily assigned and completed. It is the ideal project management software, as it has everything a team looks for while trying to work together effectively and productively. It brings your entire team onto the same page – a feat that makes the tool worth considering.