Why is using a digital task manager advantageous in this day and age?
As we move away from the physical complications of yesterday's world and move into the digital ease of the new age, we adopt and replace some aspects of our lives in hopes of making ourselves more efficient.  
Just how we have moved from paperback books to e-books, so too have we moved away from paper-based tasks to digital tasks.
No more registers and large piles of papers to document progress reports on. Everything has moved online, on a more sustainable and easy-to-use platform.  
To further this digital movement, one platform that has emerged is nTask; it allows you to keep track of your tasks online efficiently and productively, saving you both time and energy. 
What Is Good Time Management?
Time management is the application of techniques to use your time efficiently and productively. It involves planning and dividing your allotted time between tasks. The goal is to accomplish your tasks without feeling overwhelmed or stressed so you can be more present at work and carve out time with your friends and family.
Learn more about 11 Time Management Techniques to Help Improve Your Remote Work.
What is nTask?    
nTask is a cloud-based task management platform that caters to individuals and businesses alike.
It provides users with tools that enable collaboration with team members, task management, meeting scheduling, and more.  
With nTask, users can assign tasks, generate progress reports, set recurring tasks, share files, attach files to tasks, and create checklists.
This platform also enables users to plan and monitor budgets for different projects, allot resources, define risks and issues, and monitor team members' time spent on various tasks.  
Additionally, nTask supports integration with Google Calendar and Outlook, which provides meeting management and calendar management features and makes overall task management a smoothly running process.
Mobile applications for Android and iOS devices are also offered that enable remote access. 
How does nTask work as a digital task manager? 
Here's a detailed step-by-step guide on how nTask works.
Amazingly, nTask allows you to sign up for free, which is to the users' benefit as you can take some days to explore the application without paying for it.
When you click on the sign-up button and add your email address, you will be asked to make a team name and invite team members, the latter is optional.
Once you are done, you will see your workstation or dashboard appear. This is where you will create your workspace.  
The workspace is very easy to navigate, you just have to click on the button at the center of the page that says, "Add workspace" and create your first task.
After clicking the button, you will be asked to name your workspace and create a distinct URL for your project. As soon as the project is done, you will be led to the next step.  
Now you can click on your project from the dashboard and enter its domain. Here you will be asked to create tasks for this project. On a bar, you will see the words "Add new task," and you can click on them to create your tasks.
Serving its role as a digital task manager, nTask allows you to set a date for a task, prioritize it, or even give an anticipated date for completion. You can then check the status of its completion.
Next, you have the option of creating a meeting for the project.
Here, you can conduct productive meetings, set dates, and times for collaborations, and take notes from the meeting. Just like adding tasks, you can add as many meetings as you like, and you can check their dates and progress alongside. 
Wait there's more…
The third feature that nTask offers you is the Timesheet. With this option, you can easily track time online and avoid any bottlenecks.
Charts are very easy to make and can be drafted remotely. No physical or manual timesheets are necessary, you can simply add your tasks and meetings and connect their times and dates to the Timesheet to save all the progress information right there and then.  
You can also create issues. This feature allows you to track, assign, prioritize, and fix bugs and issues faster.
When it comes to the format, this page is similar to the task page and is super easy to navigate. You have the option of assessing and prioritizing issues and their fixes.  
Lastly, you have the risk option. This is where you can assess your risk matrix and identify the probability of a risk and its impact.
This platform allows you to mitigate such risks and helps you in being the least impacted team using strategy and with probable solutions.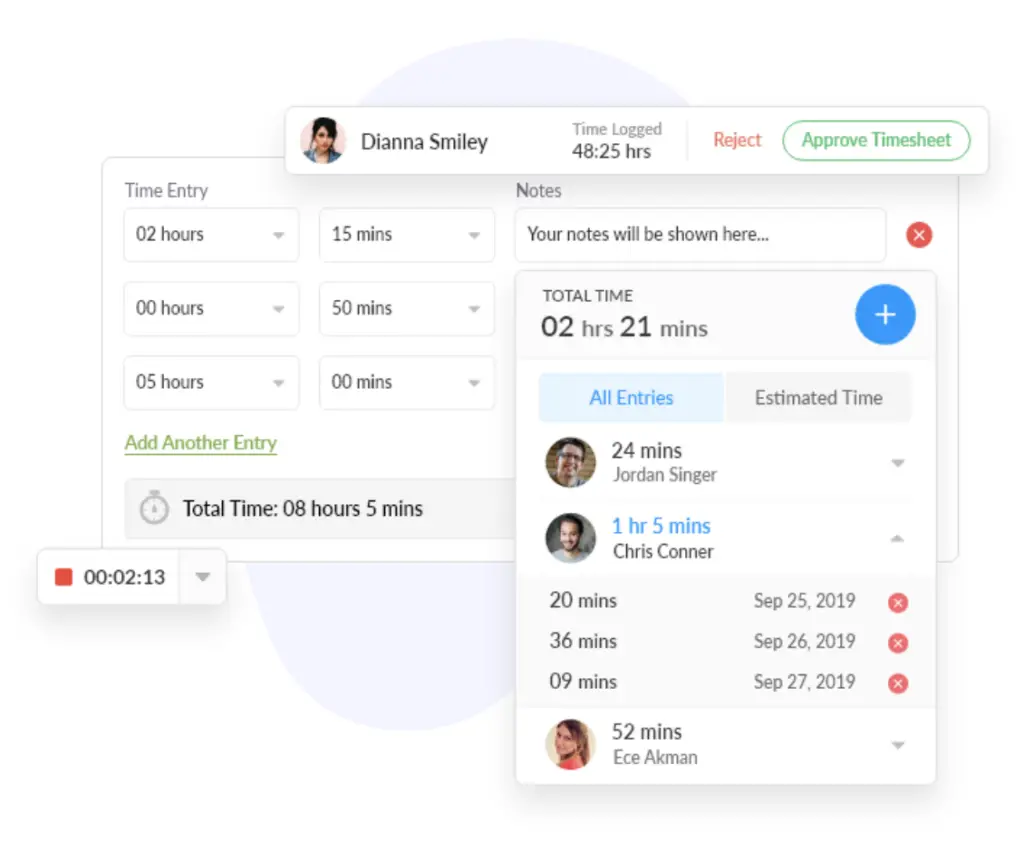 Pros and Cons of nTask  
| Pros | Cons |
| --- | --- |
| Easy-to-navigate digital task manager and is also a great tool for project management, allowing you to have smooth communication with your team for collaborations  | Customer service needs improvement |
| Free 14-day trial period so you can spend your money wisely. | Additional customization and integration options are needed.  |
| Best application for document sharing and remote collaborations | |
| Besides managing tasks and files, nTask also allows you to manage financial resources if you need to execute a specific task | |
| Comes with visualization functions in Gantt Charts and excellent integrations with Google calendar and Outlook | |
| Administers and manages tasks from the service in the integrated cloud, making the information stored much more secure and easily available | |
| Can create checklists while dealing with tasks, set the status of your task, and verify the progress using an automatic progress meter | |
| Comes with a native meeting management tool and native modules for bug/issue tracking | |
Pros and Cons of nTask
Pricing 
nTask offers its users four different pricing plans with distinct features for each one. Each plan offers a 14-day free trial without giving in your credit card information.
You can make an informed decision about your purchase. Each plan is billed monthly, and yearly, the over cost comes down when choosing the latter.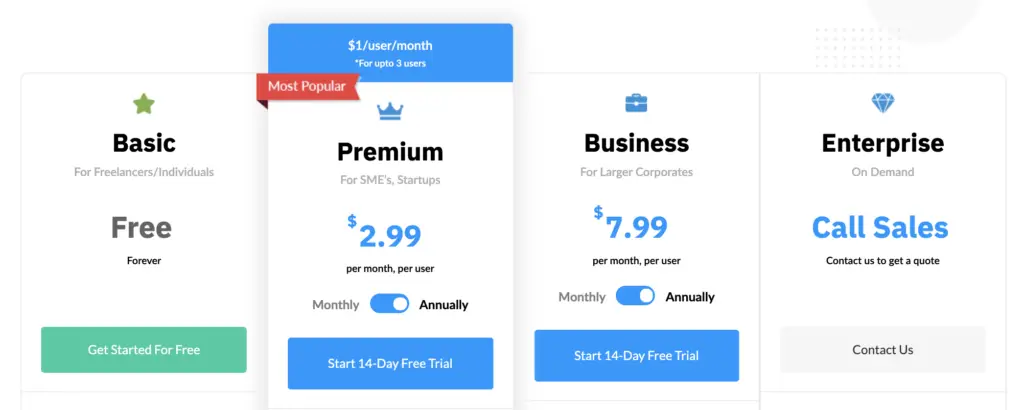 The details for all the plans are as listed below: 
1. Basic Plan  
Billed at $0 per month and per year
Allows you 100 Mbs of storage space 
Can have up to 5 members per team 
Unlimited workspaces
Unlimited tasks 
Meetings 
Timesheets 
Issues tracking 
2. Premium Plan  
Billed at $3.99 per month and $2.99 per month for an annual subscription 
$1 per user per month for up to 3 users
All the Basic plan features 
5 GB of storage space 
Projects 
Gantt
Kanban 
Bulk action 
Custom filters 
3. Business Plan  
Billed at $11.99 per month and $7.99 per month for an annual subscription 
All the premium plan features 
10 GB of storage space 
Save custom filters
Risk management 
Custom roles and permissions 
Advanced reporting and integration 
4. Enterprise Plan 
Get a quote for billing 
All business plan features 
Custom onboarding 
Dedicated account manager 
Dedicated cloud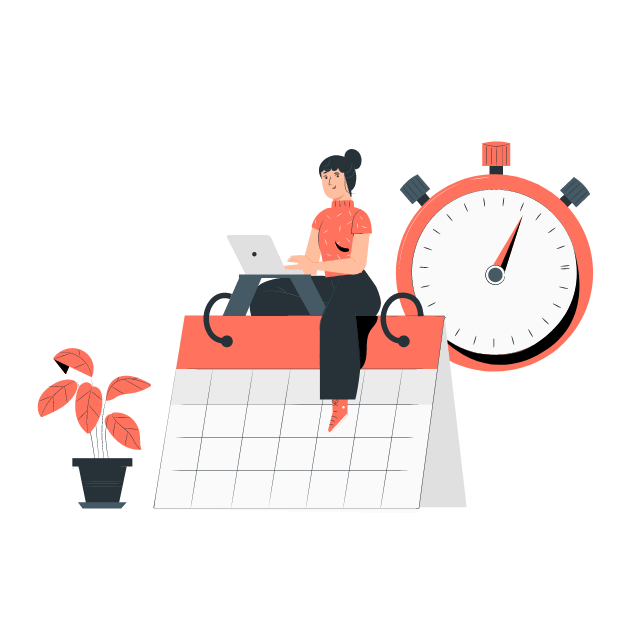 Final Thoughts  
nTask is an incredible resource for individuals and businesses alike. One of its best features is that it is completely online and, thus, sustainable.
As a project and task manager, it is bound to help you with your time management and risk assessment, leaving you with ample amounts of free time to focus on other things.  
This platform is essentially a productivity guide that increases your levels of efficiency and helps you organize yourself and your project.
Trusted by companies like Google and Apple, it is the best tool in the market, and you absolutely have to try it. It has changed many lives simply by making people's work more organized and tasks more achievable.  
Clearly, nTask is a winner in the task manager industry and has won many hearts merely by its easy-to-use technology. So, what are you waiting for?
Go and sign-up for free and check the application out, you won't regret it.   
---
*Featured Integrations*
What is Slack?
Slack is a business communication tool that provides a platform for remote teams to share information such as files and documents with the team members.  A perfect tool for team collaboration!
Check out our article here – Slack: An Excellent Communication Tool For Remote Teams
What is Zapier?
Zapier is a task automation platform, meaning that it allows users to integrate the different web applications they use. The team is based in California but has a global reach as well as employees based in the United States and 23 other countries.
It has over 2000 applications for you to choose from and works with all your favorite websites, including Facebook, Gmail, and YouTube, to allow for a hassle-free user experience.  
Check out our article here – Zapier Say Goodbye To Repetitive Tasks
---
References :
https://www.ntaskmanager.com/pricing/
https://www.softwareadvice.com/project-management/ntask-profile/
https://taskreports.com/ntask-review/
https://www.capterra.com/p/172292/nTask/#:~:text=Pros%3A%20The%20best%20to%20manage,and%20formatting%20options%20are%20missing.