Looking to automate your processes and workflows?
Automation and integration give businesses a competitive edge. In about 60 percent of occupations, at least one-third of the activities that make up a specific job could be automated (McKinsey, 2017).
Enterprises that still depend on manual workflows are not just ineffective but rather wasteful. There are plenty of platforms that can support automation for businesses.
The time, finances, and human resources spent on these tedious tasks could have been poured into more meaningful projects – projects that have actual impact on the company's growth and success.
Gartner: #1 Customer and Named Leader 3 Years in a Row
To overcome this major hurdle, Workato offers businesses a top-notch solution that guarantees outstanding results. It promises seamless and low-code automation of business workflows.
Workato augments the processing capacity of your business by allowing you to transport data to and from several apps and software through an incredible app integration system.
In this review, we'll explain bit by bit how Workato maximizes the potential, productivity, and output of any business.
Workato is comparative to Power Automate and also check out our automate with UiPath article here.
What is Workato? A one-stop solution to automation and integration
With the unfolding of the advanced information age, companies and organizations rely more and more on applications and software to execute their daily tasks.  
The latest statistics reveal that roughly 10% of businesses globally use 200 apps on average that include social media, personal productivity, and business applications like Salesforce and Jira.
Without a fully integrated system, data stored and managed in these apps are scattered, presenting serious problems in the operations and capacity of a business. 
This has been the prime mission of Workato from the very start – to create a far-reaching and powerful automated platform that can integrate all the working apps of any enterprise. 
Workato offers sophisticated solutions that guarantee seamless, reliable, and secured flow of data between multiple applications and software.
They also simplified the transition of manual processes to modern automation by employing machine learning and their patented technology.  
The brilliant innovators behind Workato developed the platform in such a way that it is low-code but remains easily customizable. In this way, companies wouldn't have to spend additional resources on technical service and training.  
The platform has been servicing 7,000+ businesses from different industries and the feedback is truly remarkable. It is currently paving the way for smart automation, establishing a solid ground as a leader in the market.  
So, How does Workato's Automation and Integration Operate?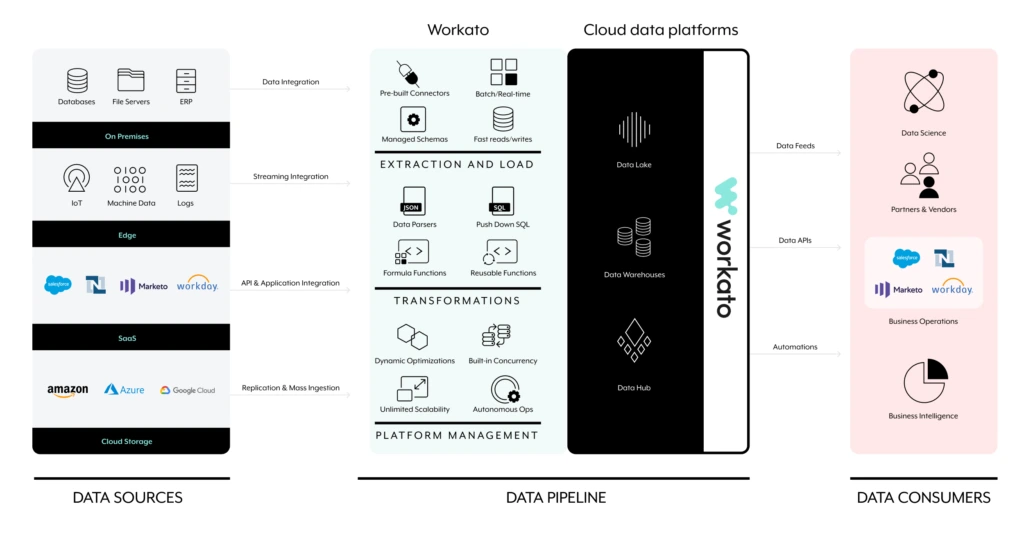 The goal of app integration is to make your apps communicate so that all the data stored in the business' information system can be accessed and processed simultaneously without the need for manual data entry or migration.   
Typically, app integration requires some hard-core coding and IT work, especially when you want to customize it depending on your business operations. However, Workato eliminates entirely the coding work through its built-in and automated "recipes".  
Workato's recipes include step-by-step instructions that dictate when app integration should kick in and should execute a wide range of tasks involved in your business workflow.  
The recipes have three main components – triggers, connections, and actions. The trigger in its literal sense serves as a signal to get the integration working. It prompts a cascade of steps that execute tasks, conditions, and requirements defined by the user.  
Last and most importantly is the connection that plays a vital role in app integration. The connection component links Workato with target business applications.
Once the connection is made by Workato's automation platform, the data in each app can readily be accessed and processed by its counterpart.
Who Can Use Workato?
Workato's automation and integration capabilities could really be a big help for businesses that aim to upscale their operations. Not only could they evade doing repetitive tasks manually, but they could also reduce their need for additional resources.  
Managers can easily organize, supervise, and assist their subordinates through Workato. The platform enables managers to view, approve, review, or decline requests/events submitted by their employees.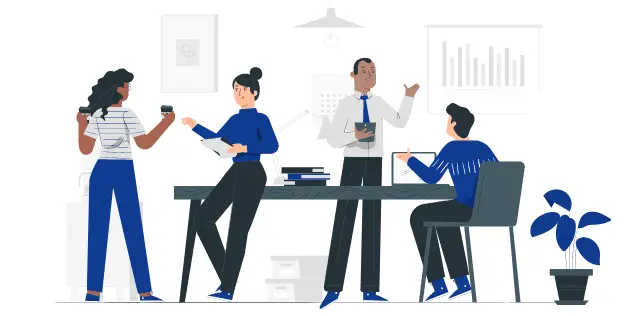 Moreover, with cross-departmental sharing of data, managers can make more informed and logical decisions since all the supporting and necessary data are made available by the software platform.
Workato vs Airtable
Workato is also a useful tool for businesses that capitalize on lead management. Normally, data entry specialists would need a significantly long time to update and enrich customer profiles across several apps, thus delaying the sales rep's actions. This problem often leads to a loss of potential clients and opportunities. 
However, with Workato, you can sync any update across several apps and can forward the lead and accompanying data to the designated sales rep. This happens quickly and accurately.  
Because of its simplified and user-friendly interface, everyone can use Workato – managers, consultants, HR, accountants, entrepreneurs. Anyone who wants to skip the repetitive, time-consuming, and unproductive routine tasks can find great solace in using Workato. 
How Different Is Workato From Other Platforms That Offer Automation and Integration Solution?
Workato is not the sole app integration and automation provider in the market. But it is certainly one of the best. 
First, unlike other providers, Workato promises its clients zero loss of data. The software can transfer huge amounts of data efficiently and quickly as possible.
Moreover, Workato ensures that the data before automation is implemented remains accessible. And most importantly, Workato prevents any loss of data whenever it faces an interruption.   
Second, Workato employs a superior level of data security and governance. The platform placed strong safeguards to protect its client's data from third-party intrusion.
The data handled, processed, and stored by Workato is encrypted using the company's top-notch encryption algorithm. Additional layers of protection like data masking and data localization can also be employed under the customer's discretion.  
Automation may sound so intimidating at first, but Workato makes sure that people with and without coding backgrounds can use the platform hassle-free and comfortably.
The interface of the platform is guaranteed user-friendly. Learning the basic set of commands and operations is also easier than most IPAAS, although mastery requires more experience and training.
Workato really set the bar high in Robotic Process Automation (RPA) by exploring the potential of mixing API and UI- based automation. This feature increases the performance of the platform in solving different problems by appropriating the correct system with the type of problem at hand.
Lastly, Workato does not let you suffer alone. Its customer support is among its best qualities. Clients can reach out to the team through various channels – phone, emails, and chatbox.
The team is extremely responsive and will walk you through your hurdles with the platform. They also provide you with materials and resources on how to use the software based on your needs.   
What Are The Existing Integrations with the Platform?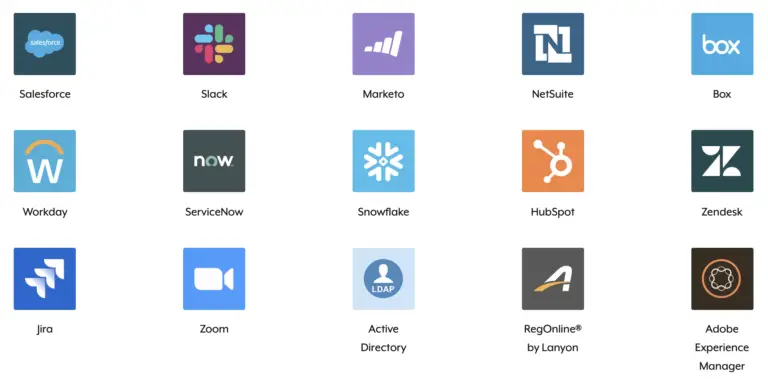 Workato works closely with over 1000+ apps in sales, productivity, customer service, human resource, production, development, finance, and many more. 
The most integrated apps in Workato are the following:  
Salesforce
Slack
Jira
Trello
ServiceNow
Zendesk
Google Suite 
Microsoft Team 
Easy projects 
NetSuite 
Shopify
Chargify
FedEx
Paypal
Snowflake
Codeship
Microsoft 365 
Adobe
Zoom 
Final Say
Workato brings you the future of business workflows through its seamless, reliable, and highly efficient automation and app integration.
Workato proves to be a powerful platform that can connect the apps involved in your business operations smoothly, securely, and quickly.  
A system as reliable as Workato becomes more appealing because of its no-low code API management. As a result, employees with no technical background in programming can still use the platform well.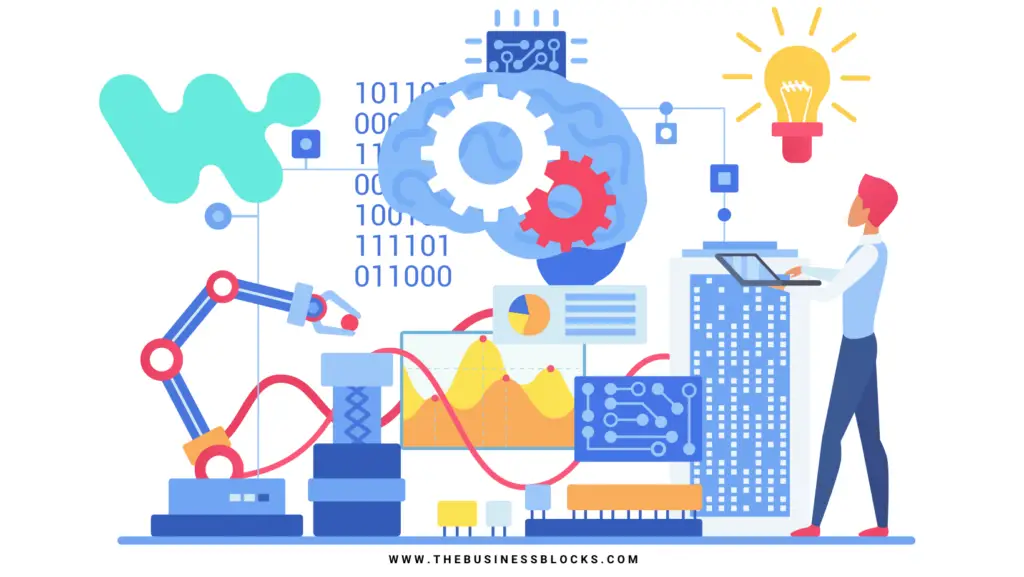 Furthermore, Workato sticks to its mandate of helping its clients throughout their journey in automation.  This software can truly bring astounding improvements in the company's decision-making, management, collaborations, and overall productivity. The time is now.Go have the future in your hands.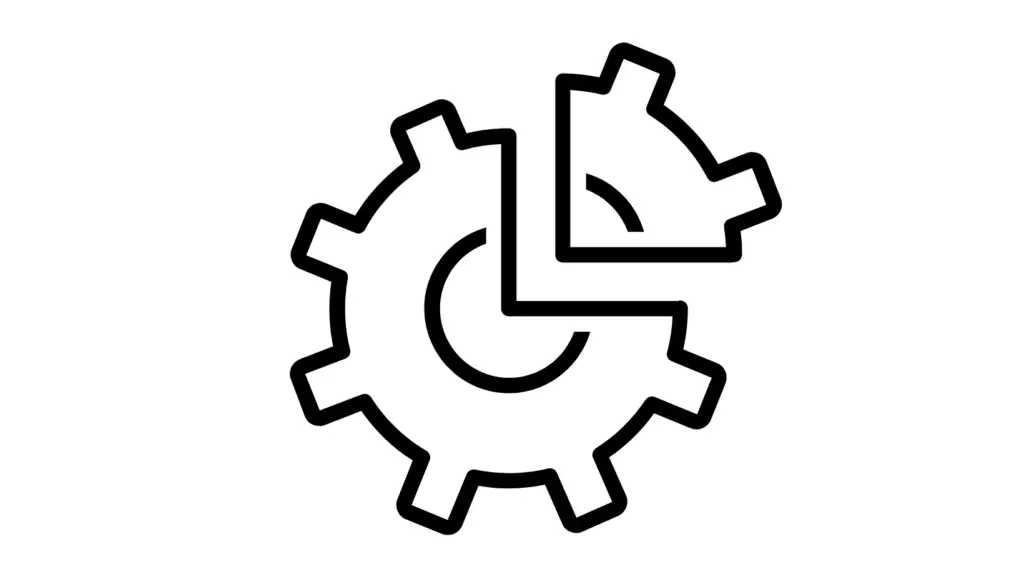 ---
*Featured Integrations*
What is Slack?
Slack is a great business communication tool to be used among team members working in one organization or on one common project, regardless of where they are located. 
Check out our article here – Slack: An Excellent Communication Tool For Remote Team