Social media is an integral part of our society. It has become a huge space for people and businesses to interact, share content, and gain followers. It's essentially a free marketing opportunity for businesses so you need a social media solution with power!
With that in mind, it is important that your business is using social media to its fullest potential. There are many ways to post content, but the most important is being consistent.
Creating content to post is one thing but scheduling when they get published and which platforms they get posted on is another. It can be quite time-consuming if you do it all manually. One solution for this is SocialQ+.
SocialQ Plus – Your Social Media Solution
Online marketers and owners of digital assets used to manage their social media channels and their websites separately.
On top of that, your team needed to use a project management solution and a CRM too. And then you juggle into that mix your sales and marketing. 
That is a recipe for confusion, endless hours of tracking what needs to be done next, and tasks missed or forgotten. 
If your team is already challenged with the jumble of tools they're forced to use, then you might need an integrated solution to help you untangle the spaghetti-like task mixture. 
This is where SocialQ+ comes into the scene. It is all of the tools mentioned earlier and more.
Problem: Untangling Social Media and Other Marketing Tools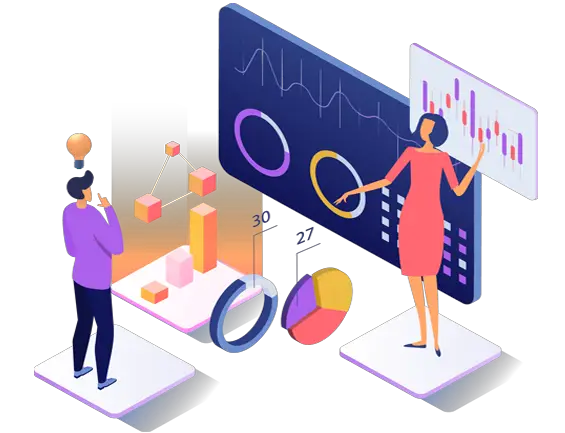 Here's the opportunity: 
Social media today is an integral part of modern life. It's one of the portals that people use to communicate. It's not just people who are trying to join the conversation in this part of the webspace. Businesses are also given a voice in these platforms–a rather human voice in fact. 
When your business has a powerful social media presence, it strips away the old snobbish corporate façade extant in bygone days. What you create is an approachable and personable identity for your business. 
Social media today is a powerful marketing tool and it's free for the most part. However, managing social media accounts on different platforms is already difficult. The goal is to make your processes optimized.
This allows you to stay consistent across all social media platforms that your business engages in. 
But that's not always as easy as it looks. 
The content creation process is no easy task. You need to follow your social media strategy so that you create engagement with your target audience. You need to find out which type of content needs to be posted on the platforms that work best for them. 
The planning and content generation sessions alone will consume a lot of your team's time. All of those tasks manually will be something truly frustrating, to say the least.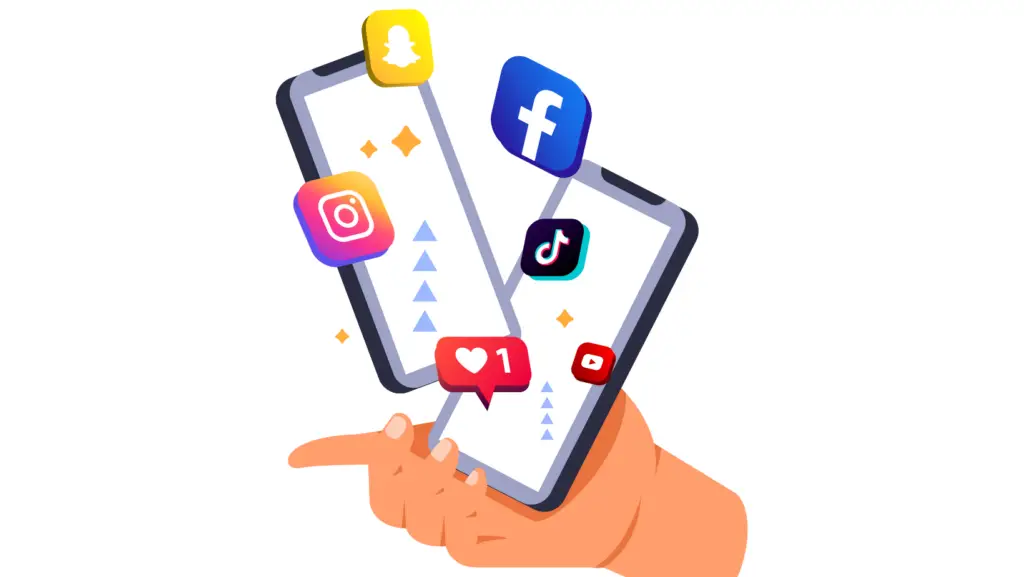 Solution: SocialQ+ and How It Can Help 
SocialQ+ is a social media management platform that many consider being a good alternative to tools like Buffer and Hootsuite. It is primarily designed for social media marketers and their teams. The main benefit of this system is that it allows you to effectively grow and manage your company's social media presence. 
It's a tool that your team can use to execute your content creation and posting strategy across all major social media platforms. It gives you an overview of all your social media channels. 
It helps your team collaborate efforts. You get all the tools that you need to analyze your posts and optimize your posting schedule. With the information generated by this social media solution, your team can determine the best times to post your content. You can then identify how much of a lead time you have for content creation and trend analysis. 
Unique Selling Proposition: All-Around Solution for Brand Success 
With pretty much every company moving their businesses into cyberspace, competition is getting fierce. Everyone is trying to grab the attention of leads, recurring customers, B2B partners, and influencers. 
To ensure branding success, you will need solutions that will: 
Monitor the level of engagement of different social media pages–this will help you determine which social media channels your leads and customers are coming from. 
Build communities around your brand 
Engage your audience with stellar response rates 
Get insights into your sales, reach, as well as engagement 
Support quality design, editing, and visualization 
SocialQ+ provides users with a simple, intuitive, and easy-to-understand layout.This allows you to manage all your social media accounts and other web assets efficiently. 
Your team can use it to coordinate your creative campaigns as well. This means you don't just strategize, it also allows you to brainstorm and develop creative materials for your campaigns. 
Since this is a cloud-based solution, your different teams can access it anytime and anywhere.  
Types of Posts Supported 
Almost all types of social media posts are supported by this system. You can schedule multiple photo posts, single pictures, links to your blogs and other resources, status updates, GIFs, as well as YouTube, and other social media videos. 
Note that different media types will be natively posted. The only exception is the videos for LinkedIn due to API limitations imposed there. The workaround is that the video assets will be posted as link attachments. 
Mobile Integration  
SocialQ+ offers excellent mobile support. You don't have a lot of confusing buttons on the screen. Everything is straightforward. For instance, you can get group management and image/video watermarking with just one tap on the menu.  
It's easy enough to use even if your team isn't exactly tech-savvy. Let your in-house helpdesk folks handle the tech side, and your other teams can focus on marketing, sales, and content creation. 
Aftersales Support 
There are lots of future upgrades scheduled for this social media solution. We cover these developments in a separate section below. Subscribers will get these updates as soon as they are ready. Apart from that, customers also get support via their online channels. Unfortunately, the makers of SocialQ+ do not have over-the-phone support. 
Who Is the Target Market for This Social Media Solution?
Why small businesses need social media
It is no secret that some of the big SAAS players have increased their rates. 
Each month, companies must decide whether they can still afford their services or not. Unfortunately, not everyone can afford these huge price swings. 
That is why small and medium enterprises that don't have enormous budgets are searching for alternatives. 
SocialQ+ is positioned as a powerful solution for these industry players. It is more than adequate to meet the needs and it is competitively priced.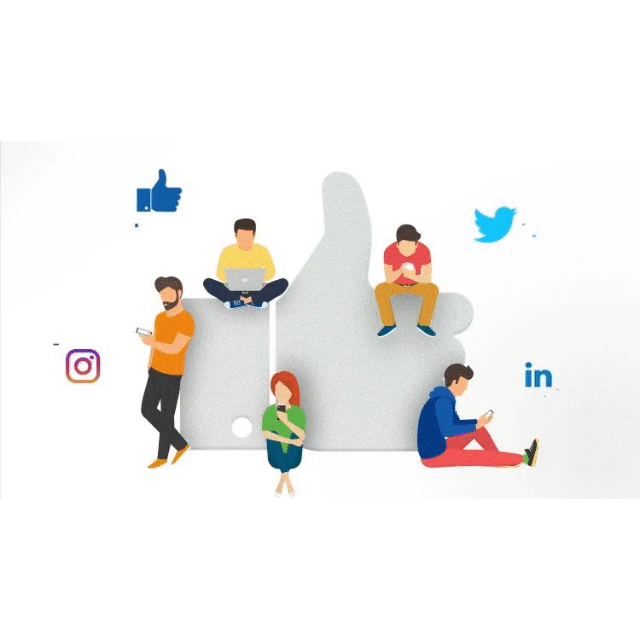 Future Development 
According to the creators of SocialQ+, there is a lot of development in store in the coming months. These will expand the capabilities of this social media posting tool to include other portals that weren't supported previously, including: 
Tumblr 
Google My Business 
Tinder 
Pinterest 
This tool will also include capabilities to schedule text for messaging apps such as Telegram. Bloggers will also benefit from upcoming developments such as RSS feed scheduling and posting. You will also be able to schedule posts in online forums such as Reddit. 
Software Integrations with Other Platforms 
RSS Feed Scheduling 
Facebook scheduling & report 
Google My Business Scheduling 
Instagram scheduling & report 
Reddit Scheduling 
Twitter scheduling & report 
Telegram Scheduling 
LinkedIn scheduling & report 
Supports cloud import from Google Drive, Dropbox, and One Drive 
Instagram Auto Activity 
Social Media Solution
YouTube scheduling & report 
The maximum file size is 256 MB 
Spintax support 
Storage: 2GB 
Watermark support 
Supports photo and video file types 
Image Editor support 
Frequently Asked Questions
How many Facebook profiles are supported?
– You can connect Facebook groups where you have admin rights and business pages that you manage.
Do I have to pay a monthly subscription?
– No, you get lifetime access.
Will I be restricted to using a single social media account?
– No, you will not get that type of restriction. You can use any account from the supported social media channels.
Can I use SocialQ+ to upload PDF files?
– No. Unfortunately, this software doesn't support the uploading of PDF files. The supported file formats include: jpg, mp4, gif, png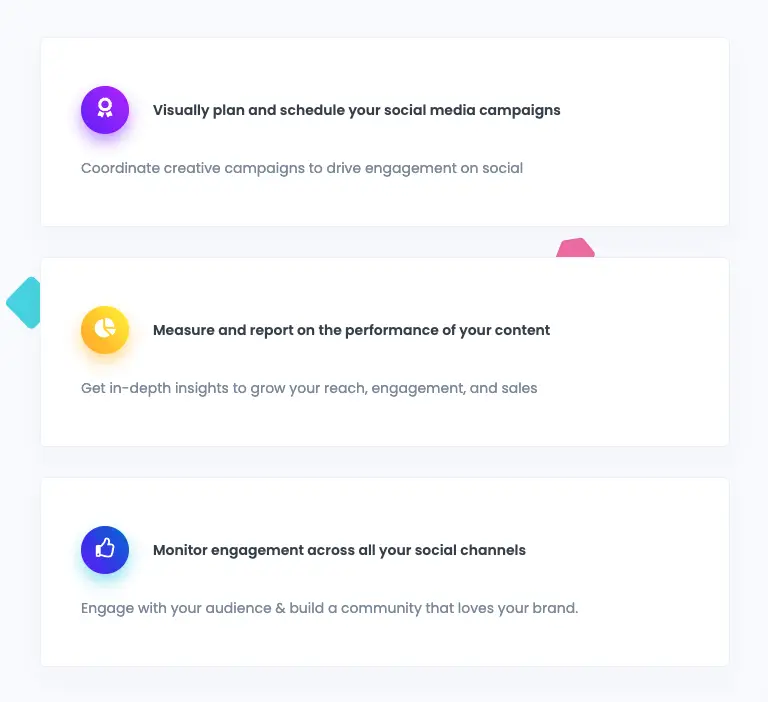 Can I use SocialQ+ to post on YouTube?
– Yes, you can use this management platform to post videos on YouTube.
Does this software support Pinterest?
– No. Currently, there is no support for Pinterest.
Can I use cloud storage to upload my files?
– Yes. SocialQ+ supports uploading from cloud storage as well as from your hard drive. It supports Dropbox, Google Drive, and other media links.
Is there a storage limit for this management platform?
– The storage limit for the SocialQ+ file manager will vary depending on your selected subscription plan.
How many posts can I schedule?
– There is no limit to the number of posts you can schedule on each social media channel.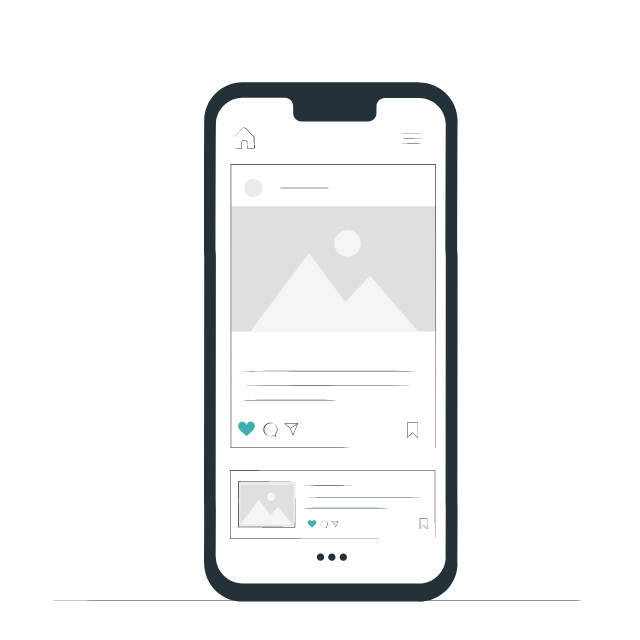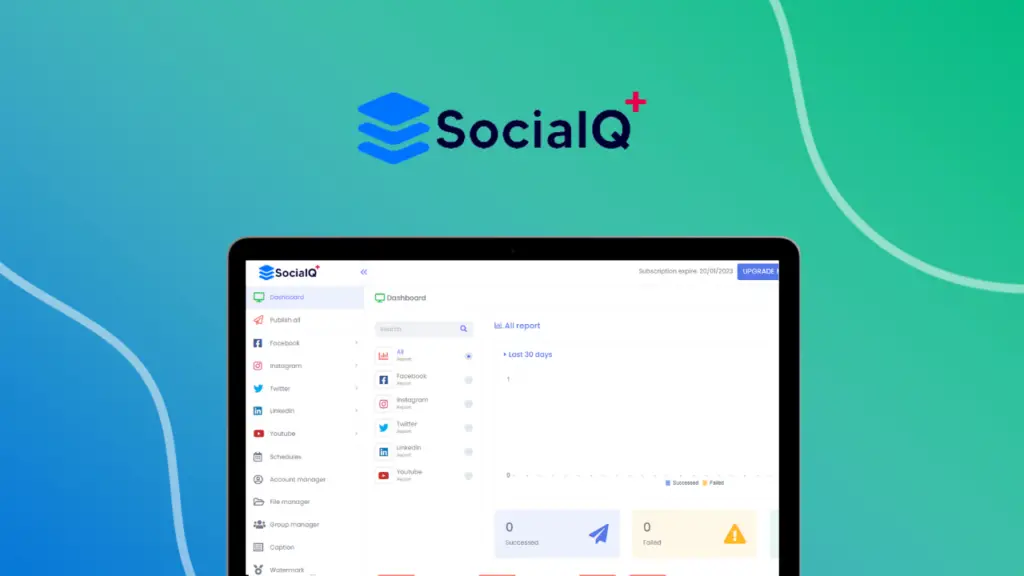 You can get SocialQ+ on AppSumo with a one-time purchase of $39.
Inclusions:
Facebook scheduling & report
Instagram scheduling & report
Twitter scheduling & report
LinkedIn scheduling & report
YouTube scheduling & report
Spintax support
Watermark support
Image Editor support
Cloud Import: Google Drive, Dropbox, One Drive
File type: Photo, Video
Storage: 2GB
Max. file size: 256 MB
Instagram Auto Activity
Telegram Scheduling
Reddit Scheduling
Google My Business Scheduling
RSS Feed Scheduling
References:
https://www.saasworthy.com/product/socialq