With all the businesses shifting to digital platforms, whether you need help in employee onboarding or automating payments.
It's time to streamline and systemize your business with low-code tools. More paperwork and documents are being converted to digital versions for faster turnaround.
Apart from this, there are repetitive tasks that you can fully automate.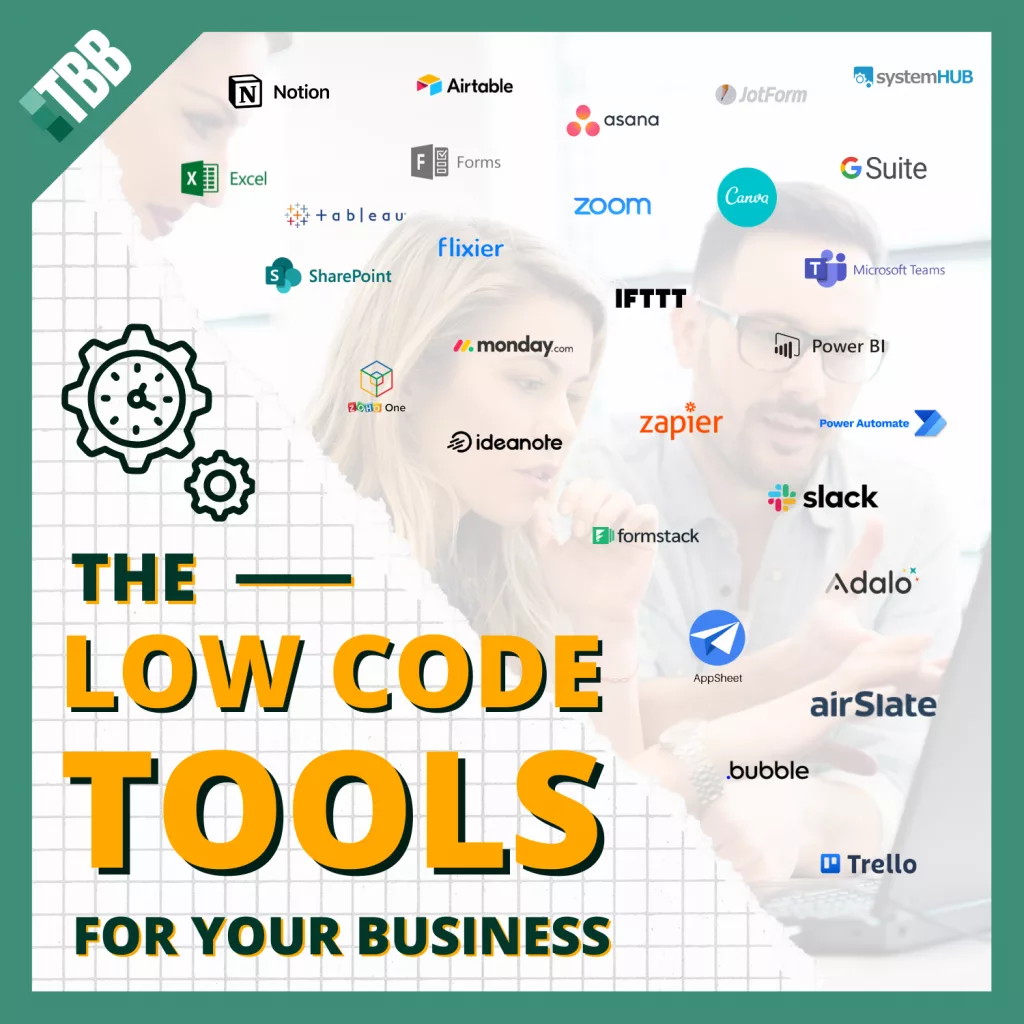 All you need is the right tools for the job.
However, not all businesses are the same. There's no such thing as a one-size-fits-all software platform that applies to all of your systems.
Even those businesses in the same field have systems that are unique on their own.
Niche Down Into A Platform That Excels at the One Task
Good thing many low-code tools do specific functions to make business processes easier.
Systemize Your Business with Low Code Apps
Some businesses may have adapted business systemization, but the problem is they have no long-term goals. All systems will succeed when strategies are carefully planned, implemented, and documented. This way, they can point out which part of the system has flaws to improve.
Documentation is integral to the business process, especially for tracking many business functions. It serves as proof and validation. Software applications made the documentation process lighter to execute. Documents going from table to table, asking for verifications and approval, can be tedious.
The good thing is that software applications have solutions to simplify these repetitive tasks.  The key is to set up a goal, develop a systemization strategy, and know which process can adapt low code tools working together to help the team do their task efficiently and faster.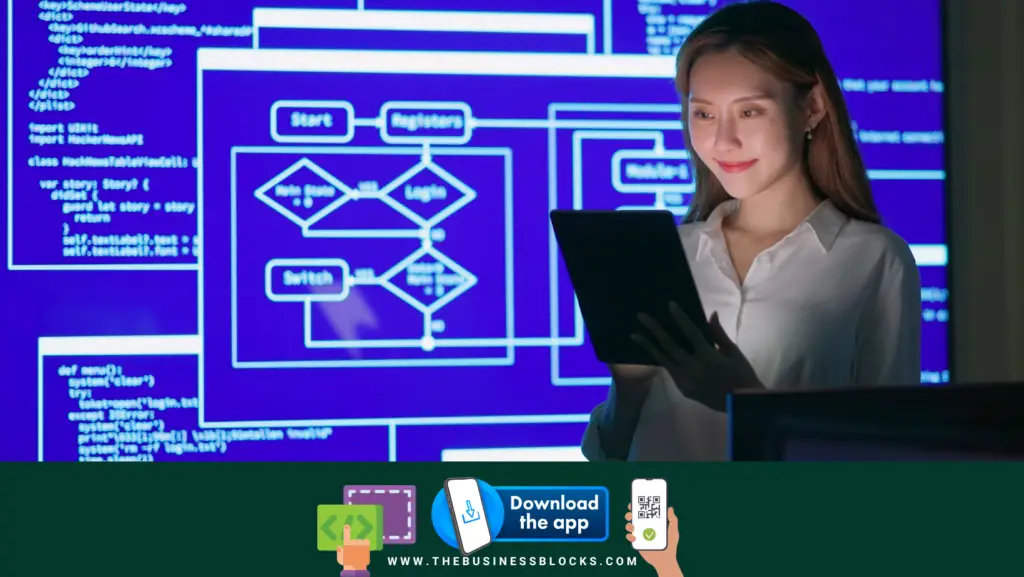 So, what are the ways to systemize your business processes?
---
#1 – Gather Information Using Digital Forms And Surveys
Featured Platforms: Microsoft Forms, Airtable, Formstack Forms, Jotform, SurveyMonkey
Surveys and forms have always been a part of information workflow and basic systems to manage your business.
Using forms has been an effective tool for gathering information, from profiling clients to customer feedback and case studies.
If your business still uses paper to gather information, you probably waste time and effort. Even if you have a digital form, manually entering this data into another system is also inefficient.
You could be spending more time utilizing the skills of your employees in more meaningful tasks.
See, gathering information alone doesn't stop at filling out forms.
Many processes to undergo, especially if they are for marketing purposes.
Screening, segregating, and interpreting your marketing efforts are included., that's why there are so many reasons to utilize online forms and surveys:
Reasons to utilize online forms and Surveys
1. Process Your Information Quicker
Automation is a gift to most processes. Online platforms record answers upon submission and can transport this information into the right external or output system so you don't have to.
2. Analyze Data and Transform to Insights
Not only do these digital online forms record submissions, but they also interpret data as soon as the data is submitted. This type of automation makes data segregation and classification easy and provides insights immediately to help you make decisions faster.
3. Scale Your Reach and Include More Respondents
Scale up your research by putting away the paper forms and embedding these forms on your website or any other online platform. Putting them live online can reach more respondents and get you more submissions.
4. Follow Up Instantly With Your Customers
It's a great way to collect feedback from verified purchases, and you can automatically send them a request to provide feedback. It saves time looking for and acting on the problems in your product or services; you can receive honest feedback instantly to work on.
5. Simple Updates and Versatile Formatting
Save time and printing efforts when you can change the data easily. These forms are customizable.
6. Cost-efficient vs. Manual Paperwork
Save your team's effort on other tasks than looking for respondents, piling paper forms, and interpreting information.
7. Directly Target Your Audience Easily
Online survey forms are helpful for the marketing team as the system automatically separates your target audience from the potential to not interested audiences.
---
#2 – Integrate And Automate Your Platforms
Featured Platforms: Zapier, IFTTT, Power Automate, UiPath
Some software integrates all other applications into one system. Small to large businesses have different workflows. The traditional system enables them to collaborate, take much time to set up meetings and match availability, prepare details and documents, and talk about the progress in each other's workflows. These time and floor space are equivalent to time and effort for more important tasks.
Collaborate tasks easily with software applications that understand each other. Microsoft Power Automate and Zapier are among the software applications that convert information released by one application so the other can read it.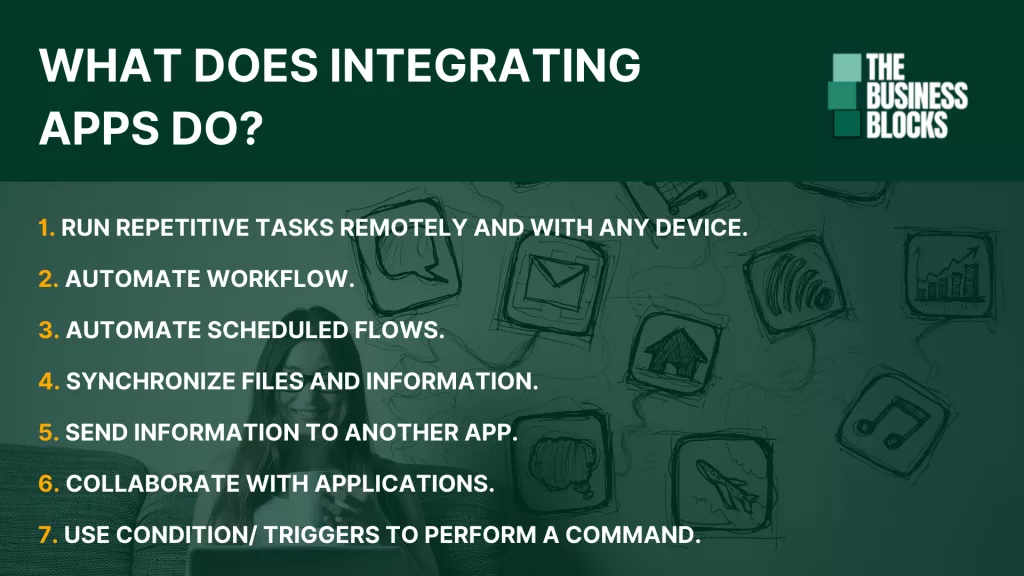 What does integrating apps do?
Run repetitive tasks remotely and with any device.
Automate scheduled flows.
Synchronize files and information.
Send information to another app.
Collaborate with applications.
Use conditions/ triggers to perform a command.
These integrations have a lot of versatility, mostly having a common goal of automating and simplifying workflows.
Zapier works with over 3000 apps, while Power Automate reports over 300 connectors by February 2020. Zapier utilizes zap technology, an if-then-do-that command that triggers a command in-between software applications. Microsoft Power Automate uses RPA or Robotic Process Automation. UI, API, and UI Flow applications can work under one platform or storage.
Integrating apps can collaborate with your email app, subscription forms, and marketing software. These apps allow you to sort a market or audience group upon signing up and enlist them into a cloud while each group, when triggered, receives a welcome email.
Complete more tasks using these processes:
Document unopened emails
Find potential leads
The software observes these clicking behaviors because all are possible with integration apps. All these workflows, from sign-up to data analysis, take only seconds to a minute to complete.
Citizen developers are workers who create an application software for their business that has little to no web development or coding skills.

John – TBB
---
#3 – Create Low Code Apps Quickly
Featured Platforms: Adalo, Appsheet, Bubble.io
Some app-building platforms let you create a mobile app for your business app without requiring code. Adalo and Appsheet are some of them. Within this app-building software, you can integrate different applications into one app and make responsive app buttons.
Low code building apps need no coding skills.
One reason why you should consider low code or no-code apps is that they require no coding skills. These platforms allow citizen developers to drag and drop website elements and make responsive mobile apps.
Manage your workflow in one platform.
These platforms are usually friendly, from content management to security to design. They allow businesses to incorporate their brand and work values into their designed app. Bring together your software in your designed app so the users or employees only have to go to one place.
Adapt quickly to new development.
Since the pandemic began, many businesses have started working remotely. Their long-term strategies went into disarray. The need for an application to put workflows in one place is something that businesses were not prepared for. Good thing that low code and no-code apps exist. Businesses were quick to jump into the digital platform to streamline their processes.
It's relatively cheaper.
Hiring a developer to work on your business system platform is very costly. It takes months to develop application software suited for your business, so low-code apps are great options to organize workflow.
With drag-and-drop options and some creativity, you can make an app through a no-code app builder. You don't need to read or work on complicated codes you do not understand.
Check out this quick guide to Bubble from our friends at Lowcode Agency.
Check out their comprehensive guide to Bubble.io and Bubble as an App Builder. Even their services in low-code app development and agency support will get you where you need to go.
---
#4 – Get Visual With Your Data
Featured Platforms: Microsoft Excel, Tableau, Power BI
Make business insights easier to gather, extract, blend into other applications, and analyze. Low code tools like Tableau and Power Bi are great for compiling information in one visual board.
 In business, numerical data is crucial to monitoring forecasts and actual performance. Presenting visual data is a tedious task. From gathering data to documentation to data storage, later on, the information will become references to assess business performance and develop strategies.
Some low-code software doesn't need formulations to create business insights to present. All you have to do is extract them from one software to another and let Tableau or Power Bi process and publish them in your chosen form.  
What do low-code visualization apps do?
Create customized visual graphics without insights formulation skills.
Extract different files into the system and combine them into one visual file.
Collaborate data with different applications.
Cloud storage.
View insights remotely.
These low-code applications have their system working together to process information.
For Tableau, it utilizes:
Tableau Server, Tableau Desktop, and Tableau Reader have two other tools: Tableau Online and Tableau Public.
Microsoft Power Bi utilizes three tools:
Power Bi Service, Power Bi Desktop, and Power Bi Mobile Apps.
It also works together with Report Builder and Report Server.
Looking at these elements, you'll see that each system performs specific functions:
The first tool for business insights builder is essentially for the employee who documents and processes information or creates and customizes visuals for reporting.
The second is for storing and publishing information.
The last for making the insights viewable remotely and in mobile apps.
If your busiYou needs this if constantly relies on research and quantifiable information, you'll need this.
---
#5 – Systemize Your Business With Low Code Tools
Featured Platforms: Asana, Notion, System Hub
Project management tools let you manage more tasks in an organized manner. The trouble with a growing team is that you cannot always monitor the status of each team's assignment or task. With System Hub and Asana, you can streamline the process of delegating to project completion. These platforms will serve as any user's guide for their daily task.
Asana will manage project management, while System Hub will set up each user's role. System Hub will be an archive of KPIs and SOPs.
The System Hub will also be a reference and guidelines hub for completing tasks. At the same time, Asana is the dashboard of projects with campaign details, delegated tasks, work timelines, forms, work submissions, and more.
Using both systems will put all delegated tasks on one platform. An administrator user will find the projects in progress in your Asana account, what each team player does, and the progress in your campaigns. As a user or a team player, your Asana dashboard will show your daily tasks, and overdue tasks.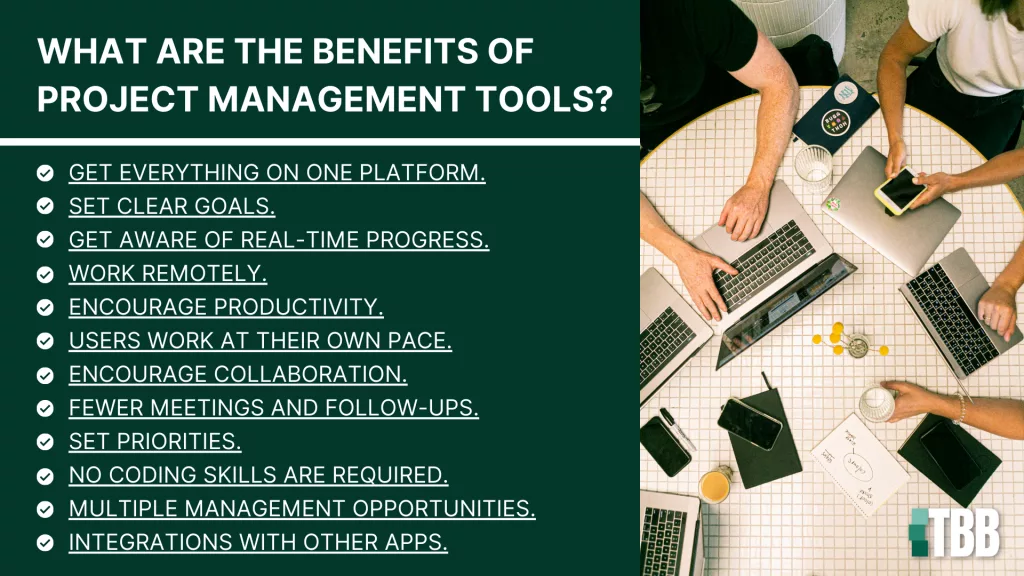 What are the benefits of project management tools?
Get everything on one platform.
Set clear goals.
Get aware of real-time progress.
Work remotely.
Encourage productivity.
Users work at their own pace.
Encourage collaboration.
Fewer meetings and follow-ups.
Set priorities.
No coding skills are required.
Multiple management opportunities.
Integrations with other apps.
There are so many reasons to have project management tools for your team. But one thing is for sure; project management tools will keep your projects and campaigns on track.
---
#6 – Communicate And Socialize
Featured Platforms: Slack, Trello, Zoom
Now that most businesses operate remotely, communication tools do a lot in keeping each player in progress. There will always be times when working needs clarifications, recommendations, approvals, or inquiries. When time is of the essence, businesses should have a communication platform that allows immediate action, modifications or revisions and gives more room for discussion.
Most communication tools today are racing to improve their platforms since most have video meeting features. Let's take a look at the features that communication tools have.
Video Conferencing
Video conferencing helped a lot of organizations in coping up with the effects of the pandemic. Not everybody gets to their usual workspace. Many organizations have temporarily communicated with their team remotely. With video conferencing, even presentations are possible. Team players can address major concerns and come up with crucial decisions.
Schedule meetings and send reminders
Meetings online need to make every member available at a particular time. Good thing most of these communication tools enable one to set meeting schedules and send notifications and reminders.
File Sharing
The essence of meeting online is to make important files available to everyone. Good thing you don't have to set up a cloud when having online meetings. Most communication tools can now send and receive common file types used for business documents.
Voting or online polls
Communication tools now have voting polls to ask for everyone's opinion. Even if the team doesn't have an active meeting, an administrator can leave a poll to ask for a vote, which is vital to making organizational decisions.
Screen sharing
One feature of video conferencing is one attendee can share a desktop screen. This feature is especially useful for presentations. When the discussion calls for visual representation, it only takes a few clicks to show one's screen.
Separate groups, teams, or channels
Communication tools allow administrators to sort each user into groups or channels. This way, administrators can categorize them according to their departments. Some channels may include employees doing the same tasks; it allows more room for recommendations and improvements.
Confidentiality
Privacy is an integral measure for business strategies and information to remain only within the organization. Paying businesses get to enjoy this feature since exchanging business information must be kept private.
---
#7 – Collaborate Your Knowledge Onto A Platform Hub
Featured Platforms: Sharepoint, Google Workspace
Both of these tools utilize different apps to make file collaboration possible. G-suite and Sharepoint are platform hubs that store all files from their apps. All you need is a unique link as a home base for your business. You can organize and sort folders to store your files in this link.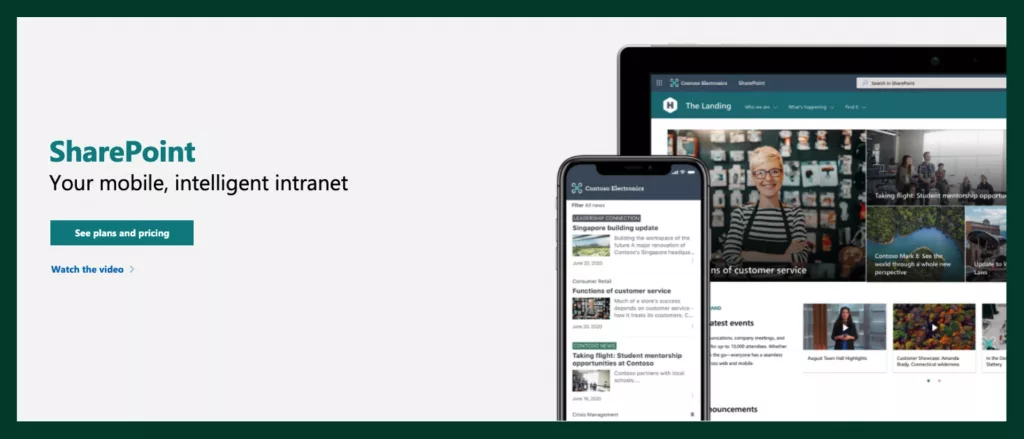 For Workspace (formerly G-Suite), your G-mail becomes a one-stop hub for the different apps we are familiar with: Google Spaces, Drive, Meet, Forms, Sheet, Docs, and Calendar.
With most businesses switched to remote working, McKinsey reports about 80% of businesses are using collaboration tools to streamline processes.
Sharepoint is a web-content hub allowing you to systemize your business with low code.
However, you can adapt it to work collaboration in a website link where you store resources, files, and documents. It works with Microsoft 365, Exchange, and Skype.
These tools utilize a cloud-based file-sharing concept where you can modify files. In this concept, users with access can modify, edit, and save changes on the document depending on the permissions granted.
Microsoft Sharepoint has a locking option when the file is already good as final.
In Google Workspace, you can lock a document by providing viewing access instead of editor access to a user. There are also options to comment on some parts of the document to highlight the parts that need revision or improvement.
And since these tools have revisions stored, it's always possible to recover modified files to an earlier version. Both of them have tools for creating websites. You can even use your business domain on your Workspace or Sharepoint account. It allows every user to have an email address using your business domain for added branding and professionalism.
---
#8 – Create And Automate Workflows For Digital Signatures
Featured Platforms: Docusign, Formstack Sign, HelloSign
Remote working has even developed the way of affixing approvals. Even business transactions already adapt e-signatures to signify confirmation. Digital signatures, although virtually transmitted, have protections through digital PKI-based certificates by issuers (Certificate Authority).
The PKI utilizes public and private keys, which are powerful cryptography algorithms used for encrypting and decrypting messages to create a digital identity for each signature, making it impossible to tamper. If the receiver cannot decrypt a public key issued, it means the electronic signature was modified or tampered with.
Where to use digital signatures?
Sealing contracts and agreements
Issuing approvals
Closing sales agreements
Issuing financial documents and finalizing transactions
Shipping and receiving deliveries
What happens when you automate workflow with digital signatures?
Automating workflows means getting a helping hand for repetitive tasks. If your business has been manually signing documents, you're wasting a lot of effort, time, and resources.
If your signature is crucial to closing deals, you must have a systematic way of signing documents.
With a cloud server, sign presented documents even when you're out of the country.
Send the documents that require digital signatures to your document management software.
Capture the signature with your software. And it will generate a unique digital ID or a hash value using the private key for encryption.
Send it to the document management server, so you can file and organize the document in the cloud or send it to the receiver for hash decryption.  A tampered signature will result in the non-recognition of sent documents and unsuccessful verification.
What tasks do you skip when using digital signatures?
Printing
Scanning
Faxing
Emailing
You can check out our fully comprehensive list of reviewed e-signature platforms here.
---
#9 – Perform Creative Tasks Superfast
Featured Platforms: Canva, Adobe, Storyblocks
Graphic design takes a lot of creativity. Normally, you'll use designing apps for marketing and infographics. You can also use it to systemize your business low code tools like Canva and Adobe for your website's or Facebook page's social media posts.
It has an easy-to-use interface that allows you to save designs. From their gallery, you'll find design templates that you can customize. You can also create designs from scratch or insert a few pre-made graphics in the elements tool. You can also use images in the platform or upload one from your computer to make a design. There are many possibilities with the shapes, fonts, and tools in their database. And you'll most likely use it for free.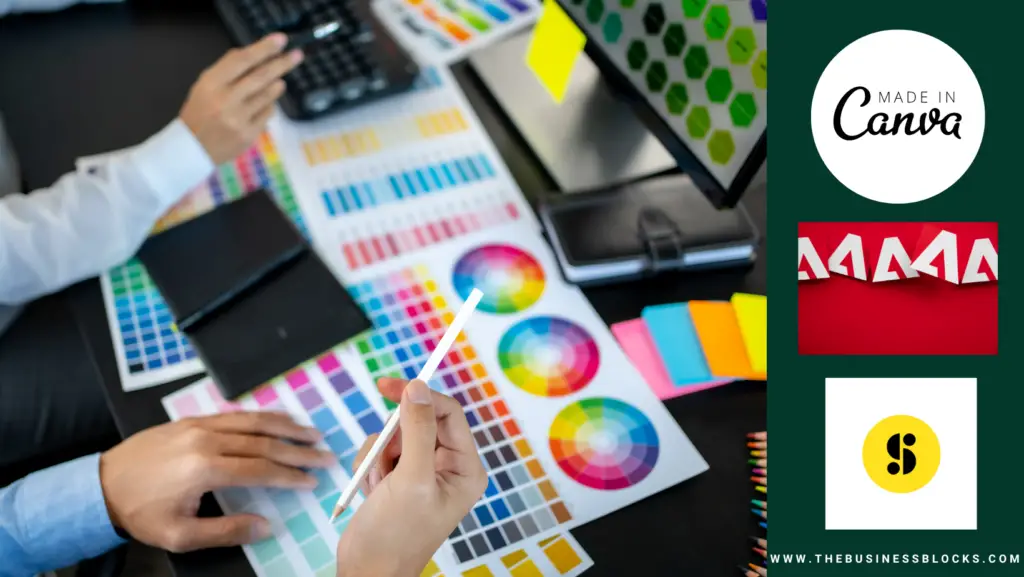 Canva is a design tool with real-time saving capabilities. It means that you won't lose your work even if your computer shuts off unexpectedly.
Another great tool feature is allowing you to share your designs with your team. You can also provide access to members you choose as editors. There are also options for leaving a comment to make revisions when needed.
Although Canva seems promising, it can have a few limitations. Sometimes the designs have been used a lot of times. A used design needs more effort to make it unique. You cannot export and edit the raw file with advanced tools in other creative apps.
However, it's still a good platform if you're using it for your business social media accounts. Use it for making posters, stories, advertisements, or promotions.
If it doesn't work for you, other graphic design software is available, like Adobe Photoshop, Illustrator, Gimp, Inkscape, Sketch, and more.
---
#10 – Support Business Ideas And Employee Creativity
Featured Platforms: Ideanote
Having a team is a gift in your business. Usually, only a few players can express their ideas during presentations. With Ideanote, all members at different levels can share their ideas in the organization.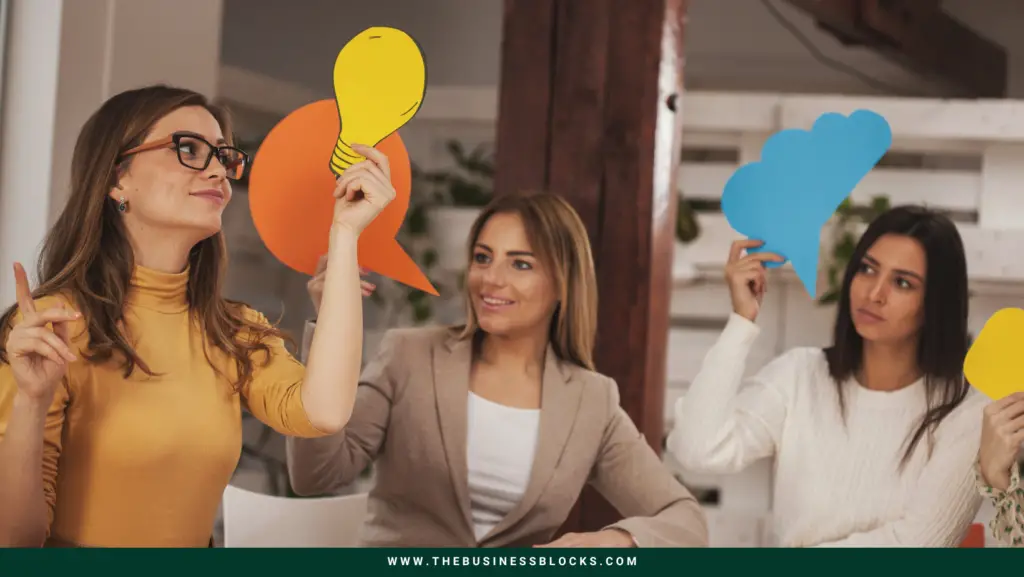 The Ideanote is an innovative tool that lets you take note of concepts, ideas, or strategies. When a great idea comes in the middle of a busy day, you only need a note-taking app to jot it down quickly.  It even lets you send them anonymously.
It saves a lot of brainstorming effort; even combines their ideas to make the perfect strategy. The application also lets you interact and crowdsource ideas.
Where to start when you have an idea or innovation in mind?
Use the floating feature. The floating feature lets you take note of your idea when it suddenly pops out of your mind.
Use images and audio to record your ideas.
Set labels on your ideas. Mark them with colors to set your priorities.
Save them on the cloud.
Share them on the platform to let others know.
Interact with users and track activities in your idea.
Get your ideas published live on the platform. Let your colleagues react to them by posting comments. This way, you can have discussions while trying to improve it. As a user, you can also comment on someone else's ideas.
Poll and voting features also let you know how your colleagues like your recommendation. There's also an analytical report that you can check to monitor the status of your idea.
If your idea gets approval, you can also track the progress of the implementation on the app.
---
#11 – Take Notes Like A Professional
Featured Platforms: Obsidian, Notion
A note-taking app like Obsidian and Notion is one way to help team members to organize their notes and to-do-list. It is also a great way to jot down details in a note. One great feature of these note-taking apps is they can jot down graphics and include backlinks. The backlinking feature for Obsidian allows connecting one note to another.
Organizing notes has been better with the note-taking app. You start with adding pages. Within each page, you can save the notes. Not only does Obsidian and Notion make great note-taking app, but they can also be good project management tool. These apps utilize folders to keep similar notes under one folder. The Obsidian calls them vaults.
These two apps utilize markdown language. You don't have to rely on editors to format your text.  The only downside is your teammates should know how to use markdown language. Visually, Notion looks like building blocks of notes, while Obsidian looks like a web or a network of notes related to each other.
Although note-taking apps are not collaboration tools, these are great individual tools for organizing notes. You can teach your team players to be the master of their tasks. There are many note-taking apps like One Note, Click Up, Google Keep, and Evernote.
So what can you do with other note-taking apps?
Make handwritten notes.
Scan documents
Organize your notes.
Attach resources and connecting links.
Lock notes with a password.
Share notes.
Make a checklist.
Set priorities
---
The Bottomline – TBB Summary
There are so many possibilities with digital platforms to streamline business processes. Although you cannot adopt all these apps in your current workflow, some are better at working together. Automation lets you save time and effort to become more productive.  All you have to do is set your business goals, establish a system, know your team, and engage them in your business perspective.
Automation is the future. As more businesses switch to online and digital platforms, productivity tools will not disappear. They will constantly improve and adapt to your business needs. They will continue to find solutions. All you need is to find the right tools for your business.
Low-code apps are the best turn-to, as they are usually user-friendly and require little to no coding skills. Through automation, businesses can simplify repetitive workflow.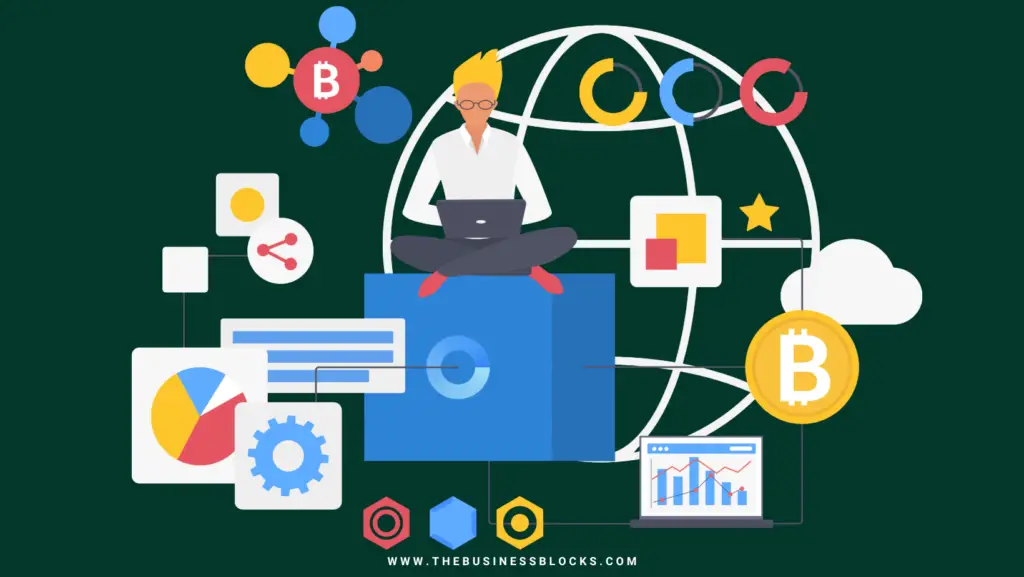 Employers love their job as most low-code apps are easy to operate. Mundane and repetitive tasks keep them stuck to a boring routine, not maximizing their full potential. Automation encourages collaboration and gives more room for discussion and brighter ideas.
Low-code apps allow organized data gathering, processing, and storage. You can even bring complex projects and campaigns within your control, as you can view them within one platform.
With all the possibilities, you can bring automation to your organization. Let them enjoy working to bring out their best. All you have to do is set up a long-term goal, set up a system, delegate according to skills and strengths, and find the productivity tools that work for your system and, most probably, the ones that work together. After brainstorming and implementing your campaign, you only have to sit and let the low-code apps work for you.