Storyblocks is a stock media platform that allows you to access media content from an extensive collection of images, videos, and audio. It is an award-winning stock media company, helping creators create enticing content that does not require copyright approvals or expensive b-roll footage.  
In fact, the company was created by the very motivation of eradicating the need to purchase expensive B-roll footage. Thus, it created a platform that gave easy access to all kinds of clips, sounds, effects, and illustrations.  
Access to Storyblock's library gives your content a very multidimensional feel, which enhances viewership. As of 2020, the software has over one million videos, audios, and images – and they're adding new content to their repository every month! 
How to Use Storyblocks 
Storyblocks offers you a very easy to use interface where you don't necessarily have to spend a lot of time learning how to use the website. It's also free to register and access videos! You can choose to save them or mark them for later use.  
The program has straightforward drop-down menus and search bars that are simple to use. On the homepage, you can find four different options on the top left corner titled: Video, Audio, Images, and Business.  
Each of these menus has its own set of features, which we've detailed below.   
Video  

Upon clicking on the video option, you will be redirected to a page with a search bar where you can search for any type of video you want. You can customize your search to find a video of your desired quality and length. You are also given the option of browsing from stock footage, animated backgrounds, after effect templates, and a host of collections.  
Upon hovering the cursor on any thumbnail, you can see a little preview of the video and can download it or favorite it for later use. Once you favorite a video, you can check your favorites folder in the top right-hand corner of the page.  
Audio 

The second option is Audio, and it follows a similar pattern to the video section. It allows you to search for the kind of audio file you want and will also give you suggestions to narrow down your search for easy accessibility. It has the same favorites feature, and you can listen to a preview of the audio.  
Images 

The same pattern applies to this section as well. In Images, you can access all kinds of photos and can download a free preview of the file as well. Similar to the categories above, you can choose from a large list of narrowed down categories within the Images section and can use the features to essentially get what you want.  
Business 
This option allows you to find a business-friendly stock experience, one where you are able to customize your plans with the help of Storyblock's enterprise team and access unlimited content for your company. All you have to do is get a quote from the website, and once you pay, you can start using their resources to create engaging content.  
Pros and Cons  
Like any platform, Storyblocks comes with its own unique set of pros and cons. 
Pros 
● Storyblocks has an easy to use interface with virtually no learning curve. It provides for a hassle-free experience without any complicated layouts.  
● This platform has many different pricing options for high-quality content and is very budget-friendly for companies and individuals alike.  
● It allows you to access the website for free. It even lets you download a watermarked free preview to make your decision to pay even more confident. 
● This company gives you access to one of the largest stocked content files in the world.  
● You can easily integrate the videos, audios, and images from this platform to suit your desires and the kind of content you want to create.  
● It gives you incredible licensing that does not cause any hassle for further copyrights issues. They cover your license with indemnification, which makes your content even more secure.  
Cons: 
● You are only able to download a watermarked and low-quality free preview.  
● The stock is not free and costs a certain amount.  
● The customer support is available, but they can take some time to get back to you.  
Pricing 
Storyblocks has a few set pricing options to choose from. You can either pay per month or per year. If you choose the latter, the overall cost comes down. They have two licensing plans that cater to either individuals or businesses looking to utilize Storyblock's content.  
There are subcategories in each of the plans, as detailed below. 
For Individuals 
This section has different pricing options for each media category. You can choose from two different options available for the video and audio sections or choose the All Access option.  
Each option has a basic standard licensing policy that allows you a royalty-free license and the ability to cancel at any time. This option also gives you an indemnification worth up to $20,000. The different pricing options and their features are listed below: 
Video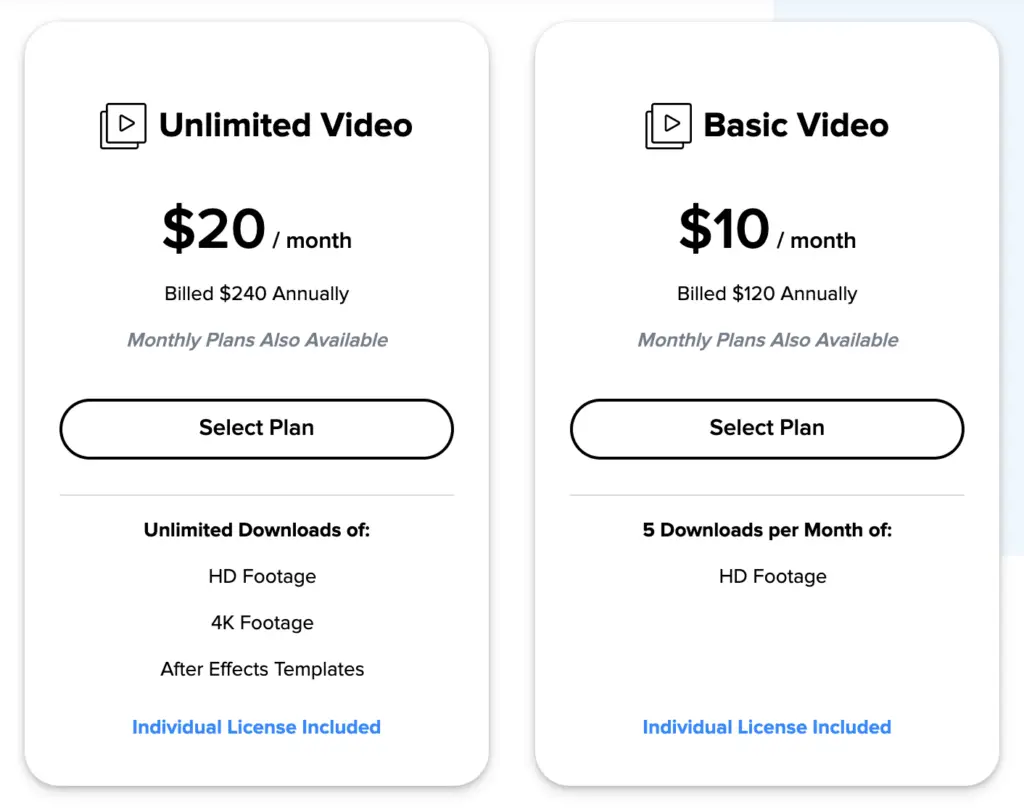 1. Basic Video 
● Billed at $10 for a month or $120 for a year
● Allows you access to unlimited videos
● You can download up to 5 HD quality videos a month 
● Standard licensing included
2. Unlimited Video 
● Billed at $20 for a month and $240 for a year 
● Allows you access to unlimited videos 
● Allows you unlimited downloads of HD videos, 4K footage, and after effect templates 
● Standard licensing included
Audio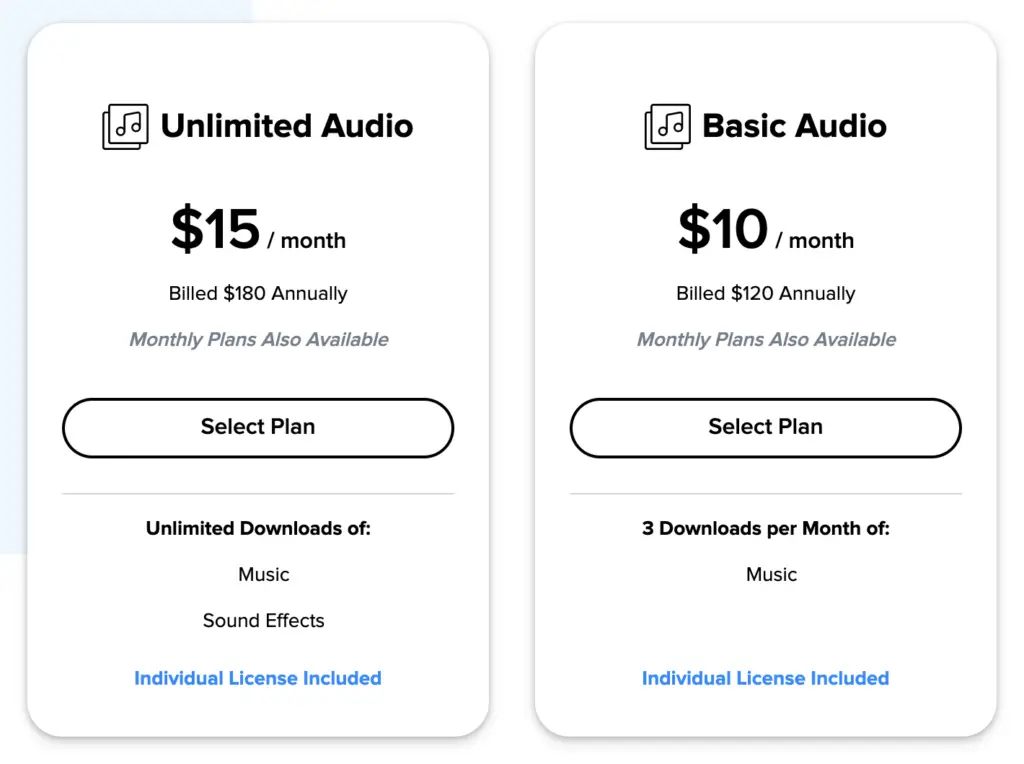 1. Basic Audio 
● Billed at $10 for a month and $120 for a year
● Allows you 3 music downloads per month 
2. Unlimited Audio 
● Billed at $15 for a month and $180 for a year 
● Gives you access to unlimited downloads of music, sound effects, and loops. 
Unlimited All Access  
This is the most popular option among Storyblocks users. It's billed at $65 for a month and $349 for a year. It allows you to save 55% annually.  
With the Unlimited All Access option you get unlimited free downloads of: 
● HD Footage 
● 4K Footage 
● After Effects Templates 
● Music, Sound Effects and Loops 
● Photos, Vectors, and Illustrations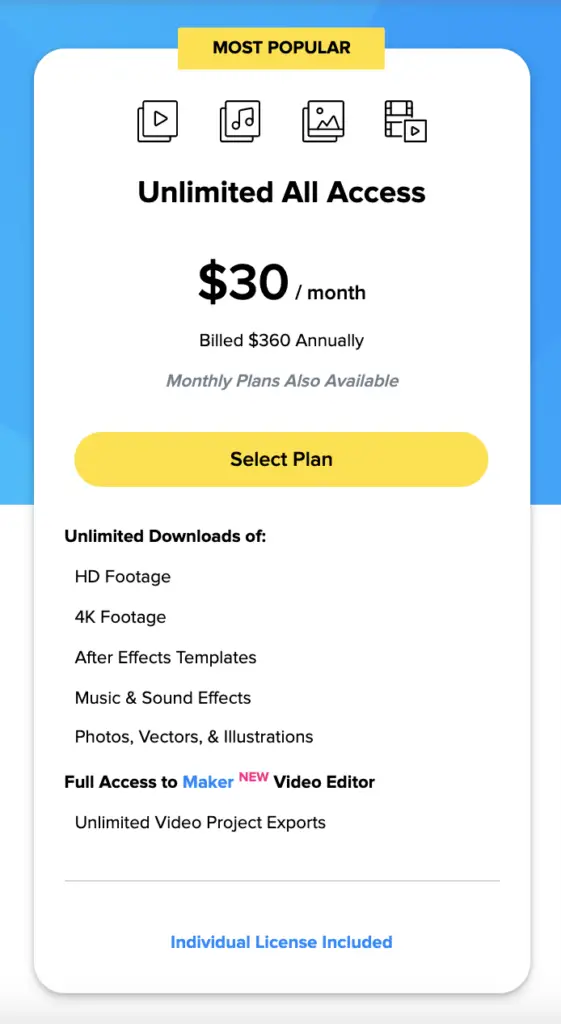 For Businesses 
This section is dedicated to enterprise catering. It gives licensing for teams within businesses and is widely used by companies such as Buzzfeed, HubSpot, and many more. This option is billed at a flat rate for which you have to get a customized quote once you register on the website.  
The Business pricing gives you unlimited downloads for all the features mentioned under "Unlimited All Access" for individuals. Additionally, you also get $1 million or more for indemnification.  
This option gives you organization-wide licensing. You also can create your own licensing terms as per your company's or client's preferences. All you have to do is talk to the enterprise team.  
Final Thoughts 
Storyblocks is a very powerful platform for content creation. The pros greatly weigh out the cons. When looking at the quality of the content available, you'll be in awe of how convenient and affordable their plans are. The platform is widely used by companies such as NBC, VICE, National Geographic, and MTV, so the quality of their content is most definitely very high.  
This platform is perfect for everyone, whether you're a company or an individual trying to create quality content. After subscribing to Storyblocks, you're bound to experience immense growth in your business or your personal content creation skills. 
References:  
https://helpcenter.moovly.com/portal/en/kb/articles/what-is-storyblocks
https://storyblocksreview.s3-us-west-1.amazonaws.com/index.html