Obsidian helps you develop your note-taking skills.
It's the 21st century, and the world has moved away from traditional paper note-taking. Now, the internet has the best note-taking apps that allow users to take digitally and store notes in the cloud.
Obsidian is one such application and has recently garnered plenty of attention in the productivity space for its off-grid approach, where the files are stored locally, and the intention is to turn off the distractions and focus on your writing.
The team at Obsidian sells it as your "second brain" because of its unconventional yet brilliant data-storage methods, which we discuss later.
What is Obsidian?
Obsidian is a versatile note-taking software platform similar to Roam Research and Notion (you can check out the Notion review here) but with many unique, contemporary features. Though relatively new, it has gained plenty of attention from people looking to maximize productivity and organize local Markdown files.
The application allows users to link their notes together in a mind-map fashion (shown below). Each idea or note can be linked to show the interlinking relationships between the concepts.
It is similar to creating a personal wiki but boasts a much simpler and more accessible user interface—not to mention its ability to work offline.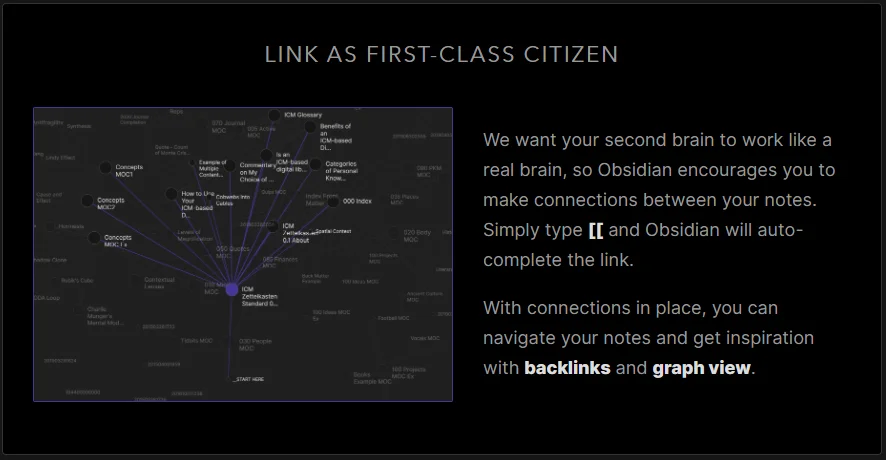 Is Obsidian secure?
Obsidian's best feature is that users can download it onto their computers and use it without needing a constant internet connection. We believe it is one of the best note-taking apps.
Hence, Obsidian is perfect for offline users or people who would like to use it on the go in places where Wi-Fi is hard to come by or where they want to focus on their writing.
Is Obsidian one of the most secure and best note-taking apps?
The application also supports CommonMark and GitHub-flavored Markdown (GFM). You can learn more here about mastering markdown (https://guides.github.com/features/mastering-markdown/). It allows the creation of code fences with syntax highlighting, markdown tables, task lists, and strike-through markdown text.
Obsidian also supports hashtags, LaTeX math, footnotes, internal links, and using markdown expressions to embed notes and other files. The platform uses pre-made markdown files, which helps reduce the steepness of the learning curve.
It also boasts a simple and accessible user interface and ranks highly in user experience. You can check out more of the features here (https://obsidian.md/features)
Like E-signature software, Obsidian is a brilliant application to work with if you're new to the world of markdown file organization software. The application runs on Windows, macOS, and Linux (AppImage and Snap). It does not work on iOS or Android yet. But the team has indicated this is in the pipeline.
Pros and Cons of Obsidian
As with every application, Obsidian has its pros and cons. Below is an in-depth analysis of both:
| Users can create mind maps using existing markdown files. | CONS |
| --- | --- |
| It is a lightweight and highly customizable application. | Users can create mind maps using existing markdown files. |
| You can also add helpful plug-ins and run them on Obsidian. These plugins include page preview, viewing backlinks, a tag pane, note bookmarking, and a command allowing users to use Obsidian without a mouse and solely through their keyboard. | Users can mind maps and maps using existing markdown files. |
| Obsidian is a fast-growing platform with new tools added regularly.  | There is no mobile application available yet. However, Obsidian is relatively new, and users expect an application for smart devices to roll out soon future. |
| The developers behind the app are extremely dedicated and actively consider user complaints. For this reason, you will find very few bugs or glitches when using the application.   | This application lacks a WYSISYG editor (like Typora).  |
| Users can mind mapsnd-maps using existing markdown files. | |
| Users can easily record and embed a voice memo directly into any note they like. | |
| When running Obsidian, you can easily adjust your window panes and split existing application windows or open new ones and display them alongside the pre-existing panes. This makes content cross-linking easy and convenient. These panes can also be moved around and resizto customize your user experience to suit your needs easilyeds best. | |
| Users can easily record and embed a voice memo it directly into any note they like. | |
| With Obsidian, there is no security threat. Users can safely play around with their files without worrying about losing or transferring the data to a third. This is a common issue with many other popular note-taking platforms, particularly those that run on the cloud. | |
| The slideshow feature allows users to present their markdown notes as a slideshow. | |
The Obsidian App Plans
Obsidian is a popular open-source note-taking app designed to help power users create, organize, and store notes. It provides a powerful platform that supports collaboration and helps teams stay organized.
Here are some of its great packages to choose from:
Pricing
Obsidian has a fantastic set of product plans for users to choose from. Below is a breakdown of these plans (https://obsidian.md/pricing):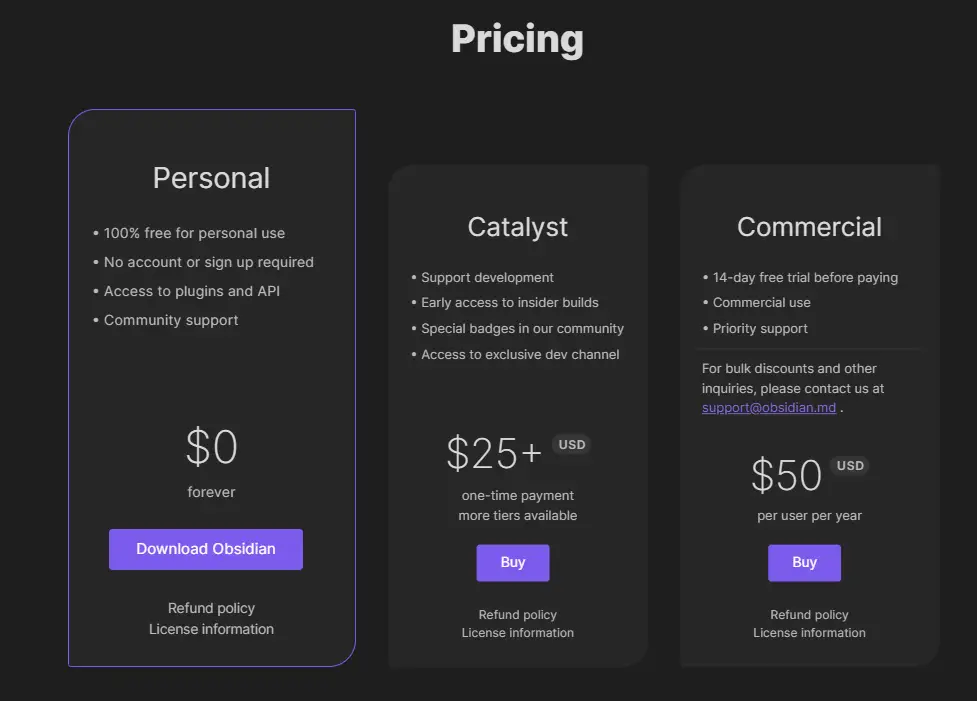 Personal Plan
Obsidian's plan is 100% free of charge and suitable for personal use. You do not need to make an account or register on Obsidian's website to use it. This plan also allows users access to plugins and APIs and offers brilliant community support if an issue arises.
Catalyst Plan
The Catalyst plan starts at $25 but can be upgraded if needed for an additional cost. This plan requires a one-time payment, allowing users to give product feedback and support the application's development. It also provides users with special community badges and access to the exclusive developer channel. 
Commercial
The commercial plan costs $50 annually per user and is meant for large-scale commercial purposes. Potential clients can avail themselves of a 14-day free trial and get access to priority customer support. Many fantastic discounts are also offered for companies looking to buy in bulk. Those wishing to avail themselves of these discounts can contact Obsidian's developers and request consideration.
Add-On Services
Obsidian also offers two brilliant optional add-on services called Sync and Publish. 
1.    Sync
Obsidian Sync offers end-to-end encryption, built-in version history, and priority email support. It was originally priced at $8 but now costs $4 only, thanks to the lifetime early bird pricing, and is billed annually. 
2.    Publish
With Obsidian Publish, users can selectively publish notes and host team collaborations. This service costs $16 when billed annually or $8 with the lifetime early bird discount. Similar to Sync, it is billed annually.
Neither Sync nor Publish has been launched, but they are expected to hit the market soon.
Is Obsidian Free?
While Obsidian offers paid versions for professionals, the basic version is free and is expected to remain this way forever. The fact that it is free without compromising on tools is another reason why Obsidian has become so popular. Its paid versions are remarkably affordable, too, and cost significantly less than other competing applications.
Additionally, Obsidian will offer additional plugins to tailor the application to suit your needs and boost your user experience.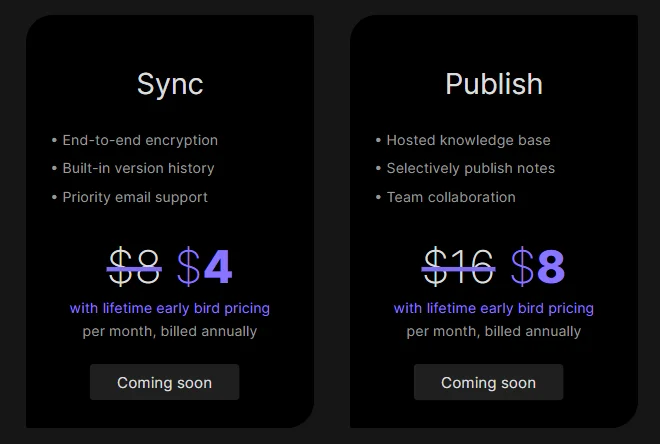 Quick Facts!
Obsidian is derived from the Latin Obsidianus, which means "of Obsidius." The term was originally used to describe a type of natural volcanic glass found in many parts of the world.
It is created due to the quick cooling of lava when it comes into contact with water. This unique material has been used throughout history for tools and weapons and can be found in various artifacts.
Obsidian is known for its shiny black or gray color, and it has been used as a decorative stone in jewelry and as an effective material for tools such as knives and arrowheads.
Frequently Asked Questions: Is Obsidian the best and most secure note-taking app?
Q: What is the point of obsidian notes?
Notes is a powerful note-taking and knowledge management tool designed to help organize your notes, ideas, and research. It lets you quickly create markdown documents and add interactive graphs, links, images, videos, and more.
Q: How do you use Obsidian for class or meeting notes?
Obsidian offers a flexible way of organizing notes and information using different levels and combinations of vaults, folders, and pages.
Q: Should I use Notion or Obsidian?
Obsidian is a popular note-taking productivity application that allows users to utilize markdown for their notes. This tool stores user data and notes locally on the device. The Notion is another notable note-taking software that employs a database structure. With Notion, the files are stored in the cloud.
Yes, Obsidian is a safe application. It uses encryption to protect the data and notes stored in it, allowing users to install security plugins for an added layer of protection.
Q: Is the Obsidian app better than Apple Notes?
No, the Obsidian app is not better than Apple Notes. Each application has unique features and capabilities that may be better suited to different needs.
Final Thoughts
Whether you're looking for convenience and ease of use or the security of a premium application, Obsidian is worth considering. Not only does it provide an intuitive experience through its modern design and features, but it also offers robust encryption options to keep your notes secure. It's the perfect note-taking application for those wanting privacy without sacrificing usability or features. Despite the various factors that come into play when selecting an app, it is clear that Obsidian stands out with its combination of features and comfortable interface. You can trust Obsidian to keep your notes securely stored and organized from one note to the next.
With constant improvements and obsidian reviews being made daily, there's no doubt it will continue to be an attractive choice for those seeking a feature-rich yet secure note-taking app. So if you're hoping to find the highest level of security while working with tools that suit your unique needs and preferences, try Obsidian—you may just be surprised by what you uncover!