A manual employee onboarding process can be a bit of a drag, especially if there is no clear checklist, required dates, and expectations for your managers. Top businesses invest in employee onboarding software platforms and ensure their onboarding flows are productive.
As part of new employee onboarding, HR evaluates the period from when an offer is made until an employee becomes a valuable contributor to the organization, and there are many opportunities to wow your new hire in this process.
Onboarding involves all procedures during that period, together with the orientation program, setting up performance measures, training plan, and establishing an assessment circle.
What is Employee Onboarding?
Onboarding is familiarizing new hires with a company's culture and work environment. This time is crucial for the manager to provide guidance and expectations for the worker (assuming they have the skills and qualifications).
You can check out more about onboarding here in our flagship article – The 4 Phases to Onboarding!
As the time for any new hire to fully onboard into the company and its culture, some firms regard onboarding as a one-day occasion, while others view it as an 18-month course.
We believe it doesn't matter how long the process takes; what matters is the process and proficiency of transferring the role knowledge and company core values to the new employee.
Why Efficient Employee Onboarding Matters?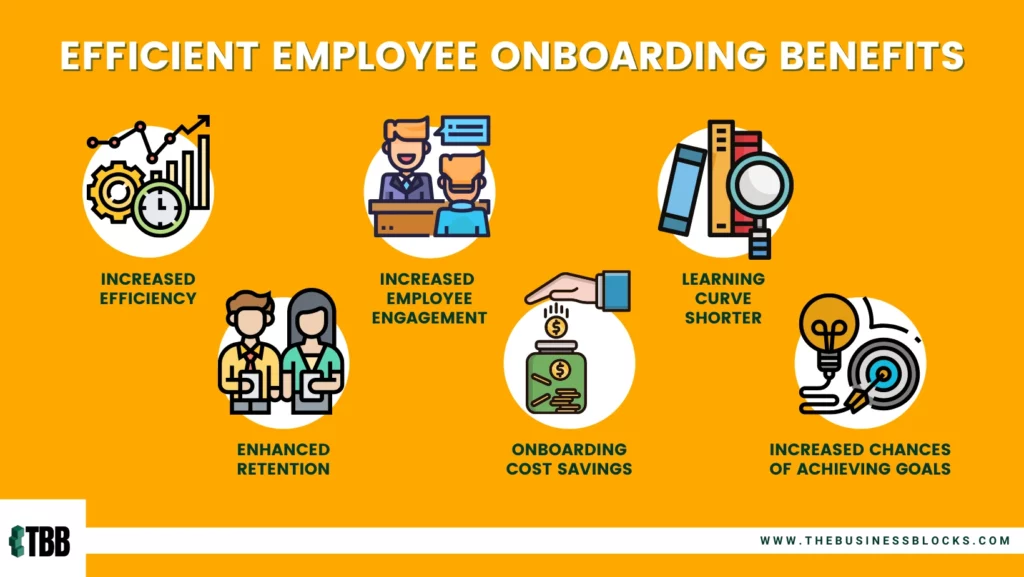 Onboarding new hires is crucial in two ways.
First, consider how it affects your employees individually, then consider how it affects your company.
1. Increased Efficiency
The influence of employee onboarding on productivity rates is one of the most obvious advantages for a firm.
Compared to companies with no onboarding system, those with documented and efficient onboarding programs get 54 percent higher recruit productivity (source). These productivity gains can translate to tremendous success for your staff, company, and consumers.
2. Enhanced Retention
Organizations have cited onboarding as one of the most critical long-term advantages.
A positive onboarding experience helps you avoid high turnover's time-consuming and costly consequences by keeping your workers on board longer.
Companies with an onboarding process have a 50% higher recruit retention rate, and 69 percent of workers are likelier to stay with a business for three years (source) if they have had a positive onboarding experience.
This is essential as the average tenure of workers is decreasing year on year.
3. Increased Employee Engagement
Employee engagement is a statistic that every company should pay attention to.
It is like a pulse test on your staff and relates to how eager they are to contribute to your company's success. It influences everything from productivity to retention to customer satisfaction and everything in between.
It is a successful way to get workers involved from the start, with one study indicating that 54 percent of organizations using onboarding programs and onboarding software have increased employee engagement.
4. Onboarding Cost Savings
Hiring a new team is costly, ember and with a tight labor market, this recruitment only looks to increase over the next few years.
Filling a role costs between $3,000 and $18,000 on average, and it's an expensive exercise if your recruit departs after a few months. A good onboarding process can save time and money, potentially due to the blower turnover and the possibility of an employee leaving due to insufficient training.
5. Learning Curve Shorter
When a new employee starts, attaining maximum productivity might take six to eight months.
Onboarding reduces this time by establishing a formal organization and providing excellent training materials.
A faster procedure ensures a more efficient learning curve. As a result, your employees can demonstrate their worth to your firm more quickly.
According to studies, employees who participate in lengthier onboarding programs attain complete competency 34 percent faster (source) than those who participate in shorter ones.
6. Increased Chances of Achieving Goals
A great onboarding experience not only assists recruits in becoming engaged and trained but also in achieving their objectives inside your company.
About 77% of workers who met their initial performance targets underwent a good onboarding program. When no formal onboarding training is offered, the percentage reduces to 49%.
What is the explanation behind this? Onboarding gives your recruits clear directions to a goal and supports them until they achieve it, boosting their chances of success.
What are the 4 phases of onboarding?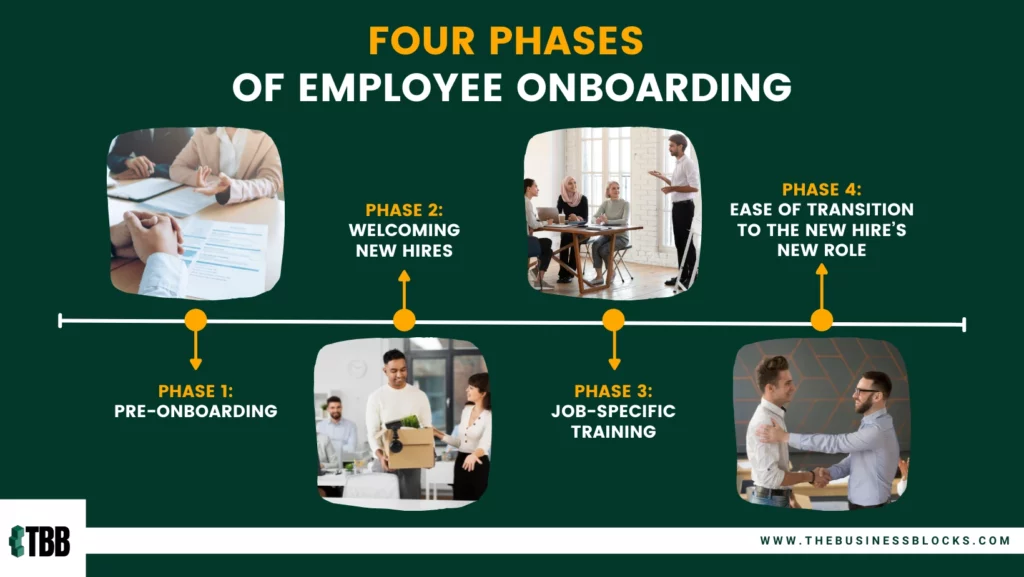 The efficiencies gained from having a dedicated process for your employee onboarding will be seen in increased employee retention and higher tenure (source). You can review our four key phases of employee onboarding article for each onboarding process stage.
Phase 1: Pre-onboarding
A crucial time for your new hires as their uncertainty about their role is at its peak; phase one begins as soon as a candidate accepts your offer and continues until their first day of joining.
Phase 2: Welcoming new hires
The fuzzy phase of the onboarding experience is dedicated to welcoming new hires to your organization and providing an orientation to help new hires acclimate.
Phase 3: Role-specific training
How successful new employees will be at their job depends on how well you provide role-specific training. Without formal training, your employees may not know what it takes to thrive.
Phase 4: Easing the transition to their new role
By setting clear expectations from your managers, the last phase of onboarding is meant to help employees transition from the role of a new hire to the one of a full-fledged employee.
Each phase will occur as your employee transitions and develops in their role. Now, you may think about what is next, but here we have 21 ways to add a great experience to each of the phases in the onboarding process.
22 Great Opportunities for Delivering a Great Onboarding Experience
Being in management entails various obligations, one of which may involve onboarding new employees. You already know the ropes at your organization, no matter how clear the new hire's position requirements appear, but have you considered the onboarding strategy?
New hires are just starting and learning about every facet of the work and the company culture for the first time, but a well-structured process and long-term strategy puts your business in a great position.
A well-structured onboarding process may help new hires build confidence in their responsibilities and reduce long-term turnover. Check out these helpful hints for successfully integrating recruits into your team:
| | |
| --- | --- |
| 1. Begin with a human resources orientation | 12. Integrate gamification |
| 2. Visit the office | 8. Regularly check in and communicate |
| 3. Review the fundamentals | 14. Bootcamp |
| 4. Make contact with an advisor | 15. Handbook for employees |
| 5. Set objectives | 16. Beer trolley |
| 6. There is no such thing as a one-size-fits-all style | 17. Champagne |
| 7. Begin completing tasks | 18. Cross-functional relationships |
| 8. Regularly check-in and communicate | 19. Welcome video or GIF |
| 9. Pay attention to recommendations | 20. Put decorations on the new hire's desk |
| 10. Buddy system | 21. 100th-day Celebration |
| 11. Interview for admission | 22. Background Checks |
1.

Begin with a Human Resources Orientation
The HR Manager or the company's authorized onboarding professionals should conduct an HR Orientation with newly hired workers on their first day. During this time, provide the new hires with any papers they need to complete, an employee handbook, and any other documents they'll need to get started.
Sharing the company mission statement, values, and vision are three fantastic ways new employees learn about their new team's guiding principles and long-term goals. Additionally, giving them a copy of the firm's organizational chart is a terrific method for them to understand better how each department operates and how procedures move through the company. These details will assist the employee in comprehending the essential components that support the company's people and resources.
2.

Visit the Office
On their first day, new employees are usually given a workplace tour, including everything from the bathrooms to the office kitchen, conference rooms, and printing stations. Point out the lesser-known workplace areas, such as the mailroom, HR, and security offices, and the apparent features.
It might help new employees feel more at ease if they are familiar with their new surroundings. Include introductions to essential workers on your tour, particularly those with whom your recruit will have the most direct contact. Please share information about the new hire's position with existing workers when you introduce them to the recent hiring so everyone is on the same page.
3.

Review the Fundamentals
The first day on the job for a new employee is an excellent opportunity to go over all of the essentials of the job. Show them the company's website, intranet, email, and any software they'll need to know. Because there is so much to remember in a new position, it's essential to have training paperwork on hand in case they need it.
You may also provide them with a folder of information they can review to understand the organization better. Items like current marketing brochures and annual reports can be included. This is also a perfect moment to discuss business culture, future staff events, and expectations.
4.

Make contact with an advisor.
Assigning a mentor to a new employee, whether you or someone else on your team, may be quite beneficial in the early days of a new job. The mentor can assist the new hire by acting as a point of contact for any inquiries or concerns. Continuing assistance for new team members will help them feel confident in their roles and integrate swiftly with the rest of the team. Mentors are a vital source of information and inspiration for a new hire's future career at the organization.
You may decide which of your team members has a style that would mix well with the new employees and offer the assistance they need to succeed by looking at their needs from their surroundings to be productive.
5.

Set Objectives
The job description and interview process should give new hires a good understanding of their work, but you can give them even more guidance if you sit down with them and set clear goals for success. Outline the new hire's responsibilities over the next month, three months, and six months.
As new employees become more embedded in the firm and team, a list of measurable goals may assist in setting the bar for the learning and growth they can anticipate. It will also offer them an idea of who they will work with to attain their objectives and become more accustomed to their new surroundings.
6.

There is no such thing as a one-size-fits-all style.
Again, using a credible personality evaluation during the key goal-setting onboarding stage might be beneficial. Different goals elicit good responses from different people. To stay motivated, some people prefer to set lofty objectives, while others prefer to set realistic and attainable goals they are convinced they can reach. People also differ in management expectations from their leaders; some desire detailed processes and initiatives, while others prefer basic principles.
7.

Begin completing tasks.
Although training is necessary for providing an overview of basic operations, there is no better method to assist new hires in getting up to speed than assigning them jobs or projects. Make sure the activity challenges them rather than confusing or overwhelming them.
Also, ensure that you or your mentor supervises the project from beginning to end to ensure the output meets your company's requirements. Working on a project may reinforce learning more rapidly than reading a training booklet on various processes or procedures.
8.

Regularly check in and communicate
Even if you aren't their designated mentor, you should keep a line of contact open with the new employee. Check in on the new hire regularly to see how they are doing and what they have done. Allow them to ask any questions or share any worries about their employment.
Examine and monitor their progress to see what processes or tasks they must master. Periodic performance reviews throughout the onboarding stage can aid in developing a learning and growth platform. Also, ensure they know how to contact you if they have any questions during the workday between performance meetings.
9.

Pay Attention to Recommendations
Invite new hires to provide input; their fresh viewpoint might help your company improve the onboarding process and other areas. Although they are new to the firm, new hires may have prior experience in the sector or function, bringing background information to assist your organization.
They may provide helpful information about procedures that may be improved in many aspects of their profession and opportunities for development, such as underutilized talents and skills they'd want to gain.
10.

Buddy system
In their onboarding process, Percolate, a software startup that established a thriving content advertising platform for business clients, includes a "buddy system." This program entails assigning each new hire to a so-called Percolator. A Percolator is a seasoned coworker who has agreed to be the new employee's buddy.
A Percolater's tasks include:
• Taking a new hire out to lunch on their first day.
• Showing the new employee around the office and presenting them to coworkers
• Keeping in touch with the new employee often.
• Being accessible to answer any queries that the new employee may have.
With this method in place, you can rest certain that the new employee will always have someone to lean on during those nerve-wracking first few weeks.
11. Interview for admission
Designer Blinds, an Omaha-based firm that manufactures drapery hardware, shades, and blinds, had a high turnover problem. After evaluating their turnover statistics, they discovered that most new employees leave between 90 and 180 days after starting work.
These meetings are meant to learn what the new workers require and how they can assist them in being successful in their new position. This organization has decreased turnover from 200%to 8% by employing these entry interviews.
Use entrance interviews to determine how best to assist your new hires during onboarding. In this manner, you'll ensure the new hires feel appreciated immediately!
12.

Integrate Gamification
Essar Oil and Gas, a petroleum products producer, refiner, and marketer based in India, turned their onboarding method into a game. They collaborated with Indusgeeks, a business that specializes in game-Gamificationng. They worked together to develop an interactive 3D gamification solution for new workers that takes them on a workplace tour and introduces them to key stakeholders.
By incorporating gamification into their onboarding process, they reduced the time it took new workers to get up to speed, increased productivity, and increased profit. Even though you don't have the means to gamify the onboarding process, sGamificationify at least certain parts.
13.

Treasure quest
Bazaarvoice, a Texas-based digital marketing firm that provides software that allows shops to publish customer evaluations on their websites, uses an exclusive Scavenger hunt to onboard new employees. The search is a set of exercises and questions to familiarize new employees with all aspects of the business. It's also a friendly approach to guarantee the new employee meets and learns about the other staff.
As a result, new personnel immediately become acquainted with all other units and begin cooperating from day one. It's much more fun and intriguing than going through an orientation or studying a manual to get on board.
14.

Bootcamp
Etsy, an e-commerce firm that operates a global online marketplace for handcrafted goods, developed a brilliant concept for onboarding new executives. From middle executives to new C-suite managers, all new employees appointed to lead teams have to go through a Bootcamp."
Etsy's Bootcamp onboarding course rotates new workers through the company's departments. Their boot camp is designed to help new hires get to know the teams they'll be working with (as well as their expectations) before taking on management responsibilities.
It's a fantastic method for your new hires to immediately become acquainted with all teams, understand how they work, and form strong personal bonds with other employees and divisions.
15.

Handbook for Employees
Valve Corporation, a Washington-based video game development, and digital distribution firm, has prepared a tremendous 56-page employee manual that is far from dull and well worth reading, even if you're not a new employee!
It's jam-packed with beautiful pictures and instructions on everything a new employee needs to know. It is written in a lighthearted and humorous tone that adequately captures their corporate culture and makes new workers feel at ease.
Your employee manual doesn't need to be just another dull document; it can be a great tool to show off your company's culture in a distinctive way.
16.

Beer trolley
Perkbox, a UK-based firm that provides a cloud-based member incentive and engagement program for businesses of all kinds, has devised an entertaining new game for the new hires. They force them to push the beer cart. Yes, you read that correctly.
Every Friday, they ask the new hire to trek around the workplace, dishing out libations to the current staff. It's a fun way to welcome a new team to the organization and makes everyone grin (or maybe it's the beer). Whatever it is, it appears to be effective!
List enjoyable events you can use to greet and entertain your new hires. These activities, of course, do not have to incorporate alcohol. Consider a move that would be appropriate for your company's culture.
17.

Champagne
TINYpulse, a Washington-based software firm that developed employee engagement and response software that allows businesses to track how pleased, dissatisfied, or burned out their personnel are, takes a novel approach to onboarding new employees.
This firm greets Each new employee with champagne on their first day. On their workers' first day at work, they always open a bottle of champagne. While it may appear a little wild initially, they present several compelling arguments for why they should do it:
• They're ecstatic to get their new staff on board.
• They like their new colleagues to know how happy they are to work for them.
• They like to make an excellent first impression.
Again, there is no need for the event to involve alcohol. Consider a fun method to commemorate your new workers' first day at work. It will immediately make them feel valued and appreciated!
18.

Cross-functional relationships
Indeed's onboarding program is unlike that of most companies. The organization combines new hires from several departments rather than onboarding new workers inside certain divisions.
During the early stages of a staff's career, the goal is establishing cross-functional ties. The method was designed to help new workers better understand the corporate culture while forming strategic connections. The goal is for new workers to develop favorable relationships to foster cross-departmental collaboration.
19.

Welcome Video or GIF
To create a warm and welcoming experience for your new hires, consider using a free online video maker tool to create a personalized welcome video or GIF. With this tool, you can easily compile a collection of clips from your current workers who introduce themselves and share why they love working for your organization. The resulting video doesn't need to be fancy or expensive; most importantly, it comes across as authentic and heartfelt.
It's a fantastic way for your new hires to become acquainted with their future coworkers' names, voices, and faces and feel genuinely appreciated!
If your workers are afraid of being photographed or don't have sufficient time on their hands, go for the easier option: make a welcome video or GIF for your new hire!
20.

Put decorations on the new hire's desk.
This is a fantastic start-day-at-job suggestion for a new employee.
Decorate the new hire's desk with a welcome sign, balloons, and maybe even cake. And, if there are corporate items (like branded pens, notebooks, water bottles, T-shirts, and so on), you may include them as souvenirs!
21.

100th-day Celebration
This is an excellent way to mark the completion of your new employee's initial three months on the job. By then, your new staff will be established and well-absorbed in their daily tasks.
Throwing an on-the-job celebration for them is a terrific way to show them how much you appreciate their work and how delighted you are to have them on board. You'll be able to rekindle their enthusiasm, keep them involved in the process, and let them feel valued.
22.
Get Your Background Checks Done Early
Criminal record checking is essential when you are hiring an employee for your business or personal service and how to find out if someone got arrested. A criminal record search in California provides information on active warrants, past arrests, court reports, and prison time. The record also details traffic violations and another history of clashes with the Law.
Onboarding is a No-Brainer
Even if your organization cannot achieve a 0% new employee turnover rate, you can significantly lower the probability of new employees departing by ensuring they are well-informed, secure, and supported in their new workplace.
These onboarding ideas offer a warm, thorough, and continuous welcome that may assist new employees in establishing their footing as they adjust and grow.
Of course, the first step with a new hire is to build well-developed hiring and selection methods to guarantee a proper fit. Then, innovative onboarding procedures are the next step in ensuring success in the employee life cycle.