Choosing the right employee onboarding tool is critical to your human resources strategy with regard to hiring and keeping the right talent. From sending out employee offer letters to ensuring that IT have the new employees approved equipment ready, employee onboarding software makes light, automated work for your HR team.
In summary, we have found the top 5 employee onboarding tools. Here are 5 of the best onboarding tools on the market right now:
The other 8 platforms can be viewed a bit lower on the page – Here
Did you know?
After starting their new job, 43% of employees are without essential job equipment for more than a week. (Talentech)
50% of new employees who failed to meet their performance goals did not have a formal onboarding process. (SHRM)
If you truly want to design an powerful onboarding process that drives retention and performance, the new employee onboarding process is simply the first step in that journey.
Just so you know, I ranked and reviewed the four best employee onboarding tools, along with some of my extra top recommendations, so that you can pick the best one for your business.
Disclosure: Some of the links in this article may be affiliate links, which can provide compensation to me at no cost to you if you decide to purchase a paid plan. This site is not intended to provide financial advice and is for entertainment only. You can read our affiliate disclosure in our privacy policy.
What is Employee Onboarding?
Onboarding is the process of familiarizing new hires with a company's culture and work environment. This time is crucial for the manager to provide the guidance and expectations for the worker (assuming they have the skills and qualifications).
As the time for any new hire to become fully onboarded into the company and it's culture, some firms regard onboarding as a one-day occasion, while others view it as an 18-month course.
We believe that it doesn't matter how long the process takes, what matters is the process and proficiency of transferring the role knowledge and company core values to the new employee.
There are many competing products out there now but which is the best employee onboarding software platform?
What is Employee Onboarding Software?
Employee Onboarding Software is a digital platform that enables your business to automate and systemise getting new hires inside your company before their first day. It streamlines the document management process, manages forms, and makes sure your new employees stay upbeat prior to the day they start work.
These software platforms can either be integrated into your current HRIS (or Human Resources Information System) platform or they can be standalone platforms. You can learn more about the key features of a great employee onboarding platform below here.
In summary, the key features you should consider when choosing an employee onboarding software platforms include:
User-friendly Interface
Connection to the Employee Database
Welcome Portals
Onboarding Reports and Status Updates
Task Management and Tracking
Paperless Workflow Automation
Employee Self-Service
It should be noted that prior to making a decision on choosing a new onboarding platform, you should sign up for each account to test them out. The software platforms usually offer a freemium version for at least 1 week or so which gives you enough time to review and consider each alternative.
One question you should also consider is, does my company need new employee onboarding software or can you just automate a few of the processes with a platform like Zapier?
Key Factors for Choosing New Employee Onboarding Software
When choosing the right software for employee onboarding firstly you need to consider your budget and how complex your existing onboarding process is setup. This coupled with price, functionality, features, api connections, platform support, ease of use, template design, and more.
Step 1 – Review your current employee onboarding count per annum and your current worker count.
Step 2 – Review your company retention and turnover to get a baseline of where you are at.
Step 3 – Consider reviewing and simplifying your current employee onboarding process.
Step 4 – Review your recruitment, HRIS, and employee for compatible integrations.
Step 5 – Review your current team or business budget using the employee count.
Step 6 – Review the current market for employee onboarding software platforms.
Step 7 – Produce a comparison chart of the following:

Total yearly cost and implementation fees.
Contract agreement and clauses.
Functionality comparison between the platforms.
Must and wants for the features.
API connections and availability.
Support that each provider has available.
Templates included in the software licenses.
User interface and assessment of how easy.

Step 8 – Review with the budget owners and decide on new platform.
Step 9 – Decide on your implementation partner.
Step 10 – Kick off your implementation and project.
If you havent already set in place a solid onboarding process, The Business Blocks has a few recommended resources to help you update your current processes including simple ways to get onboarding right, what are the four phases of employee onboarding and some best practices for onboarding remotely.
We'll also compare:
The best employee onboarding platforms for small businesses.
The best priced options.
Which platform offers free employee onboarding software.
The ones with the best automation features.
The best platforms for enterprise.
The Best platforms for developers.
Let's get started.
What is the best employee onboarding software for your business?
Onboarding has traditionally been a burden. When it comes to onboarding your new hires, you want to do everything you can to make their transition as seamless as possible. Featured below we have the top 10 employee onboarding tools that you don't want to miss out on.
But figuring out how to best help them adjust to their new job can be tricky for HR managers. The use of effective and efficient onboarding software can help alleviate the pain of hiring and onboarding new employees into a company.
Top 13 Employee Onboarding SoftwarePlatforms
Here are 10 highly recommended employee onboarding software you can choose from to create a great onboarding experience for your new employees and make the process seamless for your HR:
Best onboarding software for small to medium businesses.
If you're tired of sifting through piles of paperwork, Eddy's got you covered. All of your HR documentation can be created, signed, sent, and digitally stored—helping you streamline the hiring process.
Eddy has three key products: Eddy People, Hire and Payroll
Imagine a process that's so intuitive and easy to use, new hires can complete as many of their onboarding tasks as they want without needing help. That's how Eddy works and in this review we will just focus on the onboarding software that Eddy has to offer.
Eddy is our top choice for onboarding software for small business because of the following reasons:
Key Features:
Eddy's employee onboarding software can save you hours per employee. Plus, Eddy makes a paperless onboarding process easy and smooth. Forget awkward emails, Eddy is all done through the app.
Purely digital process and workflows.
E-signatures for your company contracts.
Self paced onboarding workflow.
New employees can do their onboarding prior to the first day.
Trackable lists to see how your new hire is going.
Automated first day messages.
User Experience:
You can introduce Eddy to your new hires before they start working. Eddy is full of information that will help them understand what it's like to work at your company, and the app will keep updating as it gets more information.
Track the progress of your new hires within the dashboard and follow up any outstanding tasks through the same interface. Employee onboarding software for small business should be simple and easy to use from a user interface perspective and software shouldn't be hard to set up or update.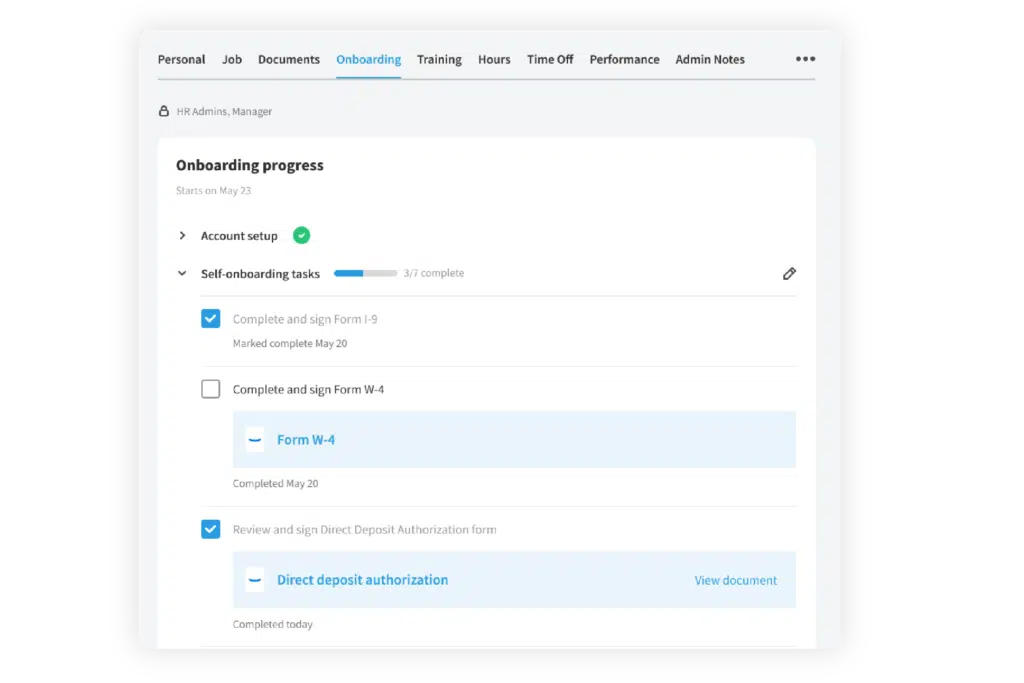 Users can manage their progress in their own personal employee portal and even on their mobile device.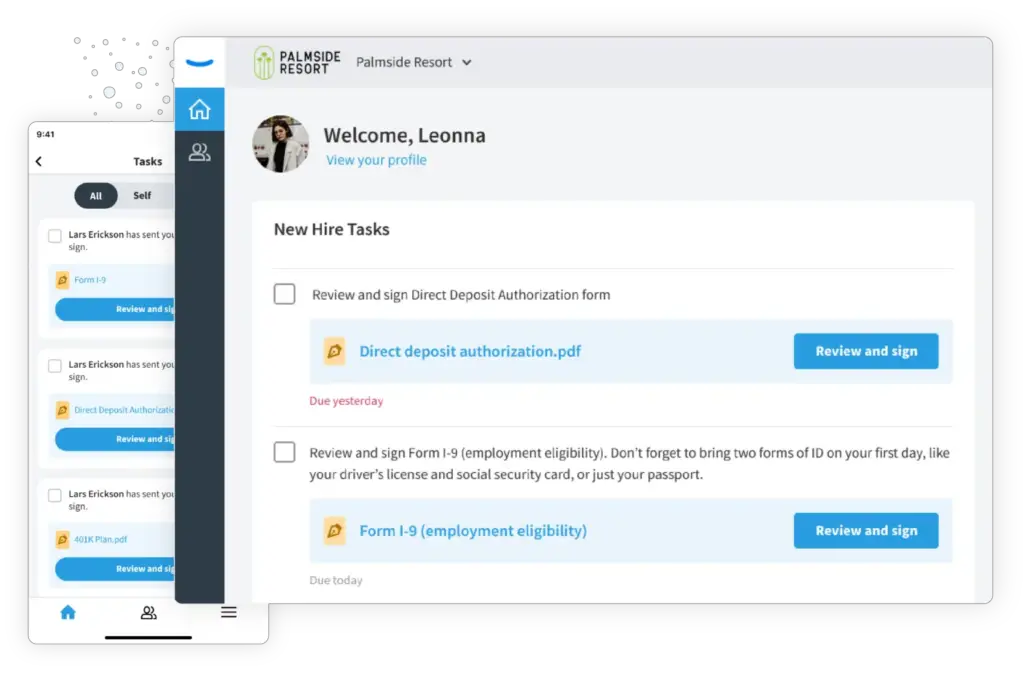 Pricing:
Both Eddy People and Eddy Payroll are priced per person per month.
When purchased separately:

Eddy People starts at $49 per month + $8 per person per month and
Eddy Payroll starts at $99 per month + $8 per person per month.

Eddy Hire starts at $299 per month per location when purchased separately.
Custom discounts are available for bundling products, for paying annually upfront, and for other limited-time promotions. Ask our team if any of these could apply for you!
What I Like/Dislike about Eddy:
Like:
Simple per user pricing model (after base fees).
HR training and educational content, as well as real HR professionals to help answer your questions.
Full service HCRM platform (Recruit, manage and payroll).
Time tracking modules with time change requests.
Dislike:
Reporting functionality could have better features.
As they grow and build out their API, Eddy can integrate with other platforms.
Onboarding Software for Small Business
For small businesses, onboarding software can fulfill some basic onboarding functions while offering the benefits of improved engagement and retention, until they are ready to invest in advanced solutions.
Keep up-to-date with Eddy here – LinkedIn
---
Best knowledge sharing & training platform for scaling businesses.
Every organization or business needs an effective Training Management System (TMS) if they need to excel in their field of industry. There are different types of training management systems in the industry today that range from simple to complex ones. Insofar as simplicity and user-friendliness, we recommend Whale.io as it is commonly known in the industry.
Key Features:
Whale.io is a knowledge-sharing and training platform that can help you systemize and scale your company. It allows small and medium organizations to centralize onboarding and training for new workers. The system helps the company to train, and build teams by centralizing all of its standard operating procedures, policies, and internal information.
With Whale.io, you can:
Create centralized SOPs, playbooks and processes
Turn processes, SOPs, and guides into training manuals and deliver a consistent and fun learning experience
Analyze team performance and close knowledge gaps so you can ensure everyone is always on the same page
User Experience:
Whale.io is a modern platform and software solution for integrated training and information that replaces outmoded learning techniques. It shortens and simplifies new hires' ramp-up and onboarding times.
Aside from that, it increases digital tool uptake and correct utilization of integrated application software with ease and user-friendliness. Thus, creating a business system to assure consistent results and raise the level of proficiency across your (remote) teams. This is one of the best routes to success.
Pricing:
Investment costs $12 per month per user. Monthly or annual billing is an option. $12.00 per month is a clever starting point. A free trial is available. A free version is also available.
These are the three plans for bigger groups:
Starter: Start using Whale for less than a cup of coffee every day. Available at $30.00 for 3 Seats Per Month
Growth: For effective teams, secure knowledge sharing and training are essential. Available at $120.00 for 10 Seats Per Month.
Scale: Designed for ultimate knowledge control with scalable flexibility. The investment cost will be based on the specific scope or requirement
For more information on Whale's pricing, click here.
What I Like/Dislike about Whale.io:
Like:
Whale's user interface is straightforward and intuitive, with features such as update reminders and the flexibility to rename sections to match the company's terminology.
Whale provides wiki tools that aren't overly difficult.
Contains a user-friendly and intuitive design that outperforms alternative onboard tools or training software.
Great for businesses who are just starting to document and maintain track of their SOPs, rules, job instructions, and other procedures.
Dislike:
It is not yet fully customizable for the time being (brand colors or logo can't be easily changed at the moment)
As compared to competitors, pricing is on the higher end, but surely compensates with all the features and benefits.
Product Update:
Keep up-to-date with Whale.io here – LinkedIn
---
Employee Onboarding Tool with Most Integration Opportunities
It can be difficult to keep track of everything when you're running a business. Save time by streamlining your onboarding and training processes. Make knowledge transfer easy as you grow. With Trainual, you can reduce the amount of time spent training new employees and make sure everyone is on the same page.
Key Features:
Trainual can do a lot of things, but mainly, it is the platform you would direct your new hires to go to get onboarded. Here are some of its best features:
Onboarding materials
Training employees (new and existing) about practices or new procedures of the company
SOP creation and documentation (documents, infographics, and video storage)
Learning management systems (LMS) for ongoing employee training
Mobile access
User experience:
Trainual makes the creation of training materials and documents so simple for multiple industries such as healthcare, marketing, manufacturing, design & media, and more. What's great about it is that it allows users to update and make real-time changes to their documents and training materials, and save any modifications easily.
What's more, Trainual users are able to develop knowledge flows, as well as assign content to employees according to their roles automatically. Trainual also allows uploading of pictures, video content, or existing documents to make training not only easier but also more fun.
Trainual Pricing:
Trainual offers a 7-day free trial and does not require credit card information so you can definitely try it risk-free. The following are the pricing plans you can chose from :
Build: $49 per month for 2 seats.
Train: $99 per month for 10 seats included, additional seats are allowed at $3 per seat per month.
Scale: $199 per month, with 20 seats included, additional seats are allowed at $4 per seat per month.
If you are reviewing your budget to consider paying for Trainual's premier employee onboarding software then you should consider reviewing their Trainual's pricing on their website click here.
What I Like/Dislike about Trainual:
Like:
It has a very user-friendly interface
You can categorize the training and programs in accordance with the needs of each team member
Highly customizable
Can safely store not only internal procedures but also client-specific ones
Suitable for remote teams
Dislike:
The search feature within the platform needs improvement
Needs more interactive features
Trainual Alternatives:
There are a few onboarding platforms that we would consider to be at the level of Trainual. These alternatives should have features such as template databases and drag and drop features, you should consider the following:
Consider UseWhale.io as a competing Trainual alternative – Link
Product Update:
Keep up-to-date with Trainual here – LinkedIn.
---
Best Employee Onboarding Software Tool for Enterprises
Key Features:
Enboarder is a comprehensive platform built by and for HR. It is designed to have the best set of functionalities for your employee experience. Whether you are using Enboarder for employee onboarding or any other transition, you will surely find the functionality and openness of Enboarder top-notch.
Build and design unlimited workflows based on any user criteria
Create a range of different reports based on workflows, people, or activities
Improve communication between stakeholders (e.g.: manager to the new employee)
Embed third-party content such as surveys, maps, or existing forms/content
Create events that managers or new hires can add to any calendar application
Create mobile-optimized forms for the collection and display of information.
Integrate with 3rd party E-signing sites for seamless digital document generation and digital signatures.
User Experience:
Enboarder is a very versatile platform. Not only is it great at transitioning different levels of employees, but also partners, customers, and even relevant stakeholders. Its drag-and-drop feature also makes the platform such an easy tool to use, so you don't need expert-level of skills to customize it according to how you like it.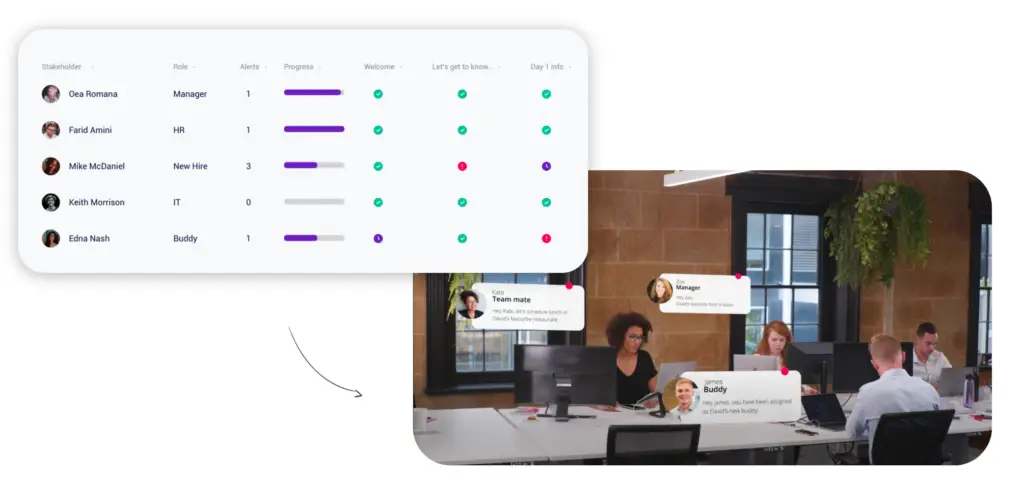 Pricing:
Enboarder mainly offers custom pricing based on your requirements. To get a custom quote, start by booking a demo on their website. Click here to learn more.
What I Like/Dislike About Enboarder:
Like:
Simple and user-friendly interface
Great support team
Personalization and customization features
Great team communication and collaboration tool
Dislike:
Needs more integrations
Website navigation can be a bit confusing
Product Update:
Keep up-to-date with Enboarder here – LinkedIn
---
Intuitive and user-friendly, BambooHR can help you maximize your company's potential by streamlining all your HR processes.
Key Features:
With BambooHR, you can create custom workflows and use features like signature requests, customized tracking, and personalized checklists to design an onboarding process your new hires and HR will definitely love.
Centralized employee database.
Benefit and payroll administration.
Employee and manager self-service.
Global capabilities.
Applicant tracking system.
Time and attendance tracking.
Document storage and management.
eSignature.
Pricing:
BambooHR offers a free trial version, and has two pricing plans you can choose from:
Essentials: $4.95 per employee per month
Advantage: $8.25 per employee per month
Custom Quote is also available which you can avail by contacting their sales team.
What I Like/Dislike about BambooHR:
Like:
Very well-streamlined employee data management
Hiring and onboarding capabilities
Easy to customize according to the needs of your company
Start-up friendly
Engaging user interface
Outstanding customer service
Dislike:
Need more app integrations especially in the recruitment area
Need to improve access level permissions
Product Update:
Keep up-to-date with Enboarder here – LinkedIn
---
Talmundo is an onboarding software that was developed for one reason only: to revolutionize the onboarding journey for your new employees.
It takes on your onboarding, so you can take on the world. They'll provide valuable and honest feedback and detailed analytics to help you identify and recognize sticking points between signing up and fully engaging.
Key Features:
One of its best features is it is easy to start using. You can program and customize an employee's roadmap easily so that you'll be able to get your system up and running within a short time.
Here are some of it's other amazing features:
Document management
Electronic forms
Training and task management
Employee handbook
Communication management
Customizable templates
Pricing:
Talmundo mainly offers custom pricing based on your requirements. To get a custom quote, start by booking a demo through their website. Click here to learn more.
What I Like/Dislike about Talmundo:
Like:
Visually attractive
User-friendly
Great mobile experience
Great customer service
Dislike:
Customization can be confusing when it comes to colors, design, fonts, etc.
Notifications are through email
Product Update:
Keep up-to-date with Talmundo here – LinkedIn
---
If you're looking for a full-service onboarding solution, Oracle's Suite People has you covered. The software package not only helps you manage new-employee paperwork and processes but also allows you to track employees' paid time off and payroll information.
Key Features:
Boost employee and manager self-sufficiency
Employee directory
Manager reporting tools
Time-off management
Payroll
Pricing:
Suitepeople mainly offers custom pricing based on your requirements. To get a custom quote, click here.
Product Update:
Keep up-to-date with Suitepeople here – Website
---
Zenefits lets your HR manage all your new hire lifecycle events in one place. Zenefits makes it super easy to onboard your new hires, run background assessments, let them finish their onboarding even before they start their first day, and send job offers.
Key Features:
Time management
Performance management
Hiring and onboarding
Document management
Pricing:
Zenefits offers 3 pricing plans:
Essentials: $10 per employee per month
Growth: $18 per employee per month
Zen: $27 per employee per month
Custom quote: contact sales
What I Like/Dislike about Zenefits:
Like:
Transition is seamless and easy
Great customization
Very good at dealining with Benefits, Employment paperwork and Compliance
User-friendly interface
Great time-off management
Low cost
Dislike:
Need to improve custom email triggers
Need to improve customer support speed
Product Update:
Keep up-to-date with Zenefits here – LinkedIn
---
***The sections below this are being updated.***
ClickBoarding is an onboarding software that uses surveys, videos, and other tools to coordinate and interact with employees and give them the information they need to start.
There's no need to reinvent the wheel. The templates that come with the ClickBoarding software let you use proven strategies and prepare your onboarding process without having to think too hard about it.
It allows you to track and follow employee onboarding progress. This is one of the most useful features of the software. You can easily connect this system with your existing HR software platform.
Lessonly is an advanced yet user-friendly e-learning software that lets you teach your employees the courses and resources you create. Lessonly will totally revamp the way you train and onboard new employees by cutting the amount of time it takes in half and making onboarding unforgettable!
Trello is an online tool that allows collaboration for any project. Trello's new hire onboarding templates make it easy to get up to speed and quickly feel comfortable using the tool.
Trello's template acts as a to-do list for your team members. You can assign tasks and due dates so that everyone is kept up-to-date on important project milestones. The program is free, making it an attractive option for small businesses that don't have the resources to pay for extensive software.
Zavvy is an innovative no-code platform for building workflows. It enables companies to quickly create and deploy their custom training materials. The service offers a wide range of pre-built templates for the most common use cases, and also integrates easily with a variety of HR systems and communication platforms such as Slack and Microsoft Teams.
Key Features:
Digidesk's Magical Form Filling makes the whole process of filling up forms easy and interesting, by copying the information provided by the candidate above and pasting them in the fields of the forms, where and when they are required. The information is then updated to HR or Admin automatically and can be accessed by your HR in their database.
Magical form filling
Dynamic form generation algorithm
Secure cloud storage
User Experience:
Digidesk takes the new hires' experience to a whole new level. With Digidesk, it is as easy as a click of a button. It uses a dynamic form generation algorithm to automatically populate user-given data into any form that the company requires.
Digidesk eliminates the cumbersome paperwork that is connected with onboarding by providing secure, digital storage of your new employee documents. This ensures the proper storage and retrieval of the documents, as well as makes the whole process paper-free.
Pricing:
Digidesk offers 4 different plans:

Bronze – $495 per month for 40 hours of task work per month
Silver – $945 per month for 80 hours of task work per month
Gold – $1,345 per month for 120 hours of task work per month
Platinum – $1,695 per month for 160 hours of task work per month

You can cut down the cost by availing of these plans quarterly, semi-annually or annually
Digidesk also offers a customized package which you can avail by contacting their sales team
For more information on Digidesk's pricing, click here.
What I Like/Dislike about Digidesk:
Product Update
Keep up to date with Digidesk here: LinkedIn
Key Features: Software for Employee Onboarding
Before deciding which HR Software to use, companies must determine which suits them best. They must define first their current challenges and goals.
Do they want to focus on employee information management? Do they want to focus on the management of talents? Or do they want a comprehensive system that covers a wide range of features?
After answering these questions, they shall match their needs to the characteristics of these HR solutions and identify which one they need the most.
If a company is most concerned about its onboarding process or the benefits of onboarding, it can choose between an HCM and HRMS.
Human Capital Management (HCM) offers all features of HRIS with talent management functions. Employees can take advantage of its learning, development, and career path planning features.
It gives them a general idea of how different departments work and how their roles contribute to the overall performance of the departments. With this software, employees can plan their career paths, and how and when to achieve them.
It also aids them in identifying which skills they need to acquire to be qualified for the roles they want to achieve.
Human Resource Management System (HRMS) offers standard features of both HRIS and HCM and some time management and payroll features, but may lack some talent management features.
In terms of tools, HRMS may be broader in scope as it has all the features that HRIS has to offer, and incorporates all HR-related applications.
In contrast, HCM may be more comprehensive in terms of functions, as it is a management system that provides more features to maximize employees' talents.
Here are some other things that a company needs to consider when looking for HR software suitable for its onboarding process.
New employees may have difficulty operating a complex interface; hence, companies should choose simple, easy-to-use software. A user-friendly interface will encourage new employees to explore it. They can quickly understand how to operate the system and how it functions.
Also, companies can customize the design of the interface based on their company themes. Because of its simplicity, it will be easier for companies to fix the problem when it comes to troubleshooting.
Centralized Employee Database
One of the most tedious administrative activities is repeatedly updating the details of employees. When HR software has a centralized employee database, once the information in one application is changed, it will also update all other applications within the system.
It enables the companies to make their new employees feel welcomed and valued. With welcome portals, companies can post manuals, instructional materials, and the like to guide the employees in adapting to their new roles.
They can access these documents once they log in to their portal accounts.
It also facilitates speedy and effective communication between the companies and their new employees since companies can quickly disseminate information, and employees can easily convey their concerns through the portal.
Good HR software enables the generation of status reports regarding the onboarding of new employees. It allows the companies to overview which employees have completed, are ongoing, and have yet to start their onboarding program.
They can identify which employees are behind their scheduled onboarding activities and those ahead of their schedule. If several new employees have difficulty completing their activities, companies may take a closer look into them and decide whether or not they need to revise their onboarding programs.
This feature allows the assignment of tasks and determines which are completed and are still pending. It emphasizes accountability and identifies which employees and departments are responsible for accomplishing them.
HR can set up automatic reminders for onboarding activities through emails to automatically notify the employees about the tasks that need to be started and completed to prevent schedule delays. It can also automate routine tasks and ensure a smooth flow of activities.
Aside from HR, it can also assign tasks to IT, payroll, and other concerned departments. For instance, the enrollment of the new employees' biometrics in the company's system is IT Department's responsibility. Another, the Payroll department is responsible for enrolling the new employees' bank accounts in the company's payroll account.
This feature reduces the amount of repetitive and administrative tasks by automating onboarding. Some examples are submitting and receiving applications from a department to the designated department and automatically rejecting requests based on set criteria. Another is automatic reminders through emails.
Companies can eliminate manual, repetitive, and logical tasks through this feature, enabling employees to focus on more productive activities.
Another feature that the companies should consider is the paperless feature of the software. It must allow processing, reviewing, and approval of documents by generating electronic signatures without printing copies. Also, security features must come along with digitized signatures to prevent unauthorized signing.
Attendance and Leave Tracker
Computing the number of hours worked, accrued, and used leaves can be bloody for the HR department. Sometimes, it can cause discord between HR personnel and the employees. Hence, an attendance and leave tracker that automatically computes the number of hours worked, available leaves, and used leaves can be helpful to prevent this inconvenience.
This feature allows the employees to access their portals and update their information. With this feature, employees can request leaves, apply for company benefits and loans, and track their new and ongoing onboarding training.
Conclusion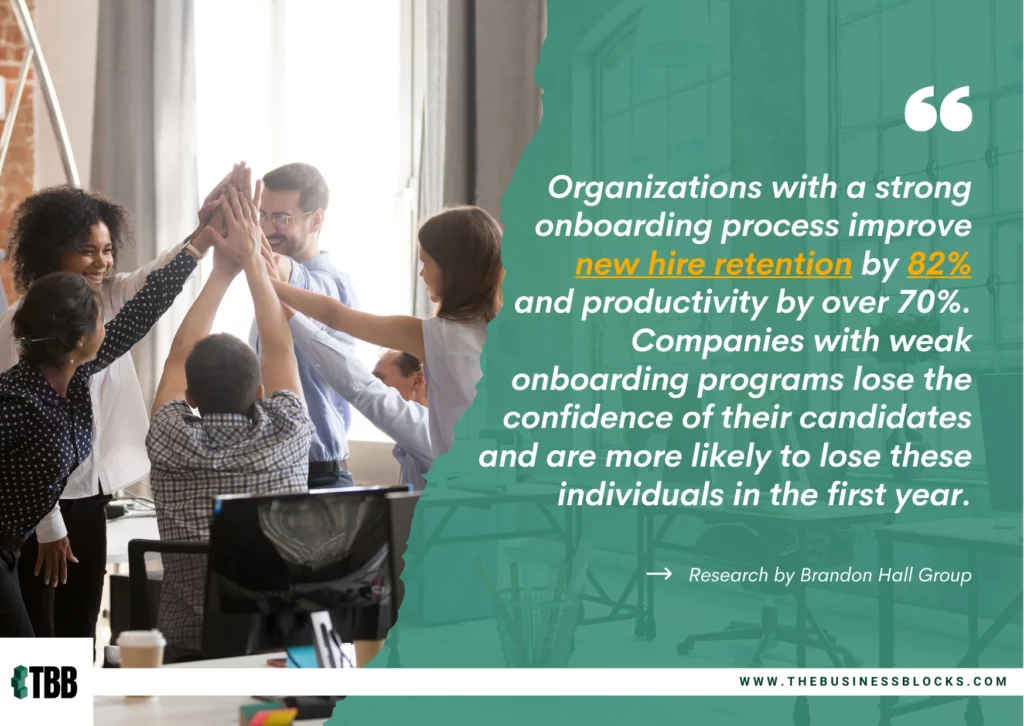 These top 10 onboarding software are great recommendations to help your company have a seamless and productive onboarding experience for your new employees. With the above-mentioned software, you can end the manual paperwork, monitoring, training, and various tasks. Integrating the software will automate your onboarding process that will ensure great results!
---
13 Best SaaS Employee Onboarding Tools for 2022
Eddy – SMB Choice for managing people, payroll, and hiring processes
Whale.io – Best for scaling businesses, knowledge sharing and training platform
Trainual – Number one for onboarding, SOPs, process documentation, and learning management
Enboarder – First and only People Activation Platform designed to help you transform your people programs into science-based, human-centric journeys
BambooHR – Excellent for HR service and employee tracking
Talmundo – Best for managing recruitment and onboarding processes
SuitePeople – Great at connecting HR data with financial, procurement, project, payroll, planning and budgeting processes
Zenefits – Great HRIS for small to large businesses
Clickboarding – Best for businesses needing global onboarding software to help employers
Lessonly – Great tool for teachings and training
Trello – Most user-friendly project management solution
Zavvy – Easiest way to foster performance, culture and well-being
Digidesk – Best platform for B2B financial onboarding and improved client experience