What's the most valuable asset of a business? It's not fixed assets, intellectual property, or anything. The most valuable asset of any business is its workforce.
Workforce management is one of the most crucial responsibilities of HR professionals. However, considering how much the corporate landscape has changed, it's not easy. For example, McKinsey reports that 35% of employees work full-time from home. Since most modern workforces are diverse, getting everyone on the same page is difficult.
Companies now use a variety of tools to make tasks easier. The SaaS revolution has made enterprise-grade tools available to small businesses. In 2021, businesses and end users spent $396 billion on cloud SaaS services. Workforce management software (WMS) is a SaaS tool that helps HR departments manage employees and their performance. They help the management allocate resources more efficiently and pay individual attention to each employee.
What is Workforce Management Software?
Workforce management software includes tools and features that make resource allocation more efficient. It's a tool that lets the HR department monitor employees and their performance. These tools help you identify overburdened and underutilized employees. With the help of this data, the HR department can allocate tasks and responsibilities more efficiently.
How is Workforce Management Software Useful for HR?
HR professionals use several SaaS tools to make their workflow more efficient. Recruiting tools are very popular in the HR space, which includes applicant tracking systems, video interview tools, and other SaaS tools. Workforce management tools bring similar functionalities to employee management.
For example, HR departments can use these tools to automate certain administrative tasks. They can also use WMS to measure business metrics regarding employee productivity. These tools handle various processes such as leave management, attendance management, billing hours management, etc.
Simply put, workforce management software provides a centralized dashboard for monitoring performance, allocating tasks, and automating routine administrative tasks. Think of it as a control panel for employee management.
The Top 10 Workforce Management Software in Details
Confused about which WMS to use? Here are the ten best workforce management system software tools in 2023:
1. Alvaria Workforce Engagement Suite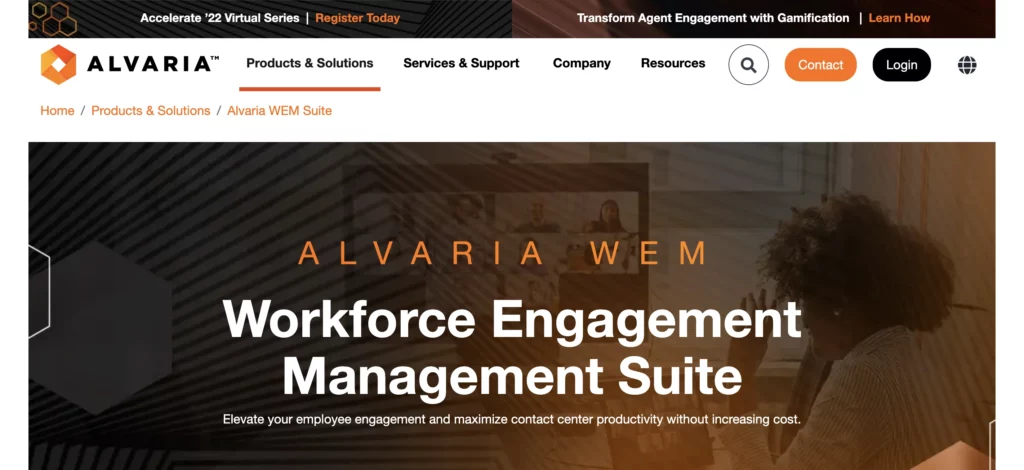 Alvaria Workforce Engagement Suite is a collection of four tools that work together as workforce management software. These four tools are Alvaria Employee Experience (EX), Alvaria Workforce (WFM), Alvaria Real Time Optimizer, and Alvaria Mobile.
Alvaria Workforce helps HR departments track adherence and, most importantly, tools that let you optimize schedules depending on situational demands.
Alvaria Employee Experience is geared towards improving employee performance. It uses gamification tools for increased engagement and provides coaching workflows to help employees perform better. It also archives voice and video recordings for further analysis.
Alvaria Real Time Optimizer is designed for call centers, but other organizations can also use it to optimize staff adjustments, deliver coaching, and keep employees on schedule.
Alvaria Mobile brings Android and iOS compatibility to the Alvaria Workforce engagement suite. If you want a complete workforce management solution, Alvaria is a good option.
2. Deputy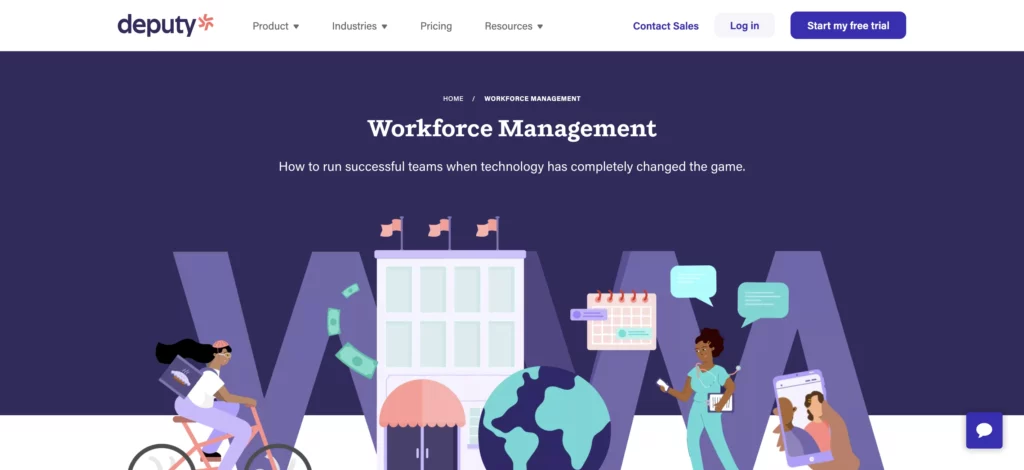 The deputy is a streamlined and easy-to-use workforce management tool ideal for businesses of any size. It offers basic yet functional features like scheduling, time tracking, and labor compliance. However, the impressive thing about Deputy is that you can integrate it into your payroll, HR, or POS software.
Deputy lets you create flexible schedules for employees and record working hours. It also offers a convenient interface for employees to communicate with the management.
While Deputy is not the most feature-rich workforce management software, its streamlined features are ideal for anyone who hasn't used workforce management tools before.
3. Workforce Suite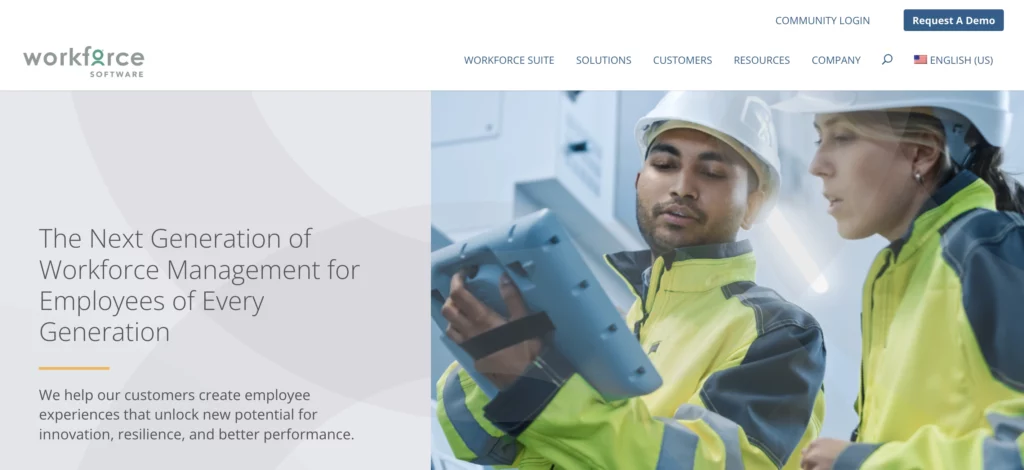 The Workforce Suite is one of the most popular workforce management tools in 2023. Workforce Suite has four components: Workforce Suite, Workforce Performance, Workforce Intelligence, and Workforce Experience.
The Workforce Suite is a complete workforce management solution suitable for any organization. Unlike Deputy, Workforce Suite isn't geared toward call centers or customer-facing businesses. Even manufacturing units and educational institutes can improve productivity with this suite of tools.
You can integrate various workforce management tools within the Workforce Suite, eliminating the need for multiple applications. It's a comprehensive employee management suite that covers everything from payroll management to performance analysis.
4. Blue Yonder Workforce Management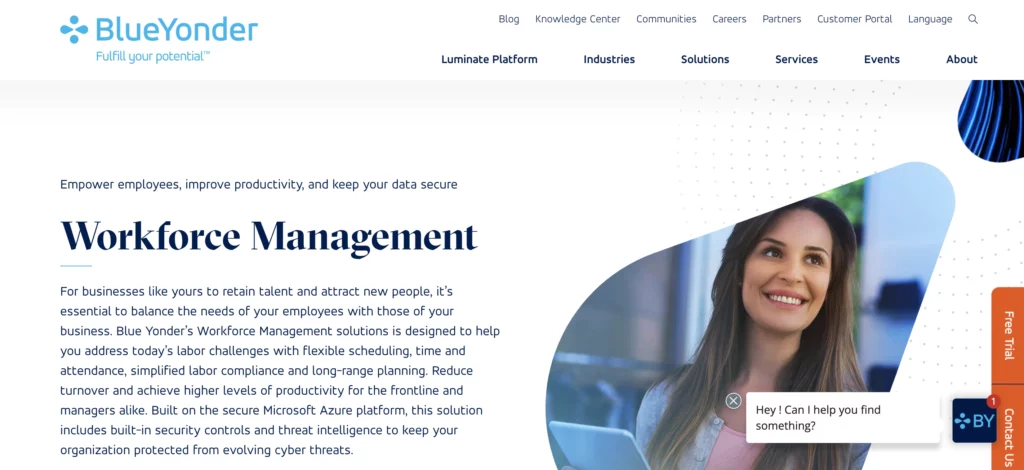 Blue Yonder offers several SaaS tools for businesses and organizations. The Blue Yonder Workforce Management tool targets specific employee performance, resource allocation, and satisfaction results. It also uses Microsoft Azure's multi-layered security protocol to secure sensitive data.
You can manage hiring with Blue Yonder's 12-month labor forecasts and maximize cross-training opportunities to retain promising employees. Employees would also love features like a self-service marketplace where they can bid for their desired shifts. It also keeps your business compliant with labor laws and protocols. This is one of the best workforce automation system today.
Blue Yonder Workforce Management is an all-in-one solution for businesses across sectors.
5. UKG Dimensions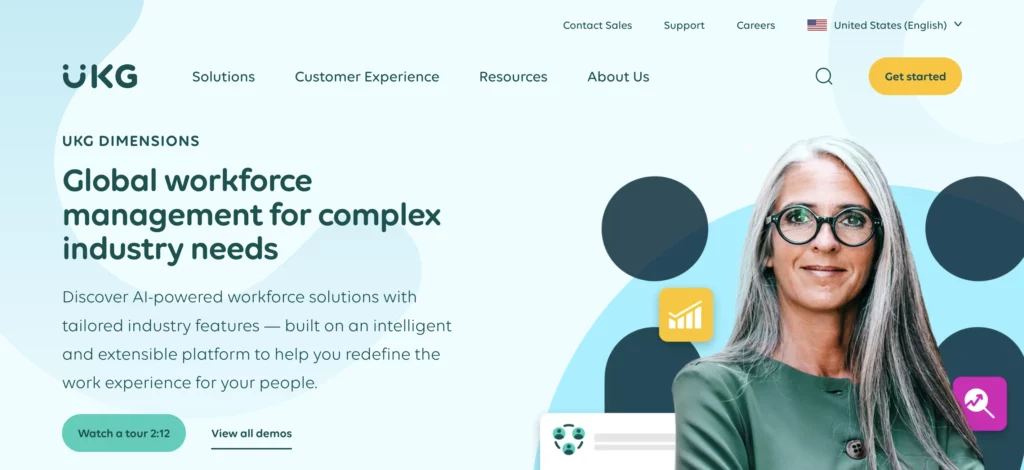 UKG Dimensions is one of the few workforce management tools incorporating AI-powered suggestions to improve productivity. Its intelligent recommendations help managers make better work allocation and scheduling decisions. UKG Dimensions can be tailored to suit the needs of any industry. IT companies, manufacturing units, retail stores – every sector can use UKG Dimensions by adding the necessary extensions.
Like other workforce management tools, UKG Dimensions has four main use cases:
Time and attendance management
Flexible employee scheduling
Analytics and insights on workforce productivity
Compliance and labor law management
UKG Dimensions addresses the needs of most if not all, workplaces and industries.
6. Verint Impact 360 Workforce Management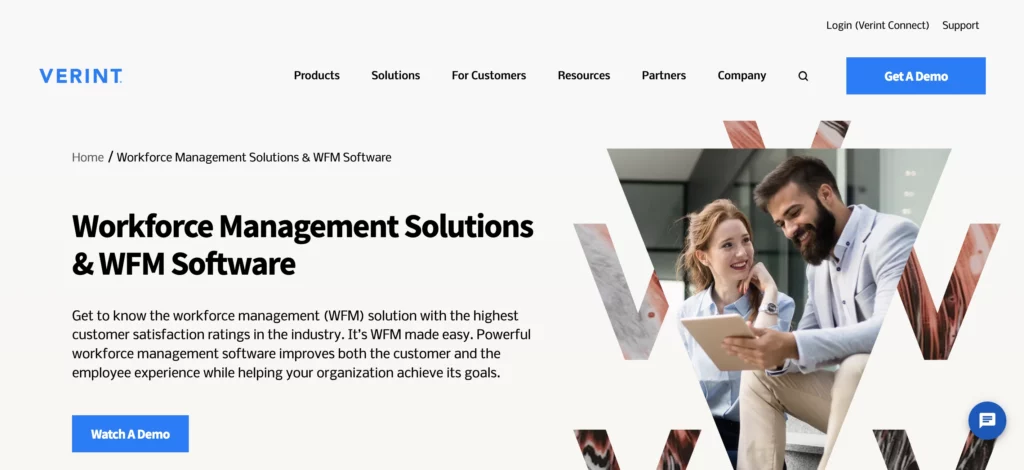 Verint Impact 360 Workforce Management, or Verint Workforce Management, is a simple and intuitive workforce management tool. Like Deputy, Verint Workforce Management software also focuses on call centers and customer-facing businesses.
Unlike some of the other tools on this list, Verint Workforce Management does not offer a comprehensive employee management suite. Instead, it uses functional and basic features in a user-friendly interface for straightforward employee management. The standard features of this tool include schedule management, performance management analysis, onboarding and coaching, and a communication interface for employees and employers.
Verint Workforce Management software is a great choice if you want a simple and functional workforce management solution.
7. Oracle Workforce Management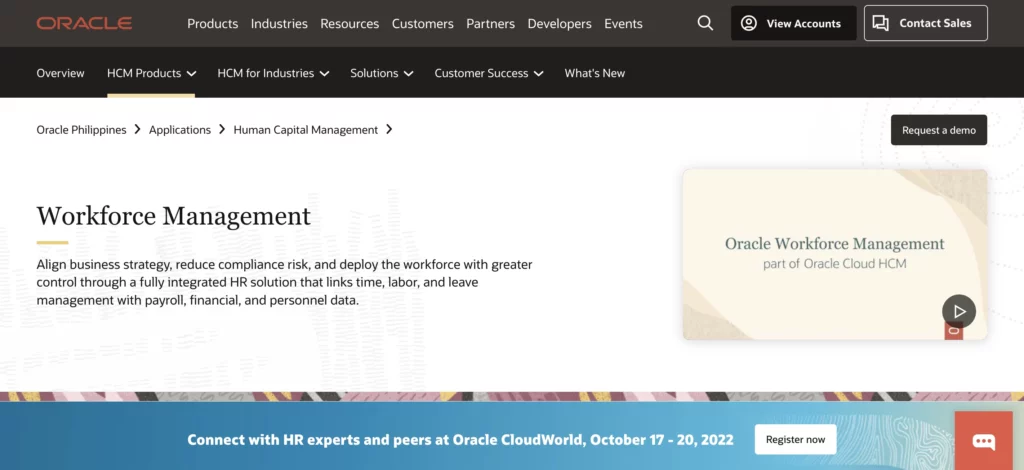 Oracle Workforce Management is a popular and widely used workforce management tool. The target use cases of this tool are time and labor management, absence management, and workforce health and safety management.
While most worker management software tools offer absence and time management features, few offer a comprehensive workforce health and safety management suite. With Oracle Workforce Management, you can report and manage incidents, send alerts to key stakeholders, and track safety objectives.
The absence data management feature of Oracle WMS helps us identify areas where the workforce is lacking through synchronization with any existing HR infrastructure. Oracle Workforce Management is a leading WMS due to its functional and easy-to-use features.
8. SAP SuccessFactors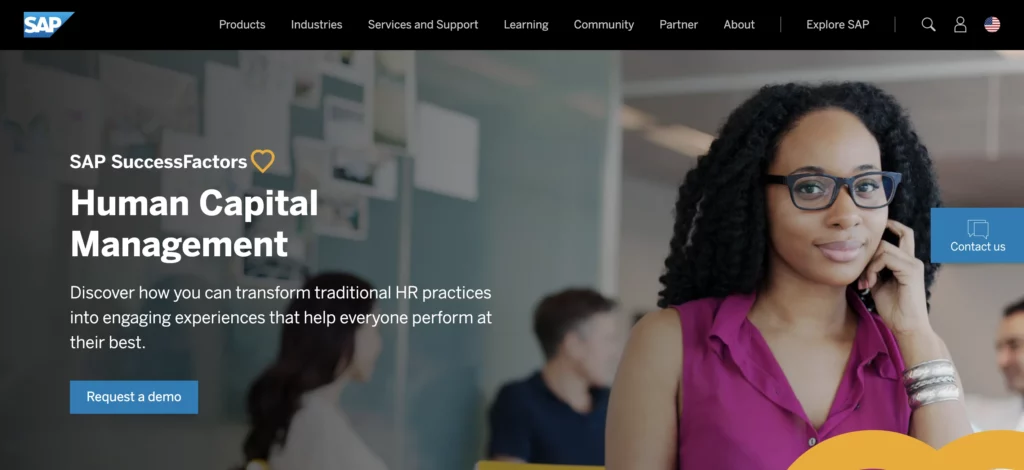 SAP SuccessFactors is a complete employee management suite geared toward HR professionals. It includes multiple cloud-based applications for payroll administration, talent management, people analytics, workforce planning, and employee experience management.
SAP SuccessFactors HXM Suite includes everything that HR departments need for better management of the workforce. It offers analytics, data-driven insights, easy onboarding, learning processes, and feedback analysis.
Apart from being a workforce management tool, SAP SuccessFactors is also a recruitment tool. HR professionals can use this tool to manage talent from a unified dashboard and monitor the performance of candidates. Like UKG Dimensions, SAP SuccessFactors uses AI-powered decision-making tools to identify gaps and suggest solutions. This is one of the workforce management solutions.
HR departments that want to simplify their workflow should consider using SAP SuccessFactors.
9. Fuse Workforce Management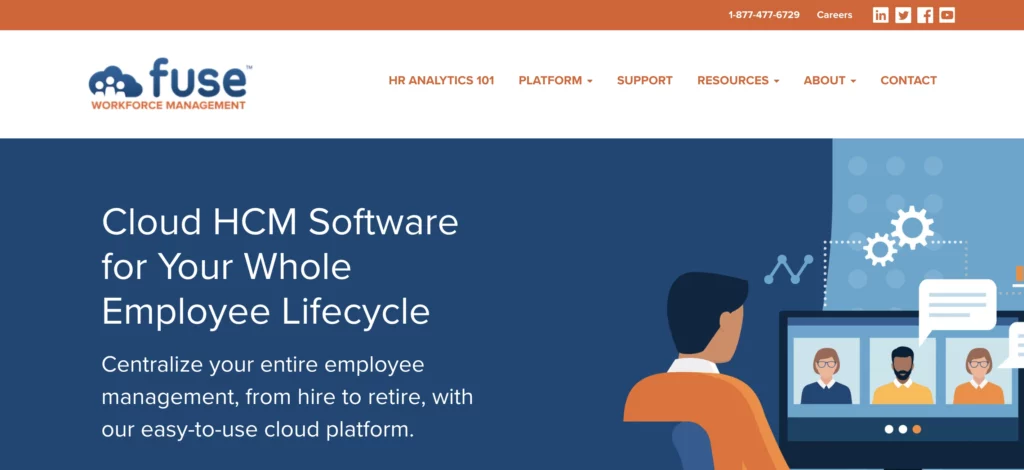 Fuse Workforce Management software has most of the features you will find on any other WMS. However, it's more customizable than certain tools, especially streamlined workforce management tools like Deputy or Verint Workforce Management.
Managing employee information from different tools can become confusing. With Fuse Workforce Management, you can bring all your workforce management activities into one integrated platform. The data updates in real-time, allowing HR professionals to make better decisions.
Fuse Workforce Management eases employee and management communication with its dynamic employee self-service tools. Fuse Workforce Management is worth considering if you want to switch to a modern and intuitive employee management suite.
10. Papaya Global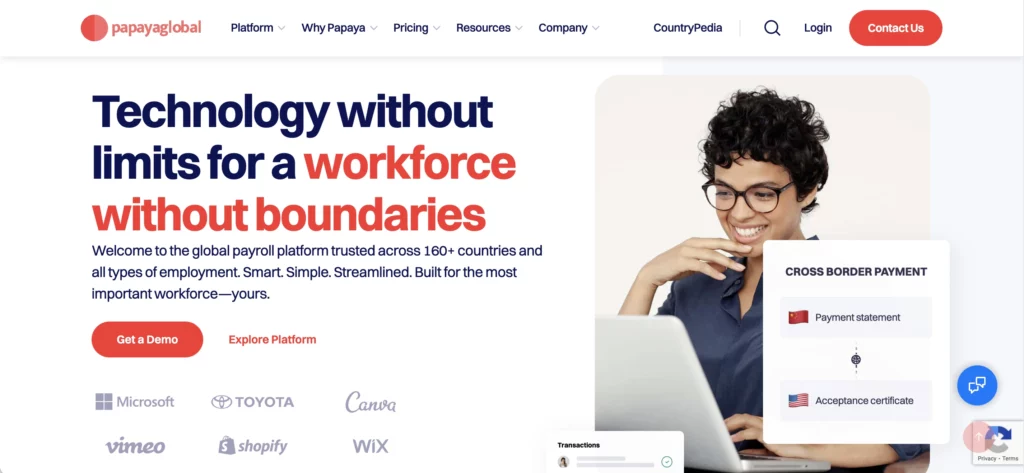 Papaya Global is an international payroll and workforce management software. It's an essential tool for organizations with employees from different countries. Papaya Global provides a unified and synchronized dashboard for payroll management of your employees, contractors, and EOR workforce.
While global payroll management is the highlight of Papaya Global, it can also record working hours, attendance, and leaves. A self-service portal lets your employees view and manage their personal work records, leaves, and payslips.
Hiring international employees is challenging for most companies, mainly due to regulations. Papaya Global solves this problem by automatically checking all documentation for regional and international compliance. Global usability, compliance checks, and unified payroll management are the three main differentiators of Papaya Global.
Who are the Target Users of Workforce Management Software?
Workforce management tools are primarily targeted toward HR departments. However, workforce management software can benefit anyone who manages a team of employees.
Businesses of all sizes and scales can use workforce management tools. Most of these tools are scalable; you can continue using them even after your workforce grows in size. You may have 10 employees today and 100 employees a few years down the line. With a scalable WMS, you don't have to worry about changing your workforce management infrastructure.
Small business owners arguably benefit the most from workforce management tools. These tools allow small companies to manage employees without a dedicated HR team. Business owners can double up as HR professionals with workforce management tools to save money, resources, and time.
There's no restriction on who can use workforce management software. That said, organizations with a substantial workforce can experience more benefits from using workforce management tools.
Notable Features of Workforce Management Software
According to the think tank Gartner, there are four main functions of workforce management tools:
Tracking employee productivity
Tracking and recording working hours and absentees and delivering the data to payroll management systems
Helping employees better understand their roles and responsibilities
Creating transparent and systematic schedules/rosters for the workforce
We can sum up the functions of workforce management tools under these four sections. All the functions and features of WMS relate to one of these four factors. For example, allocating resources optimally falls under helping employees better understand their roles and responsibilities. Employee productivity is directly related to the quantity and quality of an employee's work.
There are separate SaaS tools in the market for creating schedules and recording attendance. However, the advantage of workforce management software is that you get all the necessary features in a single suite. It covers all your needs with a single tool instead of three or four different tools.
Other Software and Services Related to Workforce Management
Recruitment SaaS tools are the closest relative of workforce management software. Many features overlap between these two categories of SaaS tools. For example, both track individual performances in a centralized database that you can evaluate later. In the case of applicant tracking systems and other recruitment tools, this data is about applicants instead of employees.
Schedulers and payroll management systems also serve some functions of workforce management software. But as we already said, workforce management tools bring different employee management features to a single platform.
What are the Benefits of Using Workforce Management Software for an Organization?
There are multiple benefits of using workforce management software. Here's a quick review of the most significant benefits:
Allows optimum allocation of tasks and resources to minimize work loss and maximize productivity
Provides a unified interface for absentee and payroll management
Allows systematic scheduling of employee tasks and responsibilities
Brings features from separate tools into one platform
Tracks employee performance both collectively and individually
The benefits of workforce management software are multidimensional and unrelated to HR processes alone. Every branch of an organization can become more efficient with the help of these tools.
The Wrap
Using workforce management software simplifies various employee management and HR processes. Businesses not using workforce management tools in 2023 miss out on productivity and optimized resource allocation. We hope this guide informs you of workforce management software's possibilities, features, and benefits. Try the best workforce management software!