The onboarding for remote employees challenges can range from lacking visibility in online sites when posting job ads to organically integrating new hires into your team when it's done completely online.
Finding the right people to hire for your company is a daunting enough task, but with the challenges that come with an emerging work-from-home environment (and necessity), remote onboarding may prove an even more daunting task for employers.
Did you know?

Onboarding systems continue to be a top 10 technology investment, with 83 percent of employers saying they have one currently in place. A modern employee onboarding solution can help you execute a more strategic, efficient, and streamlined process that can improve new hire satisfaction, retention, and productivity.

SaplingHR
In this article, we point out the difficulties that lay ahead of remote onboarding duties and the best practices to overcome them.
---
8 Best Practices for Onboarding Remote Employees
Get and give feedback.
Give online access to new hires ASAP.
Illustrate existing work practices and expectations.
Identify and address employee concerns.
Integrate fun into their learning plan.
Provide opportunities for cooperative learning.
Create onboarding plan and set goals with new hires.
Automate where you can
---
What is remote onboarding?
Activities that provide new hires the opportunity to learn more about the company's values, work ethic, attitudes, traditions, tools, and teams are all part of the employee onboarding process. Remote employee onboarding follows the same principles for its activities, except the new hires work remotely rather than in the office.
Other than using online tools and video conferencing for remote onboarding activities, employers must also consider how to best engage their employees and encourage socialization for them and their co-workers.
From an employee's point of view, onboarding is a chance to get to know who they're working with, what they can bring to the team, and what values they should strive to have.
On the other hand, employers view this process as a way to not just introduce employees to the company and its people, but to share resources to new hires that would allow them to succeed and excel during their stay in the company.
Onboarding can be both informal and formal. A balance of both is usually utilized by employers who want to share the technical and industrial knowledge needed by new hires, but still make the experience fun, social, and welcoming.
Examples of formal onboarding activities include workshops, training seminars, team building exercises, and more. Informal onboarding often includes what is termed as "shadowing" other, usually more experienced employees, meeting other team members and stakeholders, and coaching or mentoring.
How is onboarding for remote employees different?
Before we get to the differences between remote and on-site onboarding, the difference between orientation and onboarding must first be understood. Orientation refers to a brief and often one-off session with employees to summarize their responsibilities and the company's goals.
However, onboarding takes more than one session to properly implement and requires employers to guide employees from weeks to months. Now on to the differences between remote and on-site onboarding.
Although remote onboarding and on-site onboarding share the same principles for integrating new hires into the company, there are still pros and cons to be weighed for remote onboarding.
Since the shift to an online work environment for many companies, one of the advantages afforded to employers for remote onboarding is the ability to provide new hires with supplementary training and materials in the form of videos, recordings of missed meetings or training sessions, and online interactive tools to communicate with other employees and stakeholders.
Remote onboarding also allows new hires to engage one-on-one with the employer first, rather than immediately delve into a new environment where they may feel pressured to socialize instantly with people they don't know yet.
As for the challenges of onboarding employees virtually, one of the more obvious difficulties is the feeling of isolation that comes with the onboarding process.
Building relationships is much easier to do on-site since employees get to see and interact with each other in a shared physical space, but the same cannot be said for a remote environment.
Remote employees may be less engaged in team-building activities, especially when thrown into a new team, thus making it more difficult for them to absorb key learnings while working remotely.
Many activities that usually allow new hires to socialize with their fellow employees take on an awkward, slightly delayed video-call quality that many online activities done online often hold.
This can throw a wrench in the employer's efforts to make the work environment a safe, engaging, and productive place, along with other common difficulties in remote onboarding.
Common remote onboarding challenges
As previously mentioned, remote onboarding forces employers to face challenges they normally wouldn't struggle with in an on-site setting. Here are a few common challenges remote employers and employees alike should be familiar with:

1. Technological difficulties
It's hard enough to build rapport over virtual meetings, but it's even harder when online video conferencing tools like Zoom are laggy for some users, and harder still when new hires may not have the most stable internet connection at home.
On-site, the quick and easy fix would be to have an IT staff check on the employee's computer and internet connection, but left to their own devices at home, remote employees must prepare and fix their tech set-up alone. This can cause delays, missed cues and pieces of information, and reduced productivity over the course of the onboarding process.
2. Decreased employee visibility and motivation
Due to the stress of adjusting online and not really having a work/life balance because of remote work, new hires may feel less motivated to engage with the rest of the company. They may also feel that the lack of face time with the managers and fellow employees increases their feelings of isolation.
3. Increased distractions
Working from home means employees (and employers) are exposed to multiple distractions from work including other household members, pets, loud construction noises, gadgets, and more.
Being so close to these distractions may make it harder for employees and employers to fully engage in onboarding and may lead them to quickly lose focus on what needs to be done.
Best practices for onboarding remote employees
To avoid the aforementioned challenges in remote onboarding as much as possible, here are a few of the best practices to ensure a smooth remote onboarding process: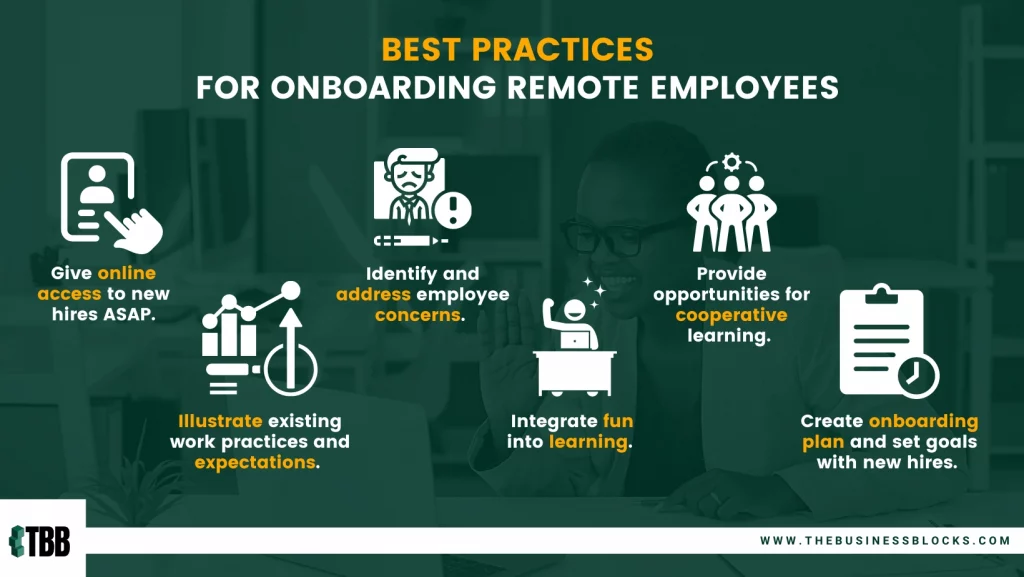 Give online access to new hires ASAP.
New employees who may be delayed in joining work apps like Slack or Microsoft Teams might feel like they're missing out on important announcements, company databases, and virtual hangouts as they start working remotely. It's crucial to meet with new hires and IT staff right away to get them started on their remote work set-up and provide them with log-in credentials and access to the appropriate sites used by the company.
Illustrate existing work practices and expectations.
Remote work can be intimidating, especially without the proper tools to guide new hires right away, so ensuring that they're equipped with the company's workflow, practices, expectations, and tried-and-tested problem-solving processes would go a long way in making a remote workplace feel more manageable for new employees.
Identify and address employee concerns.
New hires naturally have initial and pressing concerns starting at a new company, but a remote set-up prompts a new wave of concerns ranging from technical issues and work equipment to employee benefits that include better work equipment. It's important to address these concerns and ensure employees that asking questions is welcome and encouraged.
Integrate fun into learning.
Just like on-site onboarding activities, remote opportunities to bond with the team and learn more about the company should be a healthy mix of exciting and enriching. If activities are strictly formal and suppress creativity and personality of new hires, then a trend towards low morale should be expected.
But if activities are completely informal and don't provide more insight on the company's directives, new hires may be less motivated and less productive. It's important to achieve a healthy balance of work and play in order to maximize every employee's maximum potential.
Provide opportunities for cooperative learning.
Much of remote work can be done alone and in flexible hours, which allows more independent decision-making from employees, but it may also contribute to a sense of isolation from the rest of the team.
To make up for this, employers can directly provide projects or simple tasks that encourage employees to reach out to one another and collaborate to achieve a goal. This fosters better professional and friendly relationships, communication, and teamwork among employees.
Create onboarding plan and set goals with new hires.
Newly hired employees may be anxious to work and interact with others as soon as they start, but it becomes a struggle when they don't have a clear starting point and list of goals to work from. Employers must make it a priority to have one-on-one meetings or consultations with new hires to give as much support as needed for employees to adjust to their new environment.
Whether it be best practice or onboarding strategies, with a little planning you can take your onboarding a long way.
Remote employee onboarding checklist
As an employer or a hiring manager, ensuring that onboarding goes smoothly is a must. This can be more effectively done with the help of a checklist:
Start strong and early.
It is every hiring manager's duty to plan ahead before onboarding for remote employees. Rather than allow things to happen last minute, employers must already have a good grasp of how to integrate new hires into the company workflow.
This can be done with something as simple as adding new hires to Slack groups or Microsoft Teams. Additionally, sending projects and tasks that new hires can start with, or even assigning a mentor to each new hire, would allow a smoother transition for employees.
Schedule an orientation with HR .
Employees are entitled to a meeting with Human Resources for any concerns or negotiations prior to joining the team. In this orientation, new hires can digitally sign HR-related documents after going through them on their own time or with HR. Here, they can learn about the benefits they gain through joining the company and set up any accounts they may need for administrative processes.
Ask them to write an introductory message.
Oftentimes, new hires need a little push in the right direction to get them to interact with other team members. Hiring managers can suggest writing a short introductory message they can send to the company's chosen communication app. The message can include the new hire's bio, interesting facts about them (like hobbies or interests), what made them join the company, and so on. It's important to help facilitate a welcoming environment for new hires and bridge the gap between new and existing employees.
Provide ample company background and documentation.
It's hard to get the sense of a company's culture and integrate into it when working on a remote basis. To ease employees into trying to fit in in their new environment, employers can provide a digitalized handbook containing a company's history, documentation of past events and projects, information of team members and various stakeholders, and other such pertinent information that could provide new hires with a more personal experience of the company.
Onboard in groups
As much as one-on-one onboarding is more personal, it also may not be as feasible for all companies, especially start-ups that may not have the manpower to have one mentor assigned for each new hire. Group onboarding may be more feasible for some hiring managers and may aid in fostering teamwork, interpersonal relationships across departments, boosted engagement and excitement in a remote workplace, and more efficient and productive sessions. The more groups interact with each other during the onboarding process, the more they would be comfortable collaborating in projects and achieving goals together.
A group onboarding can be done through a series of virtual meetings wherein the company's values and goals are discussed, alongside any other meeting agenda set by the hiring manager.
Set up virtual hang-outs and professional meetings with remote buddies.
Assigning employees as "remote buddies" could be a great way to encourage them to branch out and interact with people they normally wouldn't. Switching buddies every few months to assess who works best with each other in both professional and personal capacities would also be beneficial to the company and its workers.
Remote buddies can also regularly attend team orientations that provide them with the necessary team links, documents, calendars, and projects.
Create a 30/60/90 onboarding plan.
Employers must provide goals and checklists for new hires that they can achieve over the course of 30, 60, and 90 days. These goals should help foster more focused and motivated employees.
The plan's extend to managers as well and you can see our article on the 30 60 90 day plan for managers here.
Encourage feedback.
No employer or employee is going to be perfect. It's crucial to the development of the company for workers to consistently give constructive feedback when necessary. This way, conflict can either easily be resolved should it arise or even be prevented completely due to good communication.
Best remote onboarding programs/software
To ensure the best onboarding experience for new hires, employers can use the following programs:
Paylocity
Paylocity is a unique program that allows employers to track attendance, manage budget, process payroll, send important announcements and reminders, and more. The program's pre-made courses are ready to be used as soon as an employee signs up and gives them access to online materials like recorded meetings, audio files, interactive activities, and the like.
ProProfs Employee Training
ProProfs is an employee training software favored by companies and even educational institutions. With its trove of pre-made training materials, its compatibility with different devices and browsers, and availability in over 70+ languages, ProProfs is a top choice for cultivating top-quality performance.
Sapling
Sapling is a much-preferred onboarding platform for mid-size companies looking for a tool where they can manage employee data, create and store employee profiles, and share organizational documents and processes at an efficient pace. Employers can use Sapling to automate task assignment by department, location, and employment status and integrate with a company's existing systems.
ClearCompany
ClearCompany allows for new hires to meet their hiring manager, the company's HR team, and their fellow workers even prior to the onboarding process. This program is ideal for bulk onboarding as it allows managers to create, label, and launch multiple onboarding programs simultaneously.
Whether it's for small or big companies, ClearCompany enables managers to create 30/60/90-day check-ins easily to cultivate a productive environment. ClearCompany also makes use of other HRIS systems and payroll providers like ADP and BambooHR.
BambooHR
Speaking of BambooHR, this program is a staple for start-ups seeking to customize a more personal and enriched experience for their employees. The HR team can easily track the progress of each employee, depending on the department they're from, their seniority, the projects they're working on, and other such categories available for customization.
The simplicity and efficiency of BambooHR's layout allows hiring managers to easily communicate with their employees and keep track of their progress — all while integrating the software with common HR platforms like LinkedIn, Microsoft Teams, Slack, Google Workplace, and similar digitized platforms.
Absorb
Now, for employers looking for programs that could be more engaging for workers, Absorb offers a highly customizable system that provides badges and certificates for employees who perform well. This can foster healthy competition and collaboration among employees, thus increasing engagement and productivity. This learning management system is highly favored by users as it enables a more personalized employee experience.
Conclusion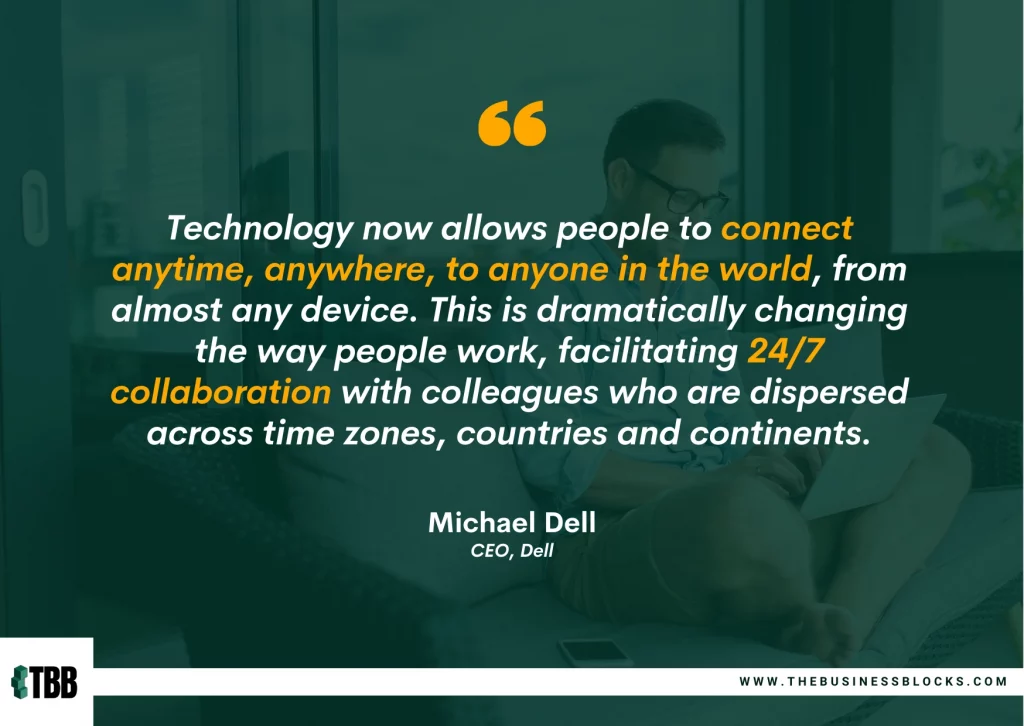 Equipped with the right practices, goals and values, and software tools, hiring managers can more effectively traverse the challenging, but fulfilling realm of remote onboarding.
It can be difficult to gauge exactly which methods work best for employees coming from such diverse backgrounds, but with the right attitude, work ethic, and genuine desire to bring people to their maximum potential — employers and employees alike would be able to achieve what all stakeholders need the most.
---
Check these out: