If you are a business owner or a manager, you'd know the importance of employee engagement for the growth of any organization. the organization having highly motivated and engaged employees can achieve all its goals and remains steady during challenging times. Better employee engagement also increases employee retention.
However, keeping your employees engaged and motivated is not an easy task for an organization – especially with the growing popularity of remote workers. When a large number of your team members work from different parts of the world, traditional employee productivity methods like free lunches or coffee don't work anymore!
This is where advanced and good-quality employee engagement software comes into the picture!
In this blog post, we will walk you through everything related to employee engagement software, its features, and its importance for modern-day organizations. We will also talk about the top 10 employee engagement software of 2022 to help you find the best one for your organization.
So, let's get started!
What exactly is employee engagement?
Before we walk about employee engagement software, it is essential to understand what is employee engagement in the first place. Employee engagement is not a new concept.
It dates back to the early 1990s when companies and factories understood the importance of their workers' productivity and loyalty. Back in the day, employers tried various methods to increase their team's passion and commitment towards their work and company.
While the methods of increasing employee engagement have changed today, the concept and the purpose behind them remain the same. At its heart, employee engagement is all about the level of commitment and passion employees have for their work and their company.
Employee engagement has a direct impact on the company's performance. The more engaged your employees are, the better your company will perform.
Thus, the employer must make their employees feel valued, appreciated, and rewarded at the workplace. They can do this by making their job more interesting, goal-oriented, and rewarding.
What is employee engagement software?
Simply put, employee engagement software are applications or tool that help present-day companies is discovering various ways to make keep their employees engaged and increase business growth.
This software is designed to improve the employees' working experience by improving the workplace culture and making it more cordial and goal-oriented.
This software not only aims to increase the productivity and engagement level of the employees. Instead, they focus on their overall experience by making them a part of the company's mission and culture.
Choosing the right employee engagement software can be a game-changer for most businesses. It can pave the path to increased productivity, more significant revenues, and more success.
How is Employee Engagement Software Useful for HR?
The main uses of employee engagement software for employers, HR managers, and employees include the following:
Employee engagement software is used by employees to give feedback and scores to their colleagues, managers, subordinates, etc.
Managers use such feedbacks and scores to devise techniques that can reduce employee burnout and enhance their productivity.
Managers also use employee engagement software to identify the top performers and reward them for their efforts.
Employee engagement software is also used by employees and managers for communicating with each other.
Today, the demand for good-quality employee engagement software is increasing rapidly. This has resulted in a large number of employee management software flooding the market. Thus, if you are out there looking for the best employee engagement software for your company, you will come across multiple options.
The Top 10 Employee Engagement Software in Details
We are going to tell you about our top 10 picks for the best employee engagement software of 2022.
1. Nectar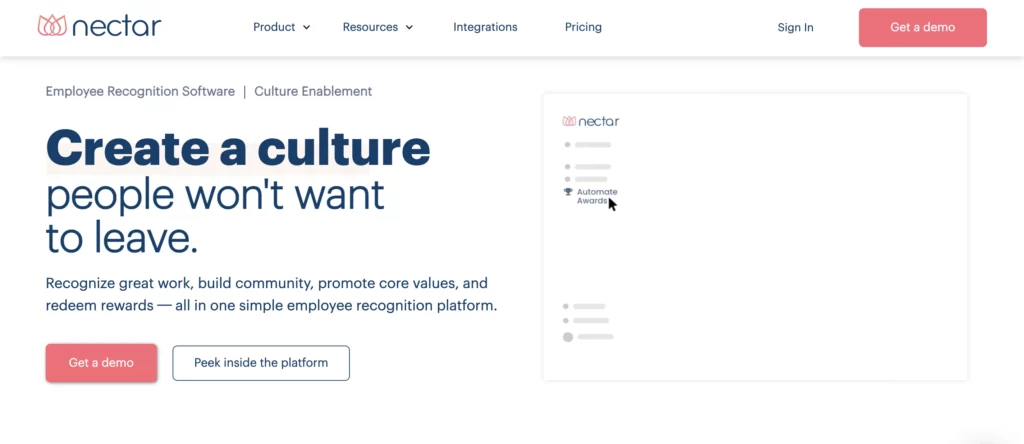 If you are looking for a user-friendly and affordable employee engagement tool, then Nectar can be the right fit for you. The software focuses on community building and promotion of the company's core values for boosting employee engagement.
Some of the most notable features of Nectar include the following:
A large lot of rewards including company swag, gift vouchers, gift cards, etc.
It also allows managers to appreciate and recognize the efforts of their team members through GIFs, virtual shoutouts, and more.
One of the best things about Nectar is that it can easily be integrated with your company's HRIS system and will enable you to celebrate your team members' work anniversary, birthdays, etc. automatically.
2. PeopleOne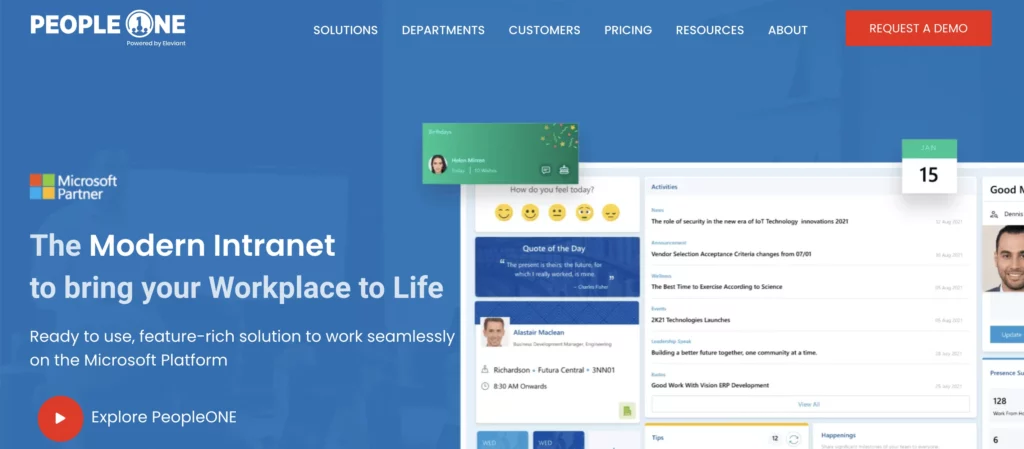 If your goal is to strengthen the communication between your team members, PeopleOne is for you! It is a superb employee engagement software designed to promote unified communication, engagement, and experience of your employees. Just like most other employee engagement software out there, PeopleOne also allows managers to keep their workforce motivated and inspired.
The major features of PeopleOne are as follows:
It promotes seamless conversation between team members, ensuring that everyone is on the same page and there is no confusion.
It promotes social interactions with the help of discussion forums
One of the best features of PeopleOne is that it lets HR managers design

targeted surveys and polls for employees. This helps them get valuable insights and make informed decisions.
3. Assembly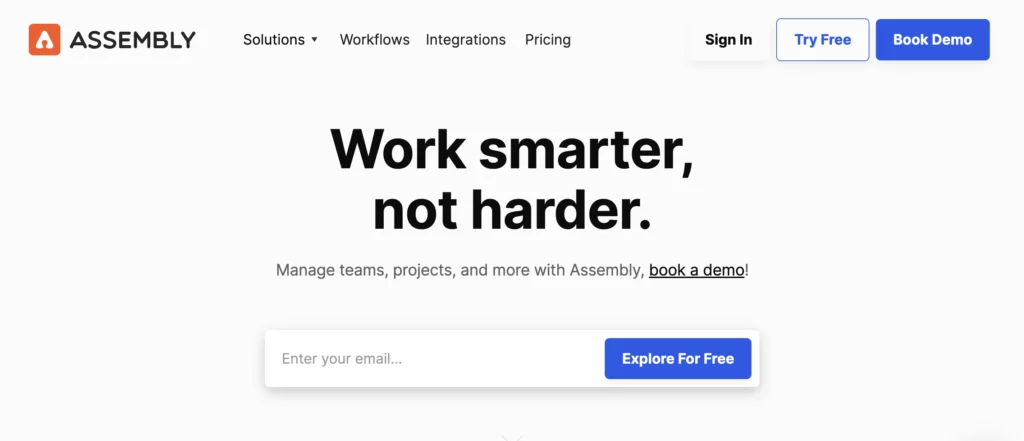 When it comes to increasing employee engagement, nothing works as efficiently as offering them incentives and rewards. And this is what Assembly focuses on!
Assembley is a fantastic employee engagement tool that allows managers and team leaders to recognize and reward their employees in different creative ways.
Some major features of Assembly include:
4. Motivosity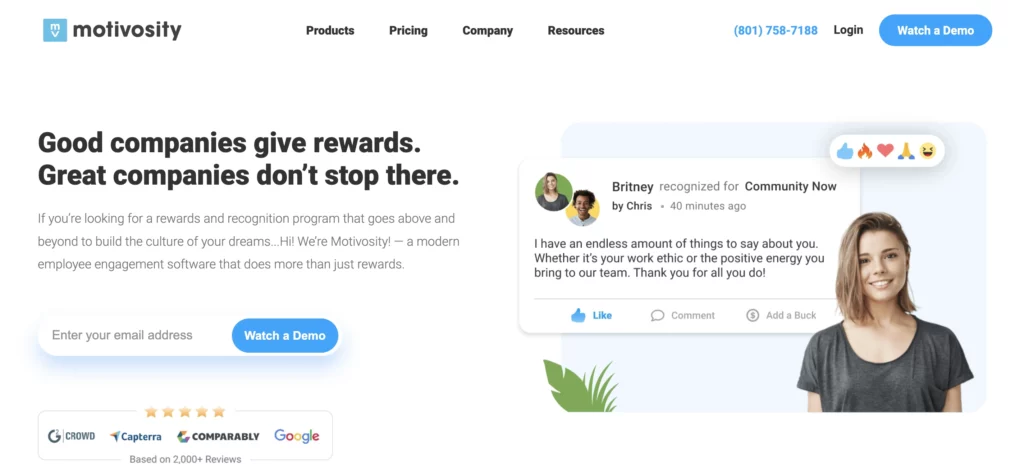 Motivosity is one of the most popular employee engagement software that specially focuses on making people happier at their workplace. Today, more and more people are dealing with workplace-related stress that affects their physical and mental health and prevents them from leading a happy life. By minimizing workplace-related stress, Motivosity promotes a healthy working environment that is necessary for an individual's overall development and career growth.
Motivosity achieves this by focusing on three major drivers of employee engagement and productivity. This includes:
Appreciation for their work
Feeling like a part of the community
Positive relationship with their manager
Major features of Motivosity include:
Multiple gift cards, experiences, and custom company rewards that managers can choose for their employees
Managers can use the feature to create customized awards, badges, and other incentives for their team
Managers have the facility to collaborate with each employee and keep tabs on their unique needs, strengths, etc.
eNPS and custom surveys
Features for personality tests that help in finding similar interests between peers
5. Kazoo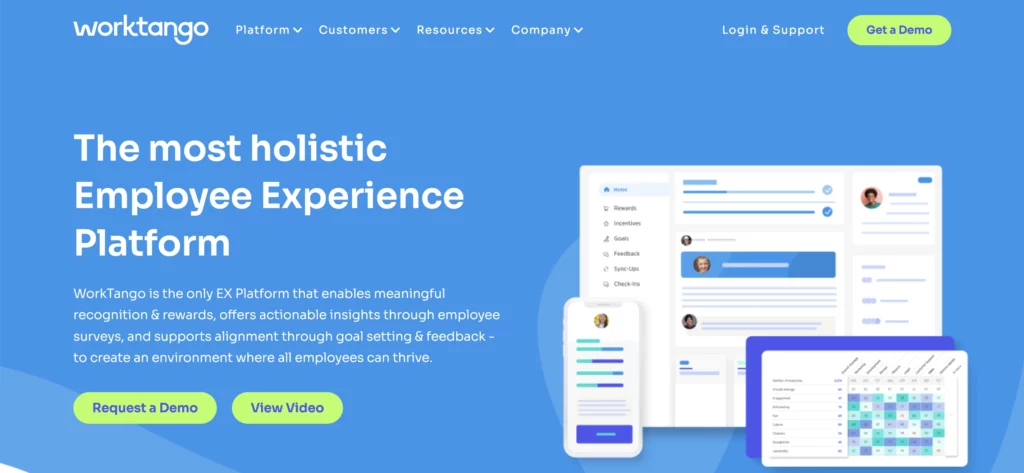 If you are looking for the best employee engagement software specifically for your remote team, Kazoo can be the right choice! The software is designed to enhance company culture and drive employee engagement no matter where your employees work from.
The software offers an excellent way to managers to combine goals, key metrics, feedback, recognition, and incentives in a single easy-to-use platform.
The major features of Kazoo include the following:
Easy way to manage key milestones and achievements in specialized catalogs
Collaboration on shared goals within and across different teams and departments
Managers can create customized rewards that are in alignment with the company's culture
6. Fond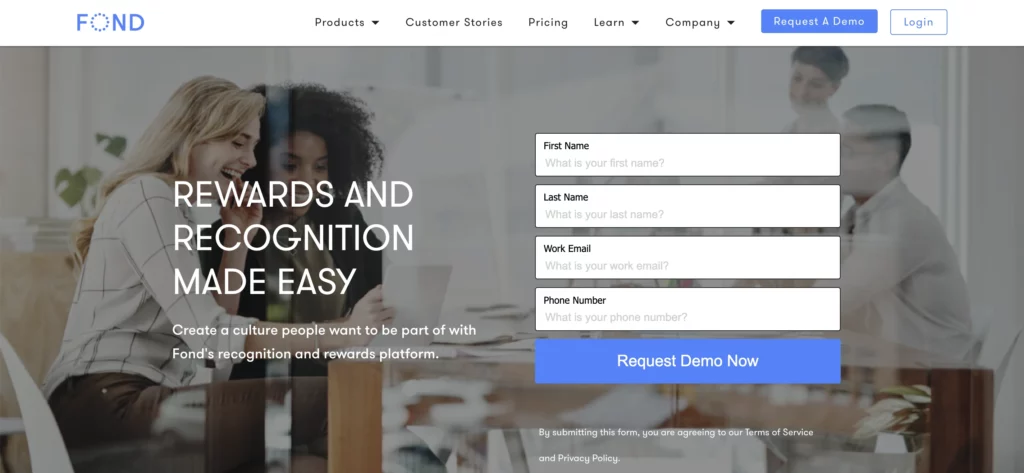 Fond is a SaaS platform that combines employee recognition and rewards into a single and intuitive solution. With the help of Find, managers, and employees can measure their success and redeem rewards in the form of social corporate discounts, etc.
The major feature of Fond are:
Access a global social feed where everyone can view, like, and comment on each other's recognition.
Track goals and analyze the success
Easy integration with other HRIS systems like Namely, Workday, ADP, and more
7. Achievers Listen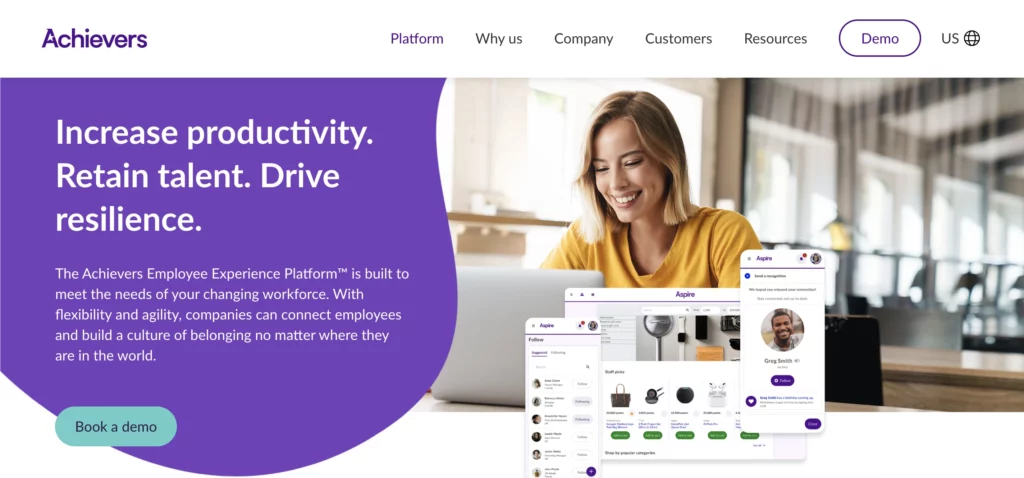 Achievers Listen is another fantastic software that you can use to drive employee engagement and productivity. As its name suggest, the software allows employees to voice their oprnion in the form of feedback so that managers can act on it.
Some major features of Achievers Listen include the following:
An integrated toolkit including features like polls, surveys, forms, and quizzes
Easy integration with various HRIS systems
Action-oriented feedback system
8. Empuls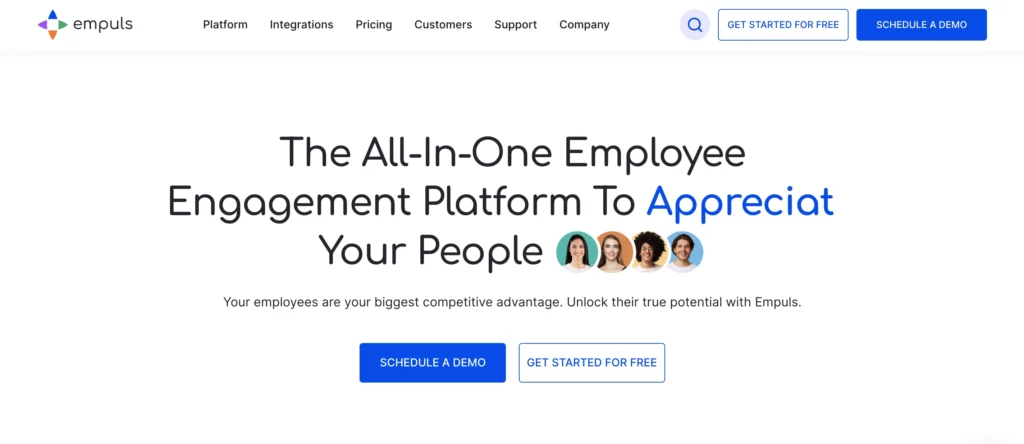 Want to build a workplace culture of appreciation, recognition, and holistic development? Check out Empuls – a fantastic employee engagement tool that gives a voice to every team member and promotes a multure to open communication and understanding.
Some of our favorite features of Empuls are as follows:
The software comes with an engaging built-in gamification feature that drives employee engagement
Artificial Intelligence powered bot
Built-in survey forms, feedback option, and eNPS
9. 15Five

15Five is designed to enable managers to track the performances of every employee, boost their productivity by setting suitable goals, and increase retention. It is a very user-friendly software that offers some excellent features like:
Customized performance reviews to boost the morale of employees and help them understand ways to improve their performance
Simple and effective analysis tools
Day-to-day feedback and reporting
Engagement score tracker
10. Leapsome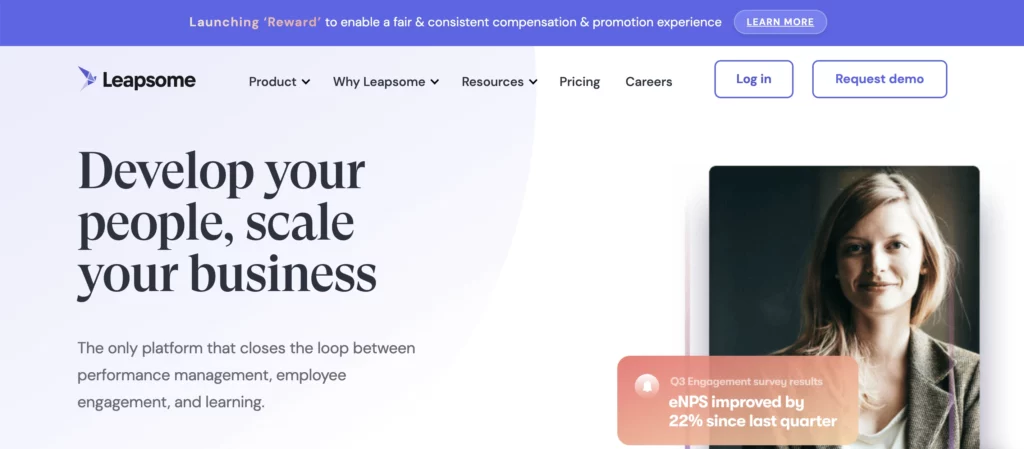 Leapsome is an employee engagement software that not only focuses on employee productivity but on their personal development too. The software enables managers to deliver growth-oriented feedback and reviews that help in the holistic development of their team members.
Some major features of Leapsome are:
Anonymous and non-anonymous feedback
360-degree review system
Automated real-time analysis of employee performance
Who are the Target Users of Employee Engagement Software?
The target users of employee engagement software include the following:
Business owners who are interested in improving their employees' engagement and productivity at work
Human resource managers
Small, medium, and large corporate firms
Managers of different departments
Employers and managers that have remote teams
Notable Features of Employee Engagement Software
Employee engagement software offers a host of incredible features. Let's have a look at some of the most common ones:
1. SMART Goals: They help managers in setting SMART goals for employees. These goals are clear, attainable, and manageable. Thus, they help the employees in understanding their responsibilities in a better way and improve their performance.
2. Surveys and Feedback: Another excellent feature offered by employee engagement software includes surveys and feedback forms. These help the employees in expressing their opinions about their workplace and make them feel like a valued part of the company.
3. Real-time dashboard and reports: Managers can access real-time dashboards that have feedback, performance reports, etc of the employees. This provides them with valuable insights regarding the opinions, strengths, pain points, etc of each employee. This enables the managers and superiors to devise suitable work plans and objectives for them.
4. Immediate notifications: Employee engagement software allows employers or managers to send important notifications to every employee quickly. These push notifications become a lifesaver during critical situations that require an immediate response.
Other Software and Services Related to Employee Engagement
Employee engagement software offers a variety of services to business owners, managers, and employees. Let's have a look at some common ones:
Real-time employee performance analysis and review
Rewards in the form of custom company swag, corporate discounts, and more
Integrations with other software like Microsoft Teams, Slack, Workday, ADP
Surveys, polls, and quizzes for employees
Gamification to make work more engaging and interesting
What are the Benefits of Using Employee Engagement Software for an Organization?
Now that we have discussed the basics of employee engagement software, let's have a look at some of the major benefits offered by them:
Employee software enables employees to freely express their feedback about their workplace, managers, and subordinates through feedback forms, opinion polls, and surveys. This makes the employees feel that their opinions matter to the organization, which in turn increases their loyalty to their workplace.
By enabling managers to reward, appreciate, and incentivize their employees, employee engagement software goes a long way in increasing employee retention.
It helps in improving peer-to-peer relationships through

continuous check-ins and effective communication. This enables employees to share their ideas and thoughts and become more engaged in their work.

Employee engagement software also helps team managers boost employee productivity by enabling them to track goals and employee performance and provide timely feedback and recognition.
Another excellent benefit of using such software is that it offers creative ways for employers to reward and appreciate employees. Employers can now offer virtual shout-outs, digital gift cards, customized company swag, etc. to their employees as a recognition for a job done well.
The Wrap
So there you go! That was all about employee engagement software and why they are necessary for businesses in 2022. By choosing the right employee engagement software, organizations can increase the engagement of their employees through various methods.
Employee engagement has a direct impact on the performance of your company. The more engaged your employees are, the better your company will perform. Thus, the employer must make their employees feel valued, appreciated, and rewarded at the workplace. They can do this by making their job more interesting, goal-oriented, and rewarding. And employee engagement software helps you in all this and more!
Make sure to explore different types of employee engagement software available out there. You can start your research with the software mentioned in this blog. Then, simply list down your goals and expectations from such software and buy the one that makes the most sense for your business.