The challenges that Human Resource managers face on a daily basis are countless. Employee onboarding is one of these challenges, so this guide is aimed to equip hiring managers with a guide to the 4 phases of onboarding.
The four phases to the onboarding process are:
Phase 1: Pre-Onboarding
Phase 2: Welcoming New Hires
Phase 3: Job-Specific Training
Phase 4: Ease of Transition to the New Hire's New Role
The main challenge of providing a seamless and engaging employee onboarding process is being able to set a simple yet automated framework for guiding the employee through their first couple of months in your business. This is usually supported by a world class employee onboarding software platform.
Did you know?
After starting their new job, 43% of employees are without essential job equipment for more than a week. (Talentech)
50% of new employees who failed to meet their performance goals did not have a formal onboarding process. (SHRM)
Just so you know, I ranked and reviewed the four best employee onboarding tools, along with some of my extra top recommendations, so that you can pick the best one for your business.
Disclosure: Some of the links in this article may be affiliate links, which can provide compensation to me at no cost to you if you decide to purchase a paid plan. This site is not intended to provide financial advice and is for entertainment only. You can read our affiliate disclosure in our privacy policy.
If you truly want to design an powerful onboarding process that drives retention and performance, the new employee onboarding process is simply the first step in that journey.
A key to this is to understand what are the 4 phases of onboarding?
"Research and conventional wisdom both suggest that employees get about 90 days to prove themselves in a new job" said Talya Bauer, Ph.D., author of Onboarding New Employees: Maximizing Success.
Ninety days is not a long time and the demand for new workers is just insatiable, and the labour markets are becoming tighter. Finding the right person for the job, nonetheless, is crucial.
Even more important once you have found the right person is to provide them with a great onboarding experience to keep them engaged and productive as they tackle their new role.
What Is A Phased Onboarding Process?
Employee onboarding refers to the process of introducing newly hired employees to the culture and environment of the organization. Usually, it begins immediately after an offer letter is given to the successful candidate.
The time it takes to complete this process, however, depends on the organization. Some organizations only take one day to finish the entire employee onboarding process while others take for as long as eighteen months.
Benefits for Employees That Go Through Your Onboarding Process

The following are some of the importance and/or benefits of onboarding employees in an organization:
Better experience
An onboarding process is good if it focuses on company culture and employee development. This strengthens the employee experience and shows them that they are valued and cared for.
Better retention
Retaining employees is important for organizations because employee turnovers are expensive and time-consuming. It can cost a lot of money to train new employees.
In fact, replacing newly hired employees within three months is more wasteful than replacing a tenured employee who has made significant contributions to the company for years. A good onboarding process can increase new hire retention by 82%.
Higher engagement
Employees who are engaged tend to do better at work. They become more efficient and productive. Through onboarding, employees can become more engaged by feeling more connected to their organization, as well as its values, mission, and vision.
Stronger company culture
According to statistics, 69% of organizations that invest in onboarding processes tend to have easier integration into corporate culture. If the organization builds an intentional and strong company culture, and then shares it throughout the onboarding and recruitment processes, they can attract and retain the right individuals.
Easier talent attraction
Statistics show that 20% of newly hired employees tend to recommend employers to other people after they have had their onboarding process. This is why it is important for them to have an engaging experience during their onboarding.
More productivity
Newly hired employees typically adjust during their first months. They get to know the organization better as well as form professional relationships among the members of the team. A good onboarding process can speed this up by helping them facilitate relationship building and become accustomed to the organization; thus, improving their productivity by at least 70%.
It typically doesn't matter how long your employee onboarding process takes, what matters is the quality and dedication employed in the process.
What Should A Phased Onboarding Process Include?
A thorough employee onboarding can help newly hired employees acclimate to their new roles and teams, as well as enable them to understand what is expected from them.
It sets them up to have a successful career and supports your continued onboarding strategy.
Likewise, a good employee onboarding results in increased performance, productivity, and efficiency for the employee. It also results in higher employee retention. It is indeed a win-win for both employer and employee.
Because there are a lot of steps necessary to prepare a new hire for the job, an employee onboarding checklist should be used. This list will ensure that no critical item is missed during the most hectic first few days.
The following is a checklist for new hire onboarding:
1. Have the job requisition approved by the Human Resource department.
2. Prepare the documents for the new hire, including contracts, payroll information, job description, and employee handbook.
3. Request the required equipment and devices to have them set up before the new hire's first day of work.
4. Set up the new hire's email and other work-related accounts as well as the login credentials.
5. Set up the new hire's workstation.
6. Set a new hire orientation schedule.
7. Welcome the new hire to the organization via email.
8. Tour the new hire around the office building.
9. Appoint someone to be the new hire's peer or buddy mentor.
10. Send out a new hire announcement email to the members of the team and/or share the news of the arrival of the new employee during a meeting.
11. Ask the new hire about their onboarding feedback.
12. Create a check-in plan for thirty, sixty, and ninety days.
What Are the 4 Phases of Employee Onboarding?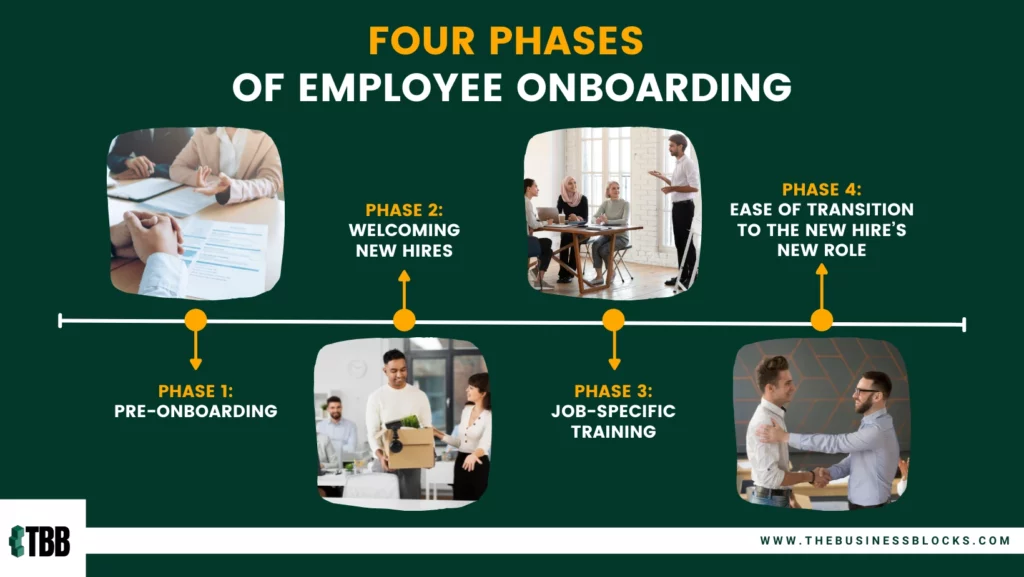 Organizations that are new to the onboarding process, as well as those that are seeking to improve that area of their Human Resource process, have to understand the different phases of onboarding.
This way, they can effectively map out clear strategies to engage job candidates as well as increase the new hire retention rate. Knowing the phases of onboarding better will also allow them to help their employees when it comes to adapting the practices within the organization.
So lets explore what are the 4 phases of onboarding?
Phase 1: Pre-Onboarding
It typically starts as soon as the candidate agrees to the job offer. It goes on until the new hire's first day on the job. Take note that the pre-onboarding process is critical for every job candidate. After all, it is during this time when they are most uncertain of what to expect.
Misunderstandings or miscommunications, no matter how small, can make candidates doubtful about their decision to be part of your organization. Then again, when these candidates are properly managed and updated on the developments of the organization, they become more excited about joining the team.
It is important to help employees fill out and complete all the paperwork required during this phase. See to it that they are given enough time to finish up with any exit task from their previous company. If they are moving in from another city or state, you should find out if they need help getting a new place.
In addition, you may send them documents or videos that give ideas on how the organization works, as well as how the first day of work tends to commence.
Phase 2: Welcoming New Hires
It is usually dedicated to making new hires feel welcome into the organization. It is also about giving them an orientation to help them acclimate. Take note that they might not know any person in your organization. So, they might not know how your teams operate.
This is why it is important to provide them with a clear image of how the organization works before they start their first day. Also, a lot of newly hired employees are eager to start working. Hence, you should make sure that this phase does not last for more than one week.
Their first day of work has to be simple. During the orientation process, you can help them understand your culture better. You can also show them how the practices in your organization are aligned with the culture.
You can also talk about topics such as attendance, time off, payroll, and medical insurance policies. If necessary, you can even direct them to the cafeteria, clinic, parking area, and other facilities in your office building.
Do not forget to introduce them to the rest of the team, as well as the stakeholders. At the end of this phase, you may organize a brief meeting with them to ensure that they are well-adjusted and comfortable within your organization.
Phase 3: Job-Specific Training
This one is among the most crucial phases of the onboarding process. In fact, it is directly correlated with the success rate of the newly hired employees. If these new hires do not have any formal training, they will not know what they need to do to thrive in your organization.
As a result, they may have feelings of dissatisfaction, which in turn, can lead to higher rates of turnover. Then again, having a good training plan can help them feel welcome and at ease. They will feel that their development is indeed a priority.
For the first part of the training, you should help the new hires become familiar with the learning management system of your organization. They must not be overwhelmed when they check out the application. You can also try to explore various kinds of learning methods such as blended learning, microlearning, and self-paced learning, among others.
This way, the newly hired employees can choose the format that they feel most comfortable with. Moreover, you should store all onboarding learning materials in a safe place where employees can access and refer back to with ease.
Phase 4: Ease of Transition to the New Hire's New Role
It is the last phase of the onboarding process. Its purpose is to help employees go from being new hires to being full-fledged employees. You have to encourage the managers of your organization to set a clear expectations for the new members of the team. This way, they will know what their responsibilities are.
Keep in mind that it is crucial to have smart goals that can help them visualize what productivity, success, and quality look like. Once these employees reach one month or one quarter, you can conduct a review on their performance.
This way, their efforts can be recognized and their performance can be improved.
Bonus Tip: The 5 Cs of Onboarding
1. Compliance
This is often known as the paperwork part of onboarding and refers to the part where new hires are taught about policies, safety regulations, confidentiality agreements, and harassment prevention.
2. Clarification‍
The next step includes clarifying the employee's responsibilities, long-term goals at the company, and job expectations. This will help them know exactly what their future at the company will look like.
This may include answering employee's questions such as:
"What are my monthly as well as yearly objectives?"
"How do my individual goals fit in with my job? How will this organization help me achieve them?"
3. Culture
Every organization has a culture, and this part focuses on exposing your new employee to it. For example, a company might have a very informal culture where hierarchies are not enforced and everyone works together. In this step, you are really setting the tone for the way people work together.
Establishing culture from the beginning is way easier than trying to change or enforce it after years.
4. Connection
Interpersonal connections with peers and managers are essential in any organization, and this C helps new hires establish them. A great example of this is assigning an onboarding buddy.
5. Check Back‍
This part includes checking back with new hires periodically, getting feedback from them, and giving it back. This is the necessary data you'll collect to improve the process for all parties.
Conclusion
Employee onboarding is a crucial part of any organization. It has to be carefully executed and managed in order to help newly hired individuals adapt to the culture, work, and values of the organization.
In summary to the question of "What are the four phases of onboarding?"
Phase One: Pre-Onboarding
Phase Two: Welcoming New Hires
Phase Three: Job-Specific Training
Phase Four: Ease of Transition to the New Hire's New Role
If there is no employee onboarding or the onboarding process is done poorly, these new hires might leave after just a few months or even weeks. They will not want to stay in the organization because they are not motivated and confident enough. So, you should not let your effort, energy, and time spent on recruitment become futile.
See to it that your new hires become excited about being part of your organization by giving them a good new hire onboarding. If you are able to do this successfully, they will remain fulfilled and content to be in your organization.
Frequently Asked Questions:
1. What is the onboarding process phase?
Onboarding is the process of recruitment and induction of new employees into his or her new position or job in a new company. This entails facilitating the proper and complete introduction of a new hire into the organization with the use of measures and processes that will equip the new recruit for the new role.
2. What are the three phases of the employee onboarding process?
According to ttro.com, there are three key phases for an effective and successful employee onboarding: the "hype" phase, the "immersion" phase and the "cultivate" phase. The "hype" phase is the pre-induction phase which starts even before the new hire joins the company where stakeholders prepare for the actual onboarding process. The "immersion" phase focuses on how the new hire is welcomed and oriented about the processes, policies and culture of the company. The "cultivate" phase is concerned about the employee's learning and growth in the company.
3. What is onboarding process in HR?
Onboarding encompasses the processes in which new employees are welcomed into an organization. These covers all activities and tasks that should be done by the employee and other shareholders such as HR, team lead and team members in ensuring that the employee will be ready in performing his or her functions and knowledgeable on the company's structure, culture, values, vision and mission.
4. What is a good onboarding process?
A good onboarding process is something that has a structure and task outline that is clear with tasks and milestones that have been properly planned and delegated to the respective accountable teams/resources.
5. What is the phase after onboarding?
The next step after onboarding is role training. After providing the new hires with all the information, training and tools that are needed to acclimate them to the organization, role training will provide them with specific training that will equip them with the information and requirements for their day to day duties and obligation.
6. What is the pre-onboarding process?
Pre-onboarding process sets up the actual onboarding process for success by allowing all personnel involved with employee onboarding in preparing all the prerequisites and necessities in advance. This covers the period from the new recruit's acceptance of the job offer up to the joining or starting date. This phase usually includes administrative tasks such as document verification, contract signing and review, etc.
7. What are the goals for a 4-stage onboarding process in reference to training?
Successful onboarding, to quote Dr. Talya Bauer from the SHRM foundation, entails covering compliance, clarification, culture and connection. Compliance is about becoming aware of the basic policies of an organization and accomplishing all requirements for employment. Clarification involves making the roles and responsibilities of a certain position clear to an employee. Culture is the aspect of employment that may help ensure that new recruits will become familiar to the norms of a company. Finally, connection aims to foster development of a relationship between the new hires and the rest of the team and the organization as a whole.
8. What is an onboarding checklist?
An onboarding checklist is a device or task list that can be utilized by HR partners or hiring managers in delineating the steps that would be required in providing guidance for new hires as they start their new journey in the company.