Customer onboarding software is essential for any business looking to simplify and automate the process of welcoming new customers. But with so many options available, which one is the best for your needs? This article will help you decide which software is right for you and show you how to get the most out of it.
What is customer onboarding software, and what are its benefits?
Customer onboarding software is a tool that helps businesses manage and utilize the sign-up process for new clients. This type of software aims to onboard your clients quickly and efficiently, providing them with the information and resources they need to get started.
There are many benefits to using this type of software, including:
Ability to streamline the sign-up process
Save time and resources
Increase sales
Reduced churn rate
Improve customer service
In addition, customer onboarding software can help you understand your clients better and identify any areas where they may need additional support. As a result, using this type of software is essential for providing an excellent experience for your clients.
How does customer onboarding software work?

Customer onboarding software helps businesses to welcome and guide new customers effectively. The software automates sending emails to welcome new customers, In-app messages, and walkthroughs.
This is what a customer onboarding software looks like:
Access to knowledge portals. It consists of knowledge base portals that'll provide customers with answers to their queries.
Walkthroughs. The software includes video walkthroughs, tutorials, and graphic resources to keep your users informed.
Notifications and in-app chats. Web notifications, in-app, and chat messages guide you through the process.
New customers often need help understanding how to use all the product or service features. Customer onboarding software can be configured to give customers the support they need when they need it.
What are the features to look for when choosing a client onboarding software?
Customer onboarding software is a great way to automate your client onboarding process and make it easier for you and your clients. But with so many different options available, how do you choose the right one for you? Here are features to look for when making your decision:
Automation is a game-changer. You can free up valuable time on mundane tasks by automating critical tasks. However, not all automation are created equal. When choosing a client onboarding software, look for one that offers automation without sacrificing quality or functionality.
The first thing to look for when choosing a customer onboarding software is its ability to integrate with your existing software. The best customer onboarding software will have built-in tools for assessment, quizzes, and more.
The software should be customizable to fit your specific needs, adding or removing fields, setting up automated workflows, or creating templates.
Ease of use is another crucial factor to consider – the software should be easy for you and your clients to navigate.
You'll also want to make sure the software is scalable to grow with your business. A good customer onboarding software will accommodate large numbers of clients.
Price is always an important consideration, but it's not the only one – make sure you also factor in customer support and other features offered by the software.
In addition, the software should also offer a way to track progress and ensure that the onboarding process is smooth and efficient.
5 Best Customer Onboarding Software in 2022
When it comes to finding the best customer onboarding software for your business, you have a lot of choices. In this section, we'll look at some of the top five options in 2022 and help you decide which one is right for your needs.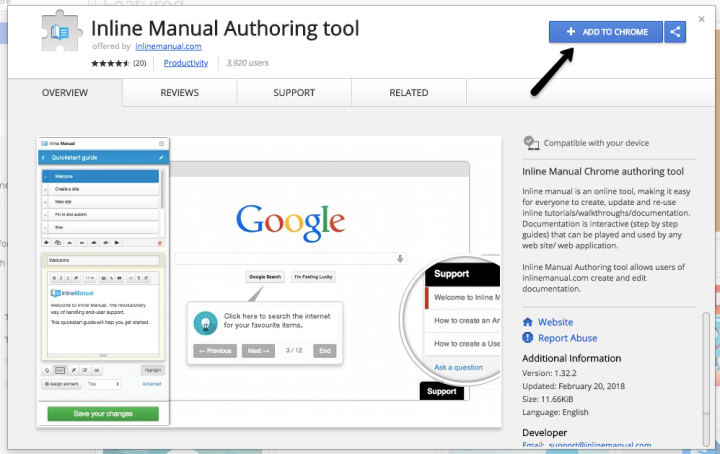 Inline Manual is a customer onboarding software option that allows you to create interactive walkthroughs without coding. Whether you're looking to generate documentation or tutorials, Inline Manual is an excellent tool for streamlining the onboarding process for your clients.
Key features:
Training options include live online, webinars, in-person chat, and documentation.
Support options include email and help desk, phone, FAQs and forum, chat, and knowledge base extension.
Includes data import, analytics, API, etc.
Pros:
Customizable for branding purposes
Third-party integrations
Great customer support
Cons:
The interface can be a hassle for some users
Pricing: Starts at $158 per month for 250 monthly active users
Free trial: 14-day free trial

UserGuiding offers smooth onboarding flows that walk users through every step of using the product. It has advanced features such as function and usability testing, which help to ensure that users have a great experience with the product.
Key features:
It consists of analytics and goal tracking tools and is customizable for an improved user native experience.
Offers product tours that show users around the critical elements of the product.
It has hotspots that allow users to learn to use specific product parts quickly.
Pros:
User-friendly experience
It has an array of features ideal for onboard clients
Better segmentation and hotspot analytics
Cons:
Functionalities can be overwhelming for non-techie users
Pricing: The Basic Plan costs $99 per month, while the professional plan costs $399. Its Corporate Plan starts at $699 a month.
Free trial: 14-day free trial

Customer.io is an excellent automated messaging platform for marketers who want control and flexibility when creating onboarding strategies. With Customer.io, marketers can segment their customers based on specific criteria and create personalized messages triggered by typical customer behavior.
Key features:
See your clients' profile data for marketing purposes
Automation and personalization with email, SMS, and push campaigns
Uses real-time data
Pros:
Intuitive and automated for marketing campaigns
Efficiently run drip campaigns for marketers
Flexible customer database
Cons:
The platform could use better filtering options
Pricing: The Basic Plan starts at $150 a month, while the Premium Plan starts at $995.
Free trial: 14-day free trial

JotForm is a great online custom form builder that helps you collect data and organize feedback. The drag-and-drop user interface makes it easy to create online forms. Collecting data from anywhere makes it an excellent option for client onboarding also with JotForm.
Key features:
Over 100 app integrations
Various available templates and forms
Now with Enterprise Mobile!
Pros:
Easily collect client information, preferences, and feedback
Easy to get input from your clients and track their progress
It offers a drag-and-drop user interface
Cons:
Needs to improve the mobile experience for users
Pricing: Users can start with a FREE plan. Tier begins at the Bronze Plan for $29 per month.
Free trial: None
Click here to read our full Jotform review.

WalkMe is a customer onboarding software option that offers interactive on-screen tutorials and guided walkthroughs. It has an easy-to-use interface, ideal for businesses of all sizes. This software makes it easy for new clients to adopt your digital assets and get up to speed quickly.
Key features:
It can automate tasks across various applications
Employee integrated learning management system
Tracks various campaigns (usability, events, funnels, etc.)
Pros:
Powerful client onboarding platform with tons of features
Easy integration and linking to sources
User-friendly analytics and tracking management
Cons:
Needs to improve mobile app delivery of the platform
Pricing: Flexible pricing – $2.40 to $2.50 per user per month
Free trial: None
Conclusion
Onboarding new customers are one of the most important aspects of any business. You want to make sure that the process is smooth and easy for the customer, but you also want to ensure that they are getting off on the right foot with your company.
The best customer onboarding software can help make this process more accessible than ever before and provide several other benefits. So, what is the best customer onboarding software in 2022? That depends on your specific needs and what you're looking for.