There are many ways you can increase productivity with software. One such way is to remove the old wet signature and manual sending of documents out to clients, vendors or customers.
A digital signature or e-signature is used to sign a document electronically and serves to authenticate such a document. It also helps to show if the document has been tampered with or not.
Companies use digital signatures, especially in situations when:
They must comply with specific regulations.
There is a need to conduct high-risk transactions.
Perhaps, you're still not convinced that digital signatures are safe to use. That's ok if you are, then you can check out our picks for the best e-signature platforms here.
Increase Productivity Using Digital Signatures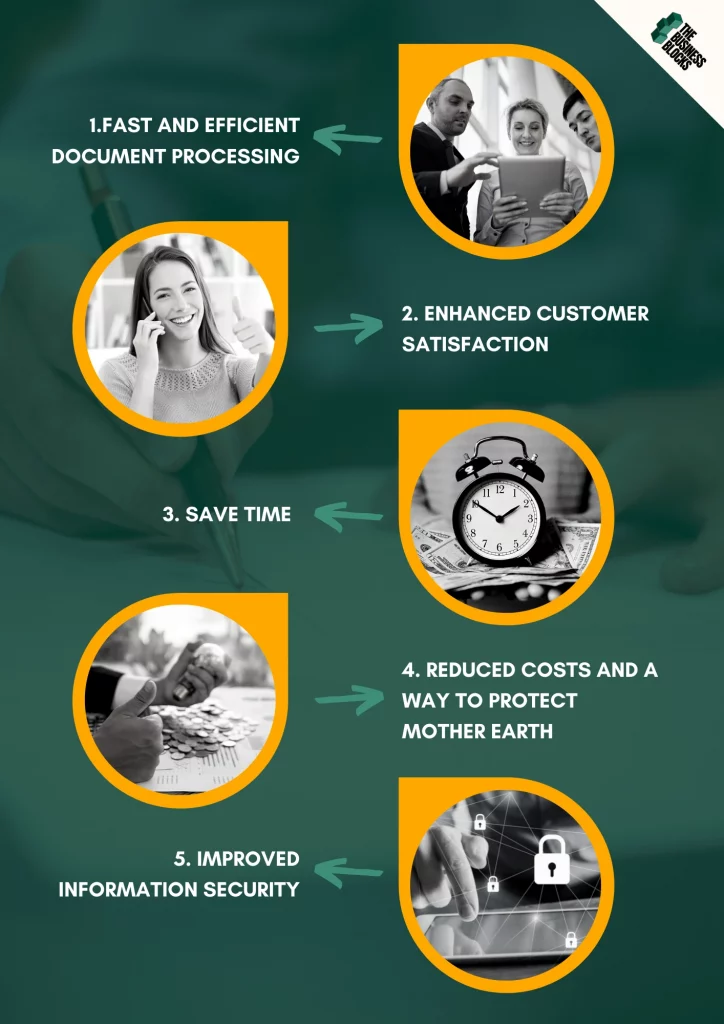 Digital signing of documents is easy, secure, and convenient compared to the traditional handwritten way of signing papers. The digital system of signing papers eliminates any risk of forgery while maintaining the legal status of your documents.
Consider these ways of benefiting your business:
1. Fast and efficient document processing
The old traditional way of document management and signing was slow and time-consuming. It required several actions to take:
Creating a document and e-signature (in Word)
Converting the document to PDF
Uploading the document as an email attachment
Notifying stakeholders through emails and calls
Manually tracking the document
With the digital signing of documents, these humongous processes are transformed into smaller tasks that can be completed within minutes.
2. Enhanced customer satisfaction
With the digital signature service, you also allow your customers to have a smooth experience transacting with you.
By allowing your customers to fill out e-signature paperwork in advance, you can save time for them and your business. When you are both ready to talk about the details, you can go straight to the value part and skip the time-consuming part about paperwork necessities.
3. Save time
E-signature solutions are a quick and easy way to sign documents irrespective of where the parties are at the critical moment of closing deals or certifying the authenticity of a document.
Wet signatures on documents are, in contrast, counterproductive. It requires the physical presence of signatories, which delays the entire process. Digitalized solutions take away such a hassle and allow document processing on any device anywhere.
4. Reduced costs and a way to protect Mother Earth
With a digitalized solution of signing documents, the use of cartridges, ink, and mailing supplies is eliminated. You do not see paper being piled or crumpled and thrown into the trash, which is your contribution to the environmental cause.
5. Improved information security
The mobile way of doing things is posing a risk to information security. With digital signatures, you eliminate such a risk, and private, confidential, and sensitive information or data are protected from unauthorized access.
You do not want to join the list of those who have suffered cybersecurity incidents. Worldwide, the average cost of losing sensitive information is $4 billion.
With a digital signature service, you can eliminate such a risk from happening to you while paying only a minimal amount for such a service. Premium services are about $99 per month for a maximum of 10 users.
Also, electronic signatures have no expiration date. An electronic signature is validated upon the signing of the agreement and will remain valid for the future.
---
What are digital signatures?
A digital signature is a more secure form of electronic signature that can render a document legally binding. It complies with strict regulations to ensure all parties involved of the signers' identities. Contracts often need signatures to confirm the integrity of the document. These signatures verify the identity of the signers, thus increasing the level of trust between the parties involved.
You can learn all about the specifics of what are digitals signatures and what are the differences between digital signatures and e-signatures here.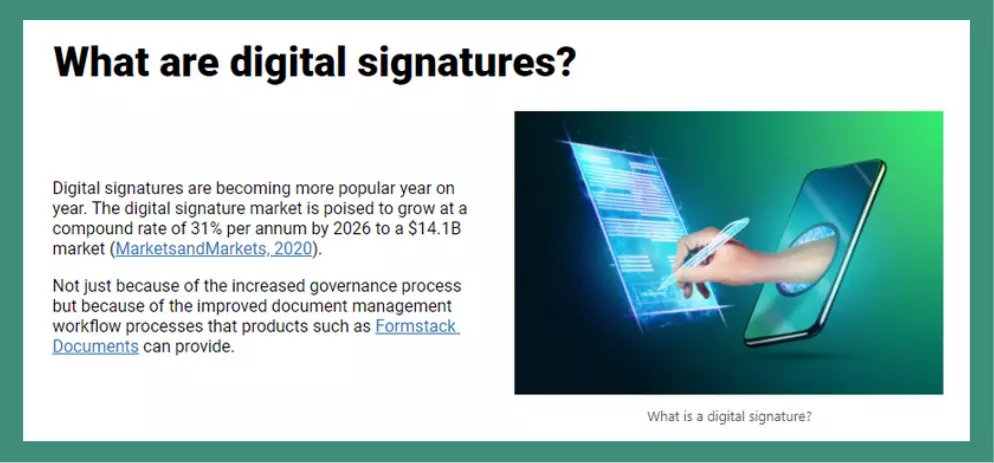 Algorithm-Based Digital Signatures
The standard format for digital signatures is called Public Key Infrastructure or PKI. Your digital signature provider will use a universally accepted format to create two keys linked mathematically.
One of these two keys is your private key. Keep your key secure and inaccessible to other people.
The digital signature system is based on an algorithm that acts as a code. The function of such an algorithm is to create data called a hash. A hash represents the document that has been signed, which the system encrypts. An encrypted hash is called a digital signature.
The system also uses timestamps to indicate the time of signing. Any tampering done after the time of signing will render a document invalid. The timestamp is your basis for determining the validity of documents sent to you or received by you.
This algorithm-based system provides the channel to keep the integrity of your documents intact.
---
1. Formstack Sign Review
Used by more than 10,000 businesses, Formstack Sign is a reliable electronic signature tool for fast and secure document signing. One of the software's most promising features is its templates. After uploading documents and adding the required fields, you can save them as a template for future use.
Formstack Sign also allows you to match templates that have a similar structure. Once matched, the program automatically imports fields from the matched template to the new document. You can upload almost any type of documents like PDF, Word, ODT, RTF, Exel, Powerpoint, and many others.
The platform lets you send documents to an infinite number of people. It doesn't, however, allows you to add multiple participants simultaneously. Another great thing about Formstack Sign is that you will be able to receive real-time alerts so you can monitor its progress. Unfortunately, the software doesn't integrate well with common CRM and storage software.
Click here to view our full Formstack Sign review.
2. DocuSign Review
A million documents are too much to process daily. But DocuSign makes it look easy!
Integrating DocuSign with other third-party systems allows automatic updating of your linked field. Doing so eliminates manual encoding, resulting in minimal error.
You can create a smooth workflow by establishing the order, roles, and access of signers and recipients. Bulk sending also works great with Docusign. Just import the list of signers and each will receive their personalized copy.
DocuSign takes security seriously through its validation process. To ensure that your signers are qualified, you can set multiple levels of authentication such as email confirmation, access codes, and SMS authentication.
Click here to view our full DocuSign review.
3. PandaDoc Review
Passing on forms for perusal, approval, and signatures takes time and decreases productivity. PandaDoc improves your document workflow by simplifying the creation of proposals, quotes, forms, contracts, and esignatures.
Esignatures have been around for a long time but what makes PandaDoc different is its ability to easily create an unlimited number of documents with esignatures. Whether you're at home or traveling, you can simply use your mobile device or tablet to upload documents and append the esignature. Whenever a team member views and signs on the documents, you'll be notified as well.
PandaDoc has a library containing more than 450 templates so you can create forms fast. The software's impeccable API can process thousands of esignatures rapidly. The biggest news? PandaDoc can integrate into almost all popular apps like Google Sheets, Slack, Hubspot, Airtable, Gmail, and many more.
Click here to view our full PandaDoc review.
4. HelloSign Review
Burdened with the frequent sending of high-volume documents to different people? Automate it using Hellosign! Simply upload your document, establish the signer, specify the fields for a fillup, then save this formatting.
Hellosign integrates excellently with prominent platforms like Oracle, Dropbox, Gmail, Google Docs, Salesforce, and Slack. With the platform's low-code API, you can implement it speedily into your document workflow.
Click here to view our full HelloSign review.
5. Annature Review
Electronic signatures or e-signing technology can be expensive for small businesses and, most of the time, under-utilized. This is where Annature can fill that void, delivering a low-cost pay-as-you-use model, uniquely positioned for those businesses still on the fence about going digital.
Now Australia's dominating digital signature provider, it helps streamline documents for all types of enterprises. It is an aspect-rich e-signing solution practice that can be embraced with the least effort yet instant results.
Click here to view our full Annature review
Summary – Why Companies Use Digital Signatures?
Documents such as property agreements, legal documents, medical prescriptions, and loan applications are commonplace paperwork in small businesses. Being able to sign these documents electronically makes processing fast without affecting the tasks at hand.
Reasons to use a digital signature service include:
A legally binding system – E-signatures are superior alternatives to wet signatures. Documents that are signed electronically are admissible in court.
Secure documentation –The system alerts the document's owner of any illegal access, and anybody who attempts to rework a document without authorization can be tracked, identified, and penalized.
Convenience – You can sign documents anytime and anywhere based on your convenience.
Digital document storage – Gone are the days when you have to store or search through file cabinets. Finding documents becomes less laborious.
Analytics – Digital signature services provide the ability to track activities related to document management. Data provided include:
– Who accessed the document? How many times and when?
– Who signed the documents and when?
The system can also provide analytics on activities in real-time and help identify bottlenecks, where these bottlenecks are, and who is causing the document to get stuck.
Beneficial to nature – This environment-friendly system reduces carbon footprint and paper wastage. It is also your way of conserving trees and other natural resources.
Hope you enjoyed the article.