Today, more and more companies are using compensation management software to manage their employees' payroll and other compensation in a better way. As companies grow in size and become more and more dynamic, traditionally managing everything becomes difficult.
This is where compensation management software comes into the picture. Compensation management software is a powerful tool that helps HR managers in taking care of each employee's compensation packages easily and effectively. From employee payroll to other employee benefits like bonuses, paid leaves, etc. employee compensation management software can help you manage everything.
In this blog post, we will walk you through everything related to compensation management software. We will discuss their features, and benefits, and will also tell you about our top 10 compensation management software that can be the perfect addition to your company's software suite.
So, let's get started!
What is Compensation Management Software?
In the simplest terms, compensation management software is a planning system that is designed to handle and automate an organization's compensation needs. The software streamlines the payroll and compensation-related data of each employee along with the organization's compensation budget to create fair compensation packages.
The software helps HR managers in automating a lot of their manual tasks and makes it easier for them to handle their company's compensation needs. A good-quality compensation management software offers world-class tools and analytics that help managers in making informed and smart decisions.
How is Employee Engagement Software Useful for HR?
The common uses of compensation management software include the following:
The HR department and managers of a company can use compensation management software for effective salary planning
Such software can also be used to analyze compensation data from previous years to come up with accurate salaries, increments, bonuses, etc.
Along with HR, compensation management software is also used by employees of the company. Employees can use this software to access their salary statements, manage their benefit payments and rewards, compare salaries for similar jobs across different companies, and more.
The Top 10 Compensation Management Software in Details
Are you planning to get compensation management software for your company? Or are you planning to replace your old compensation management software with a new one? If yes, then the section is for you!
Today, there are a large number of compensation management tools and platforms available out there. Thus, it is super easy to get confused and overwhelmed with so many choices.
To make it easier for you, we are going to share our list of top 10 compensation management software that will take care of all your employee compensation needs. Read on!
1. Paycom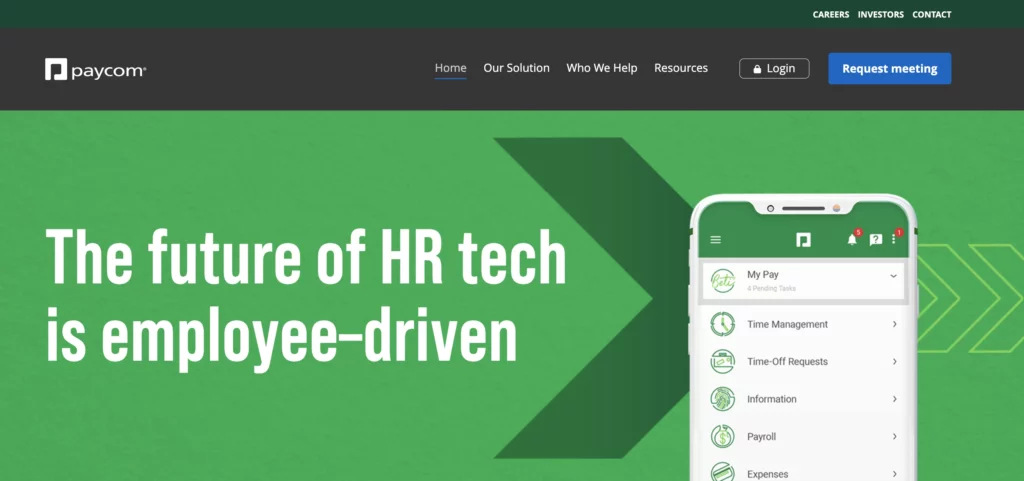 Paycom is an incredibly user-friendly compensation management software that brings everything into one place for you. From payroll to hiring and retirement, you can access all the information in a single place. The software also provides an intuitive dashboard where you can manage all the payroll entries, attendance, clock-in, clock-out, etc.
Managers can also access real-time reports, employee performance data, time off, etc. Paycom also facilitates tax calculations quickly and effectively.
2. Workday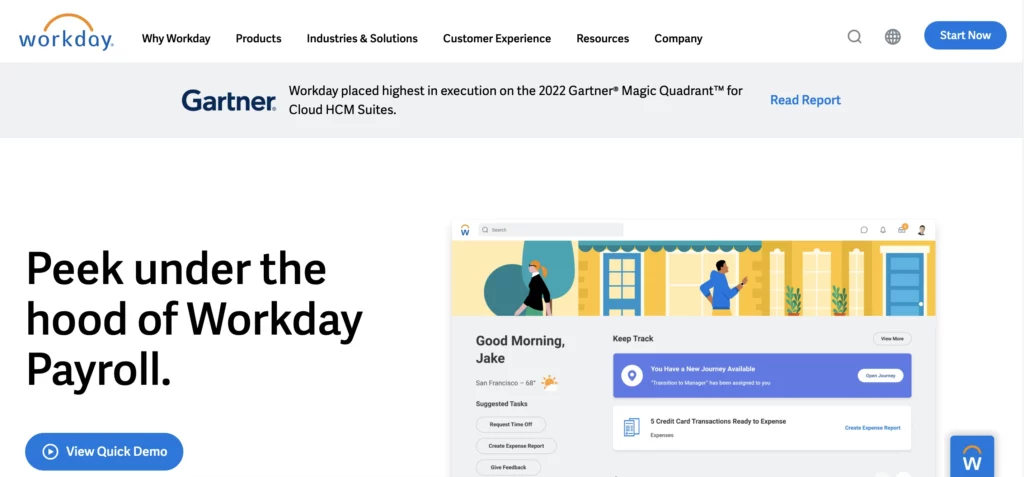 If you have been in the corporate world for a while, you must have already heard of Workday at least a few times by now. Workday is one of the most renowned and widely used cloud-based enterprise management software. Workday is a dynamic software that aims to fulfill the needs of fast-developing businesses.
The software is your one-stop solution for all business needs including your employee compensation needs. It lets you manage employee compensation according to their tasks, performance, number of working days, attendance, time, and more. One of the best things about Workday is that it can be integrated with other third-party software.
3. Simply Merit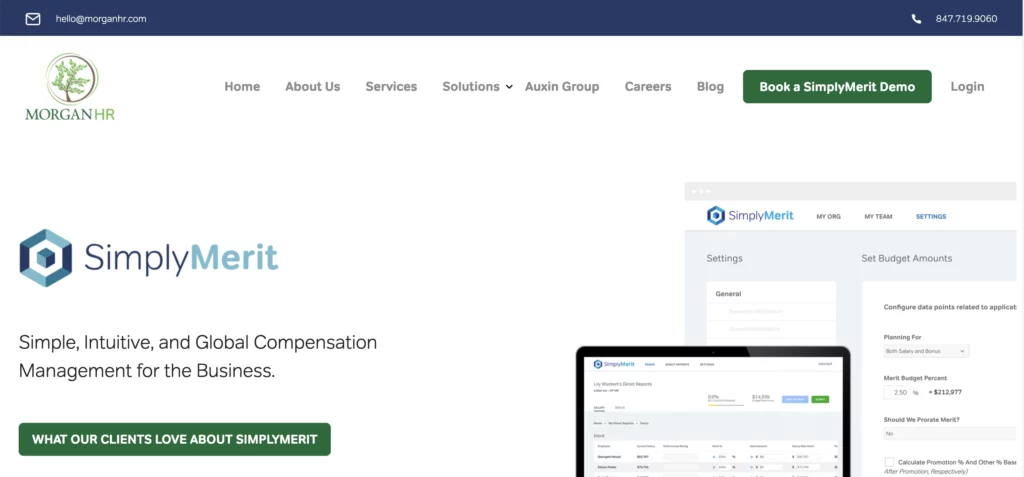 Simply Merit is another is not your regular employee compensation or payroll software. Instead, it goes above and beyond and helps HR managers in managing their annual bonuses and merit budgets. It is a cloud-based platform that offers information in real-time. Employers and managers are always aware of the things going on in the company, the performance of the employees, and so on.
Another great thing about Simply Merit is that it offers the feature of automatic currency conversion. So, you won't have to use any other software for converting currencies for your international workforce. Other notable features of this software include powerful analytics and an intuitive dashboard that is super simple to use and offers all the information in a streamlined way.
4. CompXL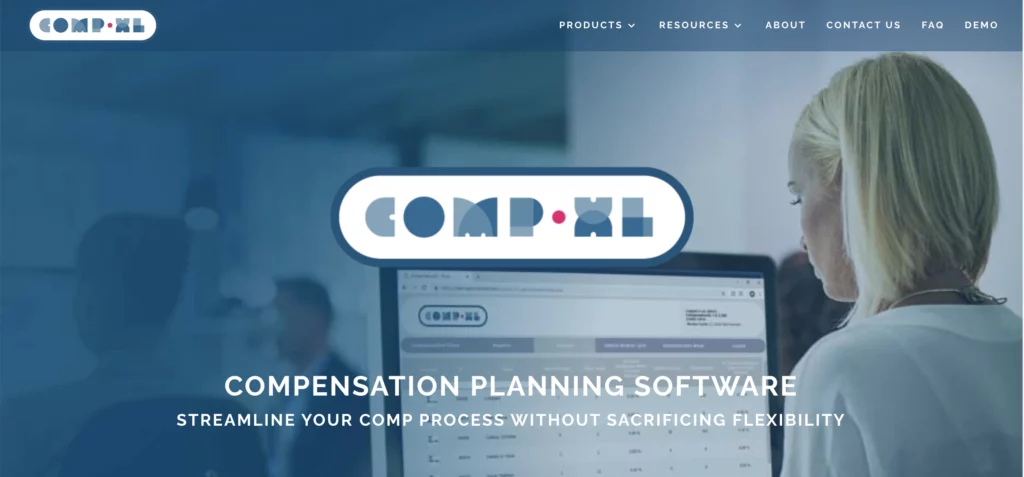 Next up is CompXL – an excellent software that helps you manage all employee payments in one place. From payroll to bonuses to merit-based payments and total rewards, the software embales HR managers to calculate and manage everything in a single, easy-to-use application.
If you are looking for a less complicated and intuitive compensation management software that lets you handle everything, CompXL can be a fantastic choice!
Along with compensation management, the software also enables you to automate many of your manual tasks including Excel and emails. This saves you time and ensures that everything gets done without any issues. Other notable features of CompXL include easy integrations with third-party software, multi-currency deployment, and a feature to design long-term awards for top performers.
5. Ceridian Dayforce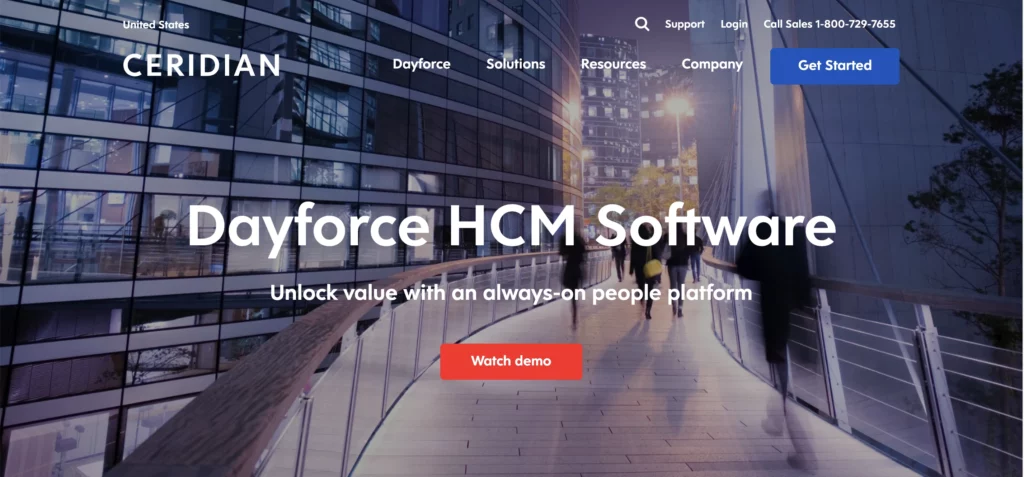 Just like Workday, Ceridian Dayforce needs no introduction! It is popular HCM software that presents the entire employee lifecycle in an organization in an easily understandable format. The software enables the HR department to easily manage the workforce management payroll, benefits payments, etc. across the company,
HR managers can get real-time reports and updates and can perform tax calculations to meet all the complicated regulatory requirements quickly and effectively.
6. Salary.com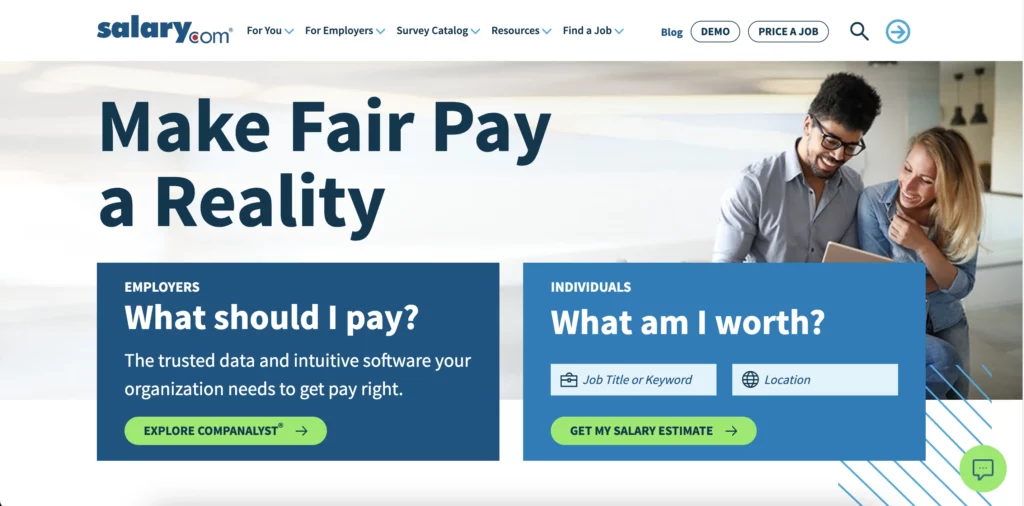 Salary.com is one of the most widely used platforms that serve over 45 million employees all over the world. It has over 8,000 B2B clients that trust it with all their workmen compensation management needs. Salary.com is your one-stop solution for everything from valuable compensation data to industry insights.
The platform has an application called CompAnalyst which helps HR managers in setting fair and accurate compensation for every employee.
The application automates compensation workflows and provides real-time reports and valuable insights. It can also be integrated with the HR budget and payroll system so that the HR department can track everything in one place.
7. Payfactors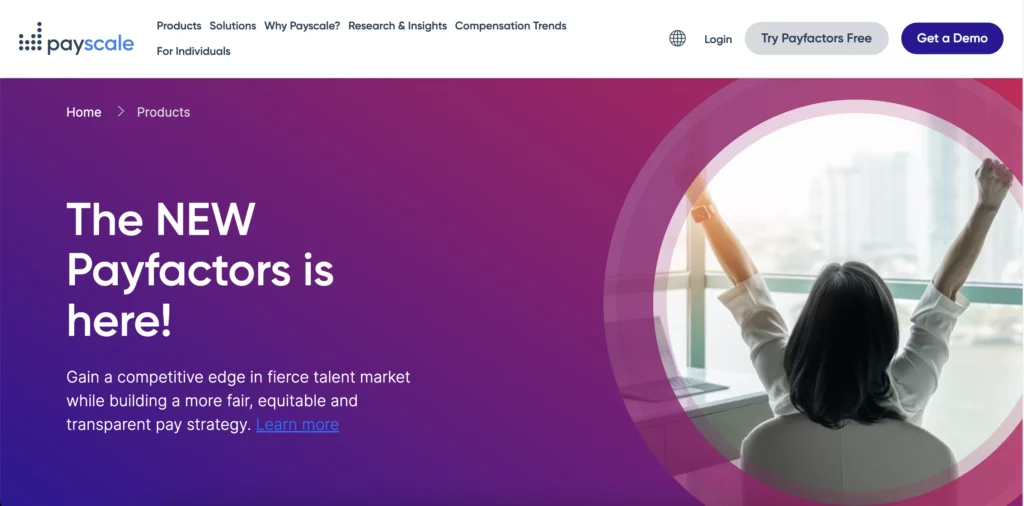 If you are looking for compensation management software that centralizes and automates your entire compensation system, check out Payfactors. This software not only helps you automate your payroll and compensation calculations but also offers the latest compensation-related information and industry insights.
However, the best thing about Payfactors is its powerful tools and analytics. They analyze the latest market data and help you determine the right amount of compensation for every job title and employee. This enables you to set competitive salaries and hire and retain the best talent in the industry.
8. UKG Pro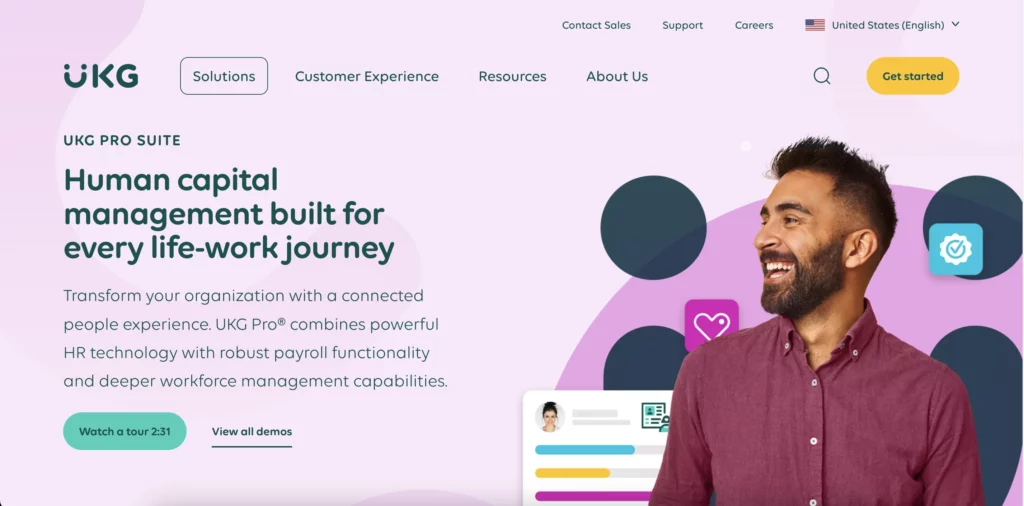 It is a renowned global HCM software that offers a host of compensation-related services to large corporate firms and multinational companies. Thus, if you are looking for powerful software that can easily handle the compensation systems of a large organization with several hundred employees, UKG Pro can be a safe bet!
The software has a global reputation and is trusted by hundreds of other companies. It allows you to manage the salary structure of every employee across the organization, structure rewards, and bonuses for top-performing employees, and keep track of compensation history.
Managers can also access real-time reports and track the attendance and working time of their team members through a simplified dashboard.
9. Payscale Marketpay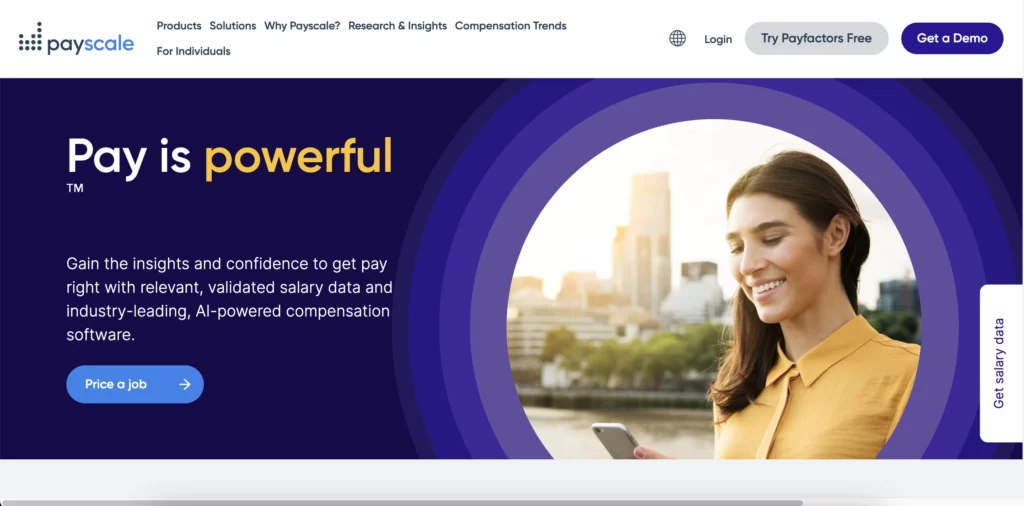 Payscale Marketpay is another super popular and easy-to-use software that helps you handle all your compensation management needs. The best thing about this software is that it equips you with all the latest industry information that helps you make an informed decision.
Payscale Marketpay comes with some fantastic tools that help HR managers in influencing pay strategies, setting the price of each job correctly, and providing all the company executives with valuable and correct information. Managers can access year-over-year compensation analytics. Further, the software also comes with an intuitive Report Writer that helps in writing over 60 different types of standard reports.
10. Compport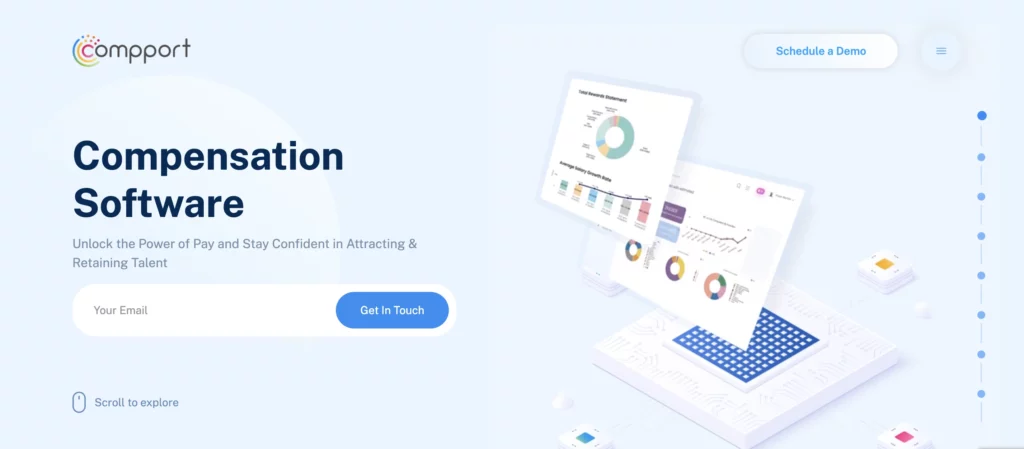 If you want to get compensation management software that offers you complete flexibility to handle things, Compport is for you. It is a SaaS solution that comes with several excellent features that make it easier for you to manage your company's payroll, merit payment, and other payment-related things.
Compport also provides salary reviews, insights, customized salary and incentive plans, and reward schemes according to the needs of your company. Its reward and recognition plants are some of the best and easiest to use in the industry. Further, employees also have the option to access salary and rewards statements in a digital format.
Who are the Target Users of Compensation Management Software?
Compensation management software is meant for people managing an organization or working in it – the managers and the employees. Compensation management software benefits every kind of business from multinational companies to small businesses with just 5 to 8 employees.
With that said, let's have a look at the common clients and users of this kind of software:
The Human Resource department of any company, big or small
Managers
Small and medium-sized businesses
Multinational organizations
Employers having fully remote teams
Employees
Notable Features of Compensation Management Software
Some of the most notable features of compensation management software include the following:
1. Budgeting and reporting: Top compensation management software comes with advanced tools that help HR managers in creating salary budgets. They offer real-time reports, analytics, and industry insights that make budgeting more easier and informed. This software comes with a pre-built template that can make budgeting a lot easier and quicker.
2. Effective salary planning: Are you confused about deciding the salary for each department and job title? Compensation management tools can help with that too. Almost every compensation management software offers valuable information and other salary-related data within the industry to help the HR department in coming up with fair, competitive, and accurate salaries for their employees.
3. Self-service for employees: Compensation management software is not only meant for a company's management but for employees too. Employees can use this software to access their salary and rewards statements. They can also use the information provided by this software to compare salaries with the industry standards and ensure they are not being underpaid, and so on.
Other Software and Services Related to Compensation Management
Some major services offered by compensation management software are as follows:
Effective and effortless salary planning
Budgeting and reporting
Increased safety of the company's compensation-related data
Enhanced automation and reduction in human-based errors
Latest salary insights and industry data
What are the Benefits of Using Compensation Management Software for an Organization?
Top-notch and user-friendly compensation management software offers a host of benefits to modern-day organizations. From startups to large companies, compensation management software has several advantages for all kinds and sizes of businesses.
Let's have a look at some of the most common benefits offered by this software:
One of the biggest benefits of using compensation management software is that it reduces your need of doing manual tasks. You no longer need to make those unending spreadsheets for calculating employee compensation. The software will automate most things, thereby helping you save a lot of time and reducing errors.
HR managers can also streamline their company's entire compensation process with the help of top-notch compensation management software. Such software enables managers to access all the compensation, reward, payroll, and other data in a single place (usually dashboards) for easy handling.
High-quality and reputed compensation management software also comes with enhanced data protection. It offers strict access controls and security features to prevent unauthorized access to the compensation data. So, HR managers can rest assured as the company's salary-related data will remain protected.
The Wrap
So there you have it! That was all about compensation management software, its uses, features, and benefits. We hope you found this article useful and that we were able to provide you with all the details related to this software.
In case you are still confused about whether you should invest in compensation management software for your business or not, the short answer is yes, you should! While you will have to spend some additional money for buying it, the amazing benefits offered by such software are worth it!