As a business, you must stay ahead of the curve to succeed. And when it comes to developing your employee culture or external marketing, there's no better way to do that than with a company swag store. 
Swag is essential for promoting your company internally and externally and getting your brand out there. If you believe in developing a solid company culture, then an investment into your employee's is the starting point.
"Having a central online swag store for your employees is a must not only from a marketing standpoint but also from an employee culture perspective. The e-commerce tools and services that are readily available today make it easy and manageable to set up and manage your own store allowing almost any company to have one." – Dalton Standish, SplashBrands.com
Many companies like to fully outsource their company apparel and swag stores but they soon realize they are locked into high monthly costs and also they have to purchase minimum quantities of products that they may not even use.
Why not stay in control and do it yourself?
With mobile technology, drag and drop store builders, today, it has never been easier to set up your own swag store! 
---
Sample Swag Items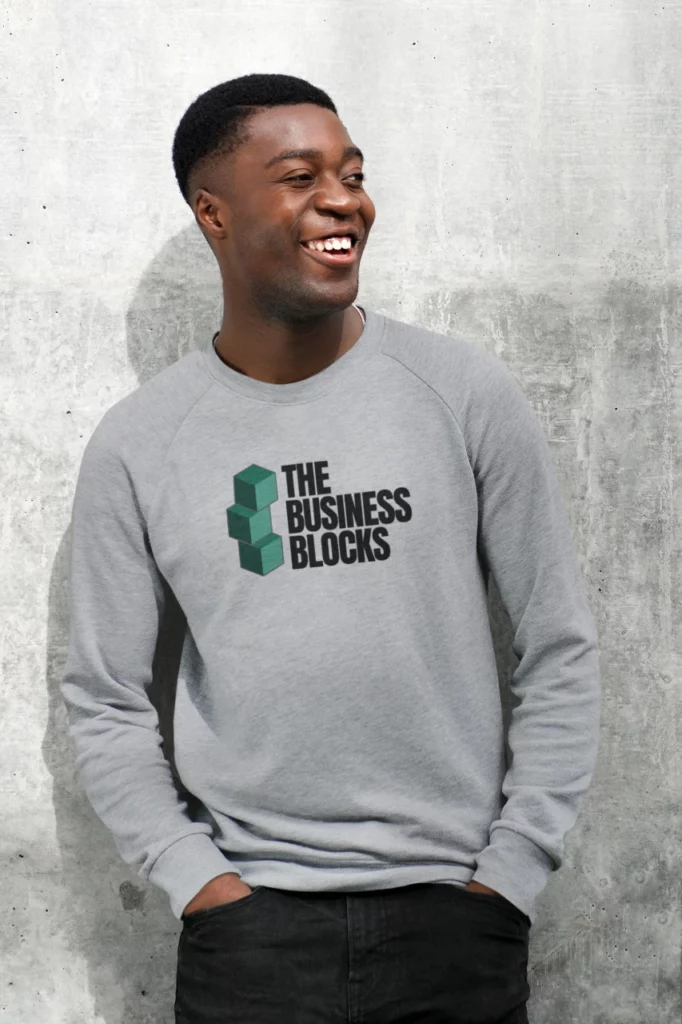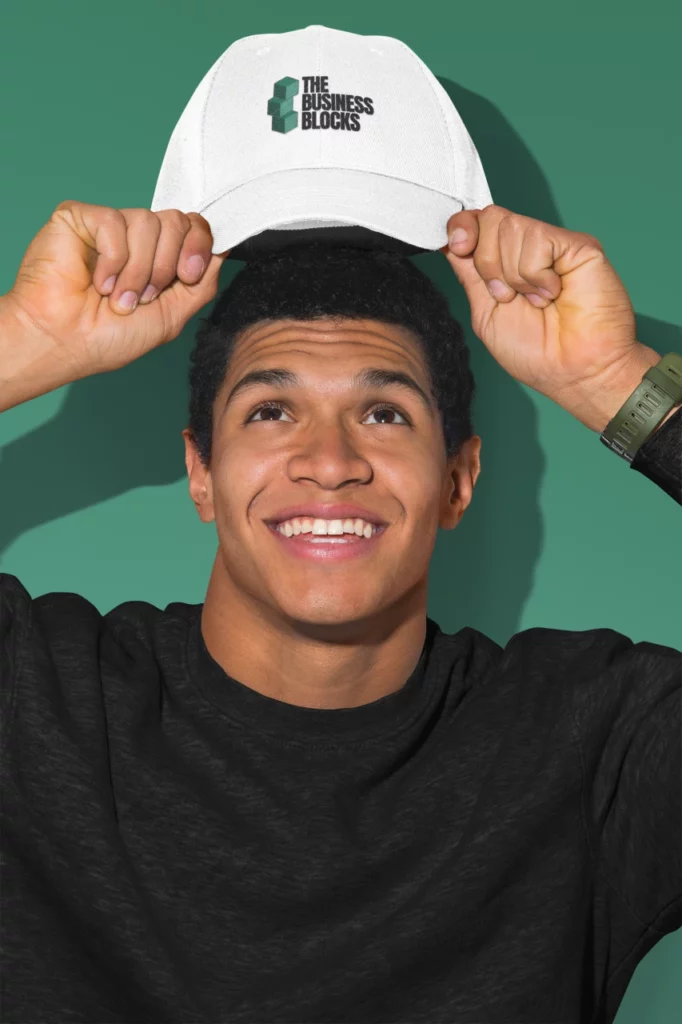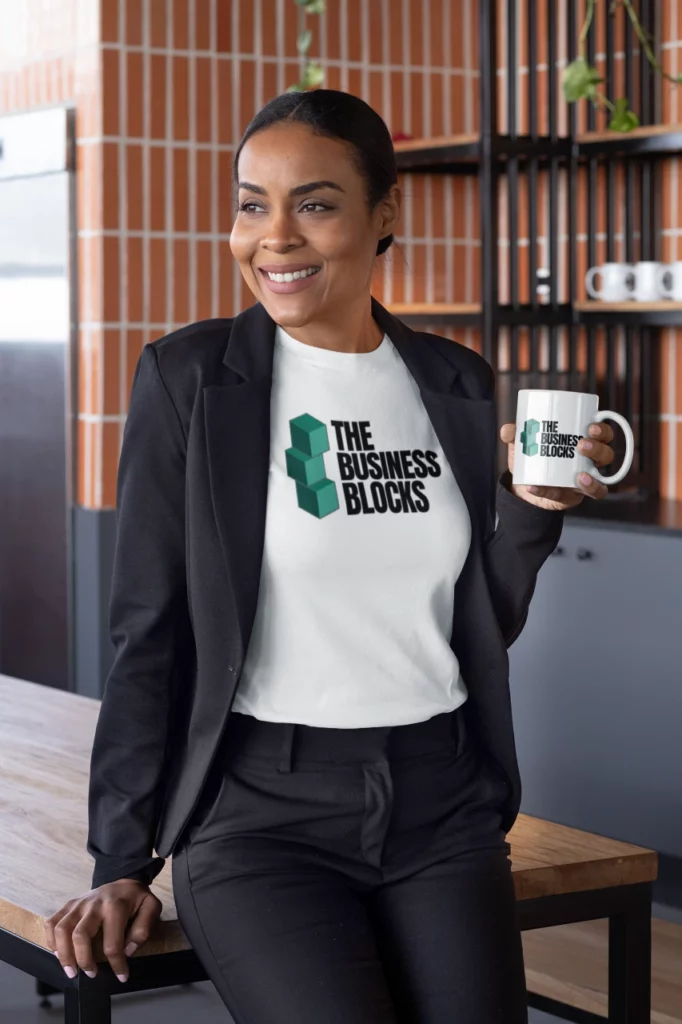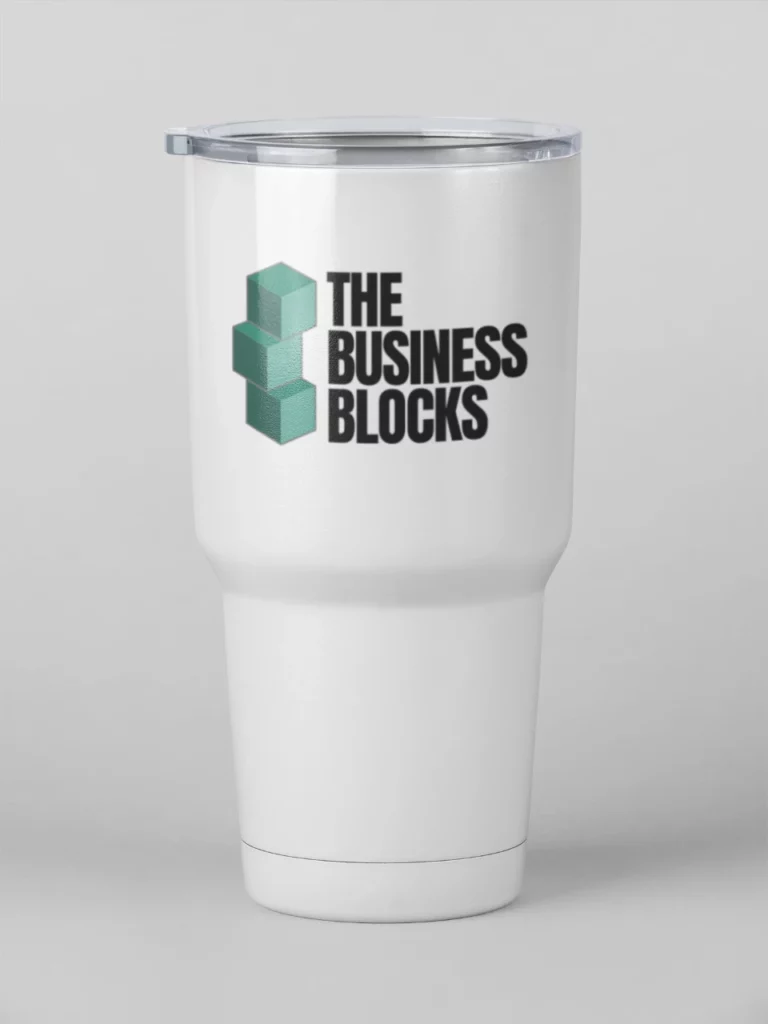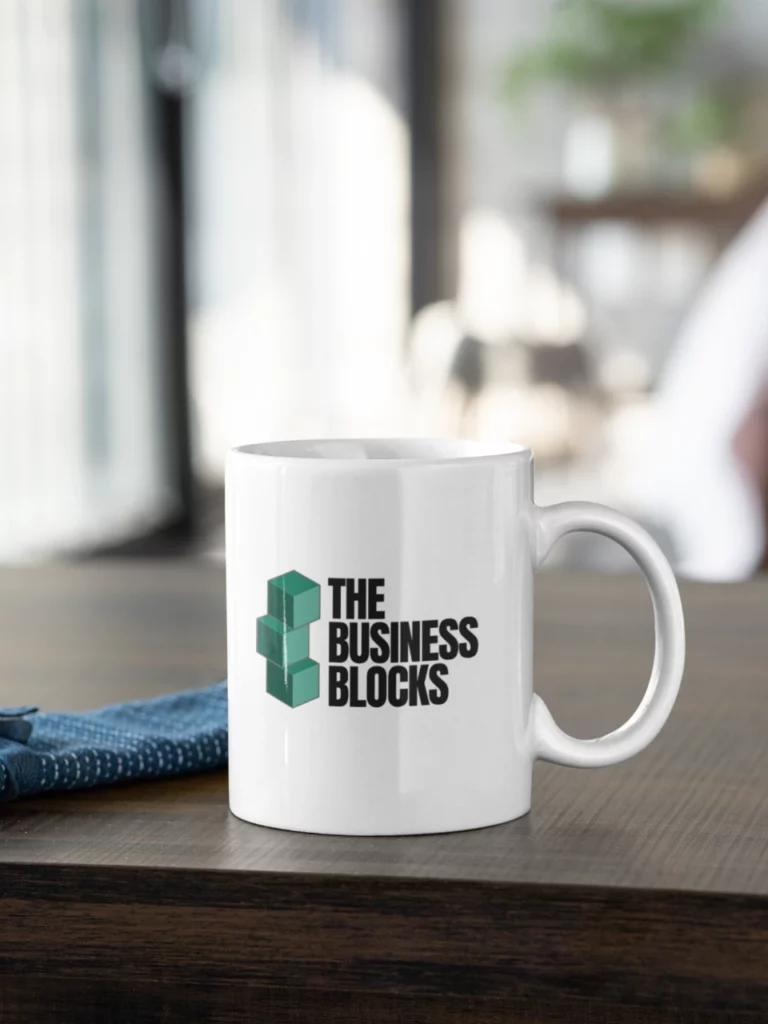 ---
Why would a company set up their own swag store?
A company can set up its own swag store to provide employees and customers with branded merchandise that promotes the company's image and identity.
Branded merchandise can be a valuable marketing tool, allowing companies to reach a wider audience and create positive associations with their brand. 
By providing employees and customers with high-quality branded merchandise, companies can help strengthen relationships with key stakeholders and boost brand awareness.
What is company swag?
Company swag is another word for the promotional products that many businesses use. Promotional products can be anything from T-shirts and hats to pens and USB drives.
Many companies give out these types of products to get their name and logo out there. They hope that by giving away these items, people will see the product or logo and remember it when they need a company's services.
Swag can also be a way to thank customers or employees for their business or support. By giving them something special, like a branded mug or hoodie, the company shows that it appreciates them.
Importance of having your own company swag.
There are several reasons why a company needs to have your own company swag:
Swag helps to create brand awareness and promotes loyalty among customers.
It strengthens ties between the company and its employees.
Swag can be used as a marketing tool to attract new customers and promote sales.
It increases brand visibility and helps to create a positive image for the company.
Swag is fun and makes people happy! It's a great way to show appreciation for your customers and employees.
Who needs an online store platform?
An online swag store can be a valuable asset if your company has multiple locations or divisions. It provides a centralized platform for ordering branded merchandise, allowing for standardized branding and messaging across all locations.
This not only improves consistency and professionalism in the eyes of customers, but it can also streamline the ordering process and save time and resources. With the ability to order personalized items and track inventory levels, an online swag store can save money by reducing excess ordering and waste.
Steps to set up your own company swag store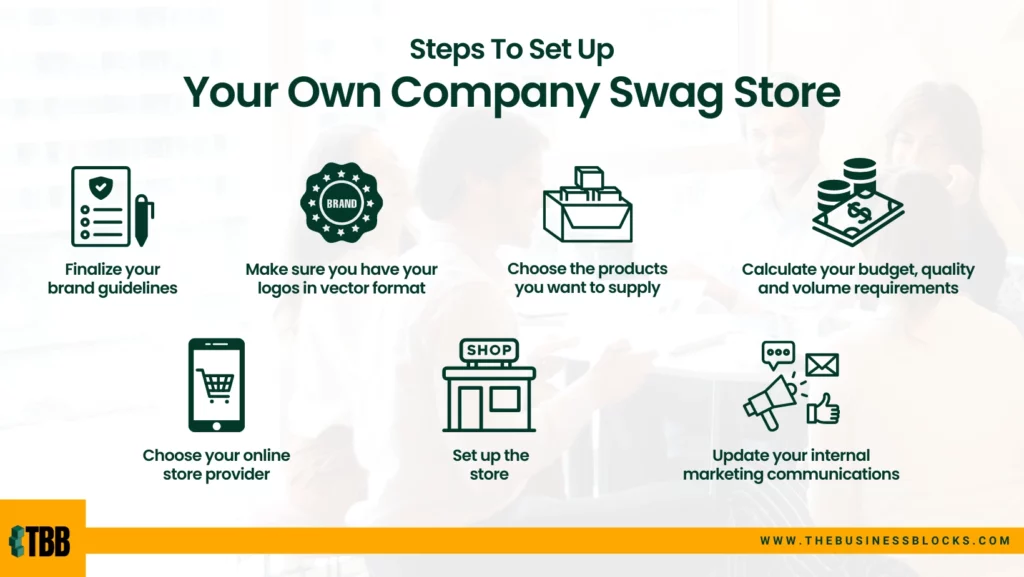 1. Finalize your brand guidelines
First, finalize your brand guidelines. This will include the colors and fonts you'll use and the tone of your brand. Once you have these nailed down, you can create a style guide for your store.
2. Make sure you have your logos in vector format
The next step is to ensure that your logos are in vector format. Vector images can be scaled to any size without losing clarity, making them essential for printing on merchandise.
If you do not already have vector versions of your logos, consider hiring a graphic designer to create them for you.
Alternatively, some image editing software, such as Adobe Illustrator, allows users to convert raster images into vectors. An example of this process can easily be found through a simple online search.
Logos in vector format will ensure that they print clearly and accurately on any merchandise, resulting in high-quality company swag for your customers.
3. Choose the products you want to supply
Do some research to see what kinds of items are popular among other companies and their employees. You can also gather feedback from your colleagues about what merchandise they would be interested in purchasing.
As a starting point, common choices include t-shirts, water bottles, pens, and hats. However, you can think outside the box and offer unique options like branded hand sanitizer or notebooks.
Products Video
4. Calculate your budget, quality and volume requirements
When planning to set up a company swag store, you must first calculate your budget, quality, and volume requirements. This allows for more strategic ordering and ensures you have enough funds to meet the demand for popular items.
For example, if a shirt design is a bestseller, it may be worth investing in higher-quality materials and ordering a larger quantity.
On the other hand, if an item has a smaller target audience, it may be more cost-effective to order a lower quantity with less expensive materials.
5. Choose your online store provider
There are many options for you to choose an online store provider, each with its own features and pricing structures. For example: 
Shopify offers a wide range of customization options and integrates easily with popular payment platforms. 
Wix offers simple drag-and-drop templates for those with less technical expertise.
With both of these platforms, you need to manage your own stock and print services along with the website. Research and choose the best provider for your needs, budget, and capabilities.
Why not choose a dedicated on-demand print service company?
If you aren't interested in managing your own inventory or keeping up to date with the latest trending promotional products, you can set up your store and back end with SplashBrands. 
Their online stores require no upfront inventory investments and no minimum order quantities since they decorate all products on demand.
Their stores offer a wide variety of branded swag from t-shirts and hoodies to tumblers and backpacks all which can be ordered one item at a time. 
A dedicated vendor like SplashBrands will also help you manage your swag costs by implementing budgets and approvers for different employees.
For an example of one of their stores, checkout https://cariantgear.com/.
Sample Swag from Cariant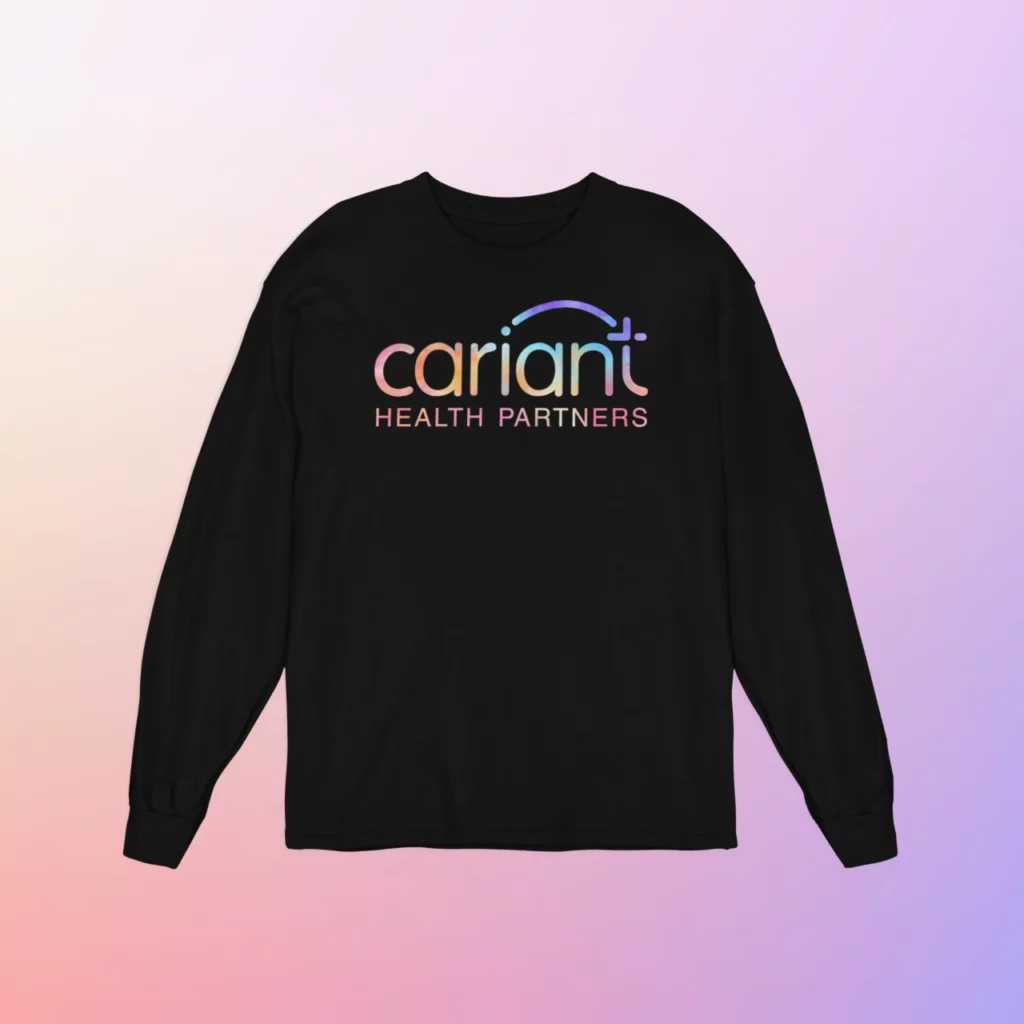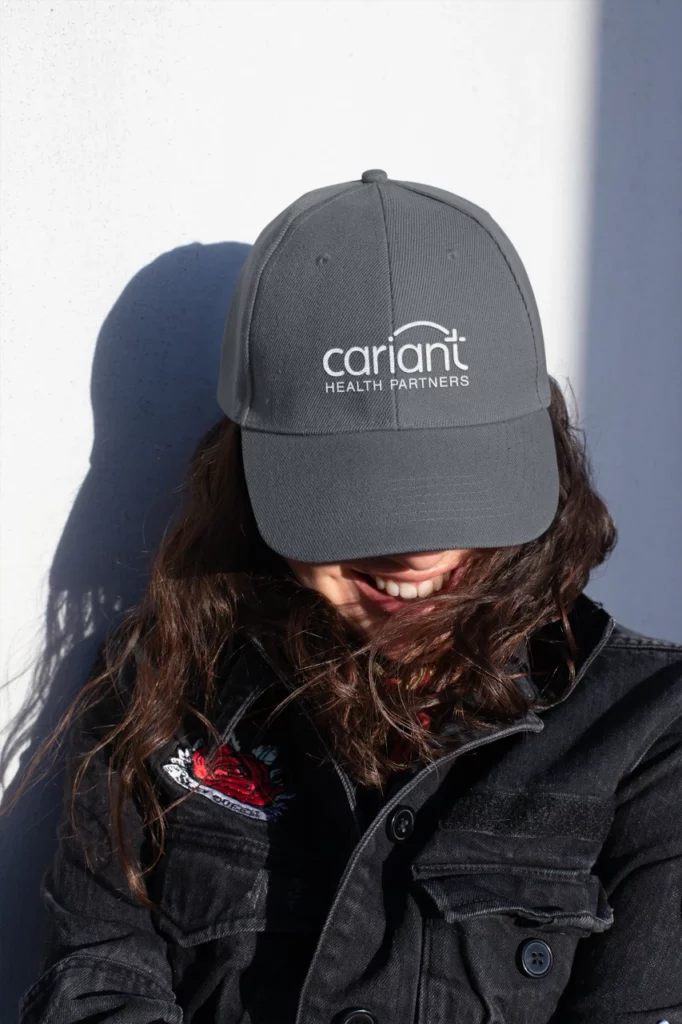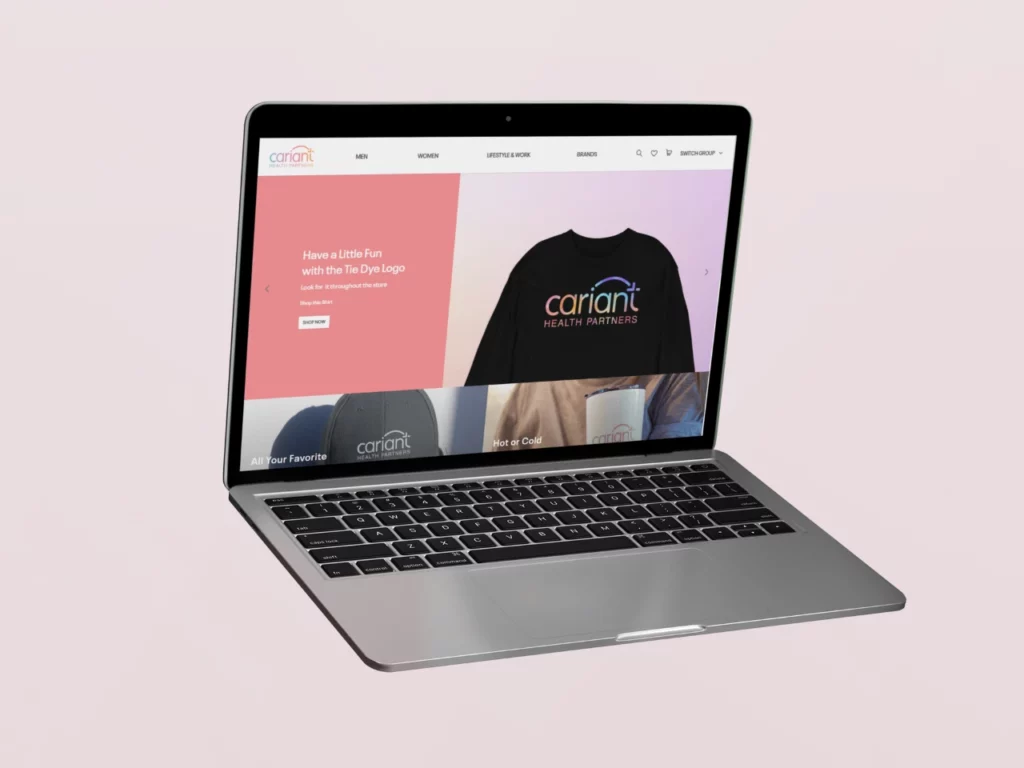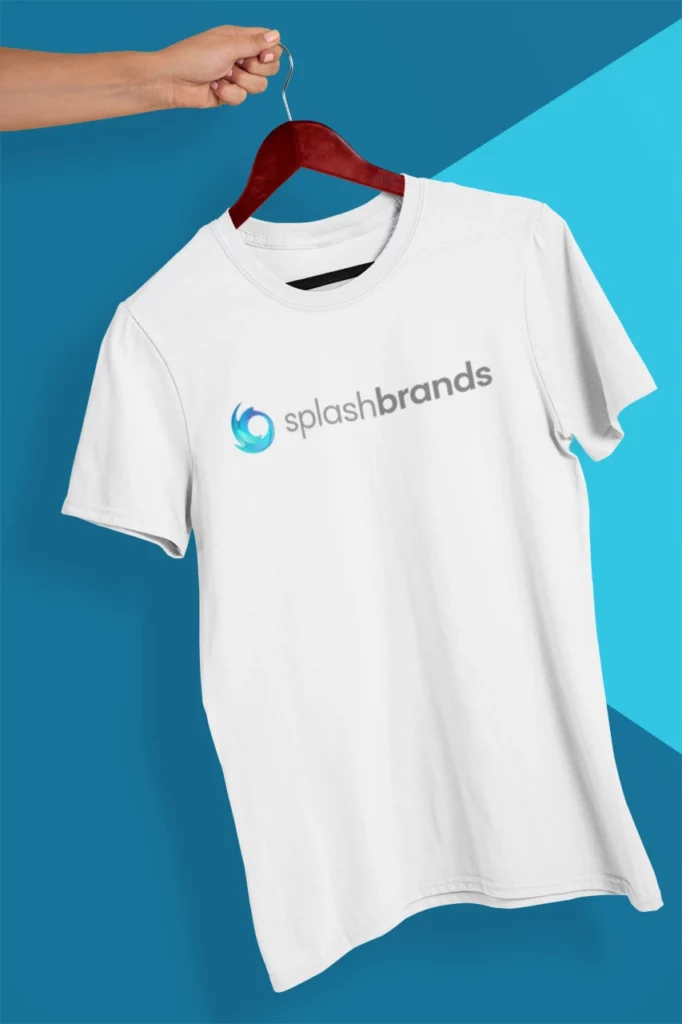 6. Set up the store
Now it's time to plan how it will function. One important step is determining which employee groups or spending categories you want to include.
This not only helps with tracking spending and budgeting, but it also allows you to designate specific cost approvers for each group.
For example, maybe the marketing team has a separate budget and approval from the HR department. Setting up these groups in advance ensures that your store runs smoothly and efficiently. 
Communicate the details of these spending categories and approvers to your employees, so they understand the process and can properly submit their orders.
7. Update your internal marketing communications
This means letting employees know about the store, including its location, hours of operation, and how to place orders. You can also use example emails or intranet announcements to promote new products or highlight popular items.
a. Hand out gift cards for the store
Gift cards allow employees to purchase merchandise and serve as an example for others outside the company who may be interested in buying branded items. It serves as a unique and thoughtful gift for clients and partners.
To ensure maximum accessibility, make sure to offer a variety of denominations and offer the option to purchase physical cards or send them digitally.
b. Generate your swag
You can see some of the cool options we have created here for the TBB swag packs.
The Bottom Line
That's it! You're now an expert in setting up your company's swag store. Remember, the key is to start small and build up as you gain more customers. Feel free to contact us if you have any questions or need help getting started. 
We'd be happy to help you get started on setting up your very own company swag store.