75% of HR professionals agree that communication, feedback culture, and mentorship will be the top indicators of workforce productivity in the future. But achieving these things in the workplace is easier said than done. HR departments face several challenges, including new ones involving remote and hybrid work.
SaaS tools for HR teams and managers are opening up a new dimension of employee engagement, communication, collaboration, mentorship, and employee satisfaction. Performance management tools are among the most useful SaaS tools for HR departments that help them overcome new and existing challenges.
What is a Performance Management Tool?
Performance management software refers to tools that help HR departments and managers better manage and track the productivity of their employees. People management and performance management are often used interchangeably, though there's a subtle difference between the two. People management is a broader term encompassing everything from establishing communication with employees to managing and tracking employee performance.
Small to large businesses use performance management tools to boost productivity, improve the employee-employer relationship, and recognize and reward top performers. Most leading businesses already use performance management systems to boost growth, sales, and overall company performance.
How are Performance Management Tools and Software Useful for HR?
Performance management software is used for the following key use cases:
Tracking and evaluating employee performance, team performance, and overall company performance.
Establishing communication channels between employees, managers, and other stakeholders.
Improving employee engagement through recognition, feedback, collaboration, and training.
Managing administrative tasks like leave management, payroll management, compliance, etc.
Creating a culture of mentorship and feedback within organizations.
Motivating employees through due recognition and rewards.
Preventing candidate drop-off and retaining top-performing employees.
Setting customized goals and tracking progress through KPIs.
Simply put, performance management tools aim to make workplaces and organizations more productive through holistic measures.
What are the top 10 Performance Management Tools and Software available today? Click to view the quick list.
Lattice
Eddy
BambooHR
15five
Leapsome
PerformYard
HelloTeam
Engagedly
HiBob
Culture Amp
The Top 10 Performance Management Tools and Software in Details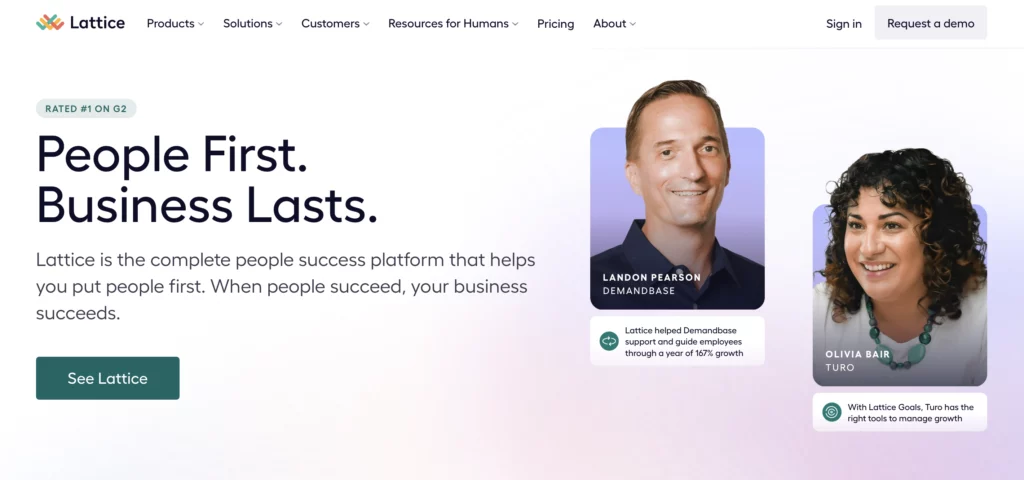 Lattice is a performance and people management software that tackles six key areas: performance, engagement, goals and targets, talent management, analytics, and compensation. It's an all-in-one performance management suite for HR teams, small businesses, and solopreneurs. However, Lattice is better suited for large teams where human resource management is challenging.
Lattice helps companies build a culture of continuous feedback. It can run customized performance reviews and celebrate exceptional performance publicly. Managers can stay updated with employee performance through Lattice and host 1:1 meetings with them to discuss specific issues.
While most performance management tools focus solely on HR teams and managers, Lattice also pays attention to the employees. It allows employees to give feedback and suggestions through surveys. More importantly, Lattice connects individual employee performance to overall company performance for better workplace satisfaction. If you want comprehensive performance management software for your company, you should check out the features and functionalities of Lattice.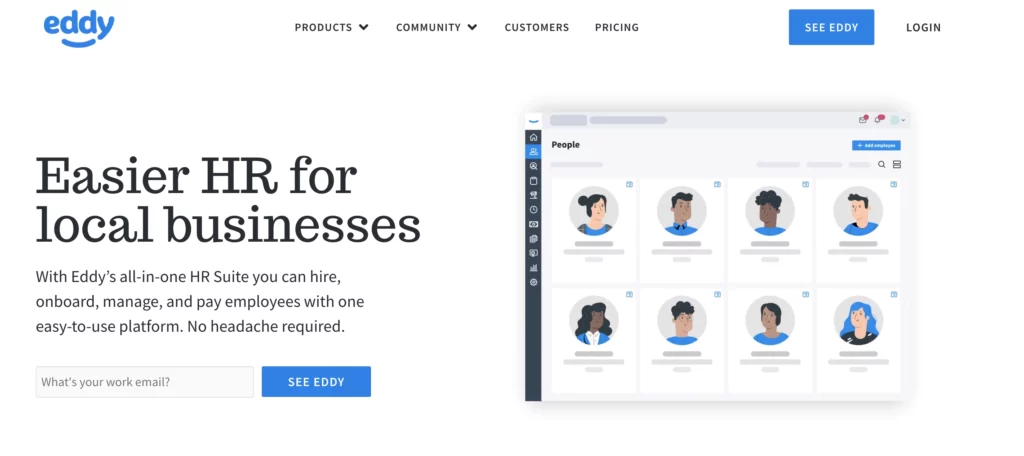 There are very few performance management tools geared toward local businesses. Eddy is a software that simplifies hiring and performance management for small-scale local businesses. At the same time, it has all the features HR departments look for in a performance management suite.
Eddy has three separate performance and people management tools: Eddy Hire, Eddy People, and Eddy Payroll. Eddy Hire is a recruitment and applicant tracking system for local businesses that brings all hiring-related tools in a single platform. On the other hand, Eddy People is a performance and people management tool that helps HR teams evaluate employee performance and digitize manual HR processes. Eddy Payroll manages compensations and payments while adhering to regulations and labor laws.
Local businesses often struggle with finding a custom-built performance management tool. Eddy addresses this problem with its specialized tools and features.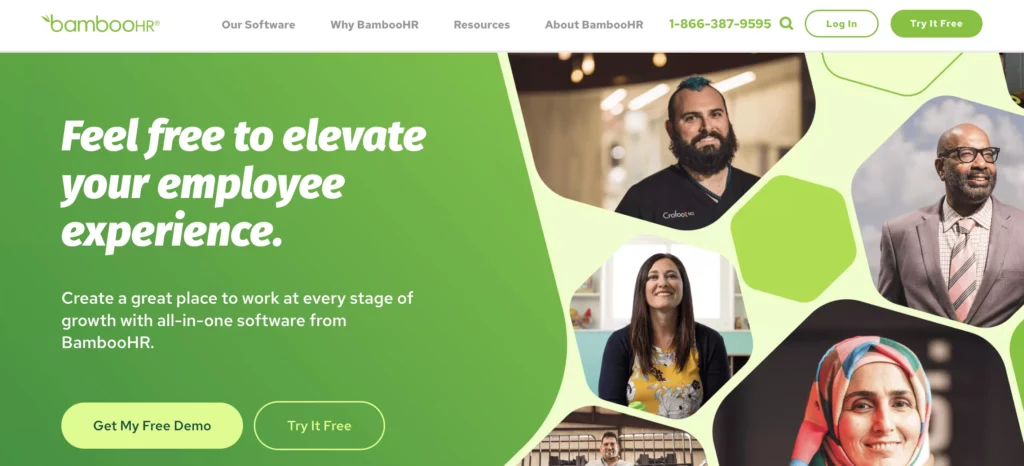 BambooHR is a well-known performance and people management tool for HR teams and small businesses. Like Lattice, BambooHR focuses on creating a culture of feedback within companies and teams. Instead of yearly performance reviews, BambooHR allows companies to create frequent reviews using simple surveys and questionnaires. It can help companies improve employee engagement and create a bidirectional feedback loop.
Performance management and tracking look different for different companies and teams. BambooHR lets HR teams create customized performance reports for specific departments like customer support, operations, sales, etc. You can also customize performance reviews based on specific metrics and requirements.
BambooHR enables companies to create individual employee goals and track them from a central dashboard. It ensures performance management at the individual, team, and organizational levels.
Most HR teams want a single platform for all performance management tasks. BambooHR is one of the best performance management tools in this respect.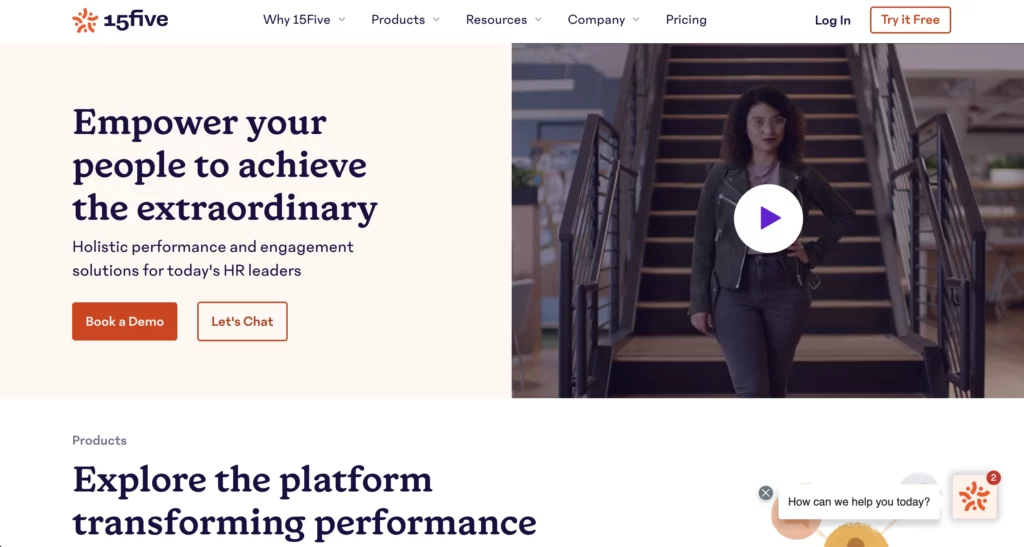 15five is more than a performance management suite. Unlike most performance management tools, 15five doesn't exclusively focus on employee or team performance. It also focuses on training managers to manage people through live and on-demand training better. As a result, managers can set meaningful goals and bring every employee on the same page.
Apart from training managers and HR teams, 15five performs all the standard tasks of a performance management tool. You can set customizable goals, collect performance reviews and ratings, create a feedback loop, make compensation and promotion decisions, and evaluate data-driven reports.
15five is also a great tool for recognizing and encouraging individual employee performance. Employees can get real-time feedback and recognition for their performance and engage in 1:1 conversations with managers on specific issues.
15five addresses every aspect of performance management and provides a single and unified platform for HR teams and managers.
FactoHR is an all-in-one HR software solution that offers integrated modules to empower human resources teams in managing employees from the moment of hire to retirement. Its performance management feature gives the employer the ability to keep track of each employee's performance and assist them in achieving their goals. 
Managers can easily set up and conduct various types of reviews, give continuous feedback, and plan one-to-one meetings with factoHR, regardless of whether they follow a traditional, OKR-based, or 360-degree review process. factoHR's mobile app can be helpful for managers as well as employees, as they both can effortlessly create goals/OKR themselves.
The system offers various levels of workflow, allowing managers and HR to submit reviews in a hierarchical order.
Additionally, one can gain a comprehensive understanding of the entire performance process with factoHR's performance management solution. Ultimately, it is one of the most essential software solutions that an organization requires for the successful execution of performance processes.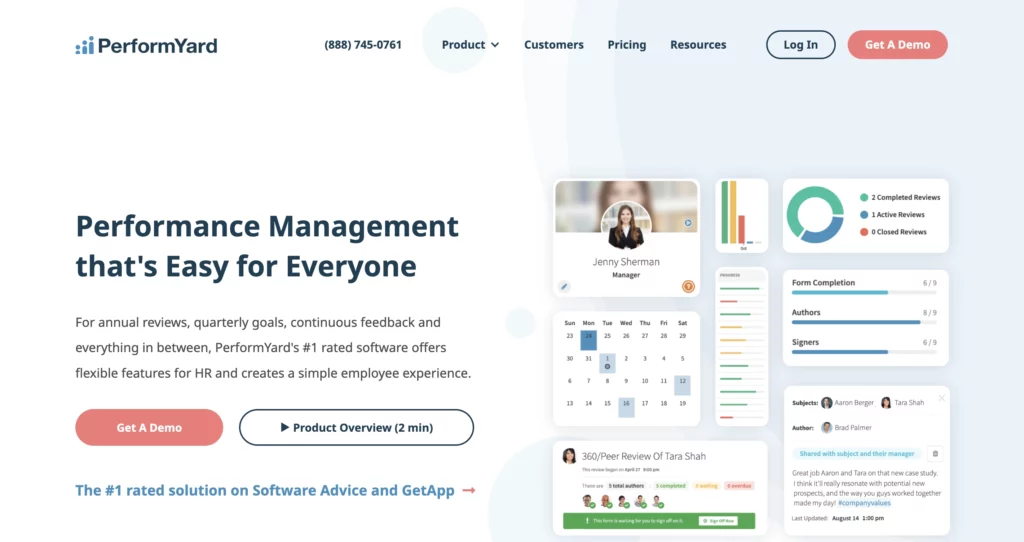 PerformYard enables organizations and HR teams to take control of employee performance through engagement, goal setting and alignment, and continuous feedback. Like most people's management suites, PerformYard focuses on creating a bidirectional feedback loop to keep employees engaged.
PerformYard targets three key areas of performance management: reviews and check-ins, goal management, and continuous feedback. It offers tailored review processes with customizable inputs and enables dynamic goal-setting for individual employees and teams. PerformYard also provides detailed reviews and reports to understand a company's growth direction better. It's a complete performance management tool for businesses of all sizes and scales.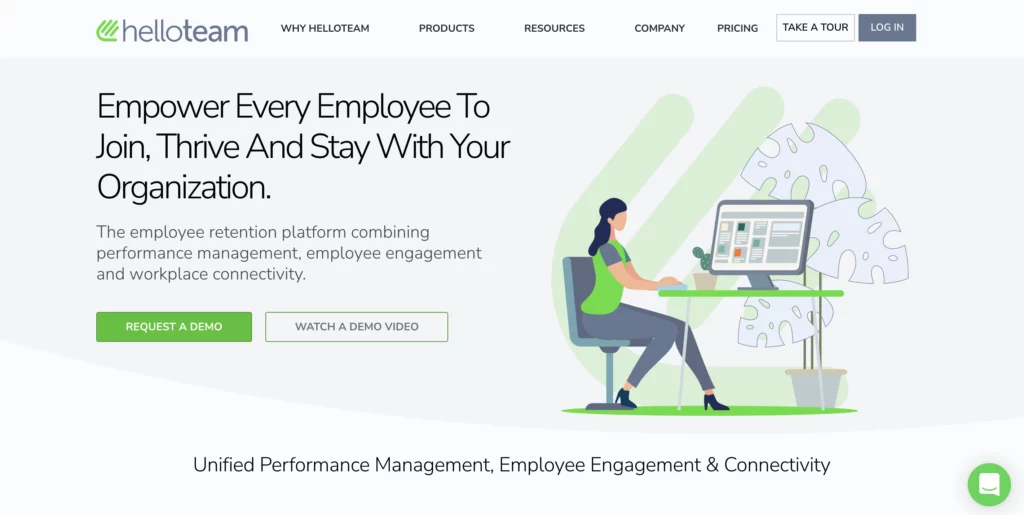 HelloTeam is a performance management tool focusing on training resources for employees and establishing communication channels between the management and employees. It also has standard performance management features such as customizable review cycles, employee engagement tools, and essential people-success metrics. You can also access detailed reports on employee, team, and company performance with HelloTeam.
The highlight of HelloTeam is its Social Workplace Community, where employees can interact with each other and the management. It's an essential feature for remote teams where communication and engagement are two key challenges.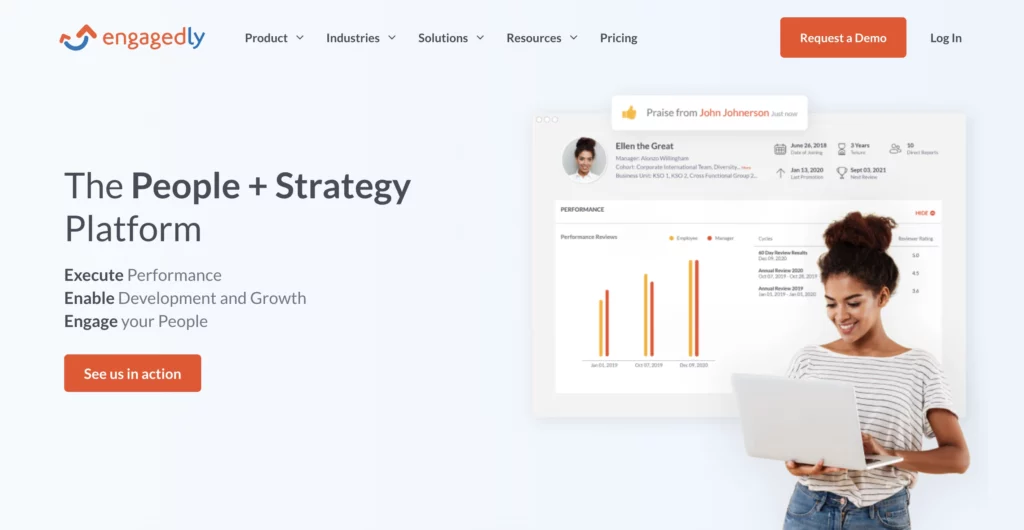 Employee engagement is a core aim of all performance management tools. Engagedly takes it to the next level with remote work collaboration tools, employee surveys, recognition and rewards, and gamification. If you or your HR team struggle to establish communication with the employees, you should consider switching to Engagedly.
Engagedly's gamification-based points, badges, and leaderboard differentiate it from other performance management suites. Employees get points for customized activities and relevant badges to show their accomplishments. It builds a culture of collaboration and constructive feedback that helps boost employee engagement and morale. Engagedly is an intuitive, easy-to-use performance management software with innovative and standard functionalities.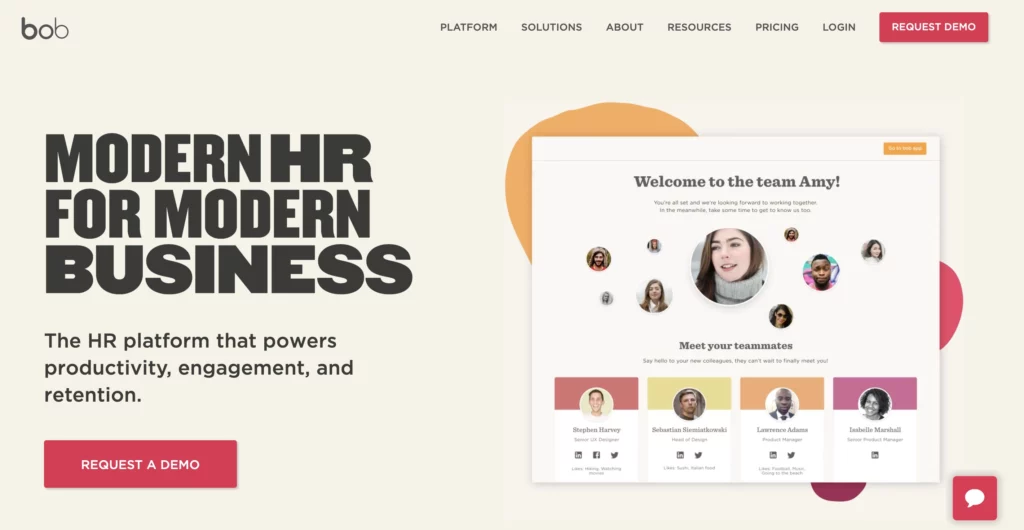 HiBob claims to be "HR tech that's made for all users," emphasizing usability and adoption. Despite being a full-scale people and performance management suite, HiBob is easy-to-use, intuitive, and has a great user interface.
HiBob addresses every aspect of performance management, including payroll automation, people analytics, attendance, and leaves management, surveys and performance reports, and workforce planning. It's an all-in-one HR suite for small to large businesses and agencies. If you want to simplify various HR processes and bring all stakeholders on the same page, HiBob is an ideal solution.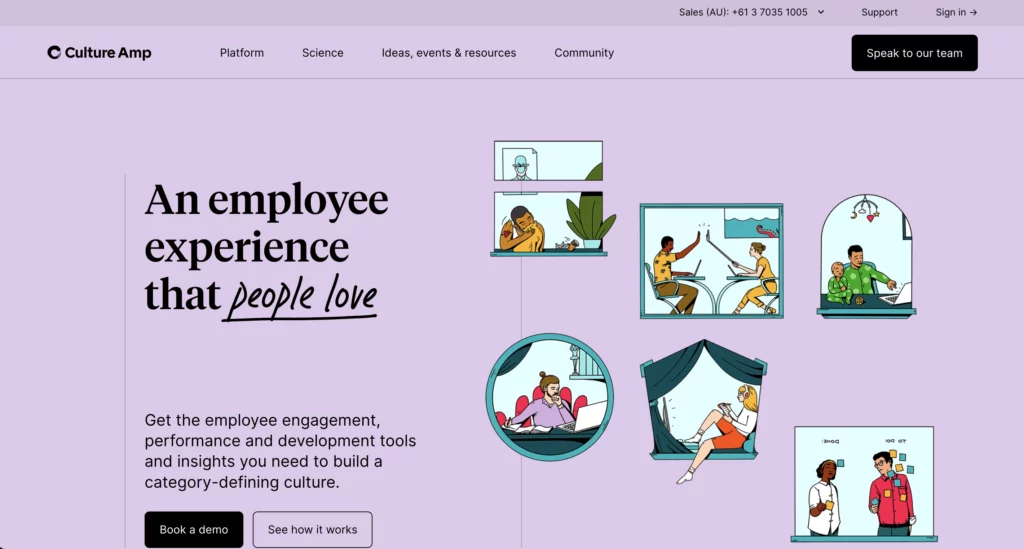 Instead of calling itself a performance or people management tool, Culture Amp calls itself an employee experience platform. It focuses on recognizing and retaining top organizational talents through meaningful insights and data-driven reports. It's the best performance management tool to tackle attrition and gain employee trust.
Culture Amp provides an intuitive interface for 1:1 interactions between employees and management. Beyond that, it helps set and manage goals using effective, proven methodologies for individuals and teams. It also delivers daily micro-learnings to make managers better leaders.
While Culture Amp is similar to most performance management tools, focusing on employee satisfaction and retention helps it stand out.
Who are the Target Users of Performance Management Tools and Software?
HR professionals and managers typically use performance management tools, but the rise of easy-to-use SaaS tools has made them accessible to more people. For example, small business owners can now use a performance management tool to manage better their employees, contractors, freelancers, and other workers. C-suite executives regularly use performance management tools to understand workforce morale and office culture better.
In other words, anyone who wants to manage and evaluate a workforce can benefit from using performance management software. Its use is no longer restricted to HR departments, though they remain the largest user base of these tools.
Notable Features of Performance Management Tools and Software
Here are some of the notable features of performance management tools:
Central dashboard: A unified, centralized dashboard to see the performance of individual employees, teams, and projects.
Goals and OKRs: Set custom goals for each project and track progress in real-time.
Training: Learning resources for managers to be better leaders and employees to be better team players.
Communication: Establish communication channels to create a feedback and mentorship culture.
Time management: Allocate time to each project and track how much time employees spend on specific tasks.
Reports and insights: Access data-driven reports on employee performance and the overall direction of growth.
Each performance management tool has its features depending on its use case. However, these are the most notable features that you'll find in most performance management tools and suites.
Other Software and Services Related to Performance Management
Performance management tools are full-scale HR tools for companies of all sizes and scales. These tools usually incorporate several features, such as time tracking and payroll management. However, payroll management, leave management, applicant tracking, etc., are not the defining features of performance management software. There are separate tools available for each of these use cases, and most connect with performance management tools in some capacity.
Recruitment tools, for example, aren't directly related to performance management systems. However, efficient recruitment is an important component of workplace productivity. In that sense, performance management tools are closely related to recruitment and other HR tools.
What are the Benefits of Using Performance Management Tools and Software for an Organization?
Using performance management tools for all businesses and organizations has many benefits. First, these tools help track individual employee and team performance. Companies can then make key strategic decisions based on this performance data. As a result, they can experience increased workplace productivity.
Second, performance management tools enable effective communication and collaboration. They ensure employee satisfaction by bringing everyone on the same page and defining clear roles and objectives.
Third, the reports and insights generated by these tools allow organizations to make informed strategic decisions instead of shooting in the dark.
We can summarize all the benefits of performance management tools under these headers: workforce productivity and employee engagement.
The Wrap
We hope this guide helps you find the best performance management software for your use cases. Each tool has its benefits and limitations; the choice depends on your goals and what you want from your workforce.