Onboarding platforms are designed to guide recruits and their teammates in becoming involved in an engaging and productive induction and hiring experience.  They aid in making the new hires welcome and connect them to the organization, the team leaders, and their colleagues from when they get the job offer up to when they acclimate themselves into their new roles and positions.
In addition to serving as a guide, onboarding software also can be used to automate most, if not all, administrative tasks, required setup and tool, and team introduction, to make it easy for a company to bring in new hires to the company, helping in streamline processes to make sure that the onboarding process is done effectively and productively.
Just so you know, I ranked and reviewed the four best employee onboarding tools, along with some of my extra top recommendations, so that you can pick the best one for your business.
---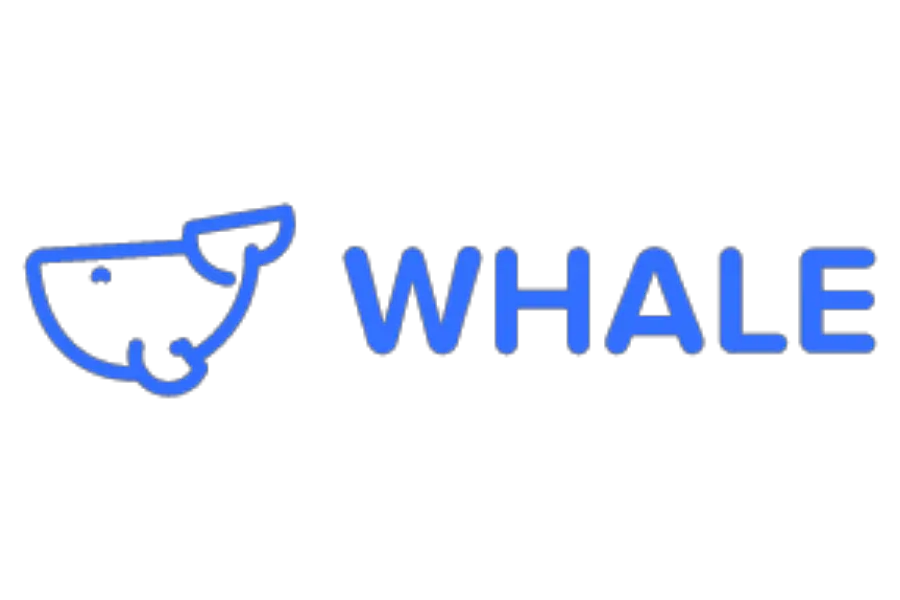 ---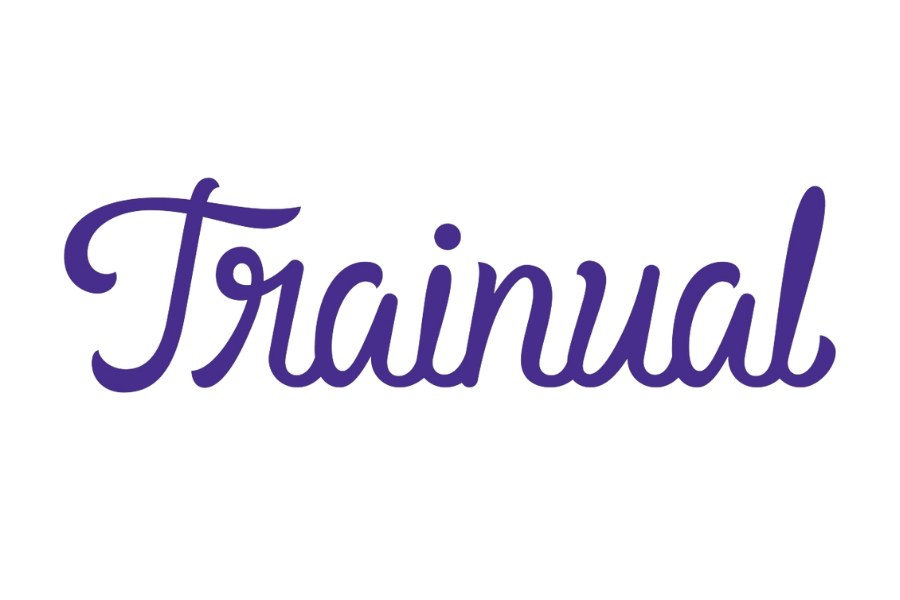 ---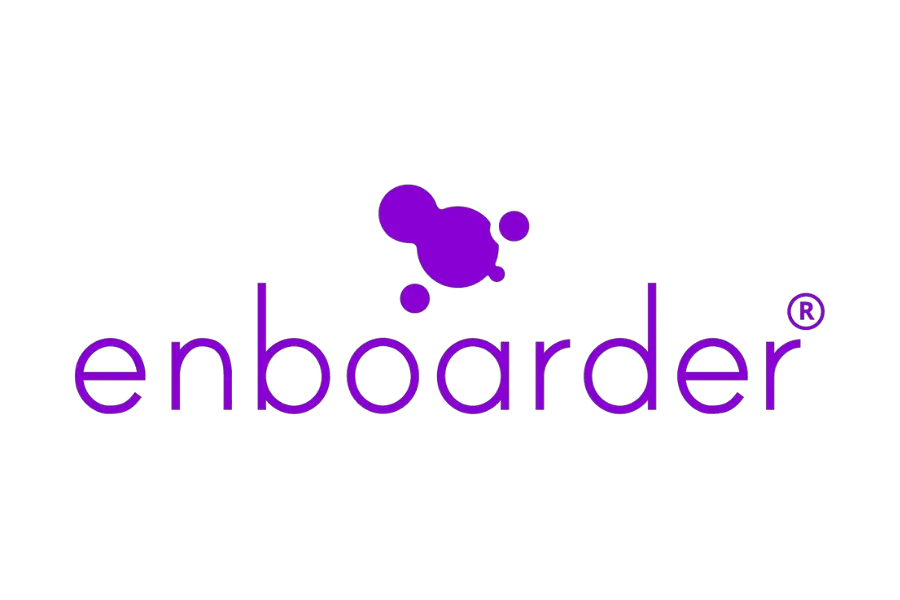 Disclosure: Some of the links in this article may be affiliate links, which can provide compensation to me at no cost to you if you decide to purchase a paid plan. This site is not intended to provide financial advice and is for entertainment only. You can read our affiliate disclosure in our privacy policy.
These applications can be used by those who will conduct the onboarding tasks; these could pertain to the H.R. partners, team leaders, management, and colleagues. 
These platforms can also be used for self-onboarding to provide independent and active onboarding participation from the new employees by letting them get to know the company and their team and become aware of the tasks and expectations associated with their new jobs.
These systems may serve as welcome portals, task management tools, document repositories, or e-learning platforms. The platforms in this article are excellent tools that may help companies provide a better onboarding experience for their recruits.
Each tool has its strengths and drawbacks, and choosing the right tool is key in determining what set of functions are practical and whether they enhance the onboarding process for new team members.
What is Trainual?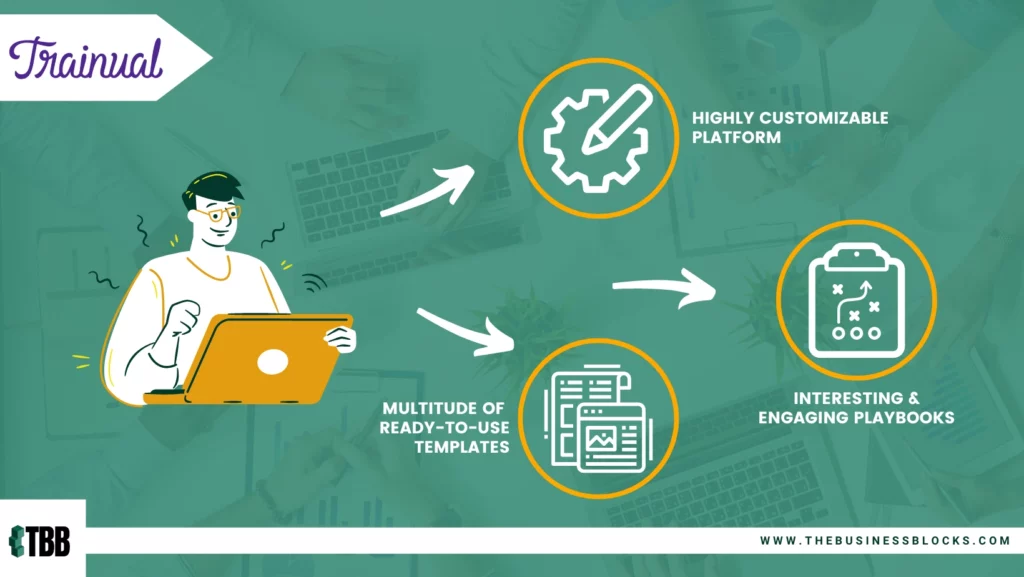 Trainual is a training platform and knowledge management; it is an effective tool that enables businesses and organizations to develop and build their playbooks – repository or containers of all necessary information that is essential to a business entity, from a company's profile, goals, and mission, core values, policies to its business procedures.
When was the company Trainual started?
Trainual was born out of Chris Ronzio's experience with building scalable and repeatable tools that can be used for training; he came up with an effective system of producing materials that can be used for his event video production company, ensuring that his company can provide a seamless and consistent experience for all the clients of the company. 
This led him to serve as a guide to hundreds of small businesses, aiding them in organizing all of their operational processes and policies while they scale up their teams. He launched Trainual in January 2018 as a platform and solution that provides functions he has been offering to organizations as a consultant.
How many customers does Trainual have?
Trainual currently provides support and essential services to 7,500 small businesses spread over 180 locations worldwide.
With Trainual, members of an organization can organize and collate all important and useful information into digital libraries encompassing all the how-to and need-to-know aspects of operations. 
Businesses can develop in this platform a neatly and smartly ordered and sorted library containing all policies, procedures, and business functions with the help of Trainual's intuitive and playful U.I. 
What is Trainual used for?
The premise behind this tool is very simple, yet it offers valuable help in providing a content manager. Businesses can easily gather and organize data into a library that is easy to navigate, peruse and search.  
Organizations can use Trainual's capabilities in developing and supporting the following, especially for employee onboarding:
Automated Onboarding – With playbooks and sections dedicated to the company profile, company information, and organizational chart, businesses can build and automate employee onboarding, equipping recruits with all the information they need to be prepared for their onboarding journey.
Business Process Documentation – Trainual can be used to come up with a single source of truth – a centralized knowledge library that is accessible and can be easily maintained and peer-reviewed, ensuring that team members can easily locate the information that they would need for them to perform their roles and functions productively and effectively.
Smart Training Platform – Businesses can develop and customize tests and assessments; these materials can be part of the company's playbooks, learning modules, or stand-alone content. These materials can enable companies to plan learning courses and assess and promote employee engagement through e-learning content. These tests can be automated, helping organizations save on operational costs, offload administrative tasks, ensure compliance, and raise awareness on essential information and topics that are needed and useful for employees.
How does Trainual help with employee onboarding?
Trainual provides a guided and organized approach to formulating and presenting company information, starting with all the basic information, culture, core values, mission, vision, goals, and history; all of this information can be created under the Company section. 
On the other hand, the People section shows all the employees of an organization for which access to Trainual has been granted, including the roles, assigned playbooks, employee directory, and organizational chart. 
The Policies section is where a company can document important memos, rules, guidelines, organizational policies, and benefits; essentially, all information in an employee handbook can be converted into the contents of this directory. Finally, the Processes section can organize the playbooks containing the procedures and day-to-day business functions.
Playbooks can be developed, maintained, and organized into sub-folders within these main categories. This level of sorting and categorization makes it easy to produce and maintain the content, consume and peruse the materials and manage assignments, editing, and review tasks. 
Having all this information in a central repository that is easy to maintain and access will make it easy for an organization to onboard recruits; for the new hires, easing into the new company and position can be performed without ambiguities and lack of information if all the necessary information and documentation are readily available.
Creating playbooks and templates with Trainual
Content managers can design and produce playbooks from scratch or use the many ready-to-use templates that come pre-installed with the platform. These templates make Trainual very effective and useful; implementing them already serves as a guide, and minor tweaks will make them apt for an organization. 
Companies can add more subjects or topics if they find the templates insufficient or remove aspects they will not need. Trainual's editor also provides a comprehensive set of features and allows the embedding of interactive content that could aid in making the playbooks interesting and engaging. 
Moreover, Trainual offers personalization of its platform, from the use of a company's logo as well as the designing and implementing of a customizable color theme and motif, allowing users of the platform to have a bespoke user experience that jibes with the aesthetics and visual style that a company is using.
Trainual boasts of an impressive clientele portfolio, including Doxy. Me, Webgility, Freestar, I.Q. Offices, Hireclout, The James Agency, and Stream Logistics.
This platform provides a creative tool to formulate company playbooks. It provides fun to an otherwise cumbersome matter due to its informal and lighthearted tone, proving that documentation does not need to be boring and mundane. Its templates provide essential guides for new employees with an interactive and fun walkthrough that can make a good impression on the company.
What is Eddy?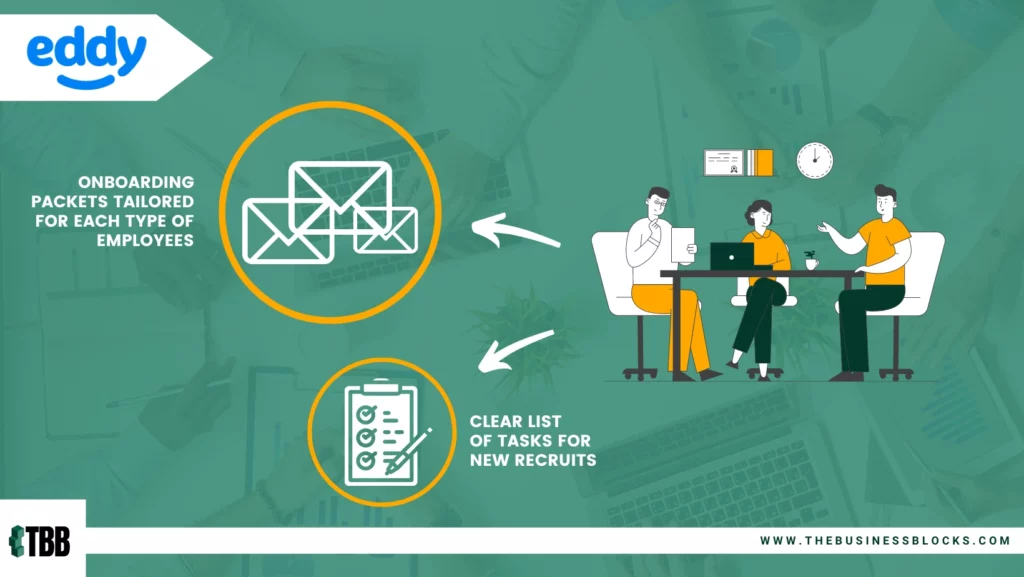 Eddy is a comprehensive and full-scale human resources management application suite that allows organizations to perform hiring, onboarding, employee, task management, and payroll. 
This all-in-one platform is targeted towards small-and-medium local businesses, especially those implementing a remote workplace setup or serving and managing frontline workers. Eddy aims and promises to elevate and enhance these companies' employee experience to attract new talent and retain their finest employees.
When was the company Eddy started?
The company behind the platform Eddy was founded by Travis Hansen in 2017. He devised a solution for H.R. and employee management after failing to find a suitable solution to address his needs and expectations. 
The development of this platform was driven by the desire and need to attract and retain performing employees, and found that this business needs is common to many entrepreneurs and businesses.
What are Eddy's main features?
Eddy has a complete set of applications for H.R. and talent management, including Employee Experience Software, Human Capital Management, Human Resources Information Management, People Operations Software, People Platform, Talent Management, Workforce Management, Employee Data Management, and H.R. Software.
How does Eddy help with employee onboarding?
The Eddy People platform offers a specialized talent and people onboarding and management solution. With this platform, businesses may employ an organized and fully digital approach to onboarding. Eddy can provide an intuitive, pleasant, paper-free, and conducive onboarding by sending bespoke welcome messages to new hires, furnishing information they would need on their first day at work, and a task list they need to remember and complete. 
Eddy's platform allows the configuration and use of templates for onboarding called packets. Different packets may be used for contractual, full-time, and part-time employees. Each packet would contain the list of tasks that the recruits should accomplish. 
The documents for the employees' perusal and submission may also be attached to the packets, which will then be assigned to the new hires. Documents, requirements, and images that the employee should submit can also be configured in each packet, forming a comprehensive set of requirements and a list of submissions that needs to be checked and accomplished to ensure that all information is gathered and stored in a smart and easy-to-manage repository.
Eddy also allows the configuration of sending the necessary information that a recruit would need on the first day of reporting, such as the date and time, the official site, attire, and a personal and customized welcome message. 
It also includes the employee's manager's profile and team members with whom the employee will meet and interact. Other special instructions may be specified to ensure the onboarding is done smoothly.
In addition to individual tasks, a team task list can also be created in Eddy. This allows the team leaders and managers in the organization to assign or get assigned tasks and new hire responsibilities within the company. 
With this feature, the needed tasks can be assigned and delegated to team members; when an onboarding packet is assigned to a new hire, the assignees will be notified of the assignments that team members should accomplish to help the new employees get onboarded successfully and effectively.
The platform offers an easy-to-use tracking of the progress and accomplishment of all the new employees, providing an effective means of tracking, monitoring, and evaluating the success of the onboarding process.
What companies work with Eddy?
Eddy boasts an impressive list of clients and a trove of success stories, with clients such as Crumbl, Huntington, CupBop, G.O.A.T. Haircuts, Ardent, Quench It, and The Ladder Method. 
Based on customer and user reviews, Eddy's platform ranks high on usability and user-friendliness, value for money, customer support, and functionality. It has been known for its clean interface and a basic set of essential features for H.R. and employee management functions.
Eddy offers a simple yet very effective means of performing employee onboarding. It is perfect for a starter system because of its intuitive interface. Organizing tasks and documents into packets is ideal for ensuring that onboarding will be done well for every employee.
What is Enboarder?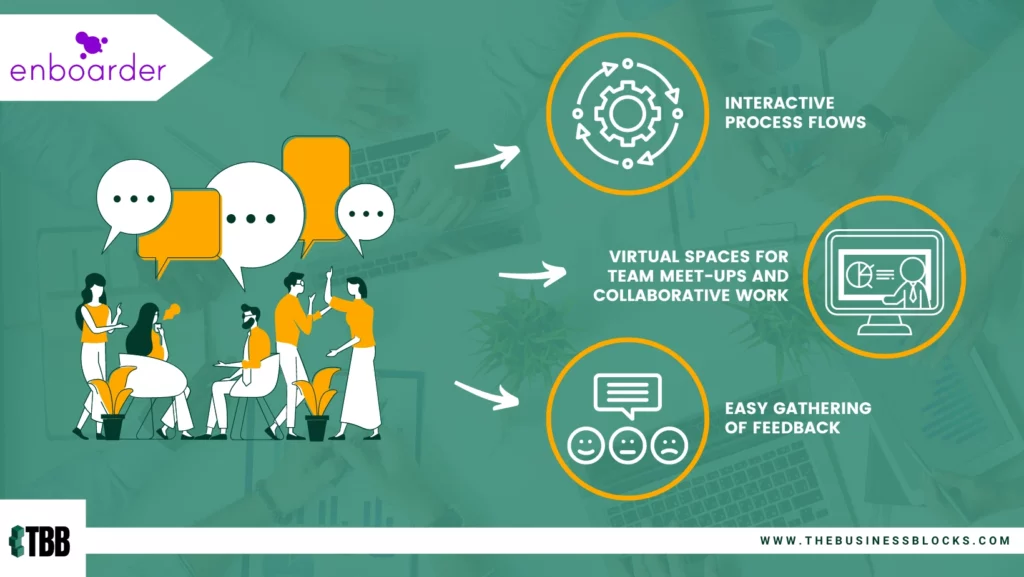 Enboarder is a leading tool in the training and onboarding software domain and e-learning industry. It offers a platform that allows process automation, guides businesses in operations, and allows the implementation of customized onboarding experiences. 
Enboarder specializes in an experience-driven onboarding application that hiring managers, H.R. partners, and recruits can use to design or have bespoke and customized onboarding endeavors. 
To enable businesses to engage and effectively connect with new employees, this platform can build process flows for onboarding using common low-code tools such as drag-and-drop functions, sample templates, task management, and automation.
When was the company Enboarder started?
Enboarder is from a company that is based in Sydney, Australia. It was established in 2015. The company aims to revolutionize H.R. practices and procedures through its people activation platform. It allows businesses to enhance and elevate employee functions into employee-driven, science-based, simple, and scalable processes. 
Enboarder's core values emphasize having a fun and enriching workplace environment, effective teamwork, customer-centric services, and transparency; these values transcend into their product development and improvements for their onboarding platform. 
This company is highly ranked for its excellent work culture, friendly workplace environment, diversity, and riveting technologies.
Who is Enboarder for?
Enboarder's platform is targeted towards businesses that hire more than 100 recruits per year and are gearing towards scaling up and those with exponential growth and turnover. It is more apt for small to medium organizations with mass hiring, scalability, and value customizability.
What can Enboarder do?
Enboarder allows automatic granting of access to the platform upon successful recruiting and hiring. Users of Enboarder's platform can design onboarding process flows depending on an applicant's function, role, demographics, and other levels of categorization and segmentation.
This platform can be integrated with applicant tracking and hiring systems for businesses to craft a streamlined workflow.
This platform fosters the formulation of interactive process flows and onboarding journeys that can serve as guides for hiring managers, coaches, and team leaders. Integration with useful and popular tools such as DocuSign, Jira, Slack, and JobAdder is supported. 
These features ensure organizations can implement a fully digital and effective onboarding scheme. Through Enboarder, a guided flow of tasks, actions, and assignments of responsibilities can be done for team members and H.R. personnel to ensure that recruits can be onboarded properly and without hassle. 
Virtual or face-to-face onboarding actions can easily be programmed in Enboarder, and any change in a company's process because of the ever-shifting safety guidelines and protocols can be easily adopted. Virtual spaces for team meet-ups and collaborative work can be done to facilitate bonding and team building.
Provision and gathering of feedback can be easily accomplished in the platform; instantaneous reactions and formulation of an action plan can ensure that any kinks or flaws can be addressed and resolved. Companies can maximize Enboarder's capabilities in promoting positive employee experiences with this approach. 
How does Onboarder help with employee onboarding?
The onboarding process can be automated and broken down into manageable packets of task groupings, such as I.T. requests, access management, and team introduction. Enboarder employs an unparalleled user interface that is fully customizable and personalized with support for rich content. 
It uses data-driven coaching for team leads and managers for them to onboard and mentor their colleagues. Moreover, the platform caters to tasks that can be assigned and delegated to more than one team member, allowing managers to marshal and orchestrate communication and accomplishment of the tasks effectively.
Via analytics for the whole onboarding experience, progress tracking, and gathering of feedback with surveys, Enboarder can help organizations analyze pain points and aspects for improvement. This enables these businesses and could ensure success by promoting regular reviews of their onboarding process and policies.
Enboarder is a sensible choice for employee onboarding because of its ease of use, flexibility, and automation options; with the platform, businesses can increase employee engagement, productivity, and staff retention.
Enboader is the platform of choice of an impressive list of companies that includes the likes of  Hugo Boss, ING, Eventbrite, Wyndham, Canva, McDonald's, Shopify, and Deloitte, among others. This spectacular portfolio is a testament and provides all the necessary information about the tool. 
This application makes creating customized employee onboarding workflows convenient for organizations to easily identify and implement logic and tasks for each step or process.
What is a Whale?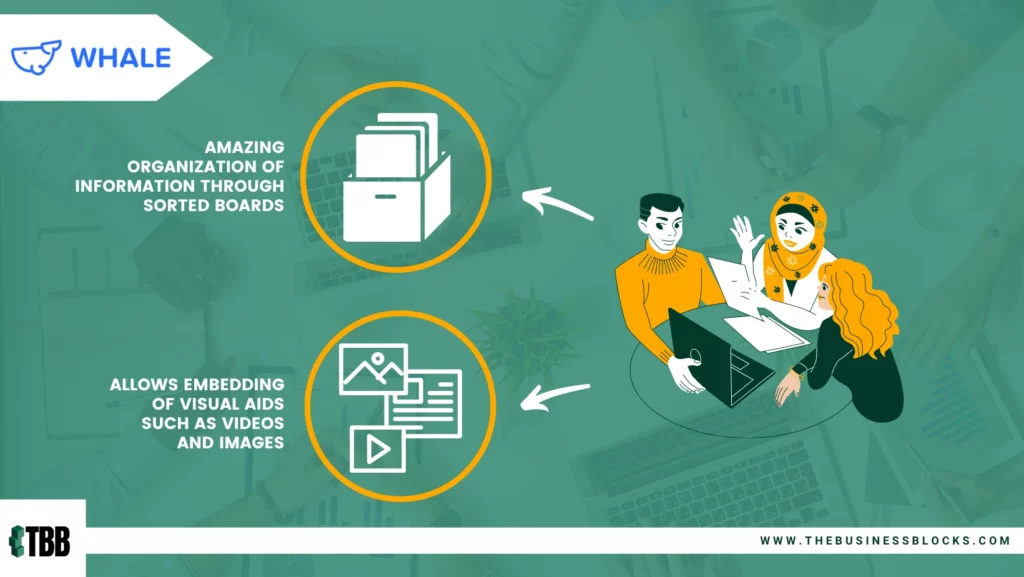 Whale is a knowledge-sharing and training tool that allows companies to build a centralized archive of S.O.P.s, business policies, company information, and other important documentation in an easy-to-use and uncluttered application. 
This platform offers a secure and collaborative means of cascading information to all stakeholders and employees. Content managers, leads, and H.R. partners can store, organize and disseminate data, company information, and business process documentation. 
This can be very useful in employing and implementing onboarding libraries that can be assigned to new hires, offering the recruits a visual and intuitive digital guide and providing all necessary information to help them get acquainted with their new company and new jobs. This system also facilitates the formulation and conducting of online training through playbooks, libraries, and topics organized into subject cards.
When was the company Whale started?
The company behind Whale, also known as UseWhale or Whale B.V., was founded on September 14, 2020, by Bram Billiet and Gary Vanbutsele.   Whale's headquarters is in Oost-Vlaanderen, Belgium. It is a Saas company that specializes in online and digital training. 
The concept behind Whale's training platform was born out of an idea that one of the founders, Gary Vanbutsele, back in 2018. Before Whale was founded, he led an I.T. Services firm and was inspired to develop a solution that could empower team members, foster knowledge sharing, and help scale the business.
With this idea, he built Whale with his friend Bram Billiet. Their mission, and the concept behind Whale, are simple: employees should be aligned with their company's mission, goals, and ideals. One sure way of doing this is to make tribal knowledge, procedures, and policies of the company organized and accessible through a smart platform.
The solution is governed by three main tenets: content creation, training, and gauging. 
How does Whale help with employee onboarding?
Content creation is Whale's main feature. Documentation can be organized into boards, the main construct for sorting information. Boards can be used to categorize information based on the purpose, function of the department for which the data is intended. 
Each board may contain different playbooks or libraries, each of which may have multiple cards, individual topics, or steps of a process flow. This top-down approach in the presentation and organization of information makes it easy for organizations to categorize information based on major groups and easily break down and identify the different components for each group. 
Whale's content editor allows the embedding of visual aids such as videos and images to allow content managers to develop playbooks that are not too pedantic. This tool allows the production of materials through native integrations, content migration, or via the use of pre-installed playbook templates.
Businesses may also use Trainual as a training platform. Play Books and libraries may be assigned to new hires to create an automated and streamlined onboarding process whereby learning flows can be designed to facilitate self-onboarding and training. 
Whale allows the configuration of learning paths and monitoring progress, performance, and completion. Modifications on the content can easily be managed and cascaded through notifications and task assignments.
Finally, Whale's progress tracking and analytic functions can help businesses analyze employees' performance, identify knowledge gaps, and address them efficiently. Through Whale's extensive reporting, insights can be gathered to determine the content's quality and the personnel's performance, allowing organizations to identify issues regarding information management.
What sets Whale apart from other employee onboarding platforms?
What sets Whale apart is its simple and no-frills approach to content management. The platform is simple enough to let small businesses implement a collection of playbooks that can aid them in coming up with an effective digital onboarding experience for new hires. 
Another aspect that makes this tool very effective in what it does is how it gives emphasis and importance to the continual refining of key business processing, improvement, and enhancement; subject matter experts can be assigned to the different playbooks, and regular Review and enhancement of the content can be scheduled. 
This acknowledgment that process documentation is always a work in progress is a nice concept to implement and can help businesses develop a sense of constant assessment and self-evaluation.
Whale has helped companies like Fairway, Kidwell, Direct, and Sales Boomerang succeed in handling and managing team growth ranging from 100% to 650% employee growth through a well-documented onboarding process that can be assigned to every new hire and making this information accessible to new hires as well as team members who are responsible for the onboarding of the recruits.
Whale fosters not just implementing an effective document repository but an ideology and culture of doing things right. When business processes are documented, recorded, and reviewed, a company may be allowed to optimize areas that can be improved upon and rectify pain points to ensure that the business may function and operate effectively and productively.
What is BambooHR?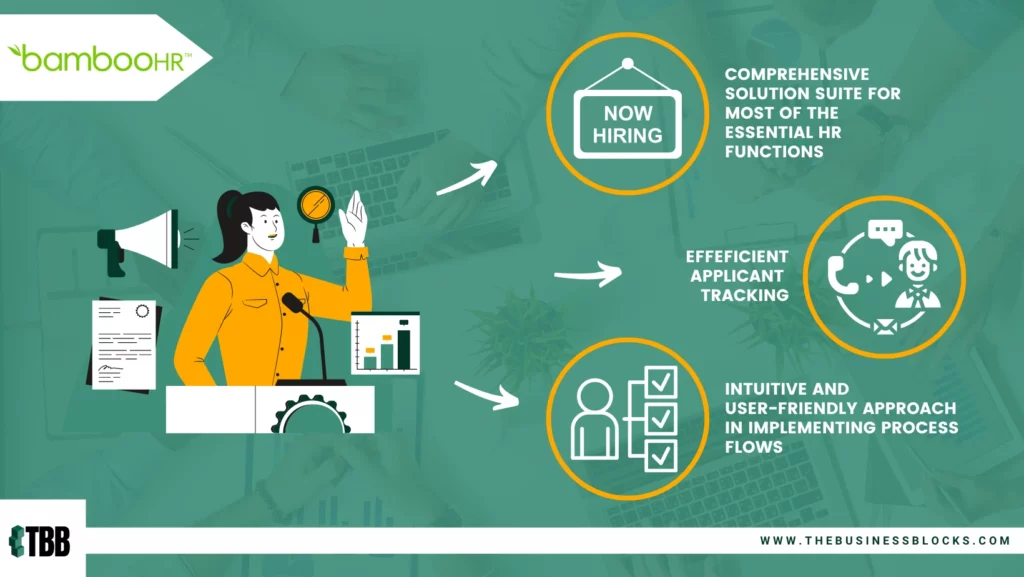 BambooHR is a human resources information system that helps a company's H.R. partners to manage employee data and conduct H.R. tasks by providing a large set of H.R. business functions such as onboarding and offboarding, hiring, leave management, applicant tracking system, time tracking, payroll processing, among others. 
PeopleGoal ranked this human resources management software-as-a-service as the #1 H.R.I.S. solution in 2022.
When was the company BambooHR started?
The company behind BambooHR is an American I.T. company based in Lindon, Utah. It was founded by Ben Peterson and Ryan Sanders in 2008. 
Before the pandemic, BambooHR served over 11,000 clients in 100 countries. It is known for its anti-workaholic policy wherein employees are discouraged from working more than 40 hours per week.   The rationale behind this stance is to alleviate occupational burnout, which was deemed detrimental to employees' health and relationships.
What is BambooHR for?
BambooHR is ideal for small- and medium-sized businesses. This platform has a comprehensive dashboard homepage with allotted sections for employee database, time off monitoring and record-keeping, reports, and analytics. 
It also has components for the following: My Info – containing a particular user's profile; Employees – a listing of all staff visible to the current user; Job Opening – a job listing for open roles and positions; Reports – essential information on statistics, metrics, and other data listings; and Files – BambooHR's document management solution.
How does BambooHR help with employee onboarding?
The BambooHR platform provides a comprehensive solution suite for most of the essential H.R. functions, providing a set of features that includes hiring and applicant tracking, onboarding and offboarding, time off management, timesheet management, performance and appraisal, benefits tracking, and employee information database in a user-friendly application. 
Although the pricing and cost per user of this platform are quite steep, BambooHR's arsenal of features and functions makes up for it and makes this platform an excellent choice. Unlike other platforms that touch upon similar functionalities but focus more on certain key areas, BambooHR has the distinction of fulfilling an overall H.R. management solution by providing extensive coverage of multiple areas for H.R. processes.
Regarding employee onboarding, BambooHR has covered all bases by furnishing the complete platform to record applicants, track the hiring process, and process onboarding for successfully hired individuals. Each step in this process has been done so well without making the approach and solution convoluted and cluttered. 
BambooHR's intuitive and user-friendly approach in implementing this complete process flow allows H.R. partners to screen applicants effectively, keep track of their journey, information, and credentials, and then proceed to employee onboarding, covering essential tasks such as completing paperwork or digital submission of requirements, send out welcome emails and furnish checklists and I.T. requirements. 
Within the platform, organizations can define, design, and configure the steps involved in performing onboarding and provide a guide on the onboarding journey that is hiring managers, team leads, and recruits need to accomplish to make the onboarding enjoyable, effective, and convenient.
As with other onboarding software, this platform also provides configurable and reusable templates called New Hire Packets that can be tailored to specific requirements such as different roles, job types, departments, or locations.
BambooHR focuses on the people, not just the new employees but those who will process onboarding by providing the means and tools to ensure that the right talents are hired and new hires are properly onboarded. 
BambooHR makes this process easy and empowers the H.R. partners to learn the process, be comfortable doing their tasks, and help themselves. 
Some of BambooHR's clients include Coursera, Disqus, Freshbooks, Kobo, Planet Fitness, Shopify, SoundCloud, and Stance.
BambooHR does not just offer tools for H.R. functions such as recruiting and payroll; it also features tools that could cultivate company culture and talent acquisition, especially for employee onboarding. It provides a flexible means of configuring what needs to be accomplished when welcoming recruits.
Conclusion
Employee onboarding provides new employees with the company's first impressions and can ultimately determine if these recruits will stay for good or look for other opportunities. When done correctly and effectively, the new employees may feel welcome, engaged, and equipped with all the information needed to fulfill their roles and functions and help them imagine themselves growing and thriving in the company.
The above platforms may help organizations offer an excellent onboarding experience for their growing workforce. Each platform has its own set of strengths and weaknesses. Still, each tool could provide structure and organization to this process and enable these businesses to ensure that each onboarding experience is consistent, if not better, than the previous one.  
We are passionate about helping companies evaluate and assess their onboarding practices and policies. Interested in knowing how well you are doing with your employee onboarding? Take The Building Blocks' Employee Onboarding quiz!