What Is Employee Onboarding Automation?  
"automation" is developing and applying technologies to achieve minimal human workforce in producing, managing, and monitoring goods and services. Automating onboarding is the process of minimizing the human touchpoints for the employee onboarding process.
It is used by various industries in manufacturing, utilities, defense, transportation, management, etc., to improve their operations' speed and reliability and enhance or maintain their performance efficiency with limited human interventions.
Automating onboarding is vital to all companies.
Onboarding Automation refers to the application of different types of technologies to manage the process of integrating new employees into the company, intra-teams, and its culture without using excessive human intervention.  
A company's Human Resource Management uses onboarding automation to efficiently integrate the onboarding employees through different streamlined applications and platforms to communicate and monitor them as they start to familiarize and build a positive work culture with their managers, colleagues, and teams.
Common Pain Points in Manual Onboarding Processes 
The first 45 days of an employee with your organization is one of the vital parts of their onboarding journey – 22% of turnover occurs in this period. However, many organizations' Human Resources view onboarding as a hectic and time-consuming chore.  
According to Workflow, 28% of onboarding employees quit their jobs within 90 days because of the poor onboarding experience. One of the reasons is manual or outdated onboarding procedures.
Getting it off on the wrong foot can often cause many recruits to turn around and leave just months after being hired, wasting the high costs of hiring top talent while filling out their 401(k) paperwork. 
Here are the challenges your company will face if you have a manual or an outdated onboarding approach: 
Stretching Your HR Beyond Their Limit 
Outdated onboarding approaches will make your company's HR work difficult to satisfy. With all the admin tasks and the responsibility to introduce new employees around the company, it would be hard for your HR to perform efficiently without draining their energy.  
Wasting Your New Employee's 1st Day 
Manual onboarding often causes inefficiencies and errors, such as the unavailability of important forms, badges, computers, and other essential work materials. An employee's first Day is meant to be enjoyed as the company welcomes them and they get to know their colleagues; it shouldn't be about manually accomplishing paperwork or stressing themselves with missing files.  
Unprepared HR and Internal Teams 
With manual employee onboarding, your company's new hires in different departments, HR, and Internal teams might scramble everywhere, searching for data from previous employees and teams they need to start their job. Unorganized data and the compilation of paperwork can hinder new employees' ability to comprehend their duties. Using an automated onboarding approach can ensure the HR process and internal teams' preparedness with the help of different onboarding applications and software.  
Large Numbers of New Employees Quitting  
In 2018, a survey conducted by a firm showed that 36% out of 1,000 job seekers quit their jobs because of a poorly structured onboarding process.  
Haphazard onboarding may result in inconsistent negative first impressions, depending on who is involved and what data or information is conveyed. Some new hires may be overburdened with information, resulting in an unclear understanding of their job, the company's expectations, and how they can fit into the bigger image. Often, vital steps are overlooked, resulting in uncertainty and knowledge gaps that will cause them to quit their jobs.  
Automating Onboarding: A Step-by-Step Guide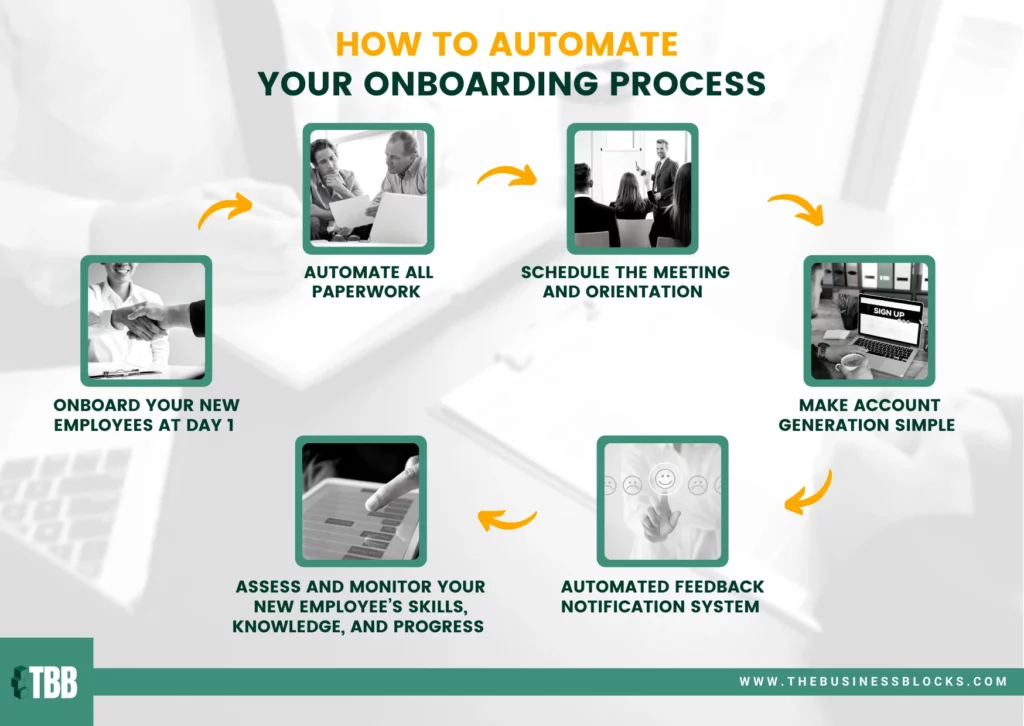 Onboarding employees are twice as likely to quit and look for another company if the onboarding process is a train wreck. A recent survey shows that 36% of HR professionals think that the inability to automate your company's onboarding procedure can negatively affect the new hire experience.  
To avoid a disastrous experience for your onboarding employees, here are the steps you need to automate your onboarding process: 
6 Steps to Automating Onboarding for Employees
| | |
| --- | --- |
| Step 1: Onboard employees as early as possible | |
| Step 2: Automate all paperwork | |
| Step 3: Schedule the meeting and orientation | |
| Step 4: Make Account Generation Simple  | |
| Step 5: Assess and Monitor Employee's Skills | |
| Step 6: Automated Feedback Notification Systems  | |
Step 1 – Onboard employees as early as possible 
Start onboarding new employees on their first Day. Emailing them a warm welcome message as they start their new job can motivate your new hires. Ensure all equipment is ready to use or delivered to your new employees' addresses.
Installing all necessary applications or software on the computer is a must so that they won't have to spend time installing all of them. A welcome kit is a thoughtful gesture that your new hires will love.  
Step 2 – Automate all paperwork 
Automated software provides them with all the passwords, forms, documents, and keys. An e-signature software is advisable for virtual onboarding. Automatically send them all the documents they need to accomplish. With this, you can track and monitor whether they opened the documents.  
Use a unified system to collect and store new employees' information. It can help you access their information and assess their skills. Through this, different departments, such as HR and IT departments, can easily access and transfer information to their database. 
Step 3 – Schedule the meeting and orientation 
Meeting their colleagues is an important part of the onboarding process. Using automated scheduling software can help you send them invitations for the meeting.
Virtual meetings are great options to onboard your new employees, especially if it's a remote job. An automated email system will allow you to inform your employees about the arrival of new hires. It's a heads-up for them to welcome and interact with the new employees onboard.  
Also, it will help them to be aware of their orientation schedules. Automating orientation materials such as introduction to the company, mission, and visions, organization structures, roles, and responsibilities, etc., can save time for your HR. Automating their one-on-one meetings with their managers and supervisors is also important. 
Step 4 – Make Account Generation Simple 
Creating different accounts in various company software is a painstaking task for new employees and your IT professionals. Automating onboarding will allow new employees to create and log in to their accounts.
Use automated software to create multiple accounts in different software after your HR provides all the information needed.  
Step 5 – Assess and Monitor Employee's Skills
Create an automated test for the new hires to assess their knowledge and skills. This way, HR won't have to produce test questionnaires and distribute them to them manually.
Through an automated test, you can send them the test or use an application to get the result of their exams automatically. 
It is important that onboarding has to be an interactive journey. Maximize using interactive software that your new employees and their colleagues can use to exhibit their skills and knowledge.  
Use automated software to track your new employees' progress and check on the important tasks (i.e., signing documents, creating employee accounts, etc.) they accomplished for onboarding. This way, you can see their performance and how they manage their time. 
Step 6 – Automated Feedback Notification Systems 
Configure an automated notification system to send your new employees feedback. Use AI tools to send them detailed reports on their progress during their first few weeks or months. Notifying your new hires about their accomplishments and progress within the company is good.
Your HR can also use this to monitor the employee's flight risk or the chances they are considering quitting their job. It will allow them to immediately take action to stop your new employees from quitting.
Automating your employee onboarding process will save time and money, allow you to focus on core business activities, and increase your business performance. These six effective steps to automate your employee onboarding process have been described.
By implementing these strategies, your company can develop software that automates the onboarding process, providing a top-notch experience for employees and increasing retention rates.
Conclusion – Your Onboarding Automation Guide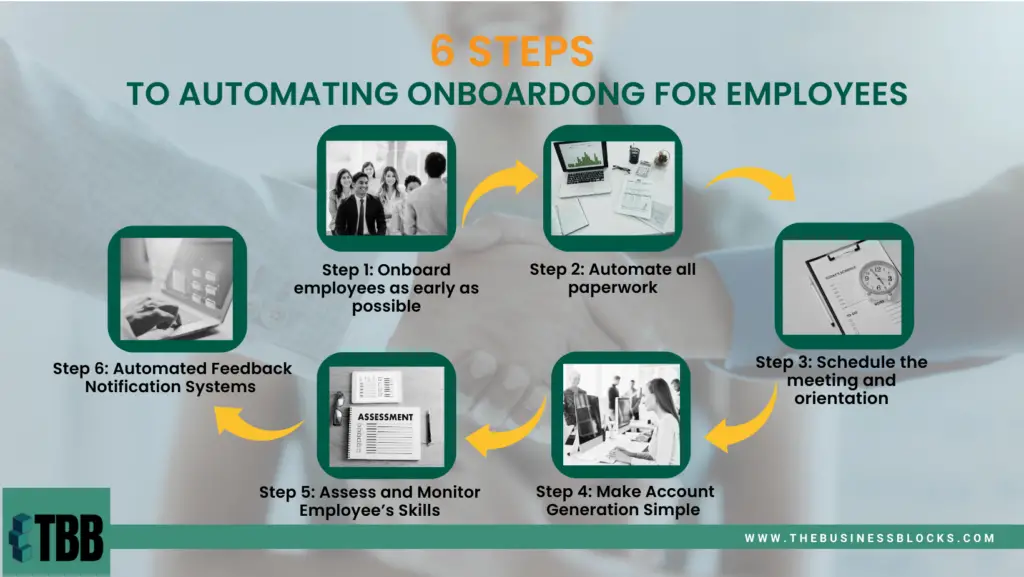 Making a team member feel welcome and appreciated is incredibly important, but it's also incredibly time-consuming. Even with the best intentions, employees might not feel they've received the kind of welcome they need.  
That's why every company should implement an automated onboarding process. By automating the process, your employees will have a smoother transition into their new work environment, hopefully making them happy enough to stay! 
An automated employee onboarding process will provide your Human Resources department with the info they need to ensure the successful onboarding of your new employees without being asked to do a lot of mundane and repetitive manual tasks.  
Automation is key, allowing you to train your new hires quickly and consistently. Employee onboarding software can transform your traditional process into a more effective, streamlined approach that has a measurable impact on company performance.